While there is Thanksgiving in Canada and Columbus Day in America, here in Hong Kong we have the Chung Yeung Festival. To be honest, I'm not so sure what it is exactly (I just look at it like Thanksgiving, and take a minute to think about all the blessings in my life!). But any weekday where you don't have to go to work is a good day.
So what do you do when you have a free day in Hong Kong? I don't know about you, but recently, Sai Kung has been a popular spot for me. In fact, I spent two of my three long weekend days in Sai Kung, each with a different type of experience. Saturday was a boat trip organized by my church, while Monday was a hiking adventure around Sai Wan. Both were just as unique and amazing!
Let's start with Saturday. It was my first ever boat trip of this kind, but from what I hear, boat trips in Hong Kong are very easily organized. I believe its $5000 HKD for a boat that can seat 24, and they include lunch on the boat plus an entire day of water activities. The two captains come with you and one of them stays on the main boat while the other one handles the speedboat. It's a full 10 AM – 6 PM day out at sea. We each paid $250, and in Canada, I bet that would get you about an hour or two of water activity fun. This was such a great deal!
We were blessed with great weather for our boating Saturday. The water was very warm; in fact, you felt warmer submerged in the water as opposed to out of it. For me, being used to the freezing waters of English Bay and Kits Beach all year round, this was quite counter-intuitive. Of course, when you go out for these kinds of events,  you just end up taking heaps of pictures with the pretty scenery. It wasn't until the afternoon when I finally decided to get into the water for some activities.
In Hong Kong, this thing called the 'banana boat' is quite popular nowadays. Basically, it's just like tubing in Canada – the speedboat pulls on your banana boat and you try to balance and stay on for as long as possible. I'm telling you, it's hard! The speedboat driver was just nice enough to slow down for us when we turned corners, otherwise we would've fallen off way too easily.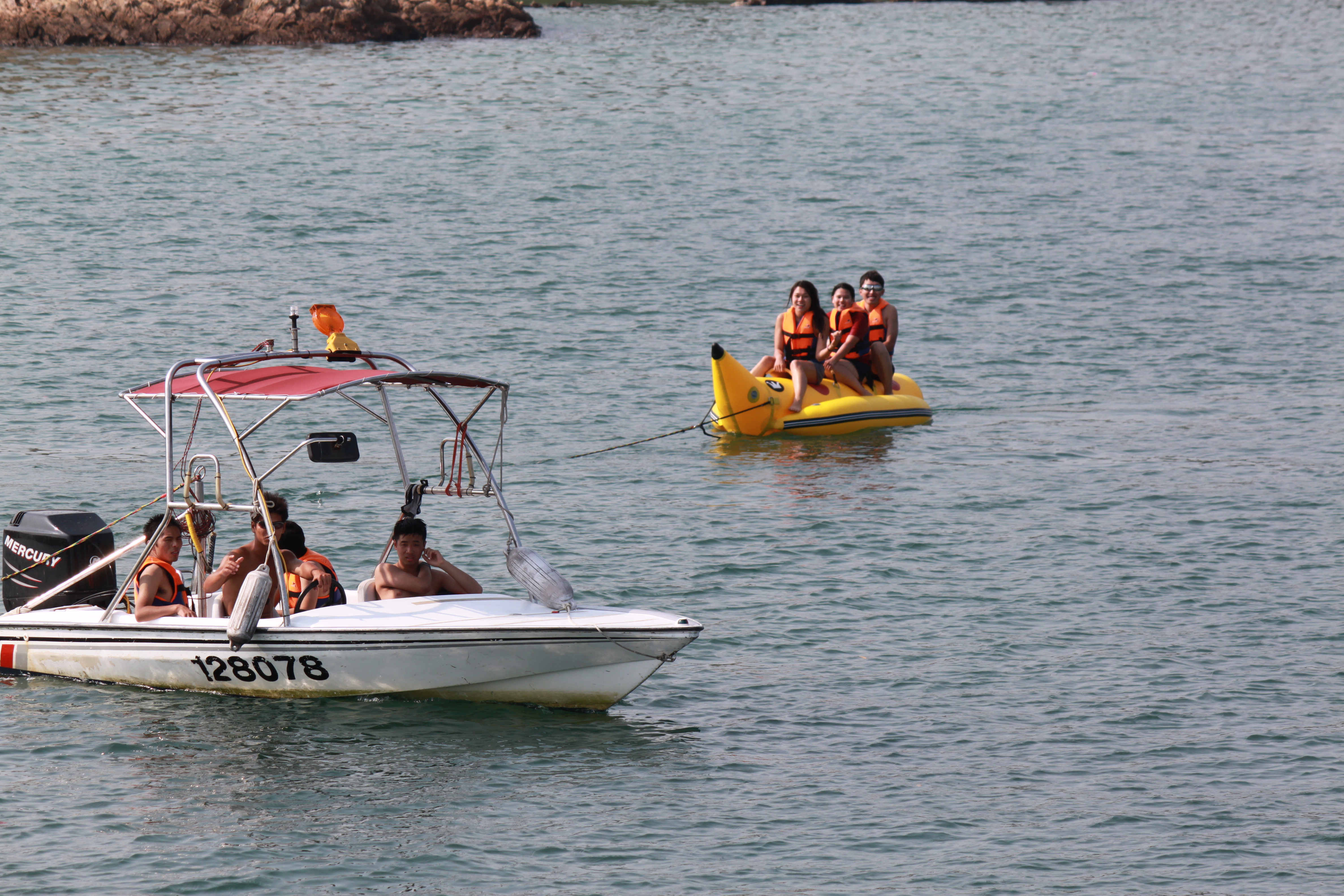 There are the 'just-for-fun' activities, like the banana boat I just mentioned, but there's also wakeboarding which actually requires some skill and sports background. In the morning, I watched as a bunch of the boys went out to wakeboard, and I only focused on when they fell down. In the afternoon, when I tried it myself, I finally realized how hard it was to even stand up! Okay, actually, that's the hardest part…. once you're up, you can stay on for quite a while. I tried water skiing before, but I was never able to get up. This time, I actually started to understand the technique! I was getting better and better, and then next thing you know, my limbs became too tired to try again. It takes an enormous amount of strength just to hold onto the rope! I got a few pictures *almost* up, but I didn't  actually stay up for very long.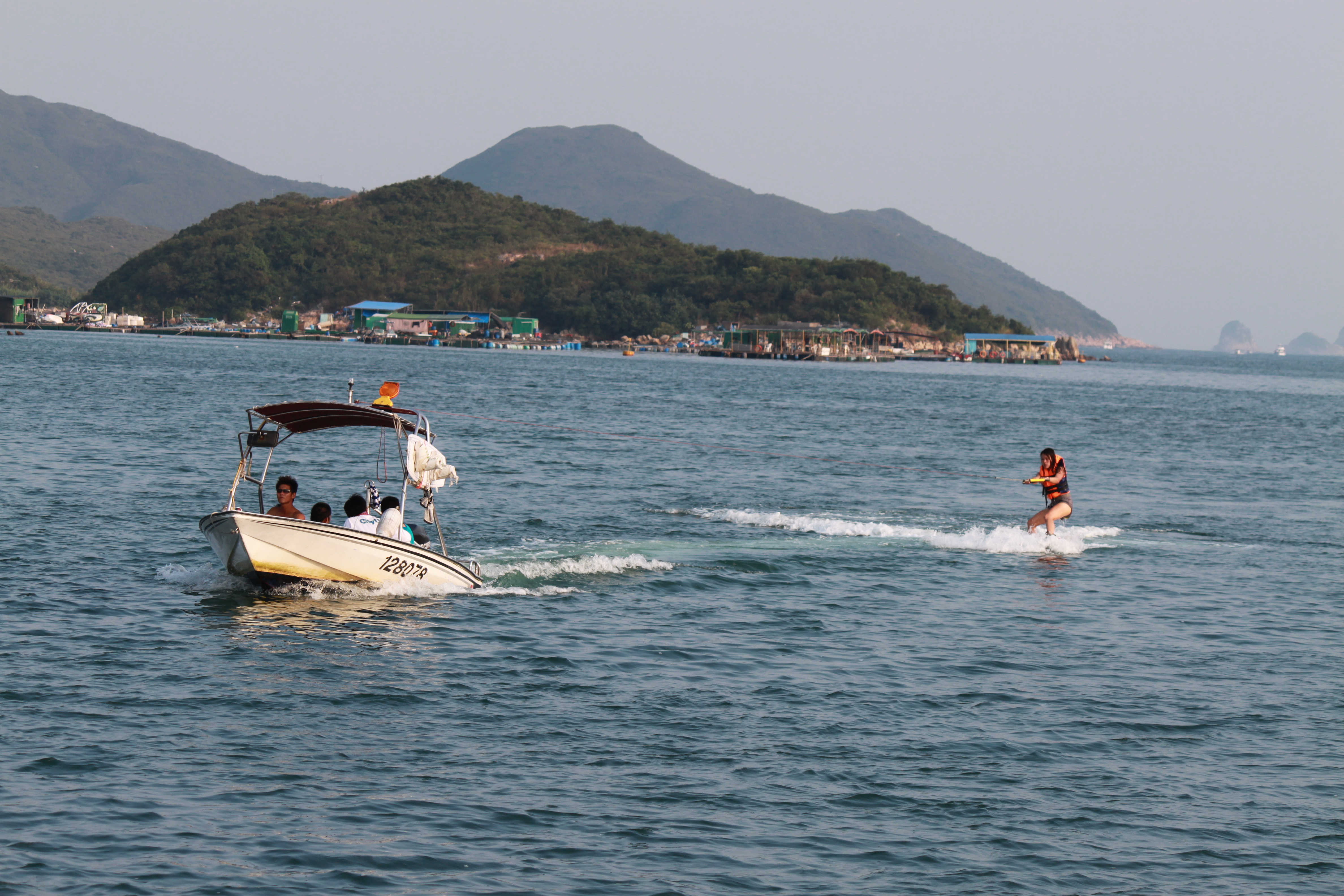 Aside from that, we just hung out on the boat. We had a ton of snacks, so we literally munched continuously the entire day. Take some pictures, play some cards, swim a bit, and next thing you know, you're already headed back to shore!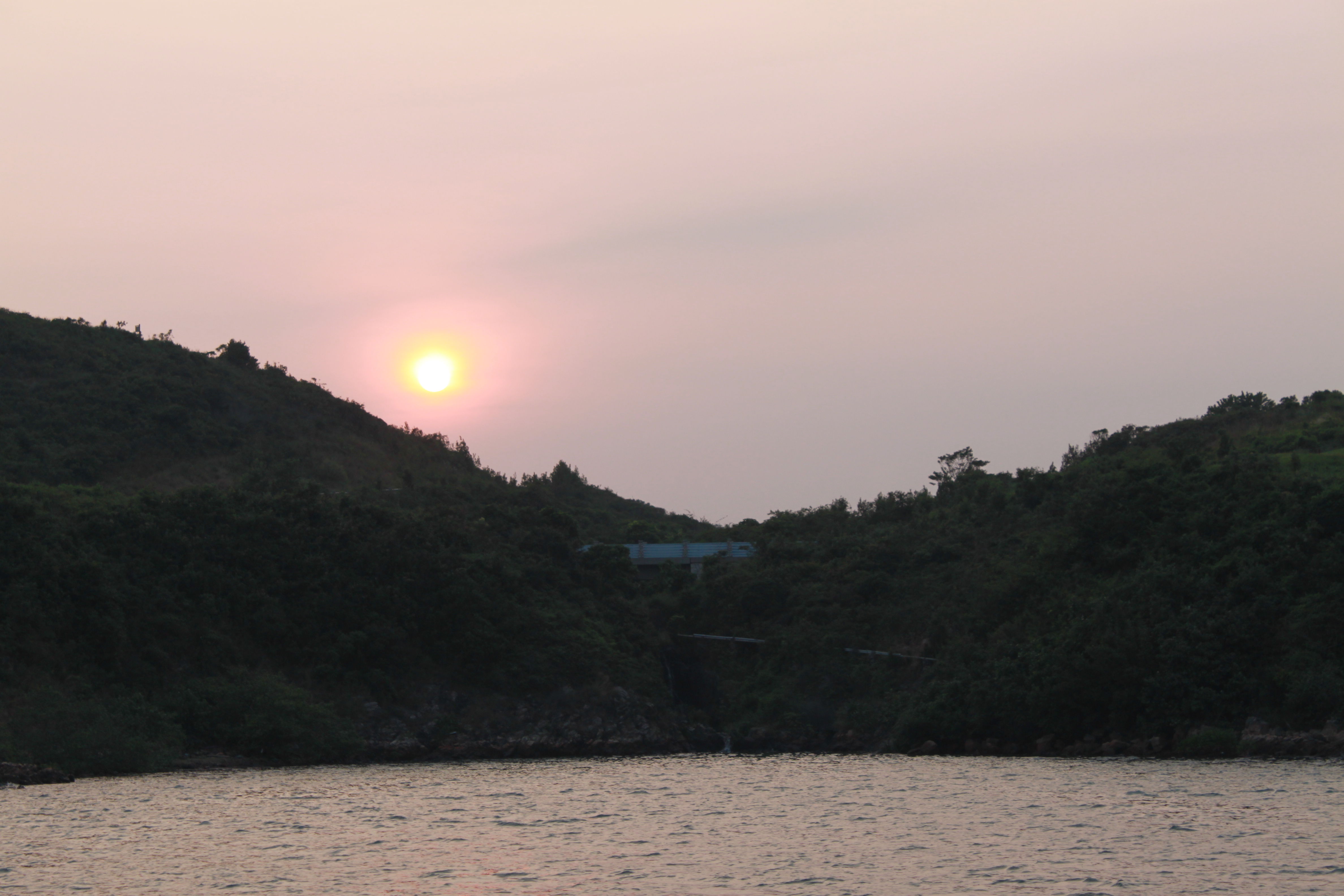 So that was Saturday. Monday was a completely different story. We got to Sai Kung at 11 AM, and from there we had to take another 20-minute bus ride to get to the Sai Wan area. From there, you have a few choices of hiking trails which go around the High Island Reservoir. Since it's a reservoir of clean water, of course the view was beautiful (and because it looked so nice, we asked the silly question of whether we could swim in it :P).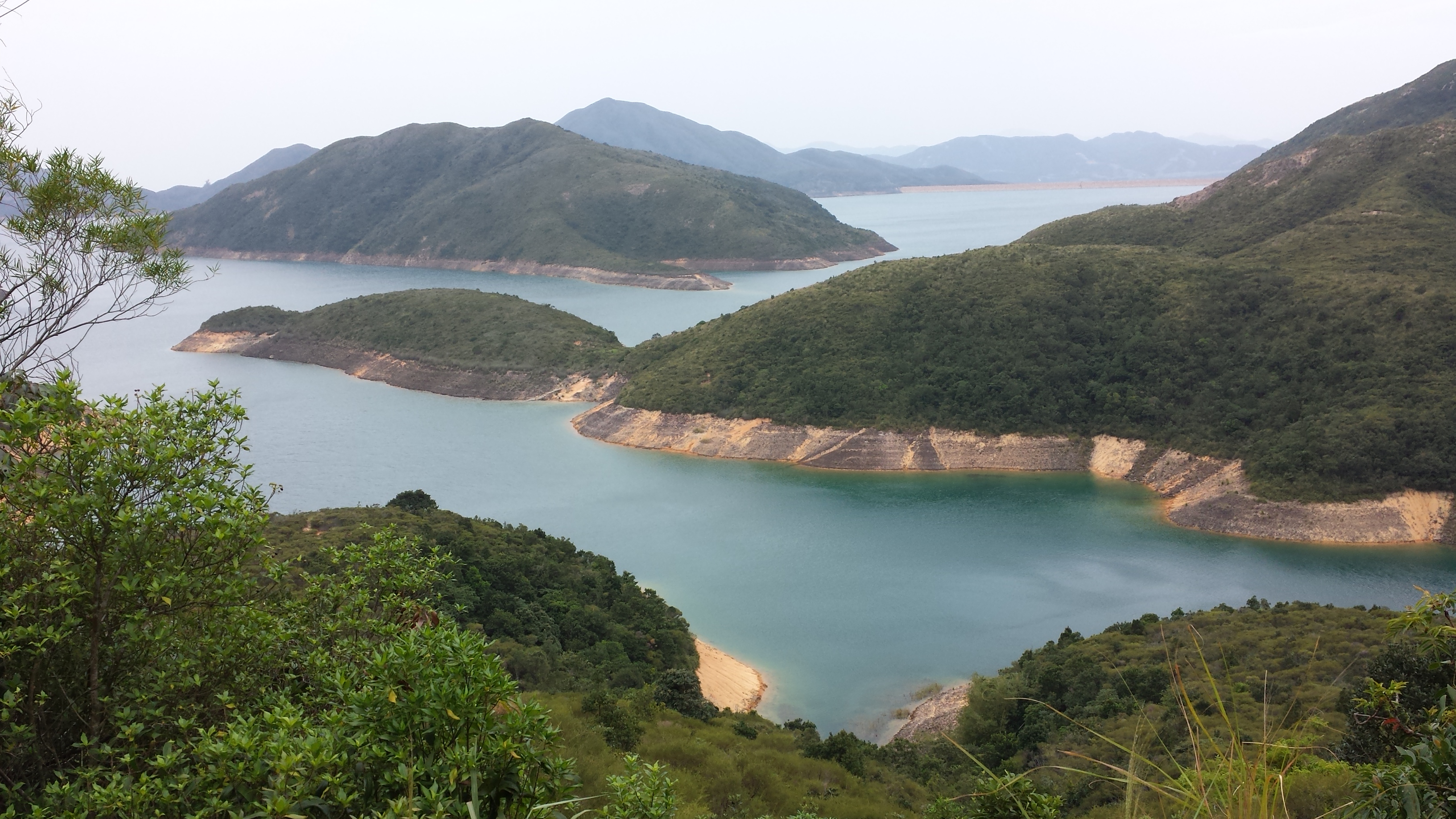 After a 30-40 minute walk (they called it a hike, but it's really just a stroll), you finally get to the Sai Wan beach. That beach is probably the first surfing beach I've ever been to. As in, there are actually waves! Most of the beaches I've seen are very calm and quiet. Unfortunately, Monday wasn't as nice as Saturday, so we didn't see much delight in staying too long at the beach. We wrote a few words in the sand, took a few pictures, and ate some more chips, but nobody wanted to get in the salty water. We left pretty soon.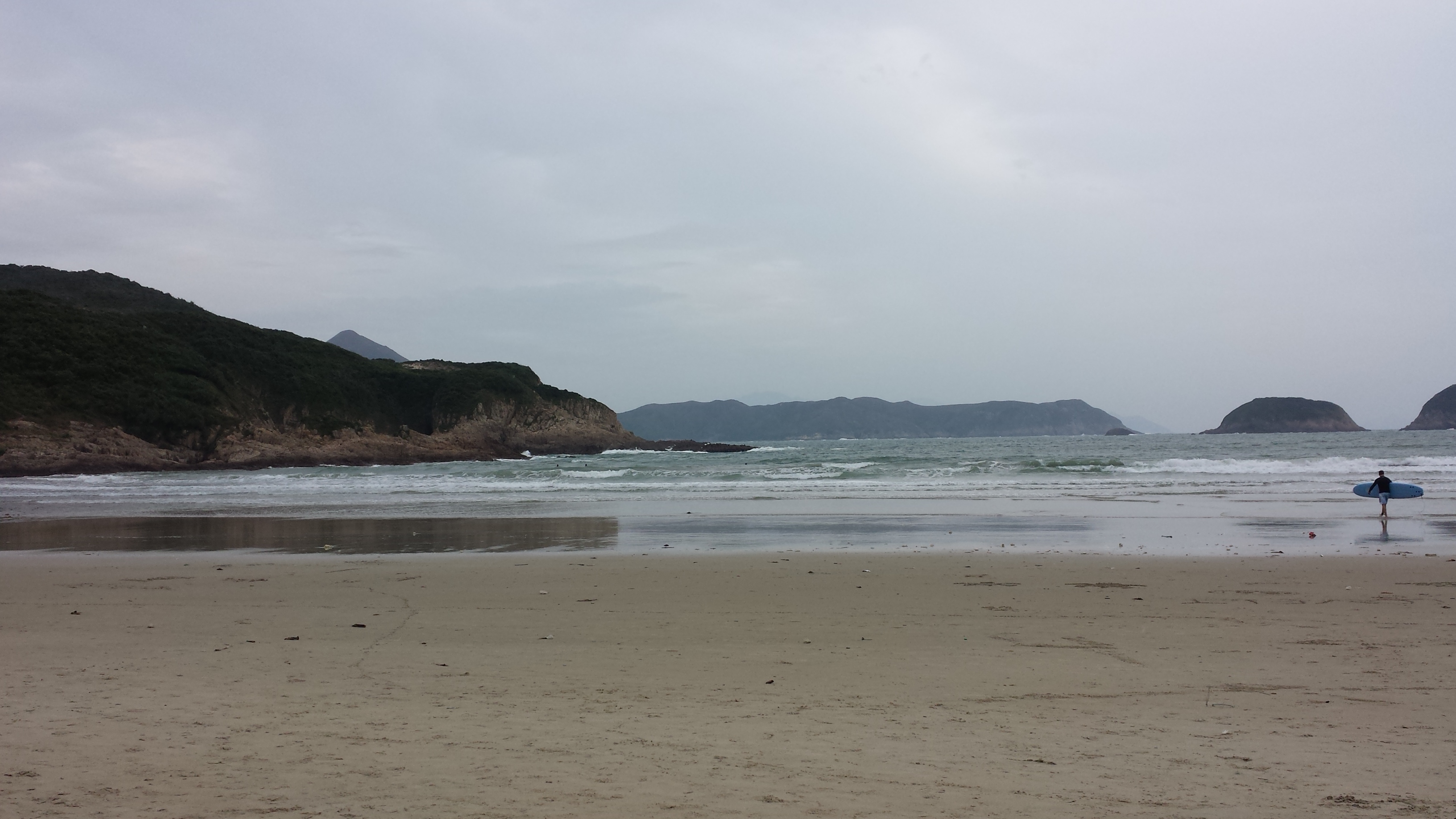 Past the beach, there are more trails that you can hike on. We took a left, climbed over some rocks, and trekked to a spot for cliff-diving! I know a spot in Lynn Valley, Vancouver for cliff-diving, and I've seen people jump down, but I never thought about doing it myself. That day, we had it all planned out – we actually went on this adventure just for the cliff dive!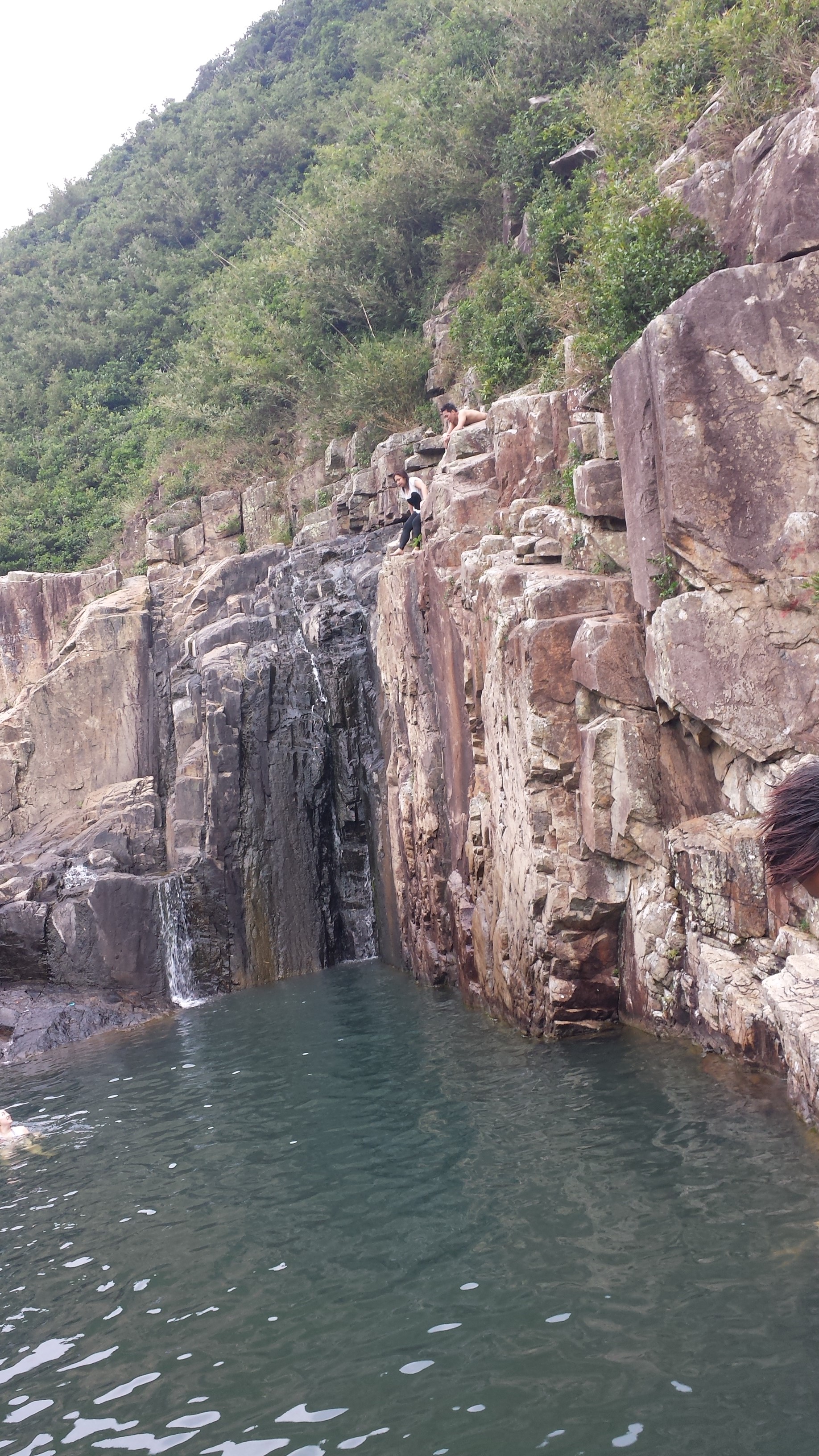 The funny thing is, I didn't have the tiniest sense of fear. When I got there, I was excited to run up and jump off. It looked awesome! What's there to be scared of anyway? So many other people were doing it, and obviously it's fine. So while all our friends were taking pictures, I was the one whining "when are we going?!". Afterwards, when I showed my friends the picture, they all told me it looks really high. And it's true – it was really high. But for me at that time, looking up at the cliff, my body had no intent of alerting me to be scared.
Finally, we climbed up, and when I was standing at the top and looking down – that's when I felt it. Looking down isn't even bad. It's knowing that you have to jump down; that's what really plants the fear in your heart. Looking down without the consequence is totally fine (so maybe it isn't that high after all?). Out of the 8 of us, only 3 of us ended up making the decision to take a leap of faith. And even after the 3 of us got to the top, there was a lot of hesitation… who goes first, do we go together, etc. I told them I had to go second. Going first is scary, but getting left at the top by yourself is also scary.
So the first guy jumped. And I was next. Staring down, with your whole body defying the jump, and yet you have to ignore all those calls and go for it anyway. You take the leap…. and you feel the freefall, the fear… and it dies almost instantly when you plunge into the water.
Since the jump was actually from quite an elevation, it took a while to finally find air again, but I was confident enough not to panic underwater. In fact, I was really hyped and excited from the adrenaline rush. I wanted to just run back up to the top and jump again right away! I got back to my group of friends, watched as our third friend jumped, and we all talked about it. Apparently, we all had the same exclamation of horror on our faces when we were dropping down from the cliff. I wish we got a better quality video of it. I would've loved to see my wide open mouth of fear!
We never did end up jumping again though. Once you get out of the water and wrap yourself in a towel, it's impossible to get back into the cold water. It wasn't freezing cold, but it was bad enough that you wouldn't want to go back. It's okay, there's always next time! I definitely have to go back before this adventure in Hong Kong is over, and when I'm back in Vancouver, I'd love to try Lynn Valley as well.
We left pretty early, and got back to the main Sai Kung area at 6 PM. After a seafood dinner, we all headed home for an early rest. The long weekend is over, and it's back to work the next day! It's also particularly depressing because there are no more public holidays until Christmas, and all the events I was so excited for (Disneyland, boat trip, Wednesday church debut) have now already passed. I need something to keep my spirits up! Maybe an early Christmas movie or something 😀  Hopefully that doesn't also mean I'll have less material to write about. As I always say, every day is an adventure!