Just like that, our time in Paris is over and we've found ourselves in Waregem – a small town in Belgium. First thought: you don't have to go through borders and customs from France to Belgium?! 😮
Remember when I said you probably wouldn't take enough subway trips to make a day pass worthwhile? Well, yesterday we bought day passes. While I was planning the day, I decided that there are just too many places I want to see and they're all randomly located around the city. Instead of taking my mom and my sister on another crazy long walk (which I'm used to from Osaka, but it might be a bit more demanding for them), we can take the subway everywhere instead. Besides, it was raining again, so we felt less inclined to walk anyway.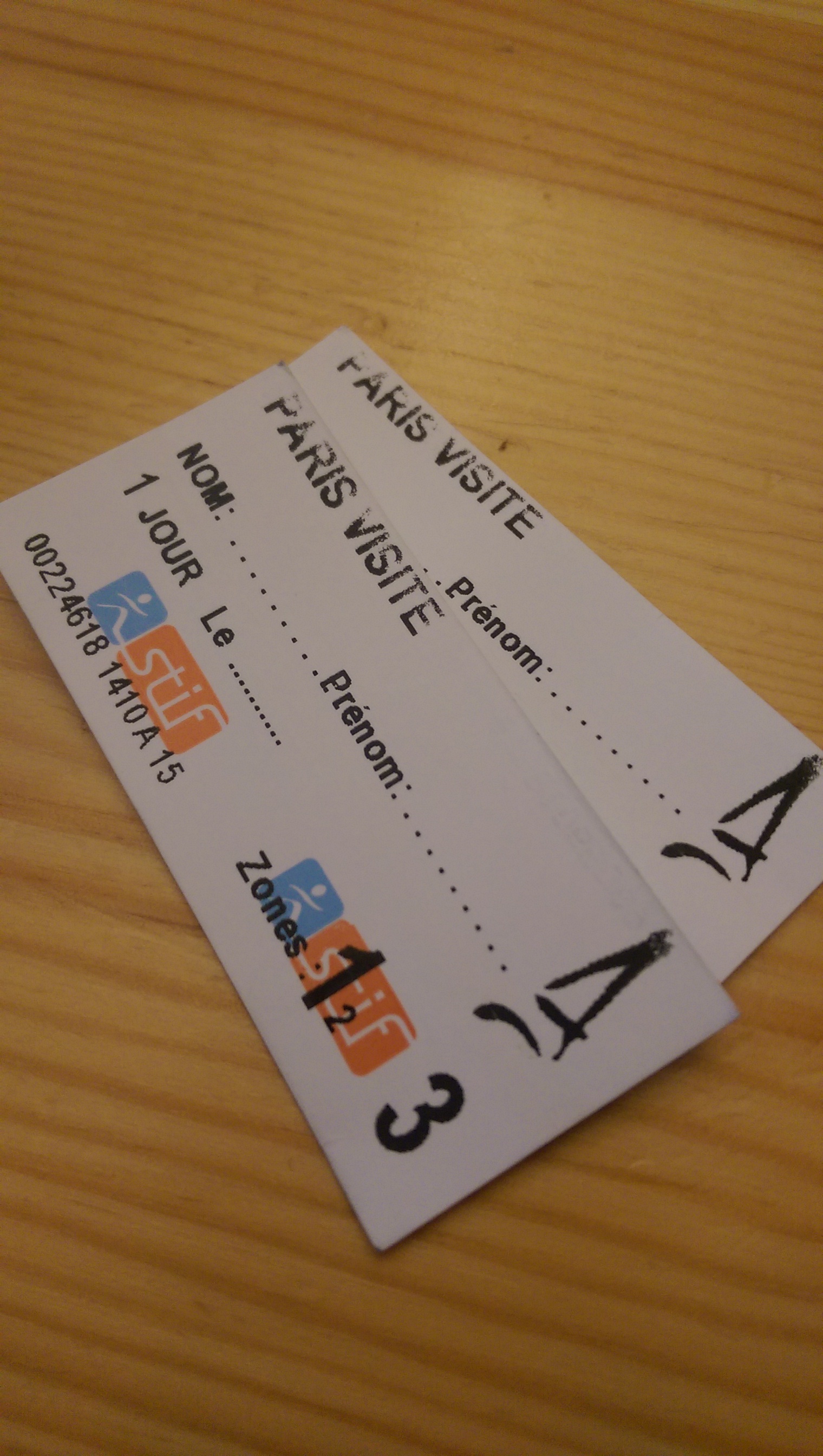 The subway lines are very well-connected (as in there are multiple stations where you can change trains), which makes it easy to use. You can get literally everywhere within the city (as opposed to in other cities, such as Toronto, where some neighbourhoods are just so far from the subway station that you wouldn't even want to go anymore). The trains come quite often too; I think the longest I've waited for a train was maybe 4 minutes? So with all that in mind, I guess the day pass was a good idea.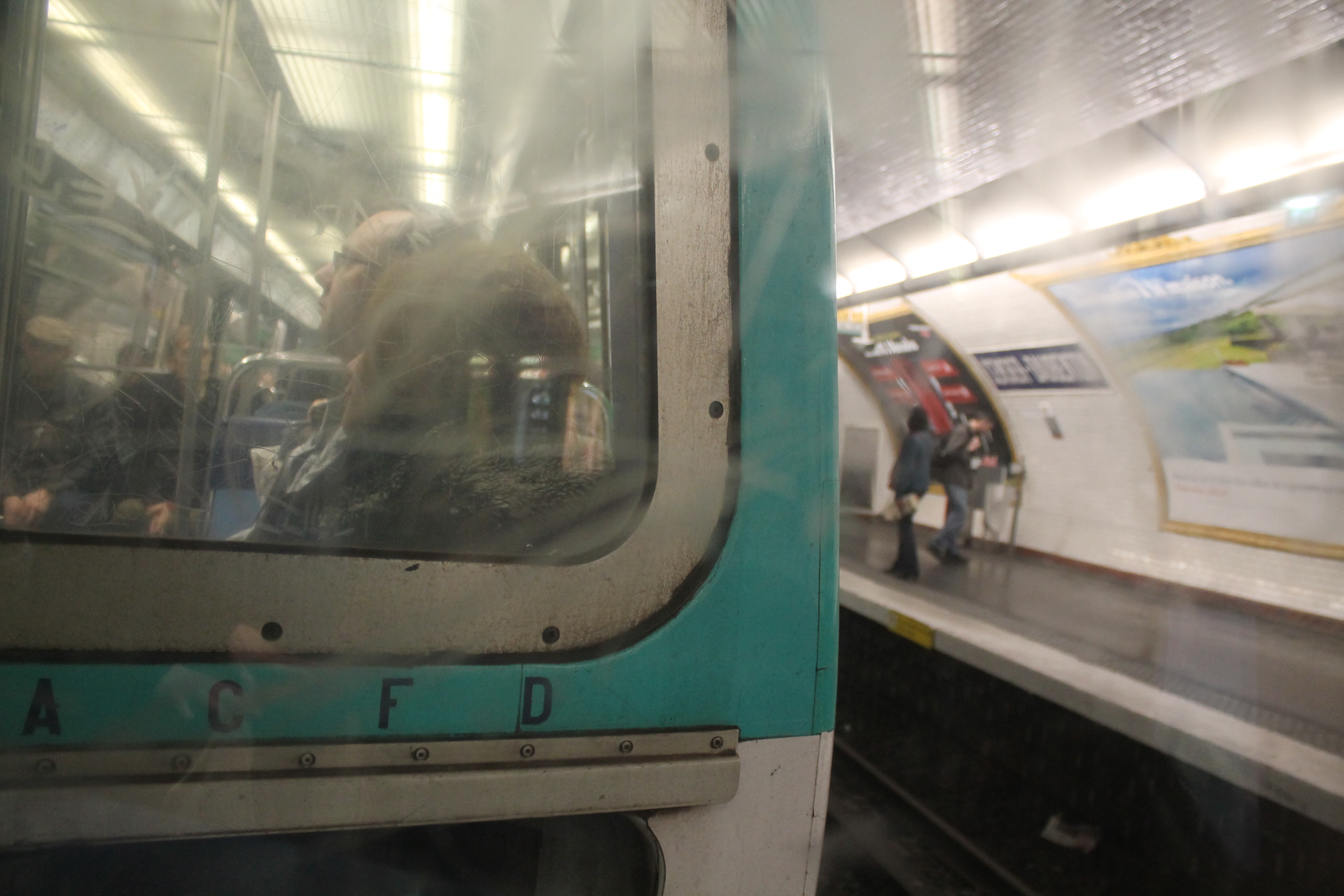 Our first stop for the day was La Defense, the central business district of Paris. As a geography enthusiast, I like to see different aspects of every city. The city center of Paris is nice, but have you ever thought about where people actually work? It seems like most of the upper storeys of buildings are for residential use… in fact, I'm pretty sure I haven't seen a single office building within the area surrounded by Boulevard Peripherique.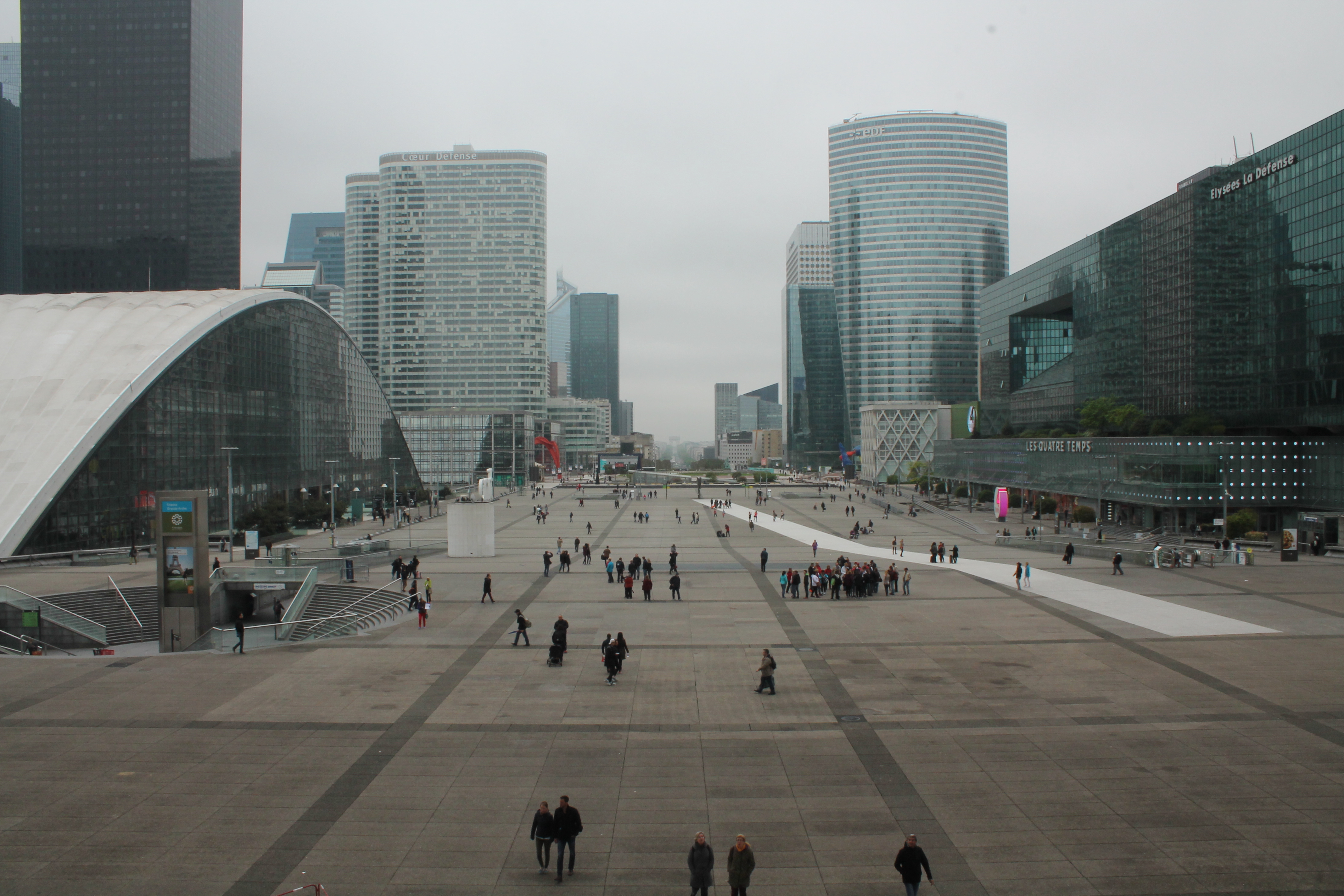 When we walked out of the station from La Defense, you could immediately feel a different vibe. It was so much more modern than what we were used to seeing from Day 1! The first thing you probably notice is the Grande Arche, a modern arch-shaped building that faces the Arc de Triomphe. It's like a 'new meets old' kind of feel, with the two arcs directly aligned with each other.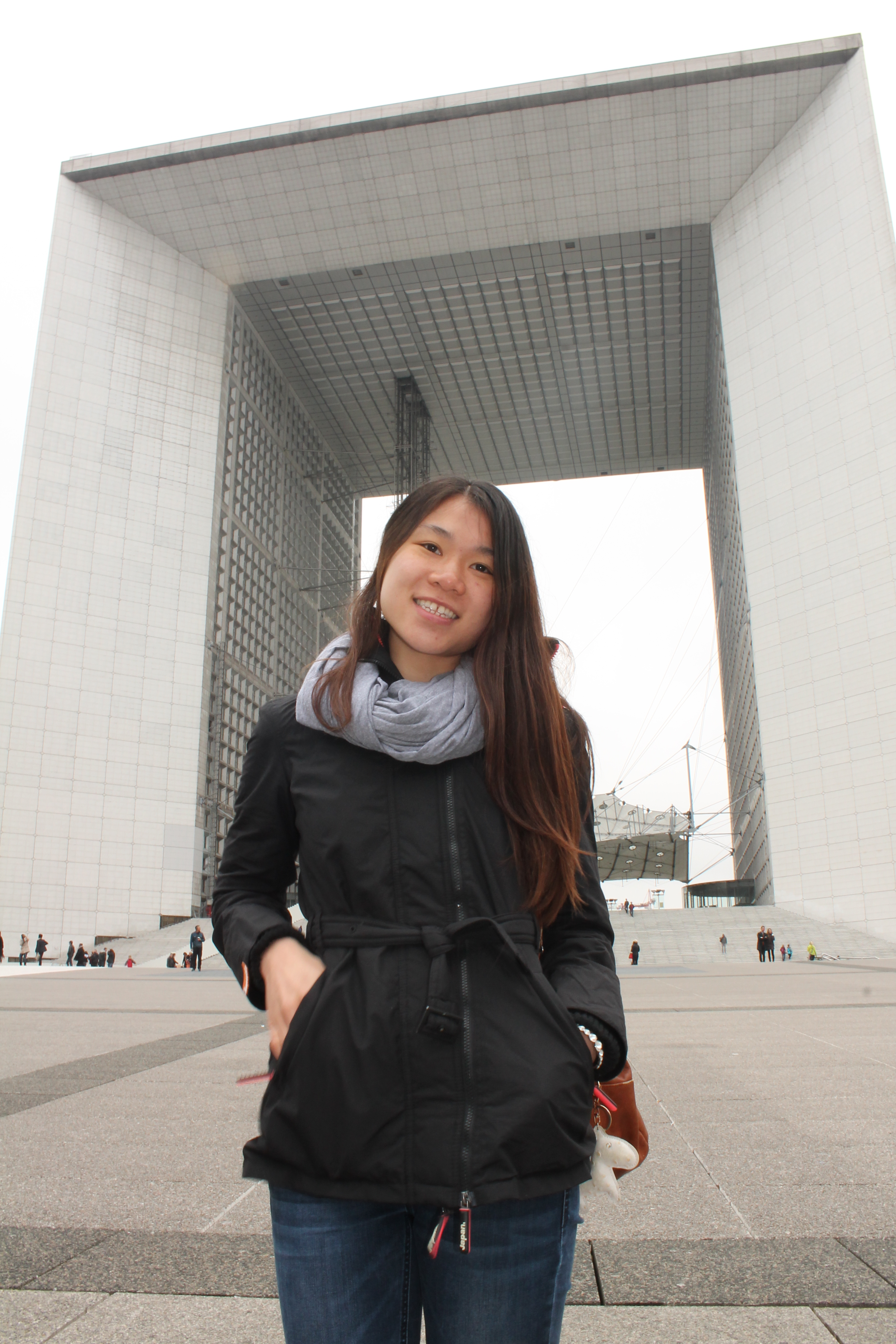 In the center of this picture in the far background, that's the Arc de Triomphe.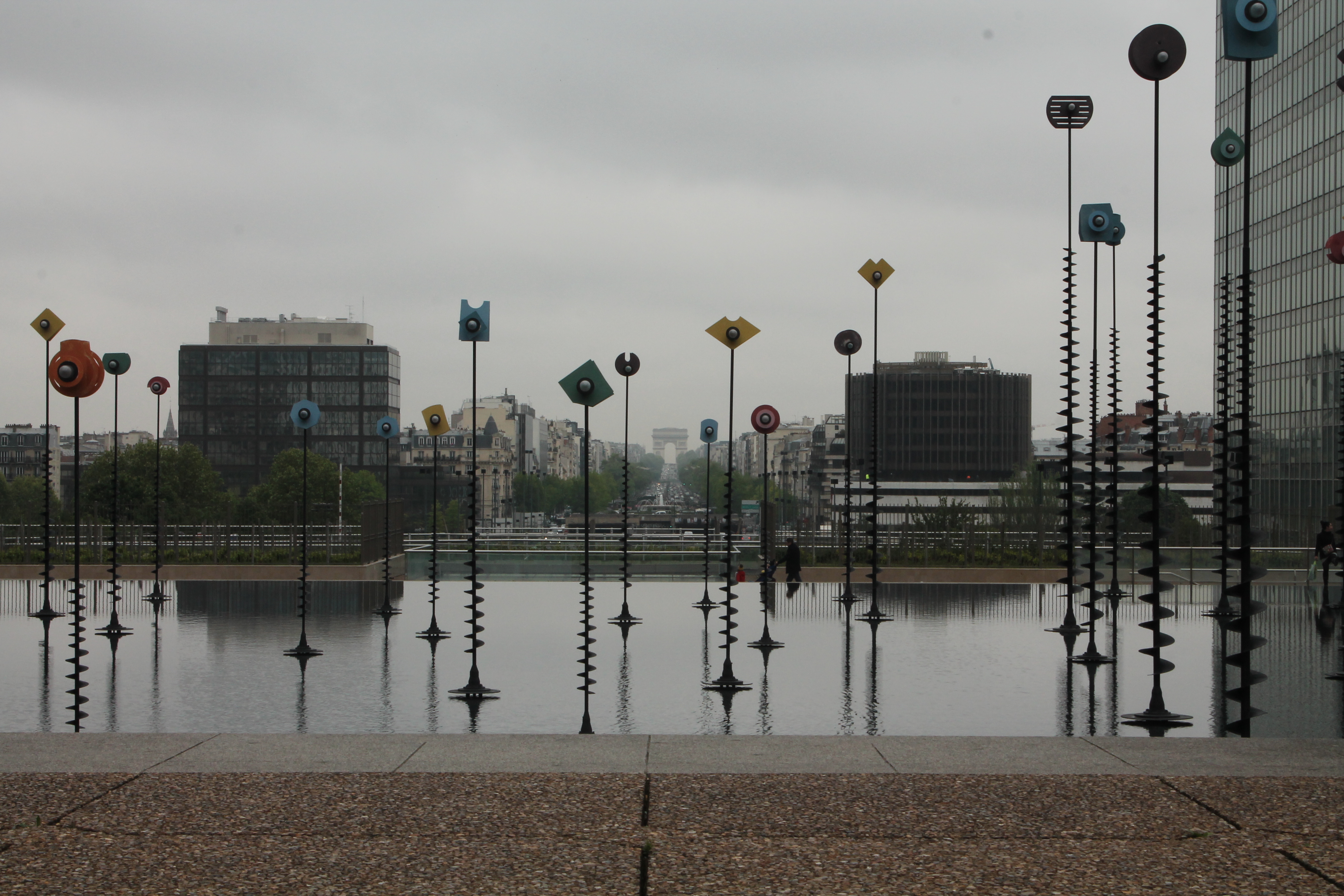 Adjacent to that was a shopping mall, another thing you don't see a lot of in this city. I think shopping streets predominantly prevail. I was learning in my Marketing Geography class earlier this term, retail strips are the most traditional in terms of retail classification, and you would definitely expect Paris to conform to tradition. (Shopping malls come afterwards, and they attempt to recreate the traditional retail strip in a controlled environment…. But anyway, I won't get into that). So yeah, seeing a shopping mall is another hint that you're out of the historic presence of Paris.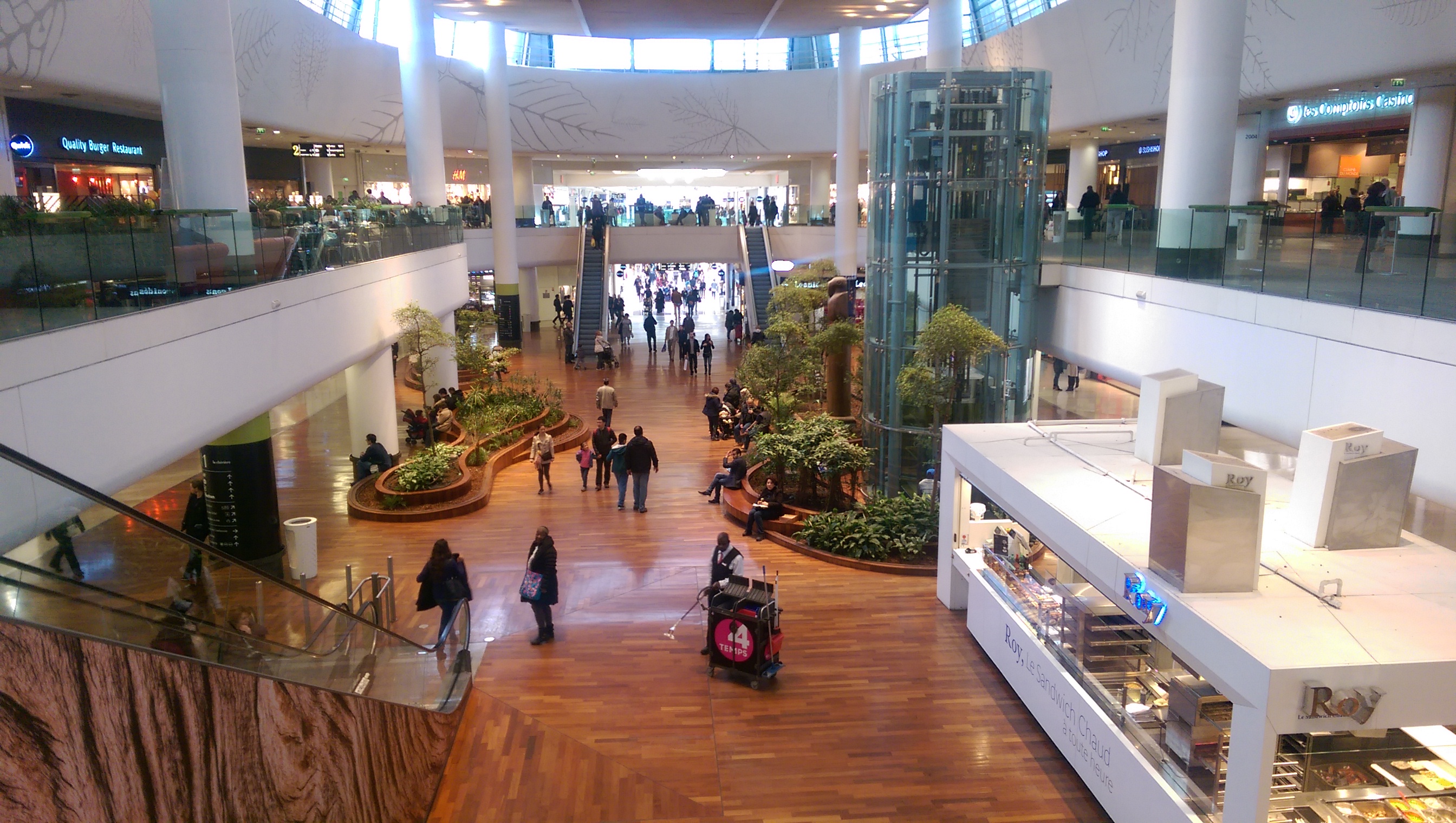 From there, we took the subway to the Arc de Triomphe. There's nothing really much to say about this, except that there's a museum (which we did not enter) and that it looks back at the Grande Arche (as I mentioned previously).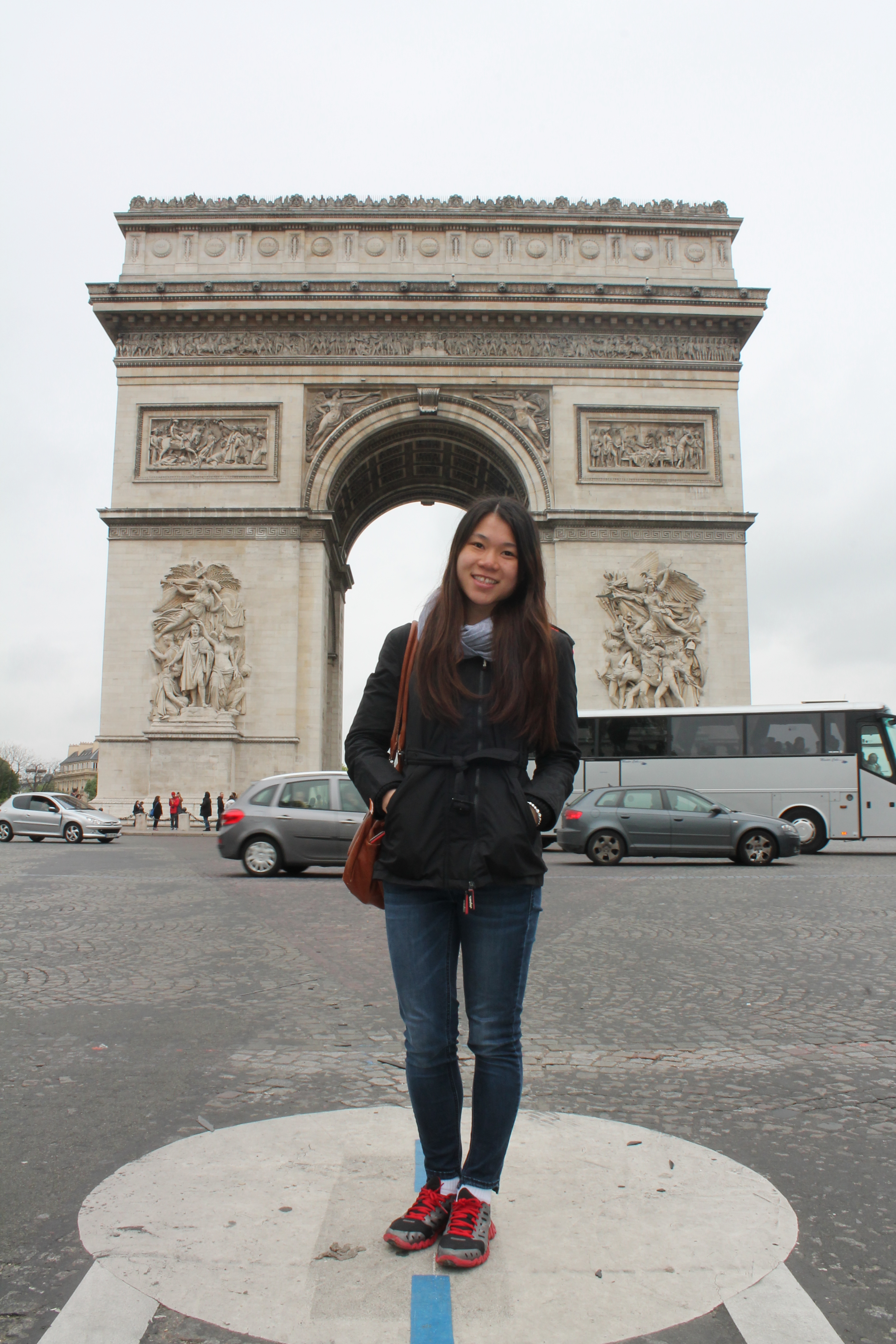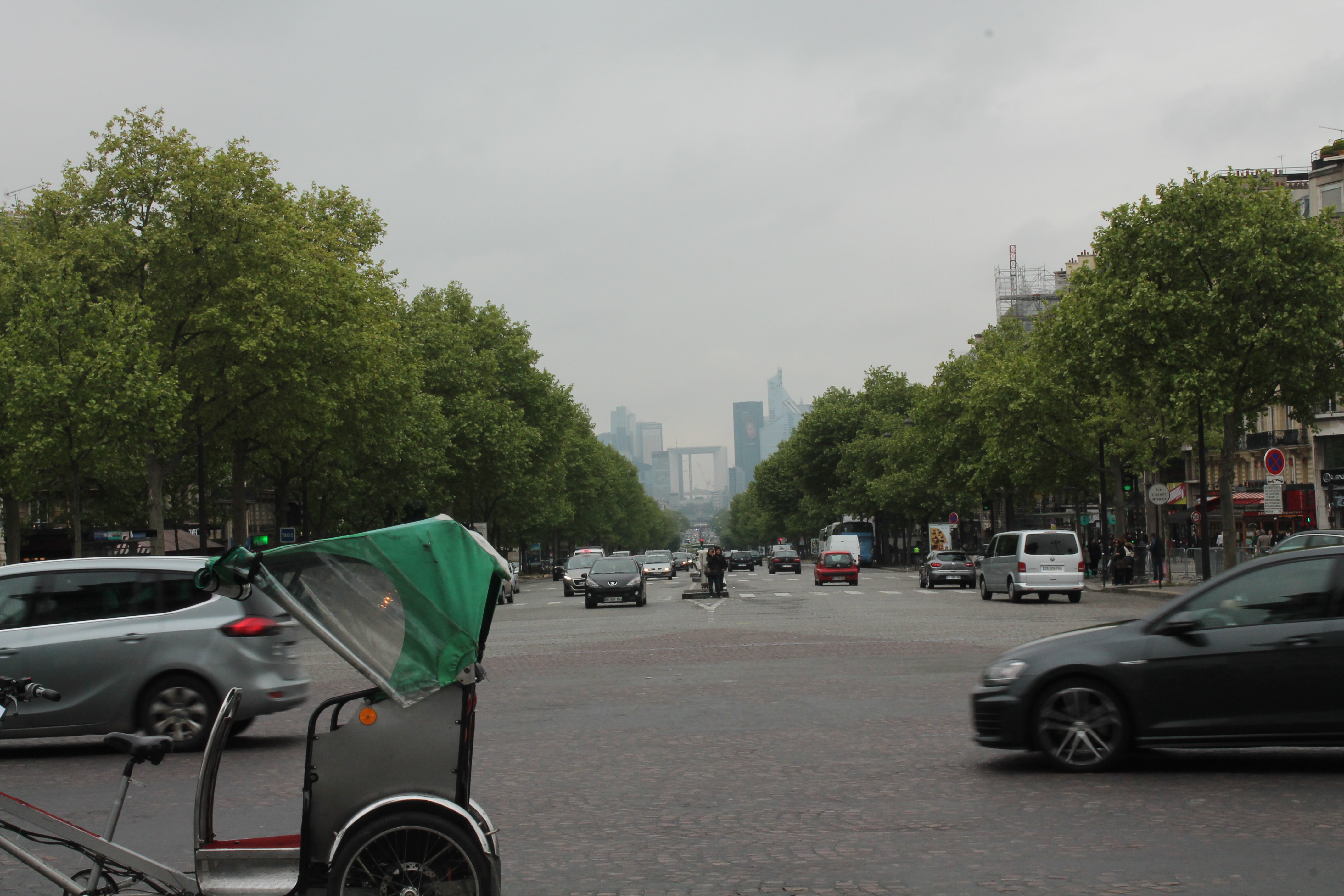 OK, I guess there's one thing… so the Arc de Triomphe is placed at the center of an intersection of eight roads. After seeing this, I finally understand why the Pokemon region Kalos is based on northern France. In particular, Lumiose City is shaped exactly like many intersections in Paris – with one central monument, and many roads on every side leading up to it. Even the description of Lumiose City – "A dazzling metropolis of art and artifice, located in the very heart of the Kalos region" – describes Paris perfectly.
At pretty much every stop, my mom asked me "what is the historic significance of this?". Sadly, I can only answer I don't know. I know this thing is famous because I've seen so many pictures of it, and heard of it somewhere before, but I don't know exactly how or why it became so well-known. So after walking around everywhere and seeing it with your own eyes, that's when your interest sparks and actually search for the story behind every monument.
Next stop, the Eiffel Tower! This beautiful structure really wasn't what I expected at all. Not in a bad way though. For one thing, I actually thought it would look more silver than bronze in colour. It's also shorter than you would imagine. But nonetheless, it's quite pretty.
There's also something about the gloomy weather than gives Paris that romantic feeling to it. Blue skies and sunshine is happy and bright, but the grey background and light rain brings out meaning to the "city of love".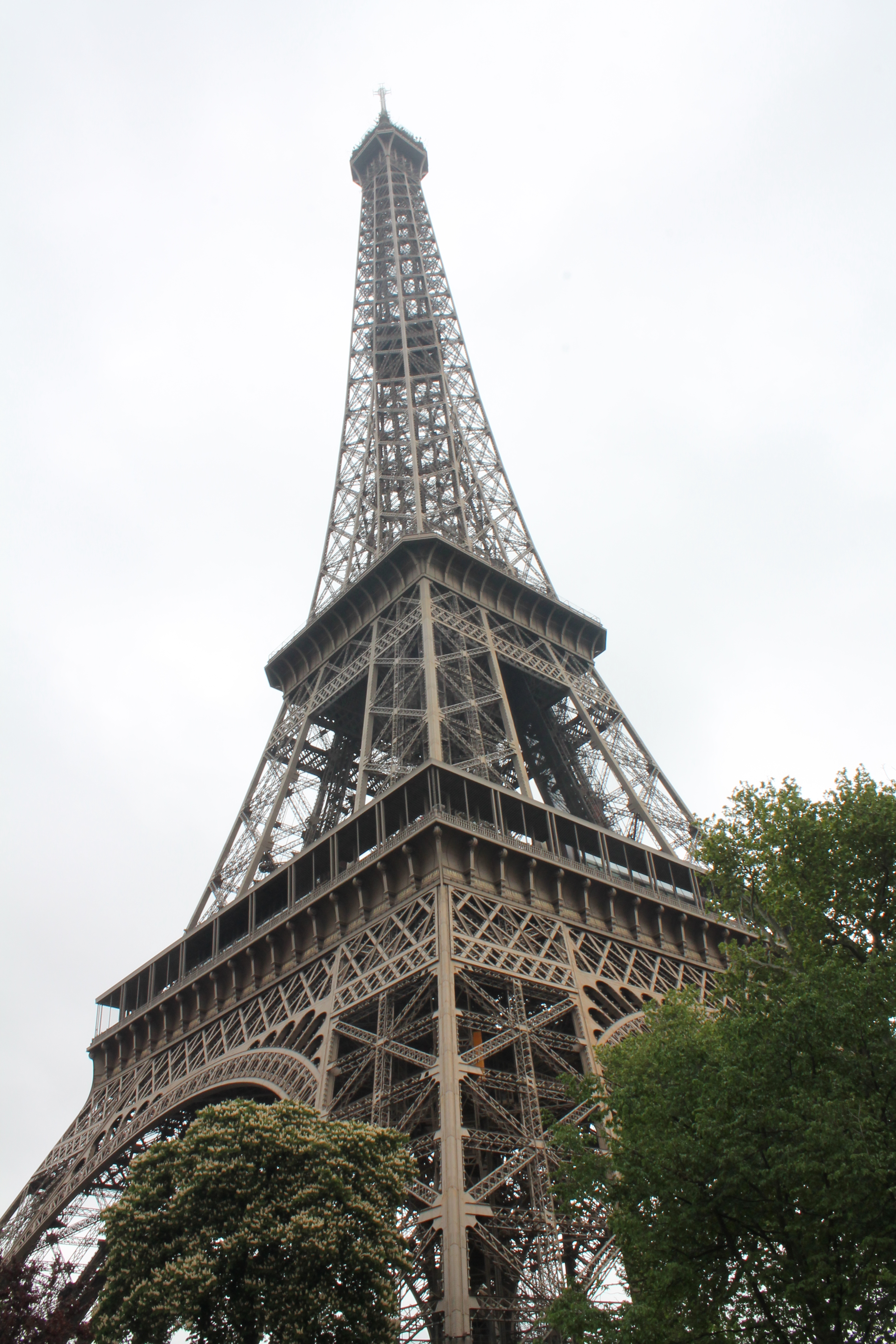 There are 72 names famous French names engraved on this tower, many of which I've heard of throughout my past few years of engineering. These people are really quite amazing, as in their work on mathematics and science are not trivial at all… yet sadly, most people have never heard of them. You have to be in this field to know who they are.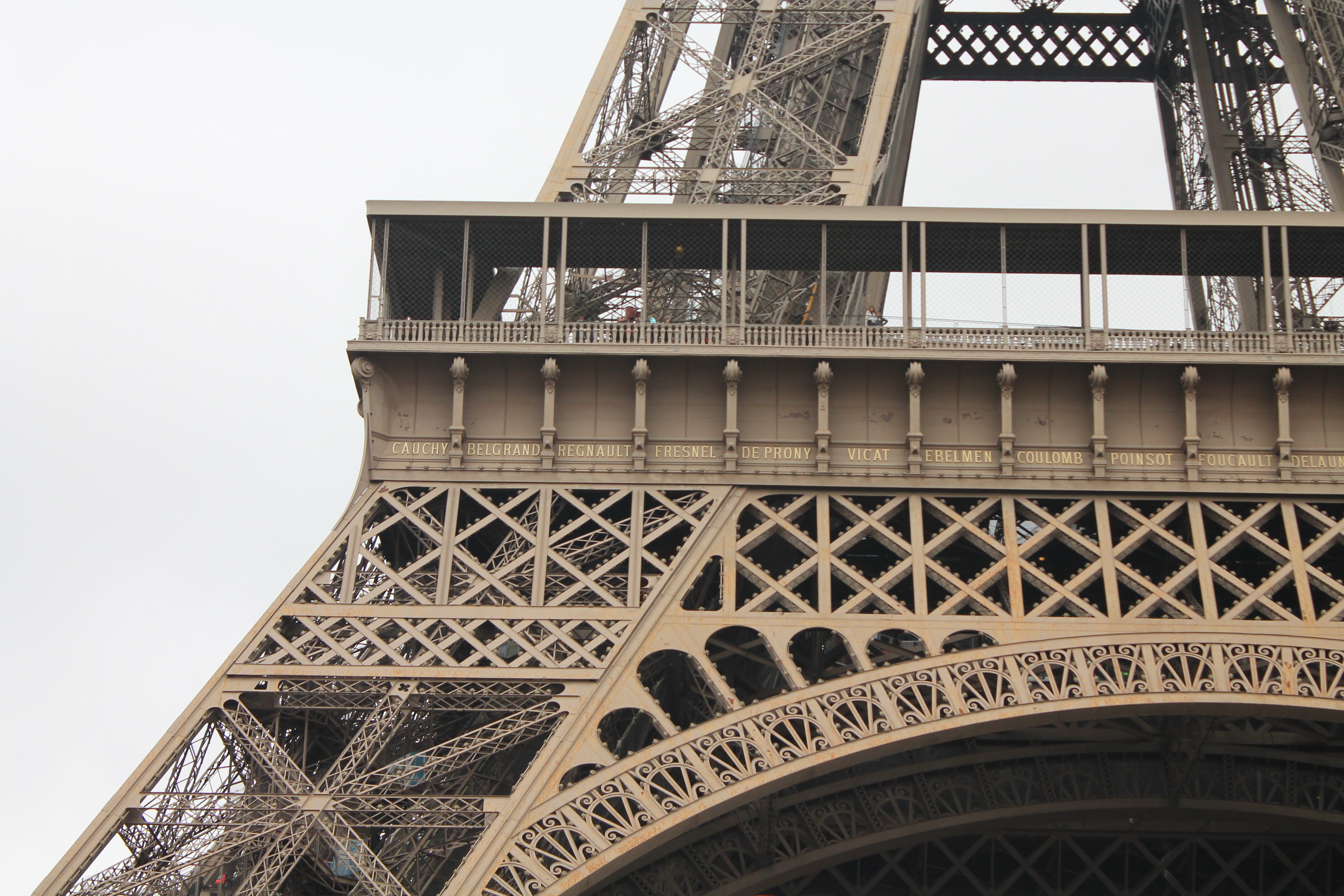 There were a ton of people lining up to get up the tower. We elected not to because (a) you can't see very far through the foggy clouds, and (b) we should really wait for my cousin to get here and we can all go together. So maybe in 2 weeks, we'll be back.
Since we had a subway pass, we took the train over to the Palais Garnier, took a picture, then kept going. Again, after reading about this at home, I found out that The Phantom of the Opera is set in this famous building. I also noticed the names and faces of a bunch of famous composers while I was there.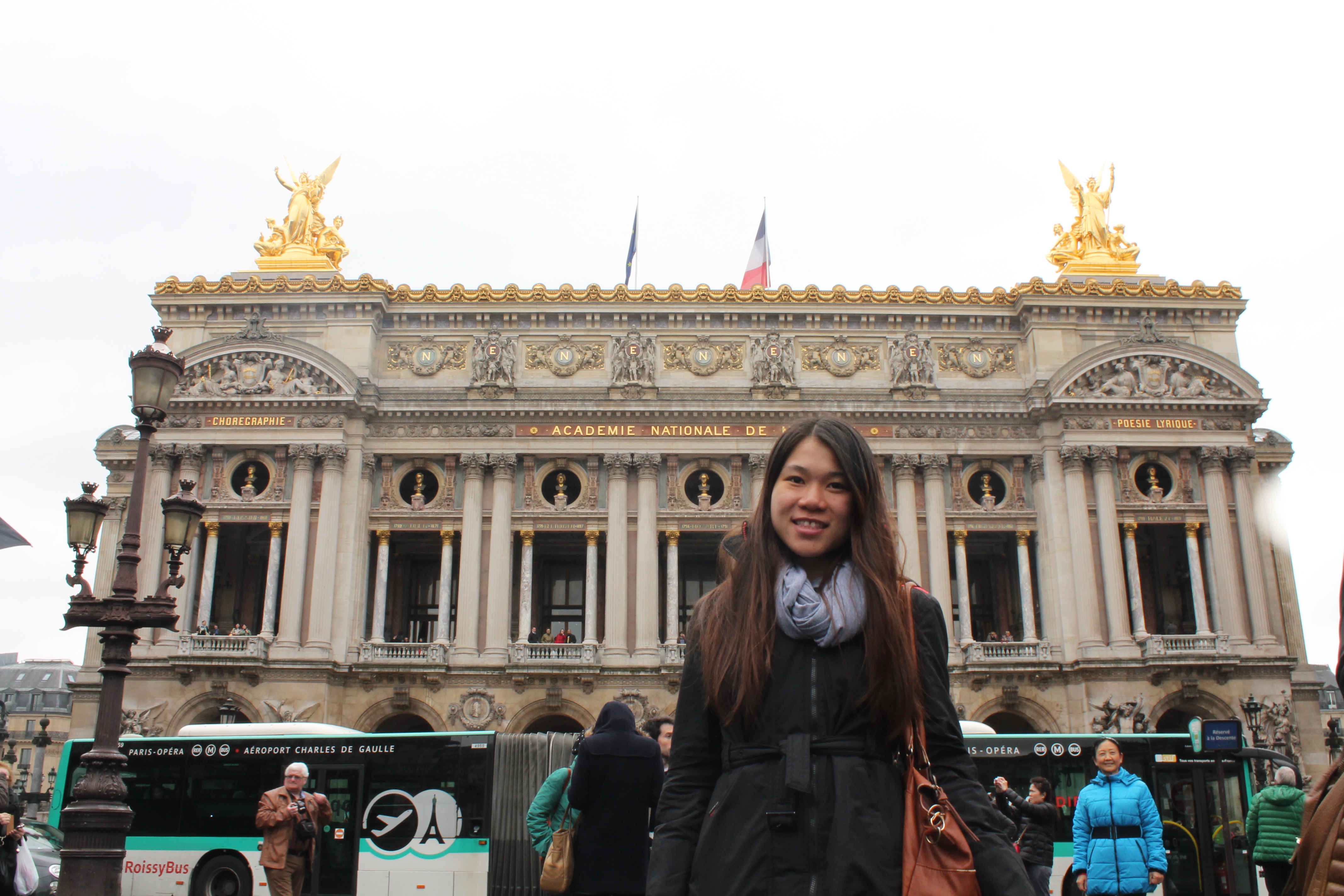 I mentioned last day that we didn't see the actual love lock bridge, so we decided to go back and see the real one, the Pont des Arts. This one is filled with a lot more locks, and collapsed a while back, so they have now boarded it up and people can no longer attach locks to the rails. It used to look a lot nicer without the boards, I must say.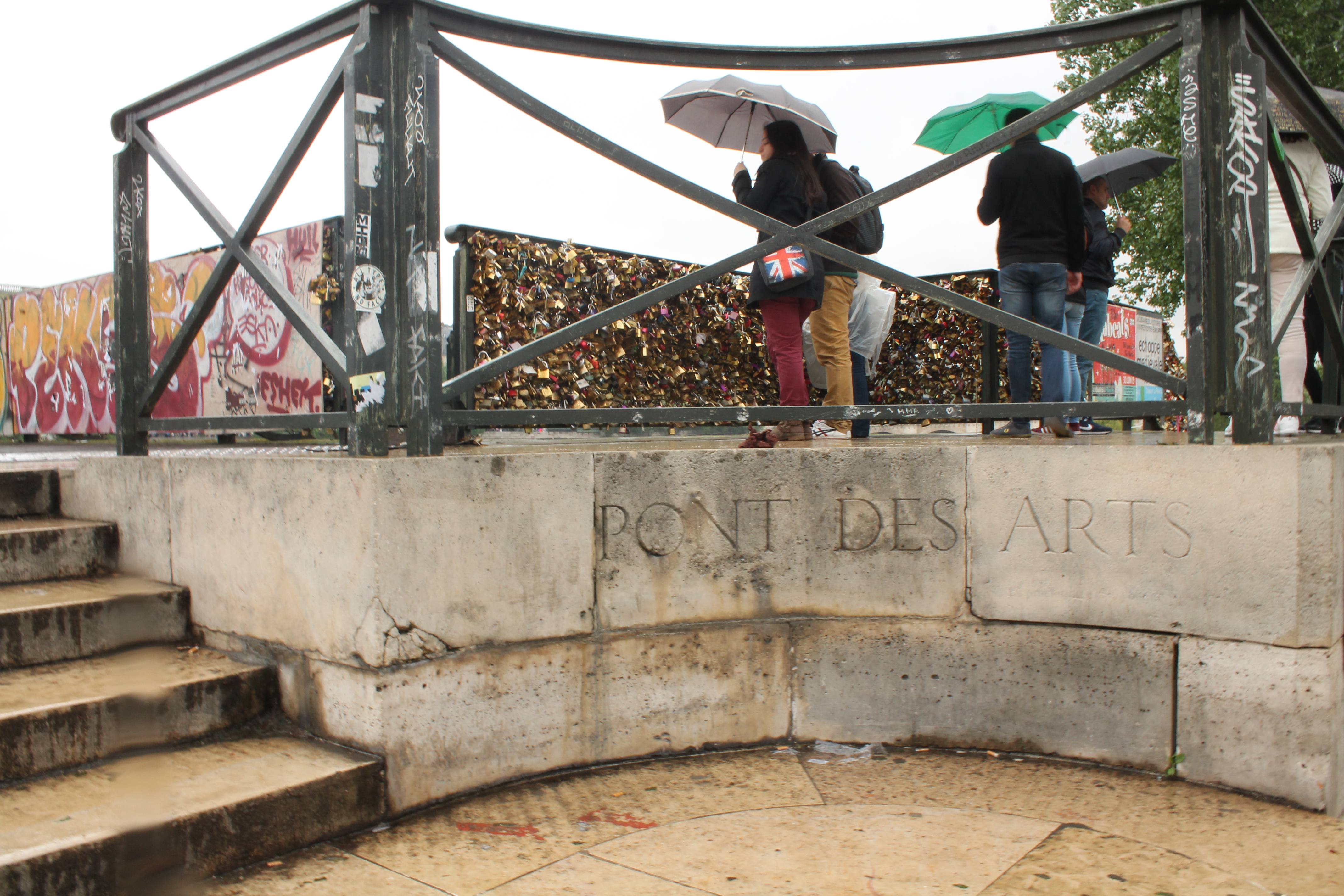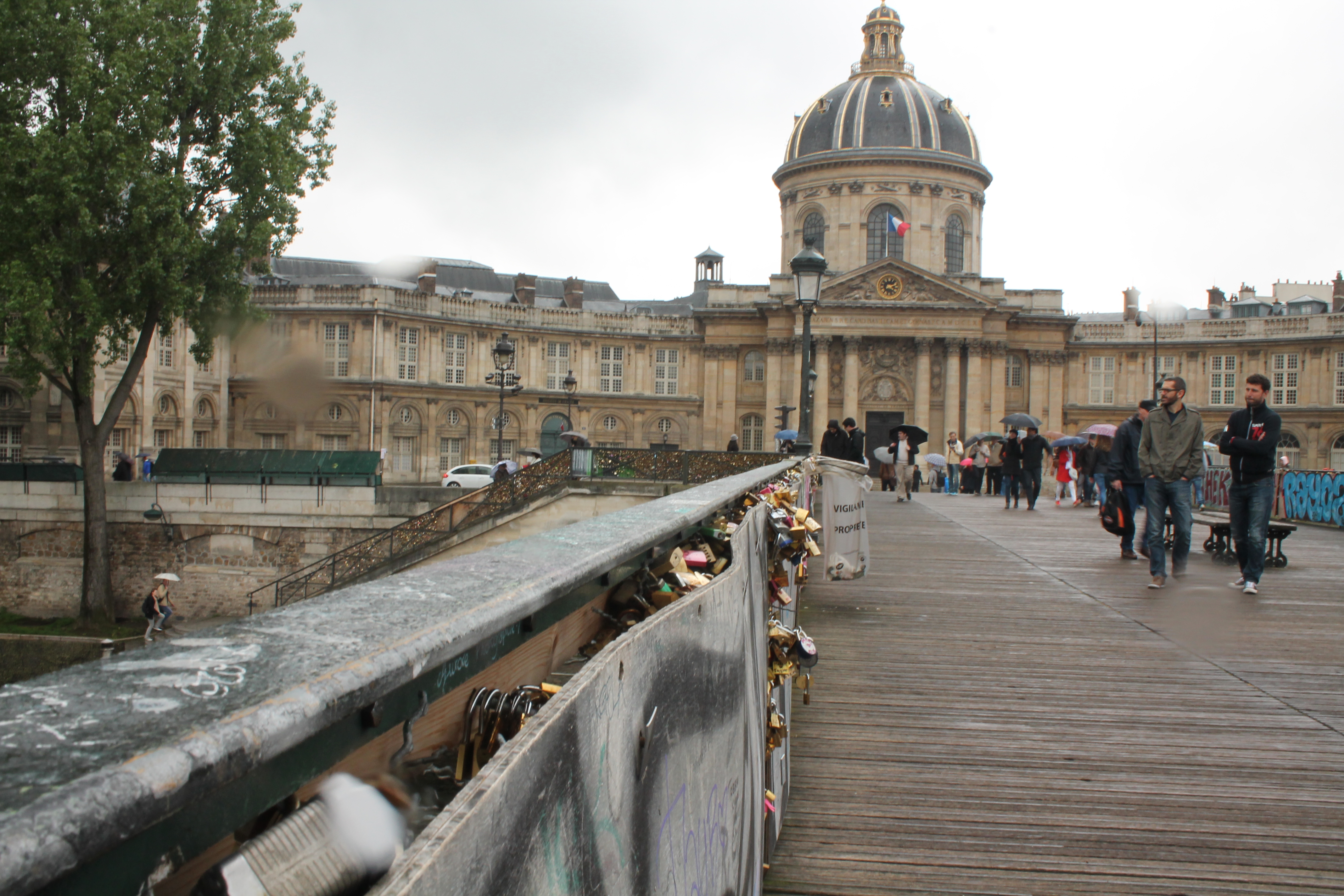 I had Pont Neuf on my attractions list because I had seen a bunch of pictures (mostly taken at night) that made it look gorgeous. When I visited yesterday, it seemed pretty… well, normal, I guess. Nevertheless, here it is, the oldest standing bridge across the Seine.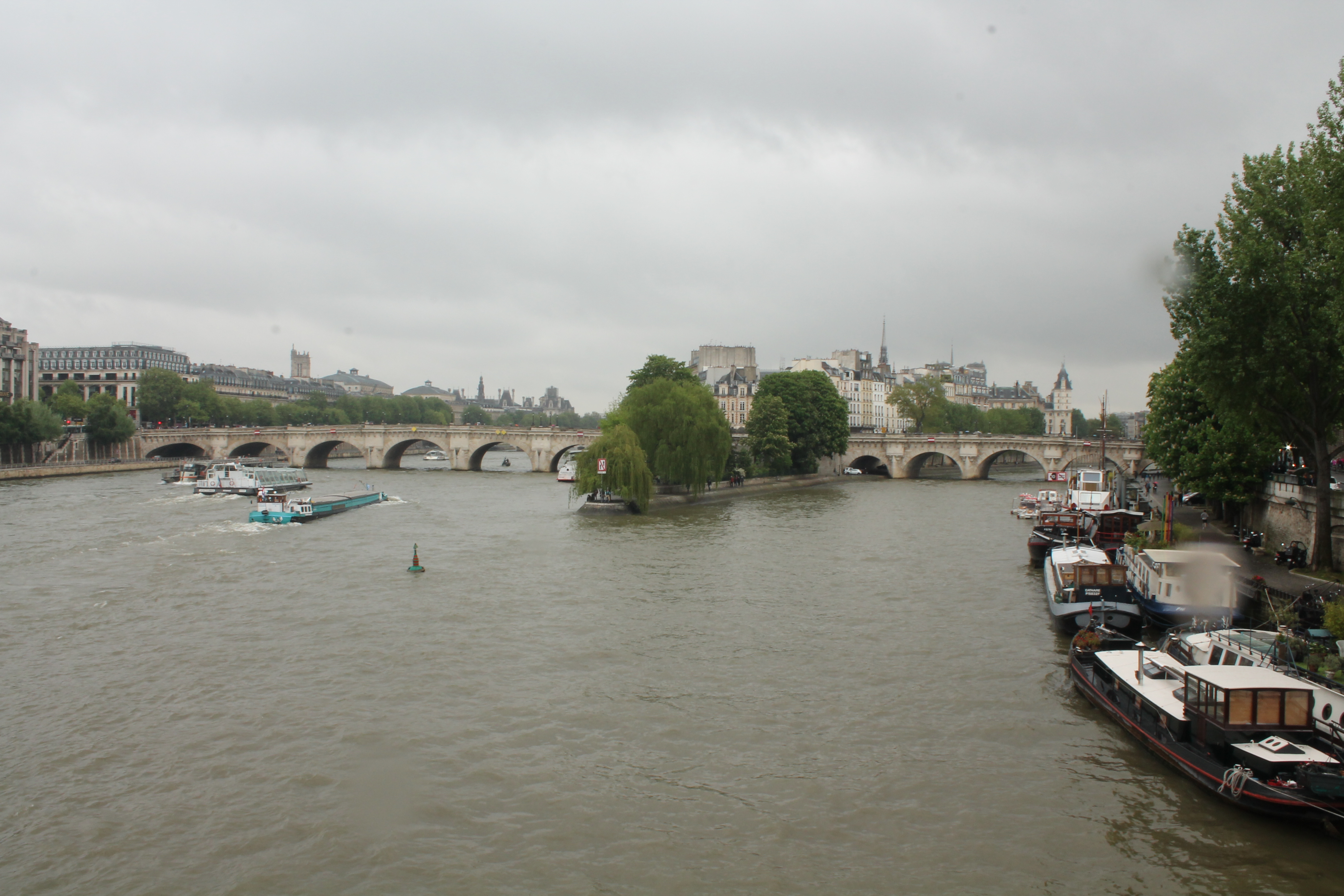 We did end up going back to Shakespeare and Company, and there was a short line just to get into the bookstore. On the first floor, it's really 'just another bookstore', with maybe some interesting books and first editions (that are not for sale). Upstairs, there are more classics and even a quiet reading room if you want to just browse and spend and afternoon there. I can imagine being a great place to read or write, although the constant influx of tourists probably make it a bit annoying.
No matter what, Shakespeare and Company is an interesting walk just because the interior of the bookstore is a very tight area, and it gives you real insight to what the interior of these old buildings must look like. With the typical store/restaurant, you only get to see the storefront. This is much more real.
We then went to the Place de la Bastille, a plaza in front of the . It's the location where the Bastille Prison used to stand, now in place stands the July Column instead.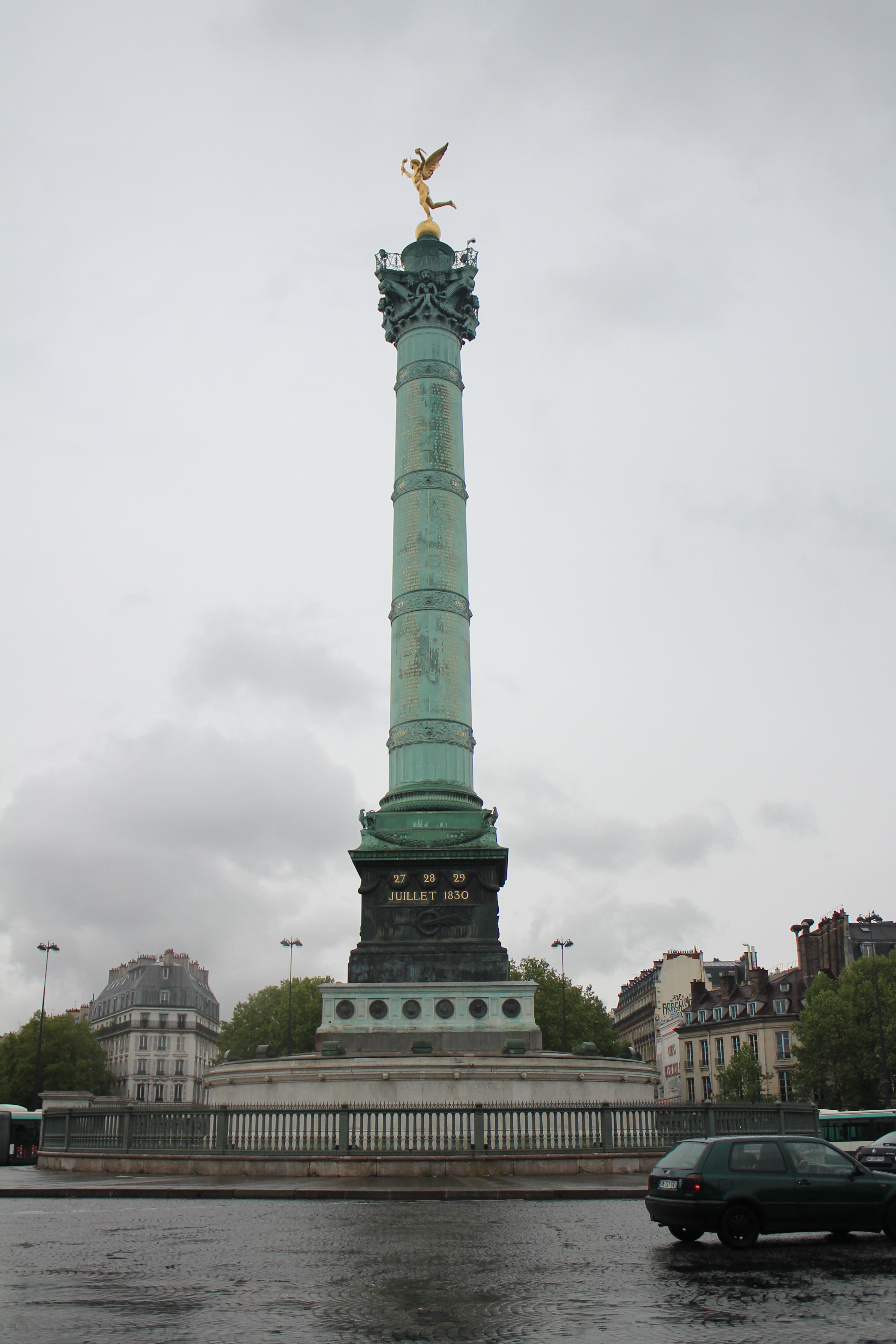 Near the July Column is an area called the Marais, which is a shopping neighbourhood. We stumbled onto the home of Victor Hugo (author of Hunchback of Notre Dame, which I literally found out just yesterday morning after visiting the Notre-Dame cathedral). The home looks like a mansion, but really, he only rented a small room in this area.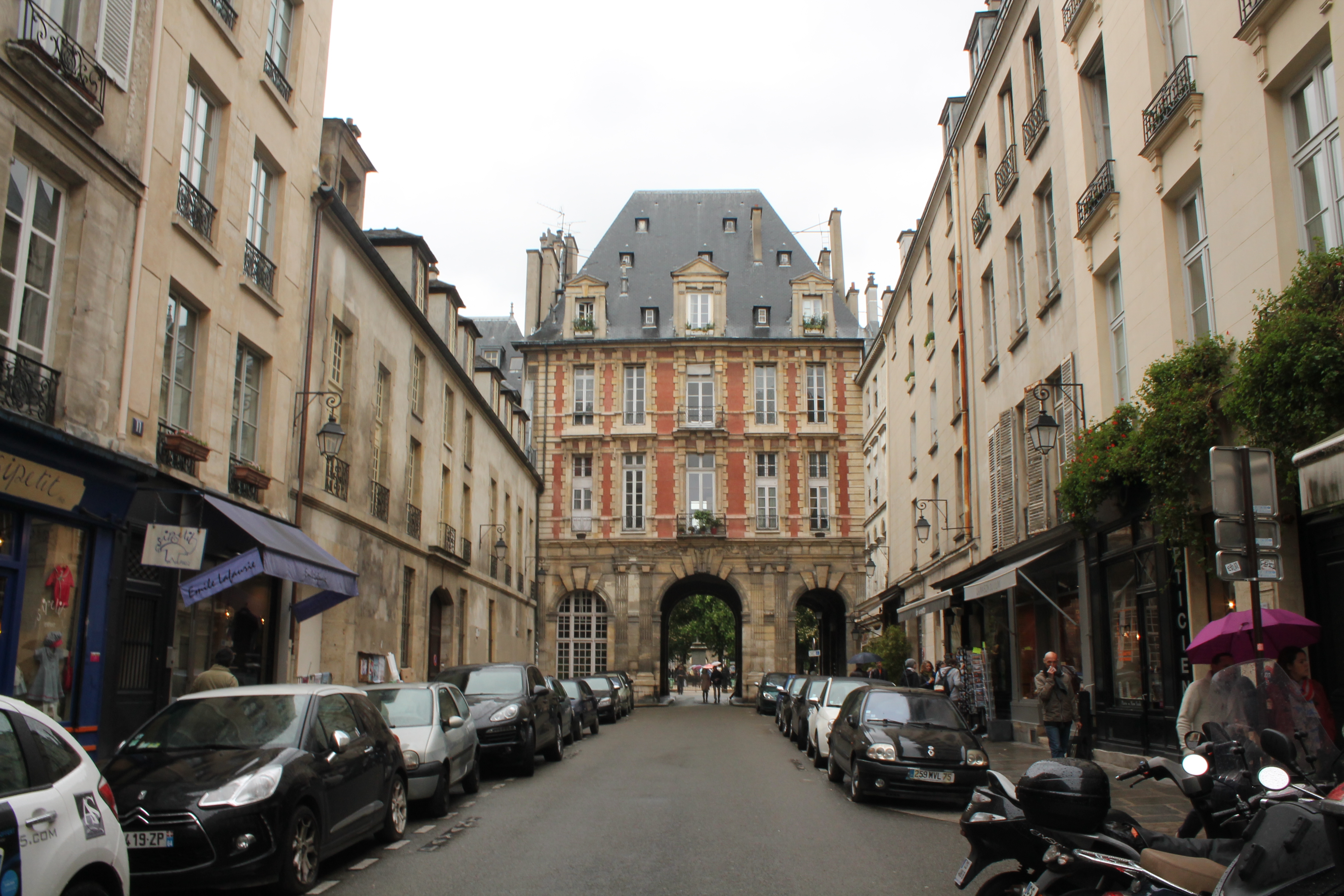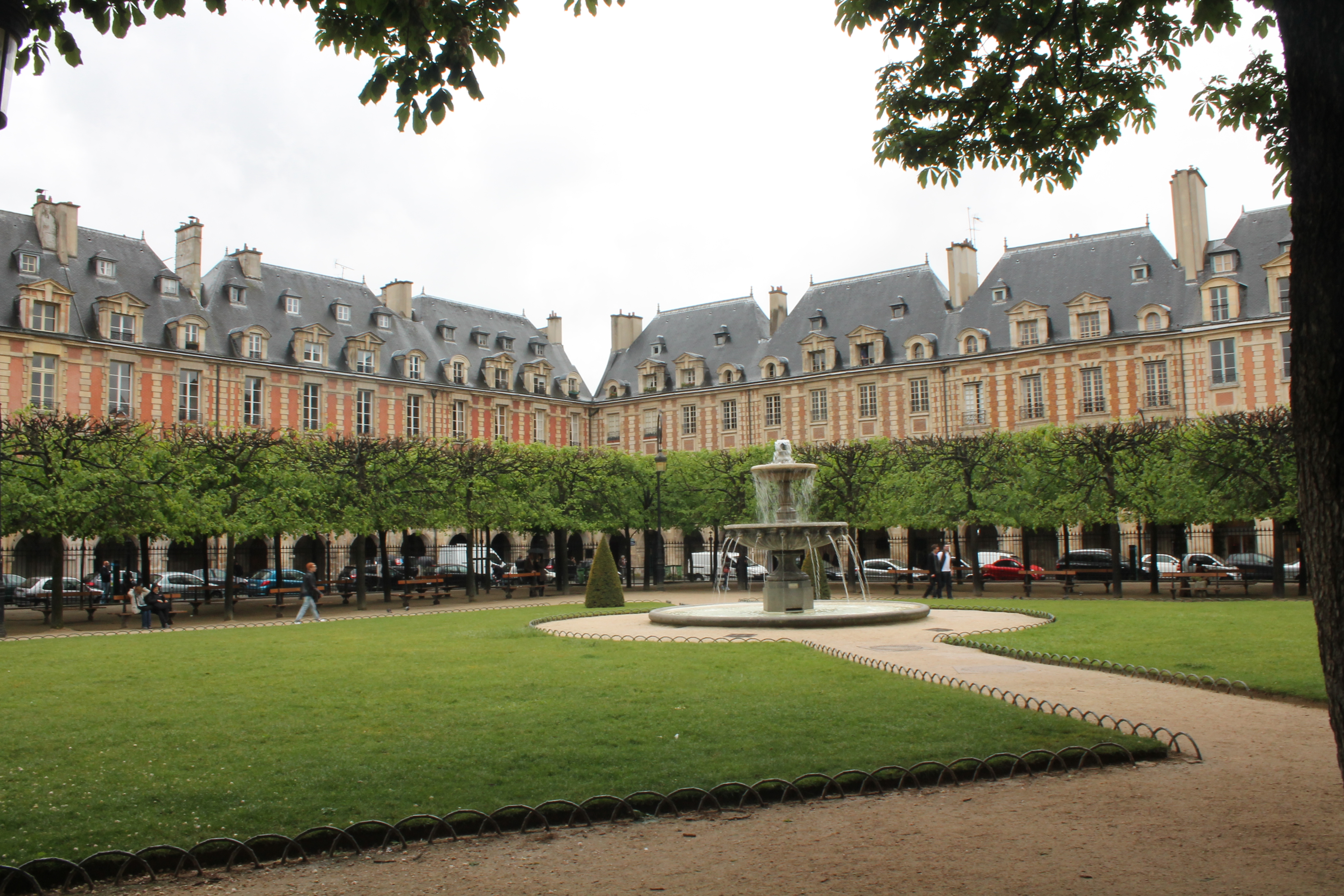 The Marais is quite an interesting shopping area. We go back to the traditional retail strips that I was talking about earlier, and housed in the pretty vintage Parisian houses that give the city its glow. Some of the stores are the same as what you would see anywhere else, but there are also some partially independent store (or at least local brands that I've never seen before). In general, it's still a bit crowded, but there are definitely less tourists compared to other areas.
When I saw L'Occitane, it just occurred to me that this brand is probably originated in France. Finally, something that may possibly be cheaper in Europe! But I didn't bother to look inside.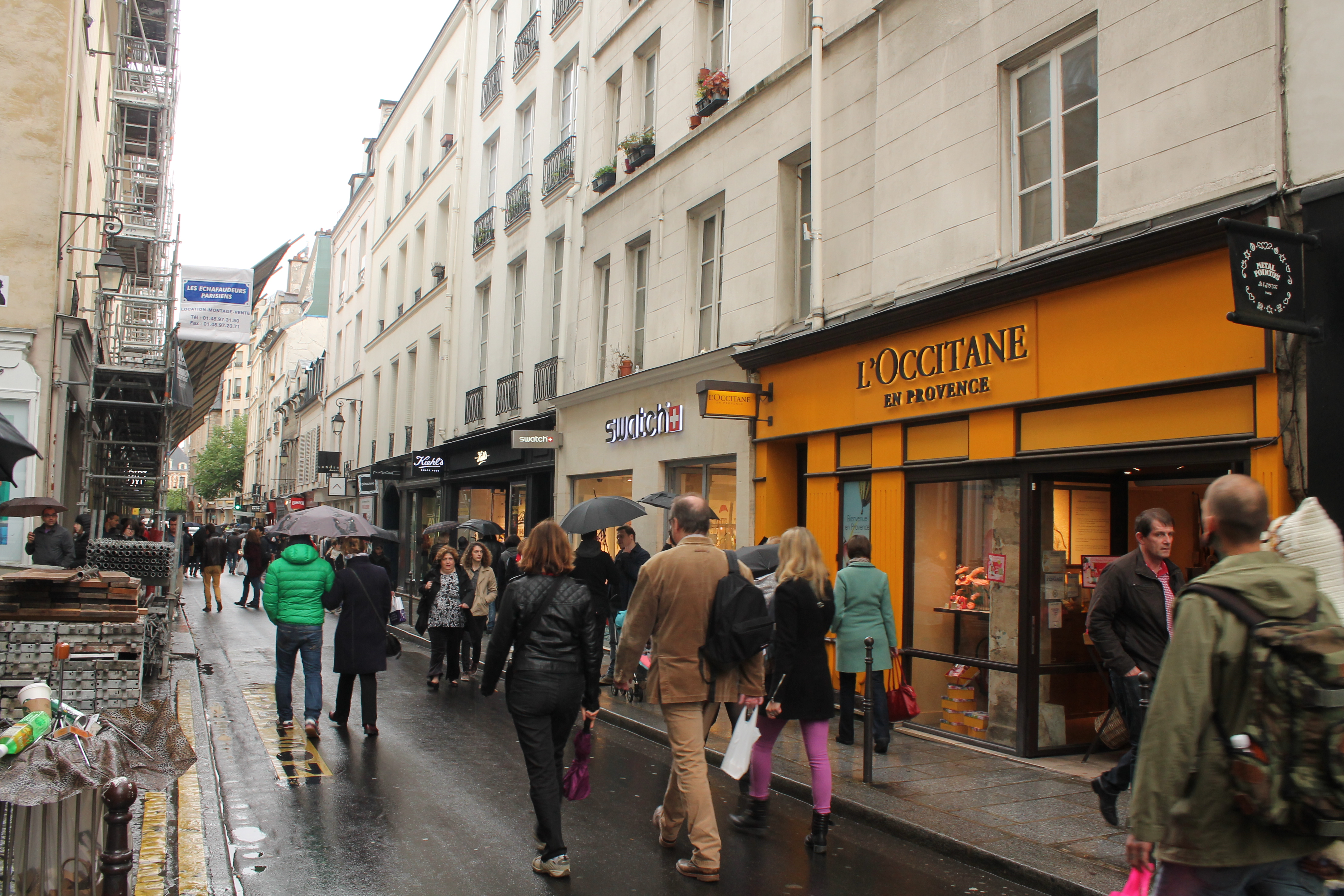 On the way home, we got some groceries from a local supermarket. Somehow, being in a supermarket where everything is in French is enough to amuse me, even if they sell the same items as our supermarkets at home.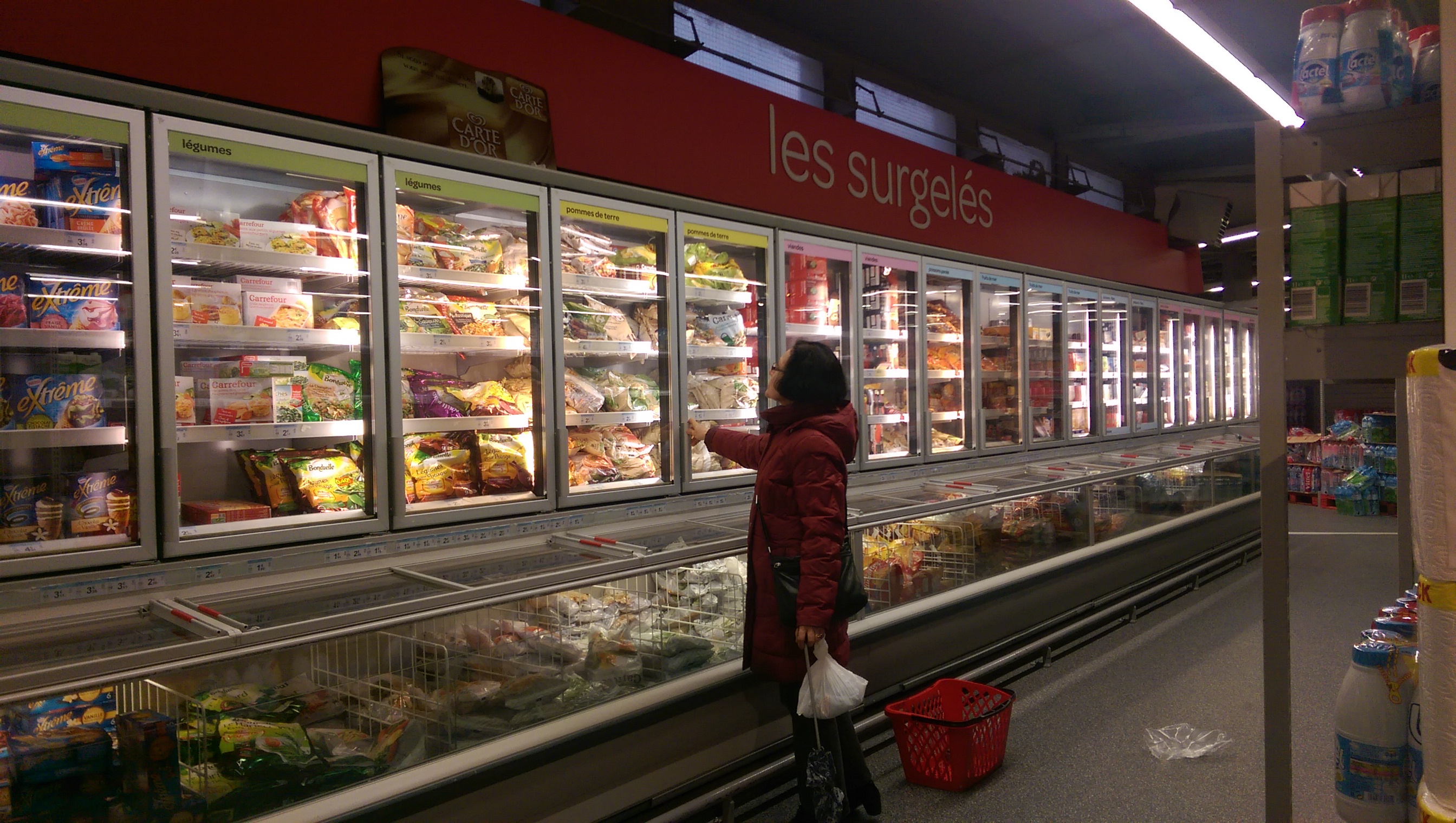 We saw lots of things on Saturday, and comparatively not quite as much on Sunday. So apparently the Musee D'Orsay is free on the first Sunday of every month, plus my mom was quite interested in that museum to begin with, so that's where we went. The only thing is, everyone also got the memo. So we ended up waiting for three hours in line, outdoors, under the rain, with all our luggage because we had a train to catch afterwards. What an experience!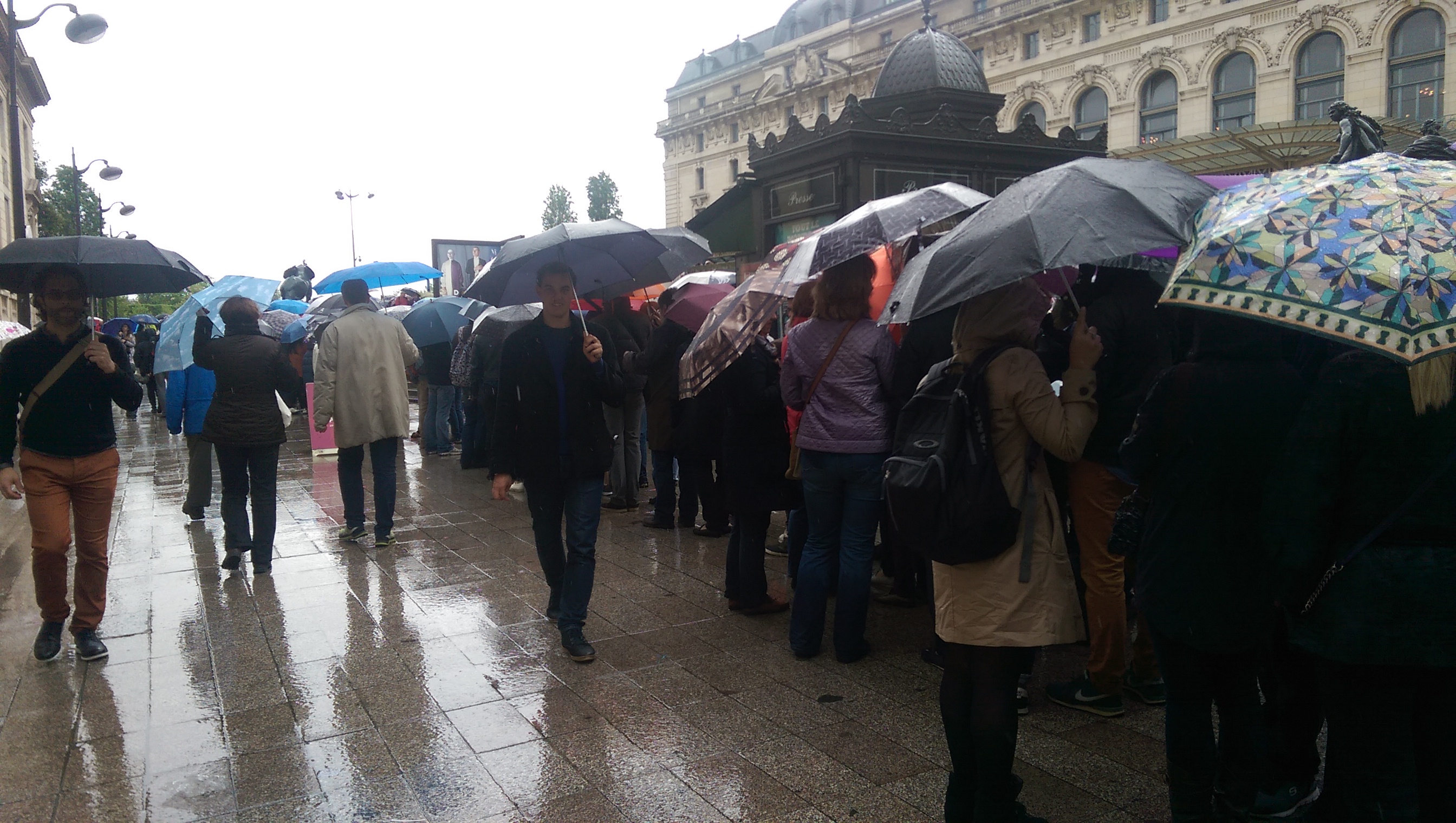 I liked the museum not because of the art exhibits, but because of the architecture. This museum used to be a train station, and then as trains became longer and longer, their platforms became too short for the new rolling stock. They transformed the train station into a museum, and it stands until now.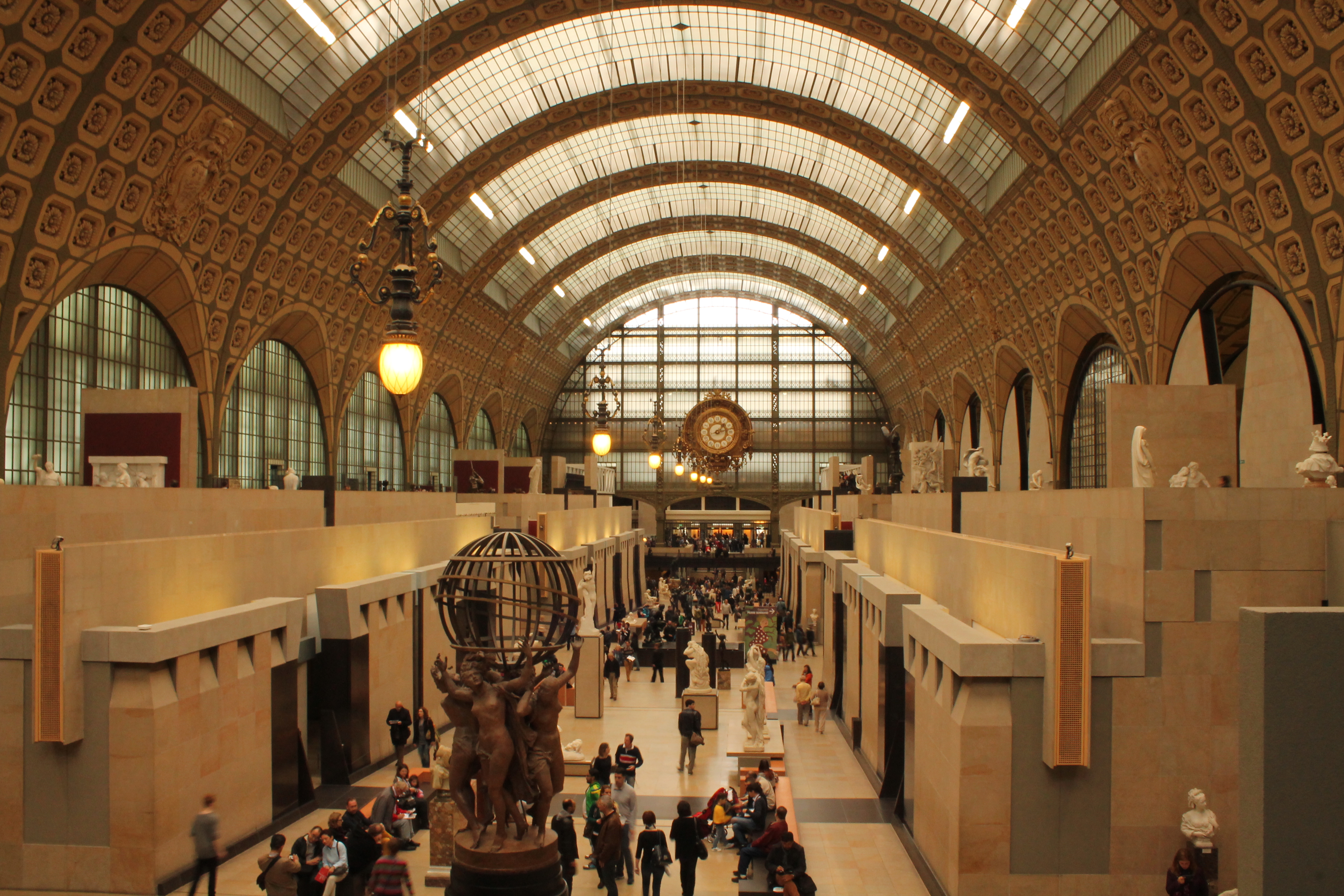 My favourite part is the huge faces of the clock on the top of the station. Reminds me of the movie Hugo! (For the record, that movie is also set in a train station in Paris, but not this particular one).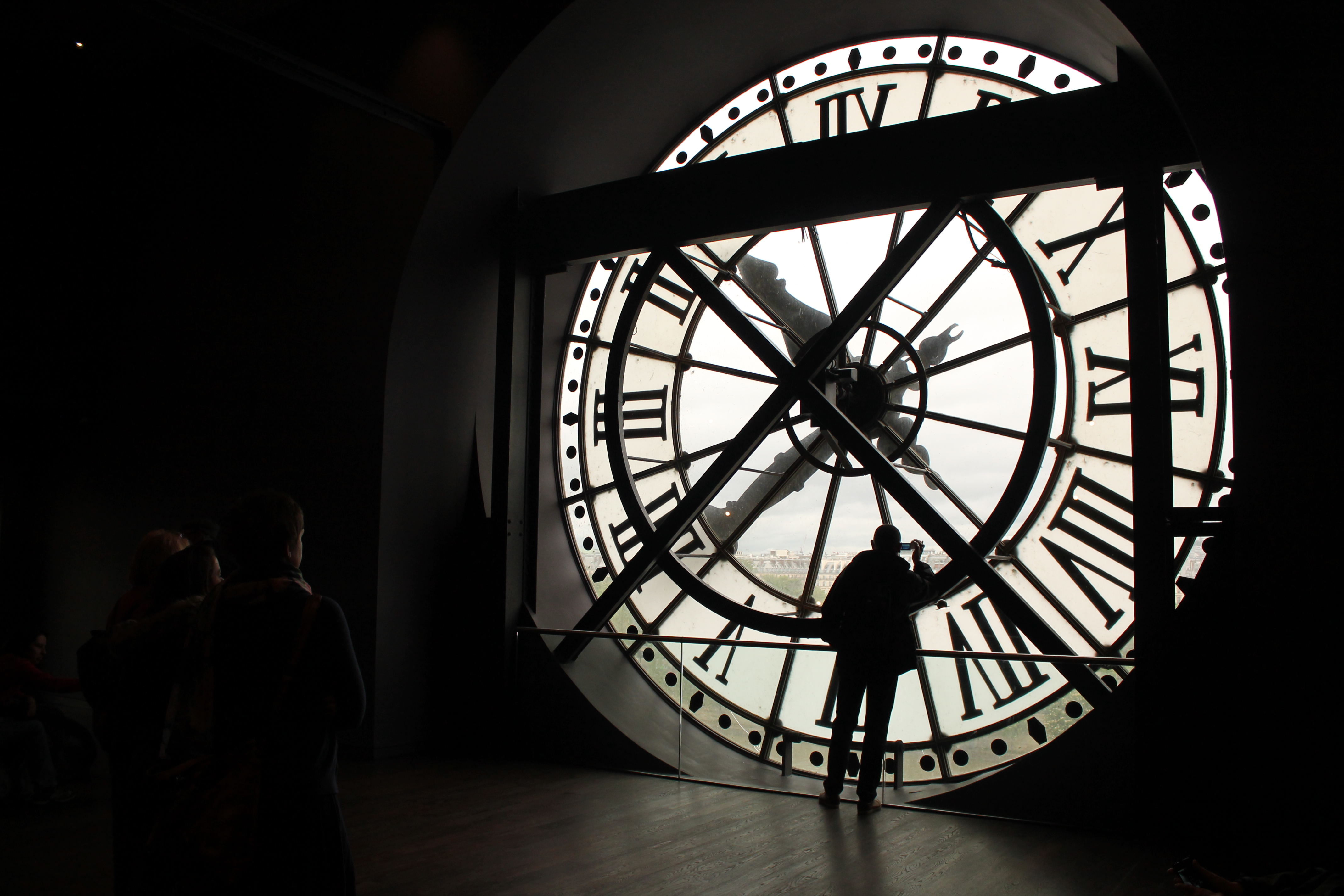 We were soon on a train to Lille. I was surprised at how fast these trains were! At 300 km/h, that's pretty much bullet train speed (according to China/Japan). In Japan, the normal 'intercity' trains are the slow trains that stop at every station. In Europe, these intercity trains take you from point A to point B at blazing speed.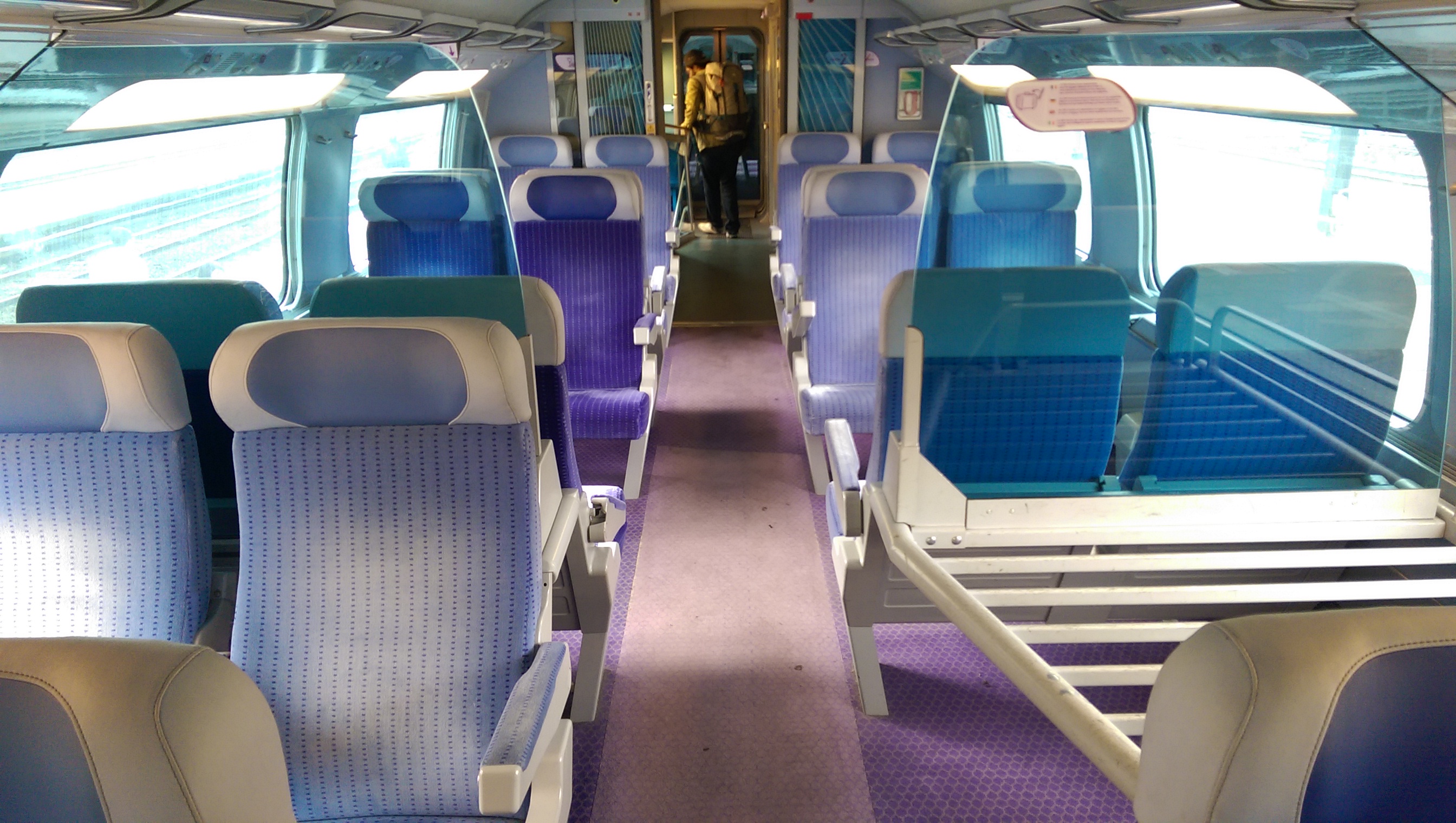 Unfortunately, we got to Lille on a Sunday, and everything was closed. In Paris, a lot of places outside the city center were also closed, but of course once you get to the tourist areas, things are mostly open. That being said, it's still not 100%. It seems like God's idea of Sunday being a day of rest is much stronger in Europe, whereas you don't even hesitate at the thought of shopping malls and restaurants being open n Sunday in North America.
One thing I noticed about Lille is that the stores don't even tell you when they're open on Sundays. They list their hours for lundi to samedi, and nothing for dimache. That word never even appears. It's accepted that nothing is open on Sunday.
Nevertheless, we did a small tour around Lille, and got to see the beautiful stone roads of this city. It's a different vibe from Paris… a bit newer, but still nothing close to modern. More stone rather than pavement. Paris is almost what I expected Rome to look like. Lille is more like… I dunno, Whistler Village, but with narrower streets.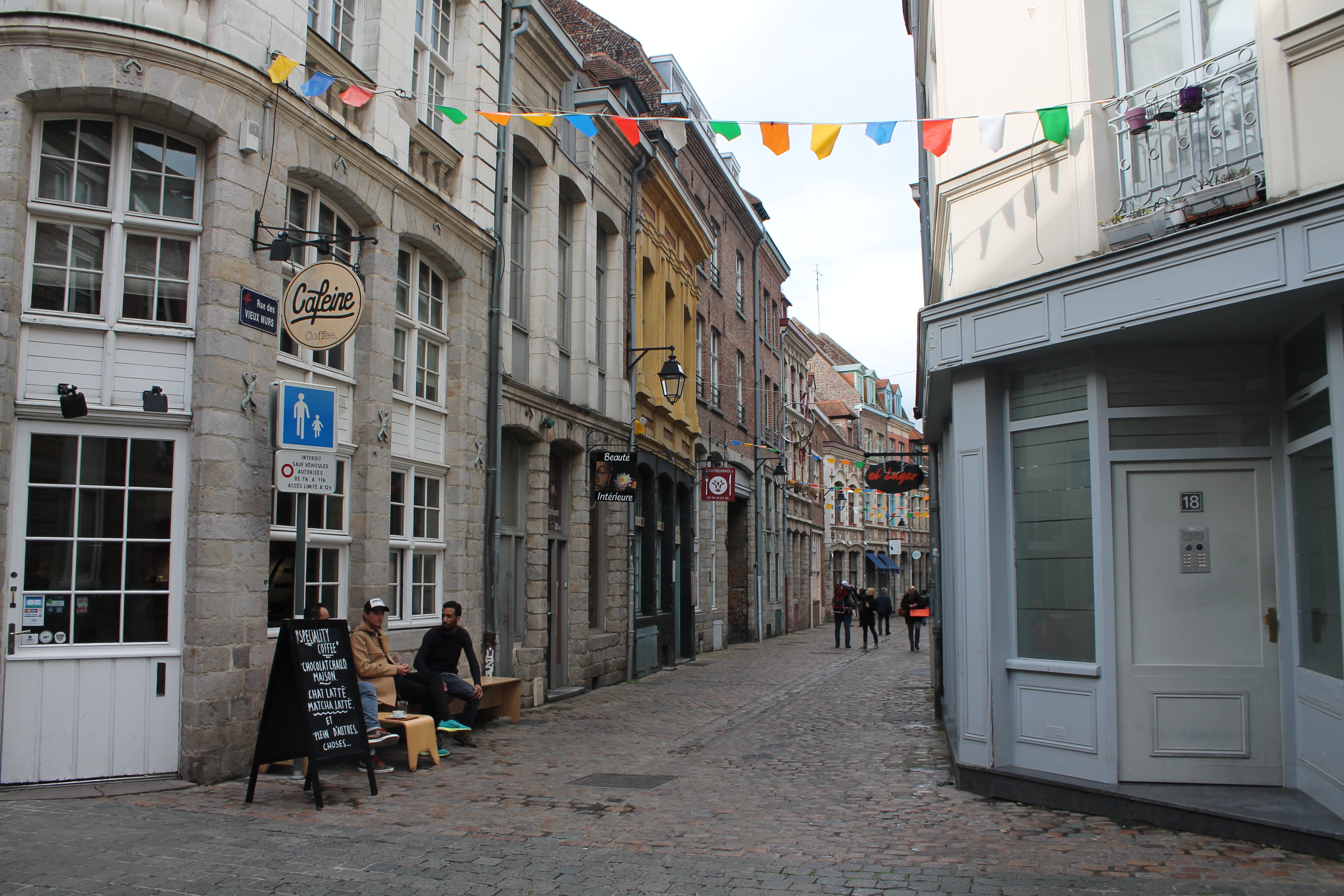 My last observation for France, until I come back 2 weeks later: Clearly, not everyone speaks English. But I'd say when I'm in a store (especially McDonald's, but other stores as well), the songs that they play are 85% English. And not just the tourist areas/city centers, either. This is true for pretty much every store that's had music playing when I walked in. Interesting.