I love it when my blogging network expands. A close friend of mine recently started a blog, and she has a lot of great ideas recorded into words. It's also such an honour to be featured on her blog! If you have an extra minute to spare, be sure to check it out:
So anyway, continuing on from last week. My second day of adventure ended up as an unintended eating tour. Before heading to my first destination, I decided to try this restaurant called "Coconut House" at the plaza next to my hotel. As it turns out, it's not really a restaurant, but a dessert house that specializes in qing bu liang – that popular dessert that I mentioned before. So since I was there already, I may as well get a bowl, along with some guava juice!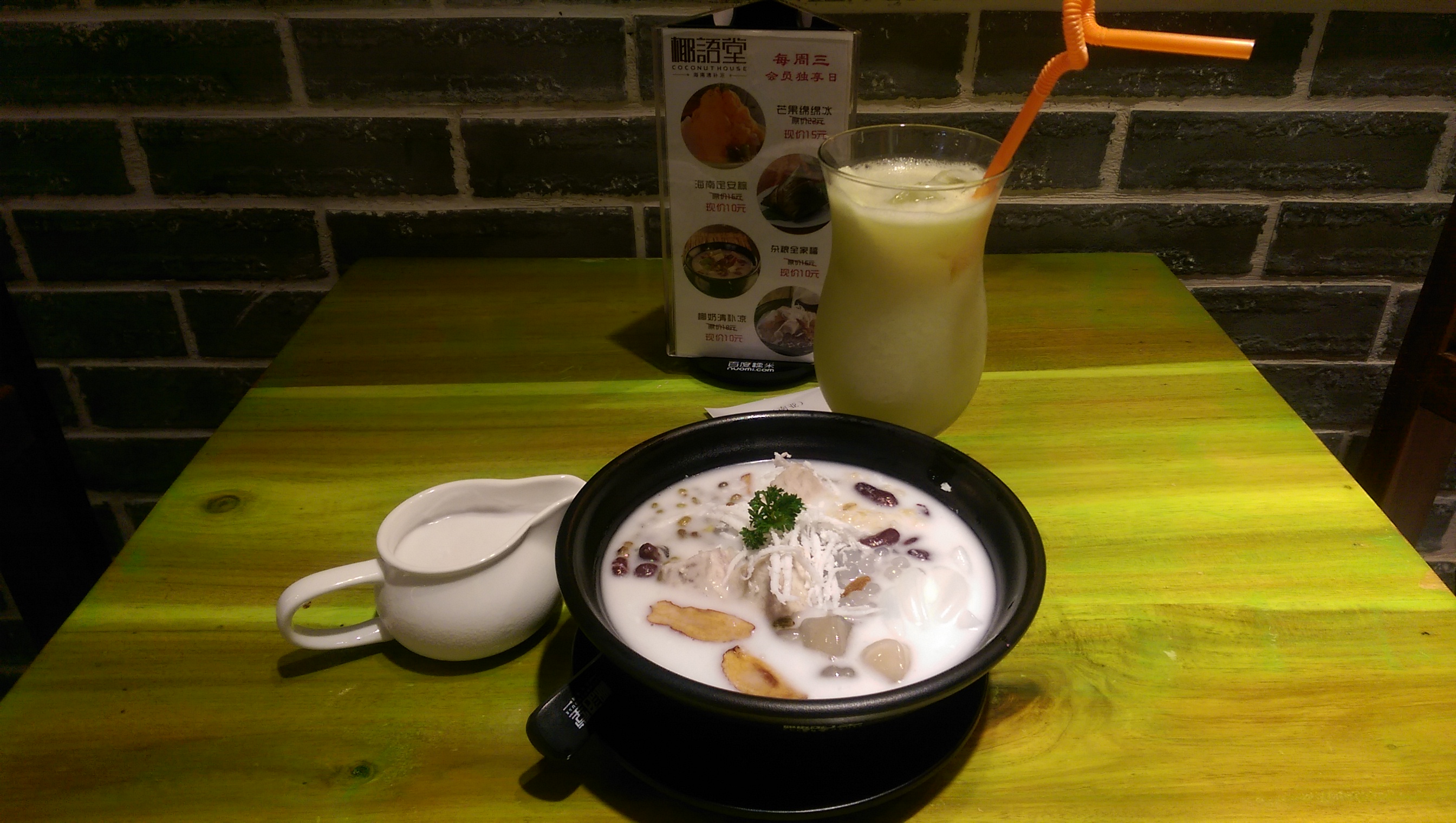 There was an assortment of food in there – red beans, green beans, kidney beans, taro, red dates, raisins, and different sizes/shapes of mochi. They also gave you some extra coconut milk on the side, so that when the ice melts into your dessert, you can still taste the rich flavour of coconut milk.
After my random meal of dessert for lunch, I headed out to this "Friendship Plaza", 友誼廣場. One of my friends told me that there's a place called 友誼廣場 in every city in China, as well as a 國貿 area. This particular one is situated at a roundabout with crazy traffic – thank goodness they decided to make pedestrian bridges as well!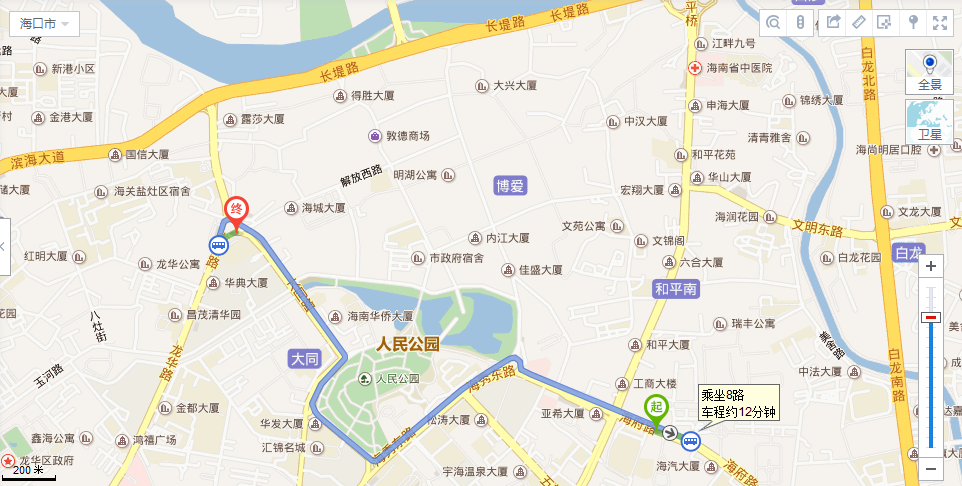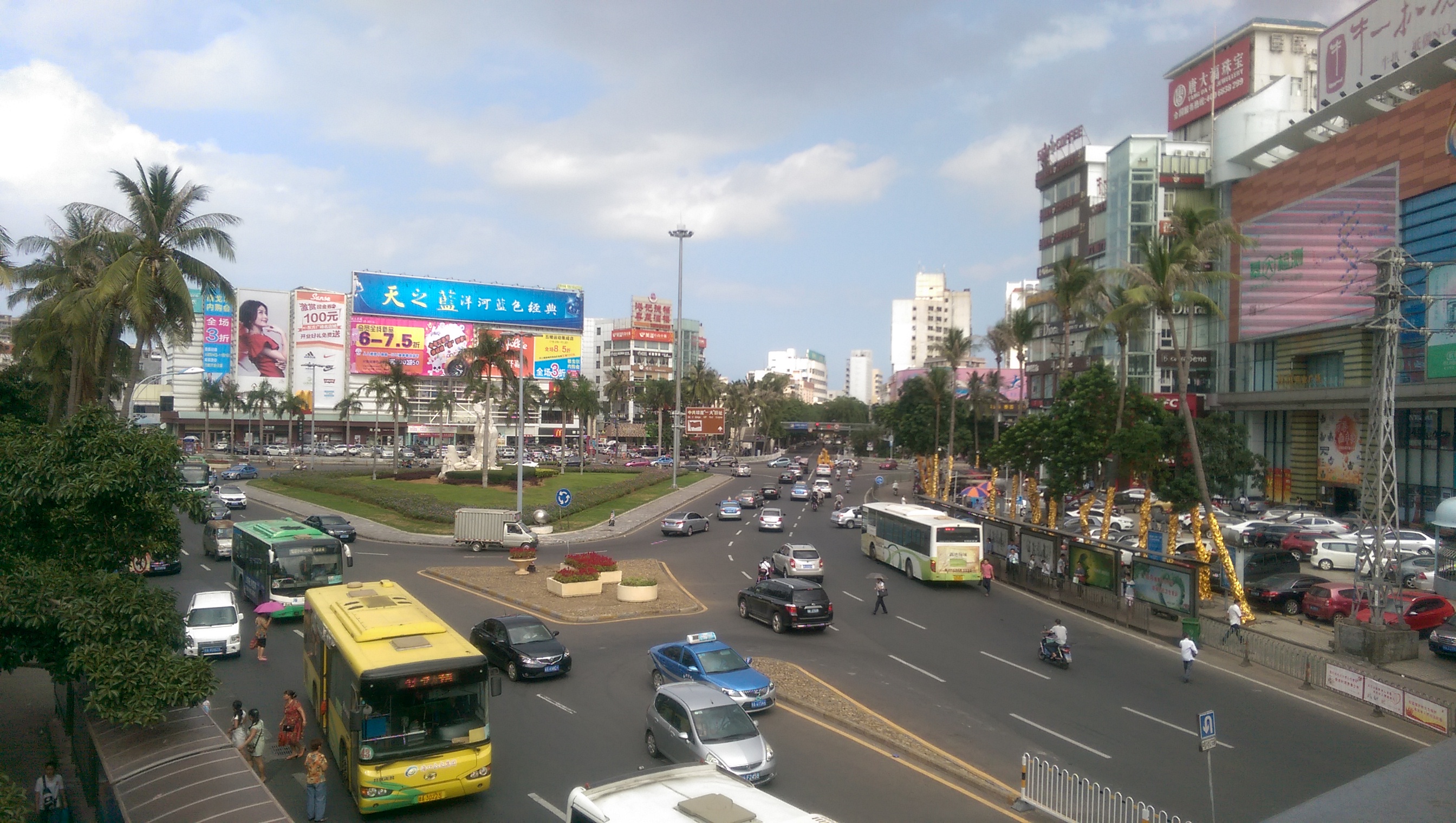 I walked through the malls, but I was quickly bored. There is literally nothing in there, aside from clothes. I was actually looking for a card store, like Hallmark or Carlton, but I couldn't find anything even remotely similar.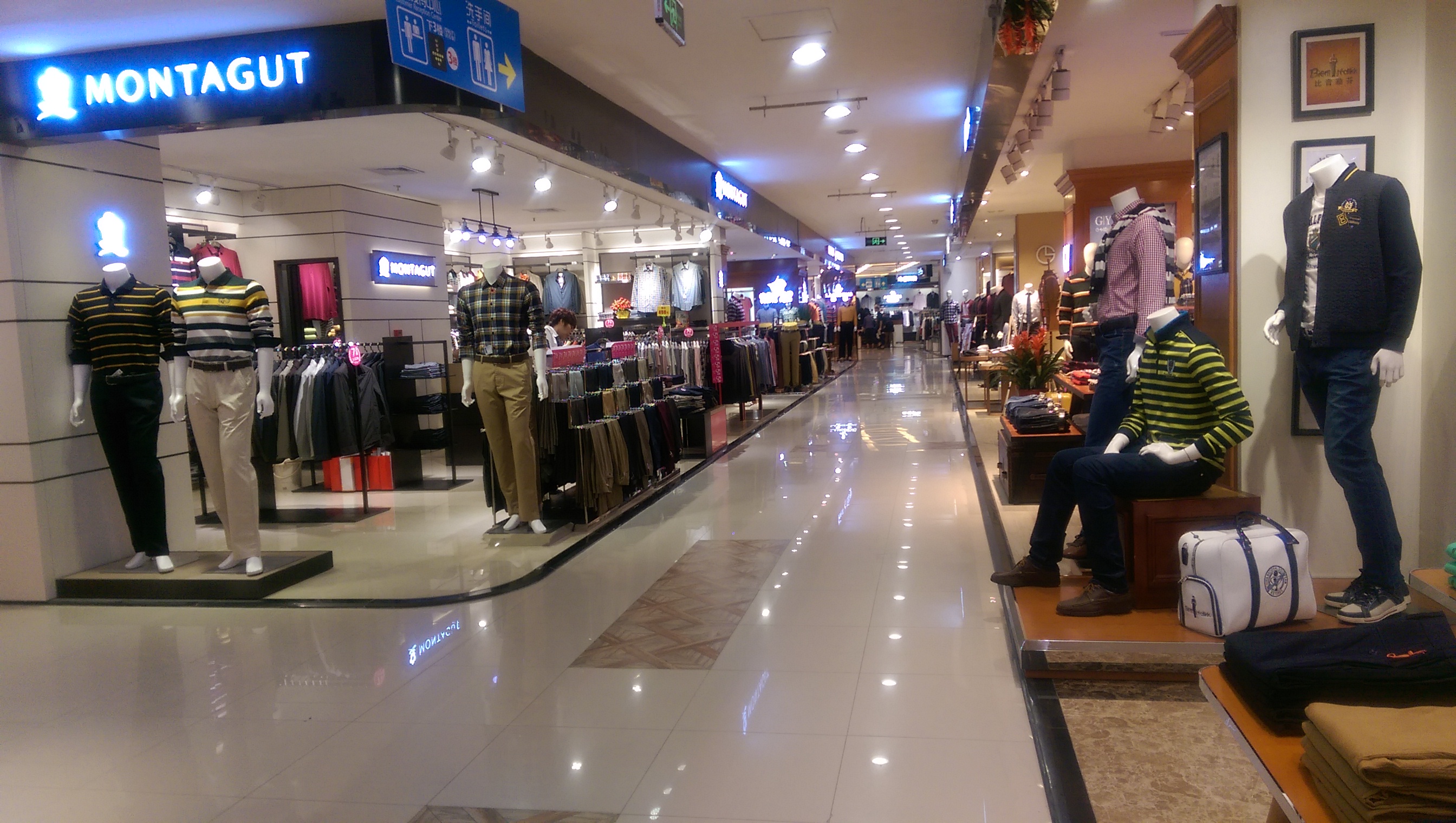 As I kept walking, I found the place I was actually looking for – not the mall, but an area next to it called the 騎樓小吃街. It's an area for food and snacks, and it's clearly been constructed to attract tourists. You'll notice the front wall right away, built to look like some sort of ancient ruin that's been there forever. I'm not so sure that's the real case, but there's definitely an immediate spark to your curiosity once you see it.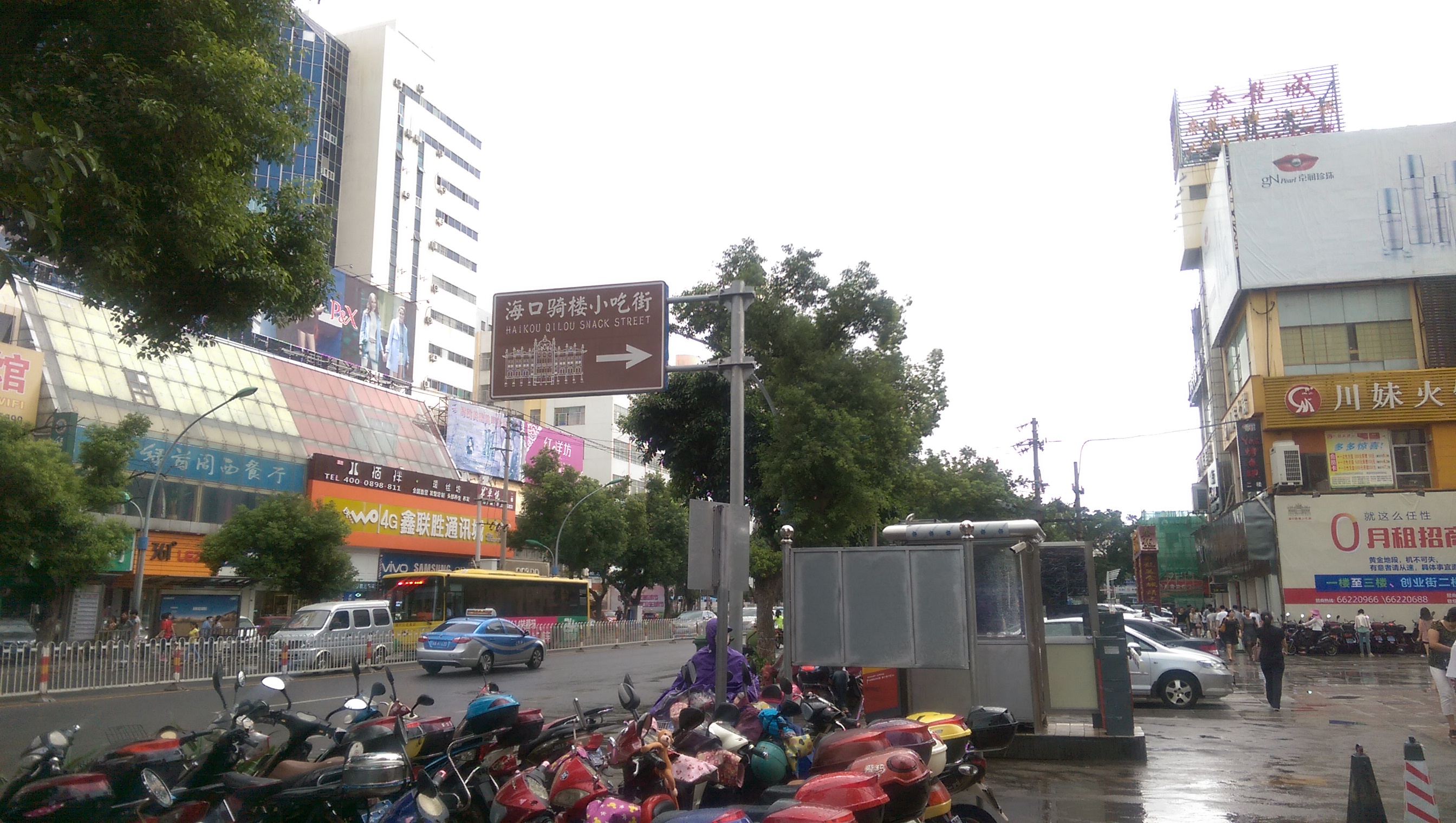 Walk past the front, and you'll realize the inside is pretty big as well. There's an indoors area on both sides, selling all sorts of local snacks that the Hainanese people like to eat.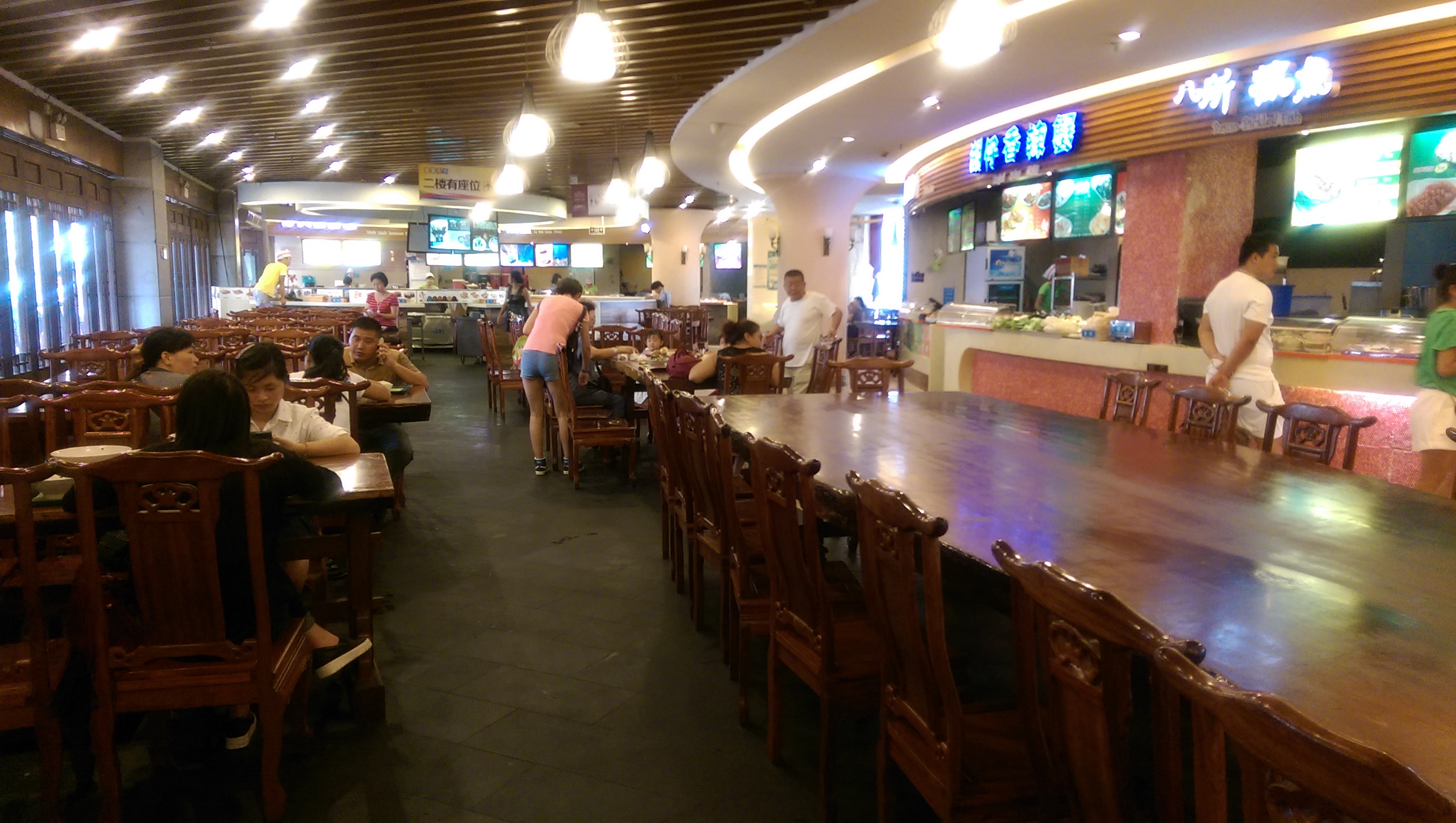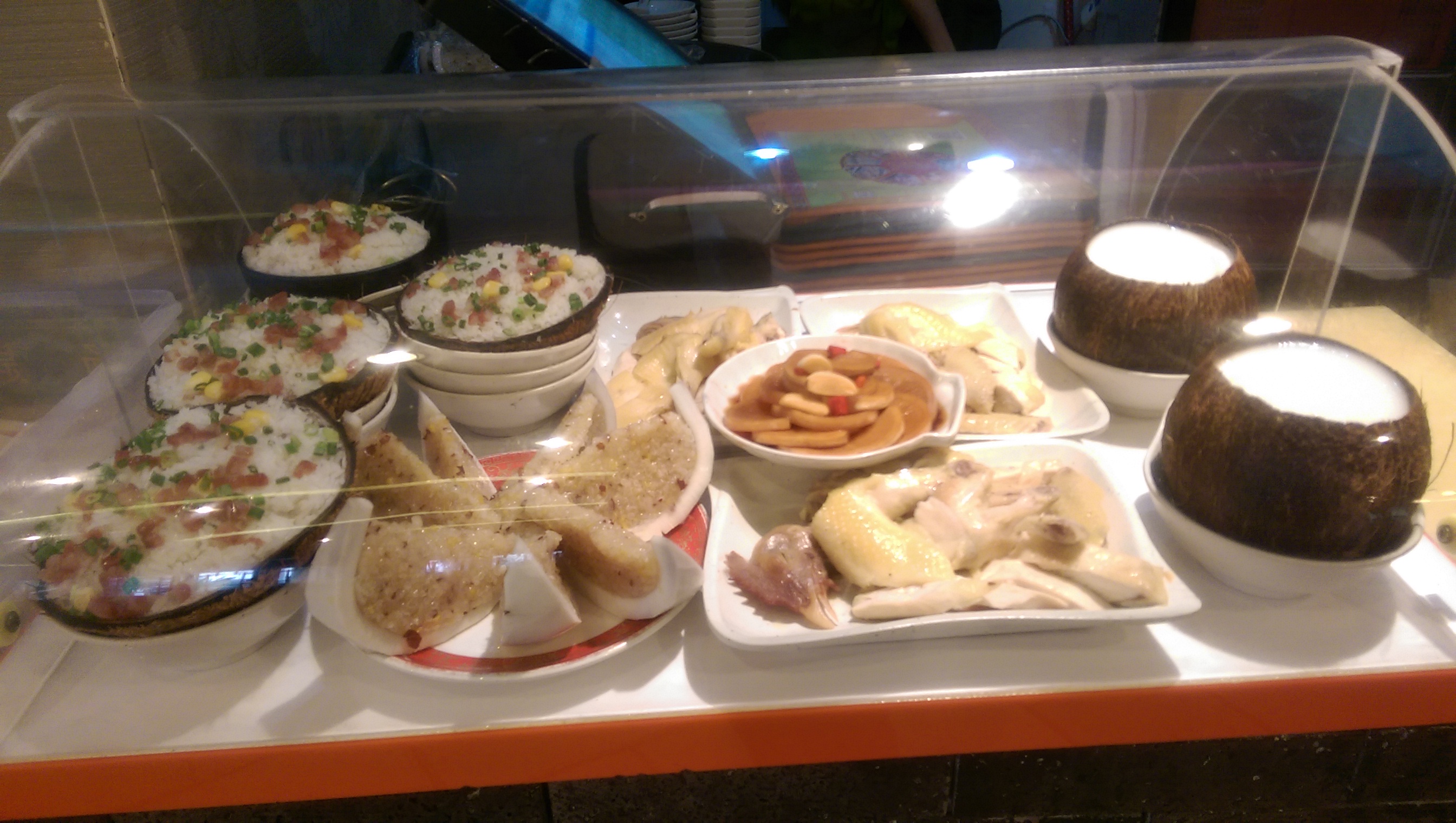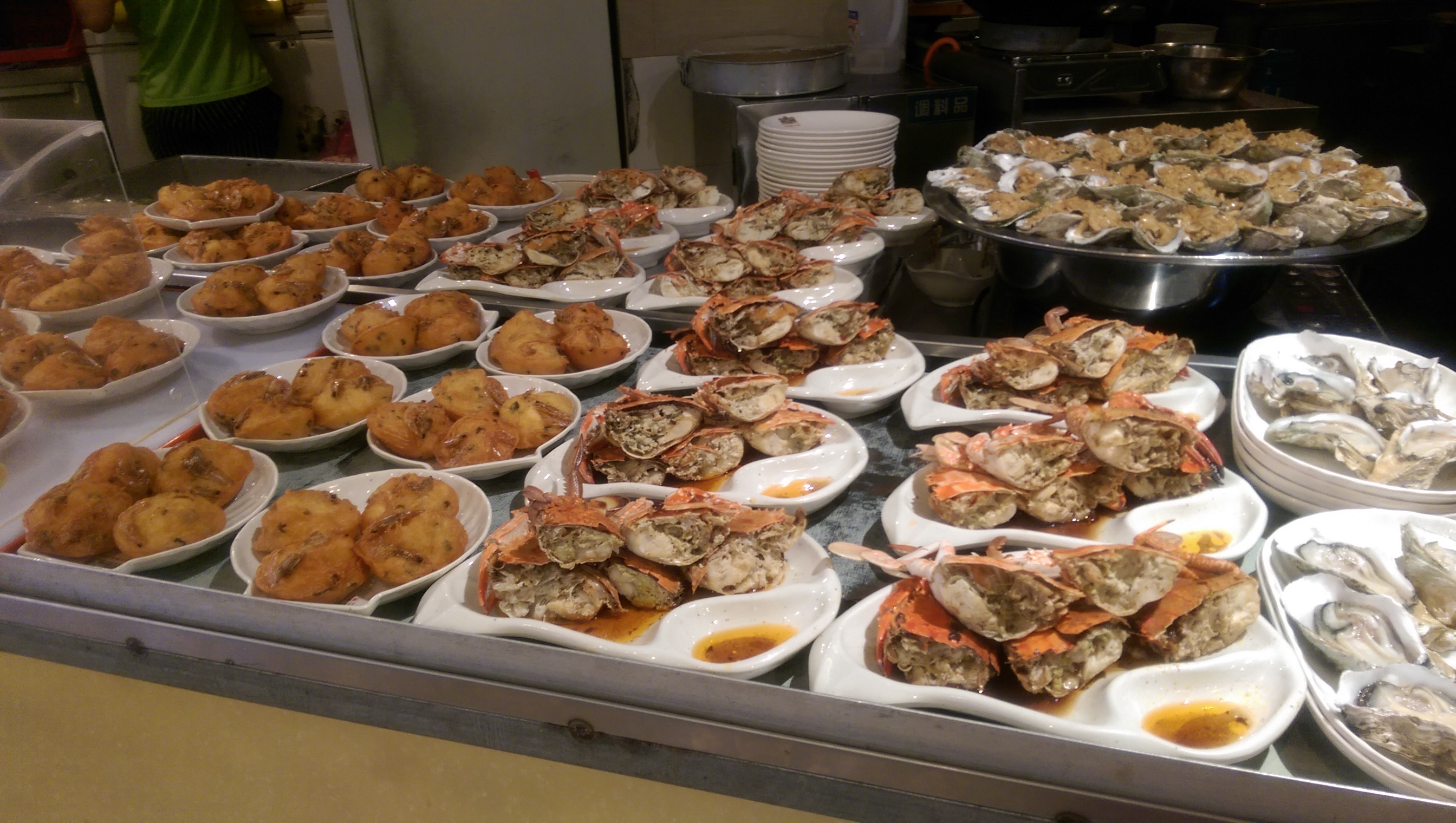 You need to get a card in order to be able to buy anything at all; they don't do cash sales. They also take a $10 RMB deposit on the card, which I think a lot of people probably don't bother getting back.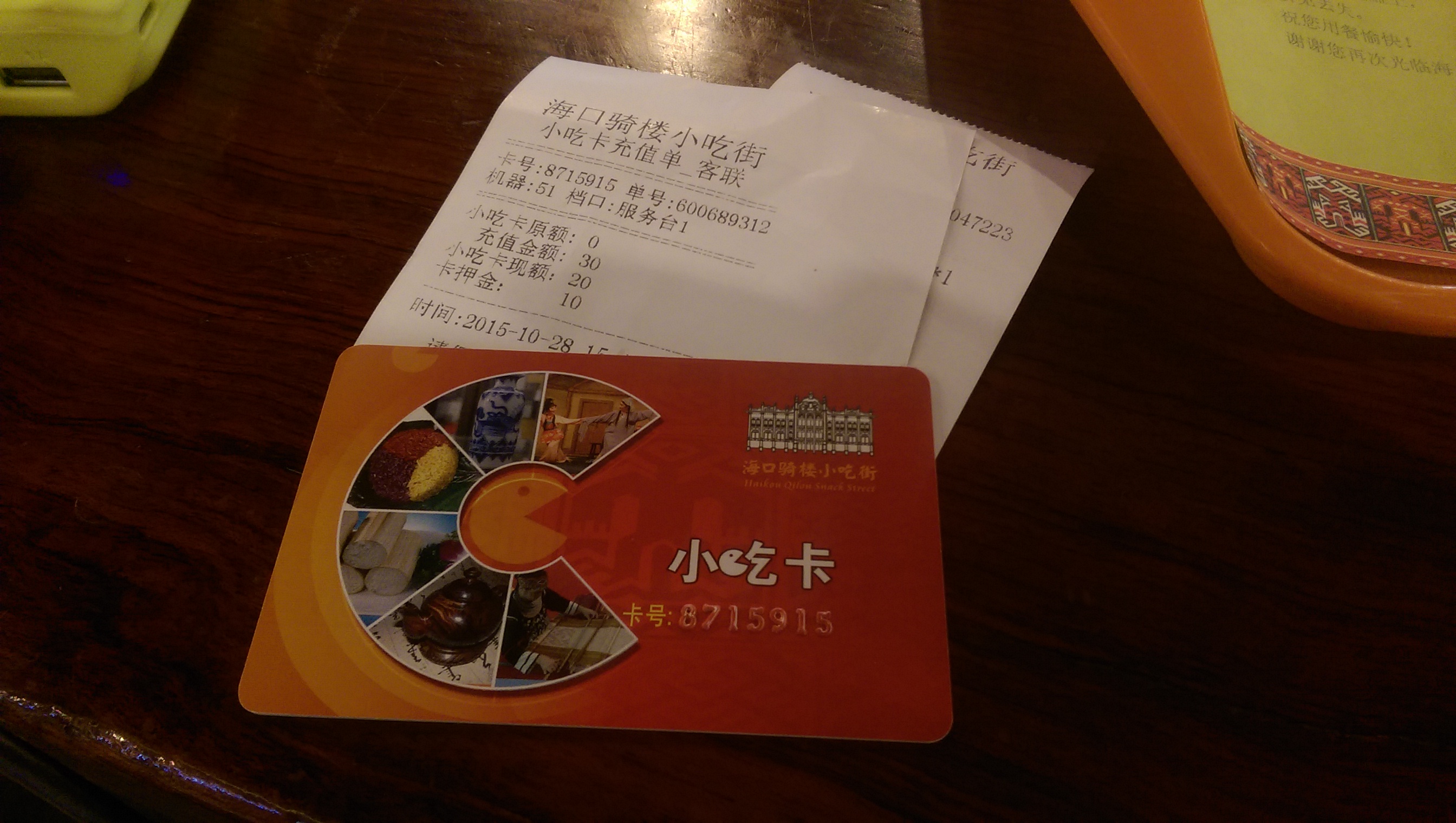 I ended up trying a coconut rice. It was OK, but I think it could have been better. Afterwards, I talked to some of my classmates, and they told me that there's a street actually right next to this place that has the same type of food, but better tasting. I'm not surprised. I felt that this place was a bit too 'for show', and the real gems must be hidden in a much more local place.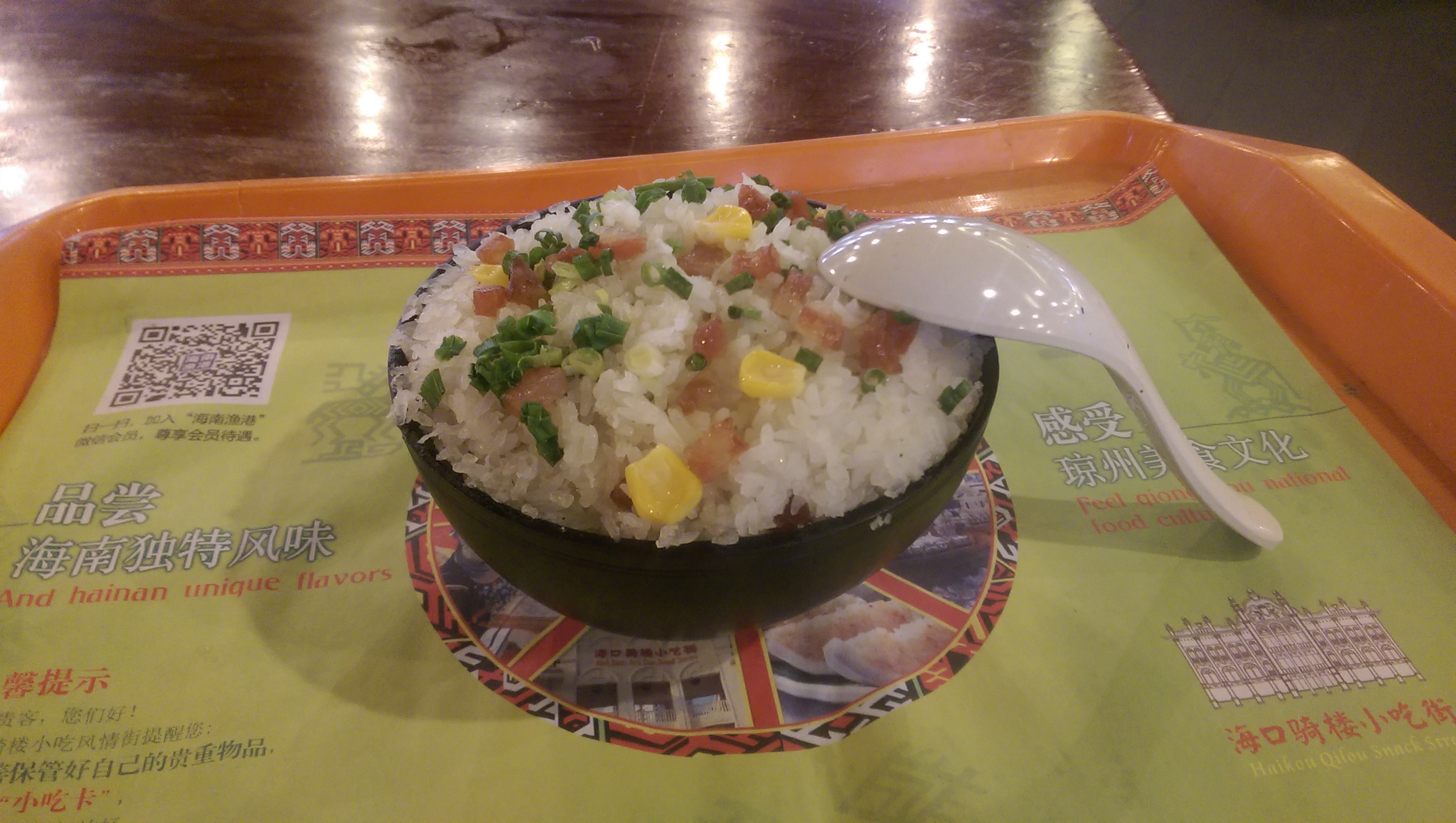 Onto my next stop – the clock tower. To be honest, I came to check this out only because I saw it as an 'attraction'. But it's an extremely short tower, and nobody seems to be interested at all, so I hope you're not too disappointed when you see it.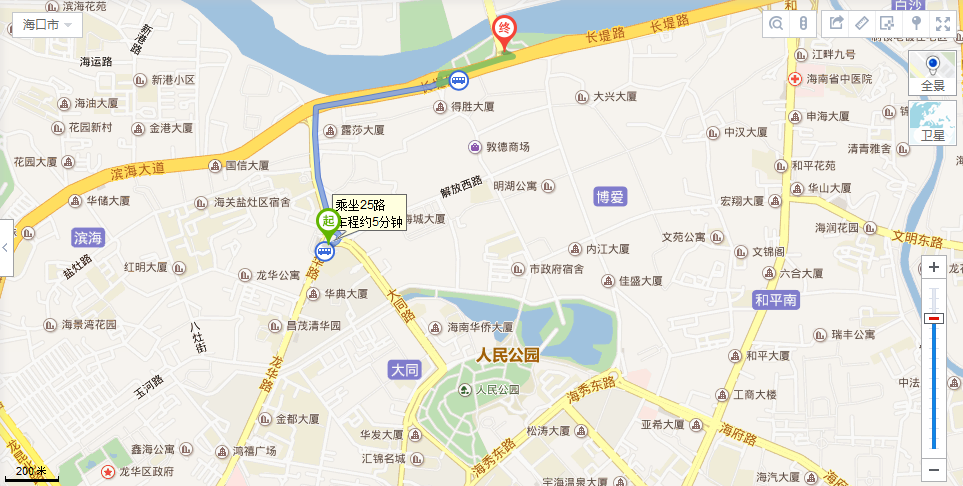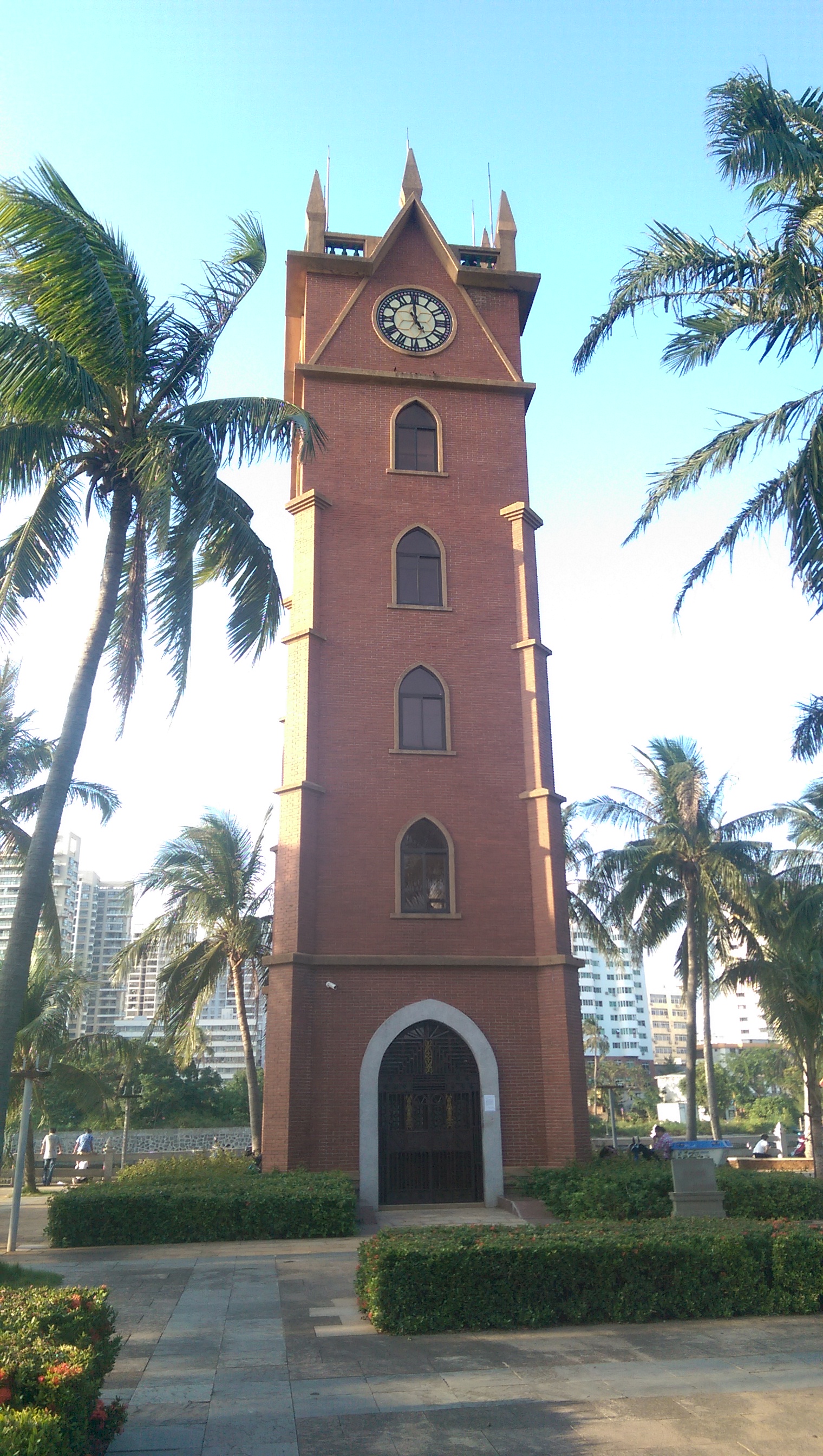 However, this tower is located right next to a bridge, and the view from the bridge is pretty nice. That made it worthwhile.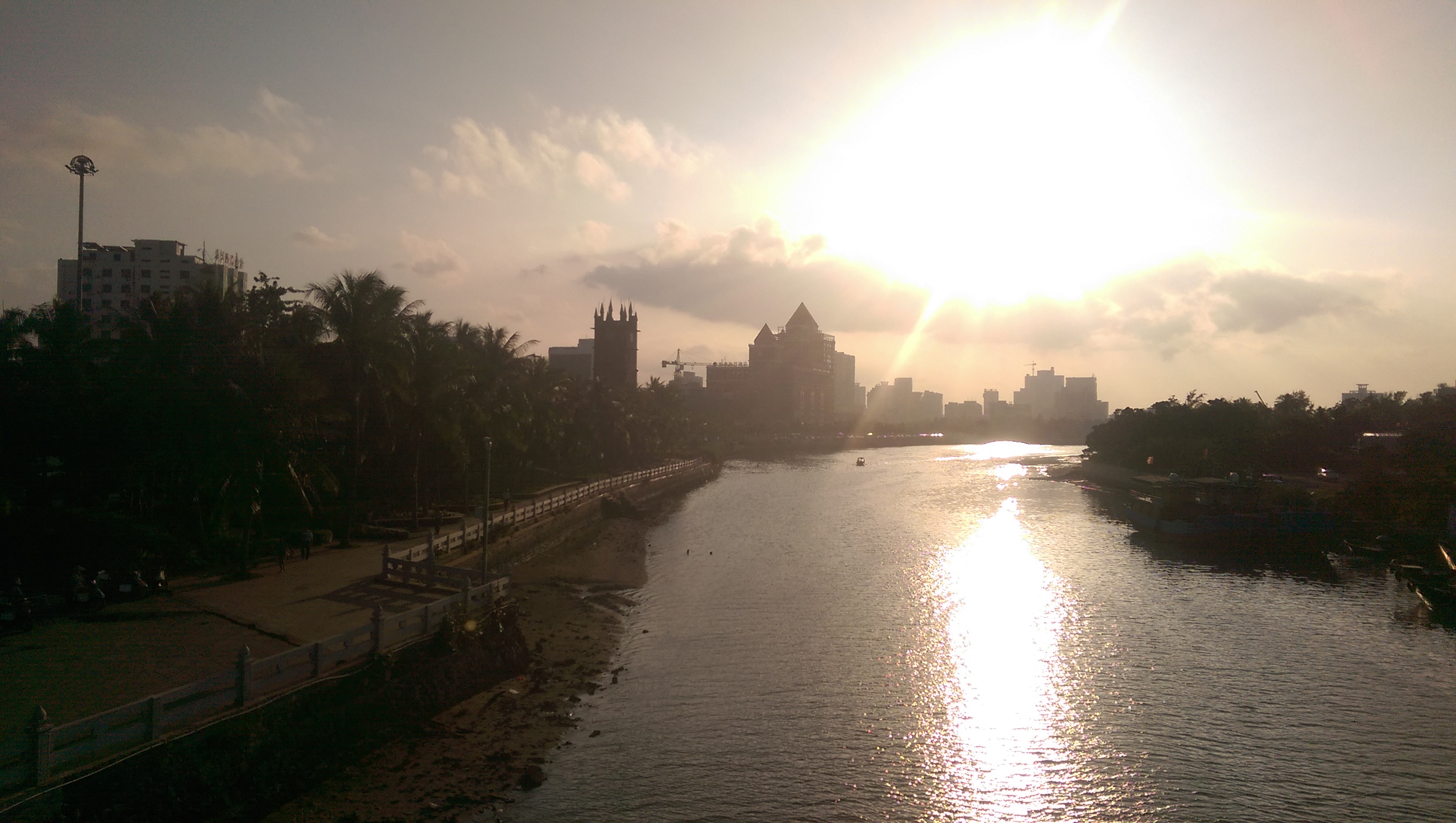 I went on to the next part of my adventure, another neighbourhood again called 騎樓. This is the authentic old area of Haikou – the place that was their city center when there was nothing else in this city. They've preserved and refurbished a lot of their antique buildings, and the first street I walked along (in red) showcases all of this. The feeling is like seeing those rustic and ancient buildings in Europe. Of course, there's an Asian twist to this, but it's a similar degree of awe.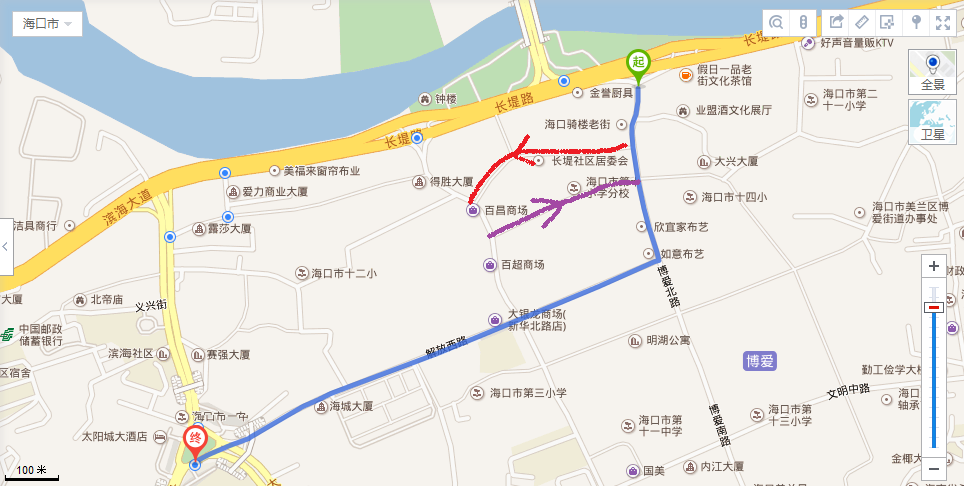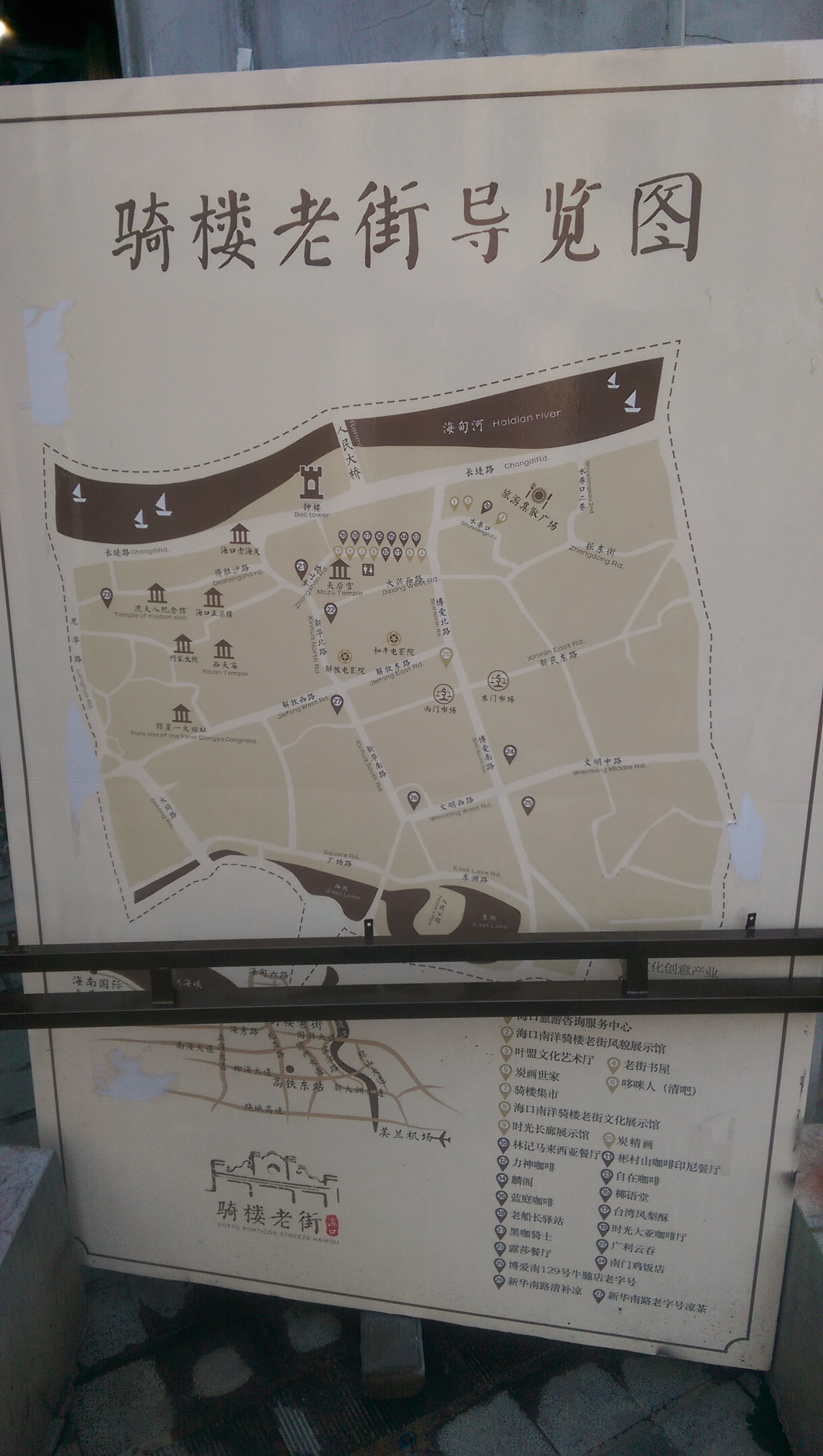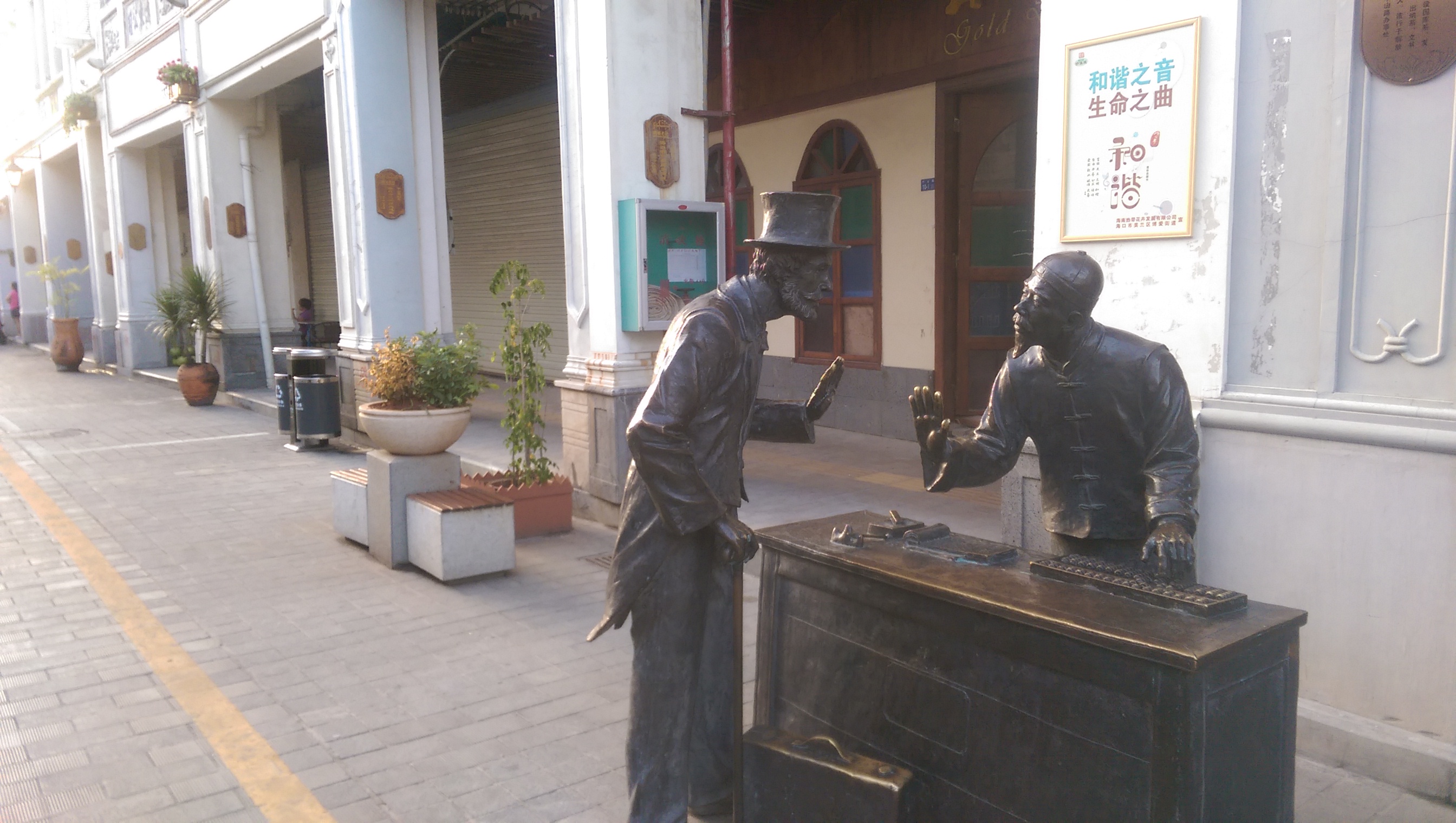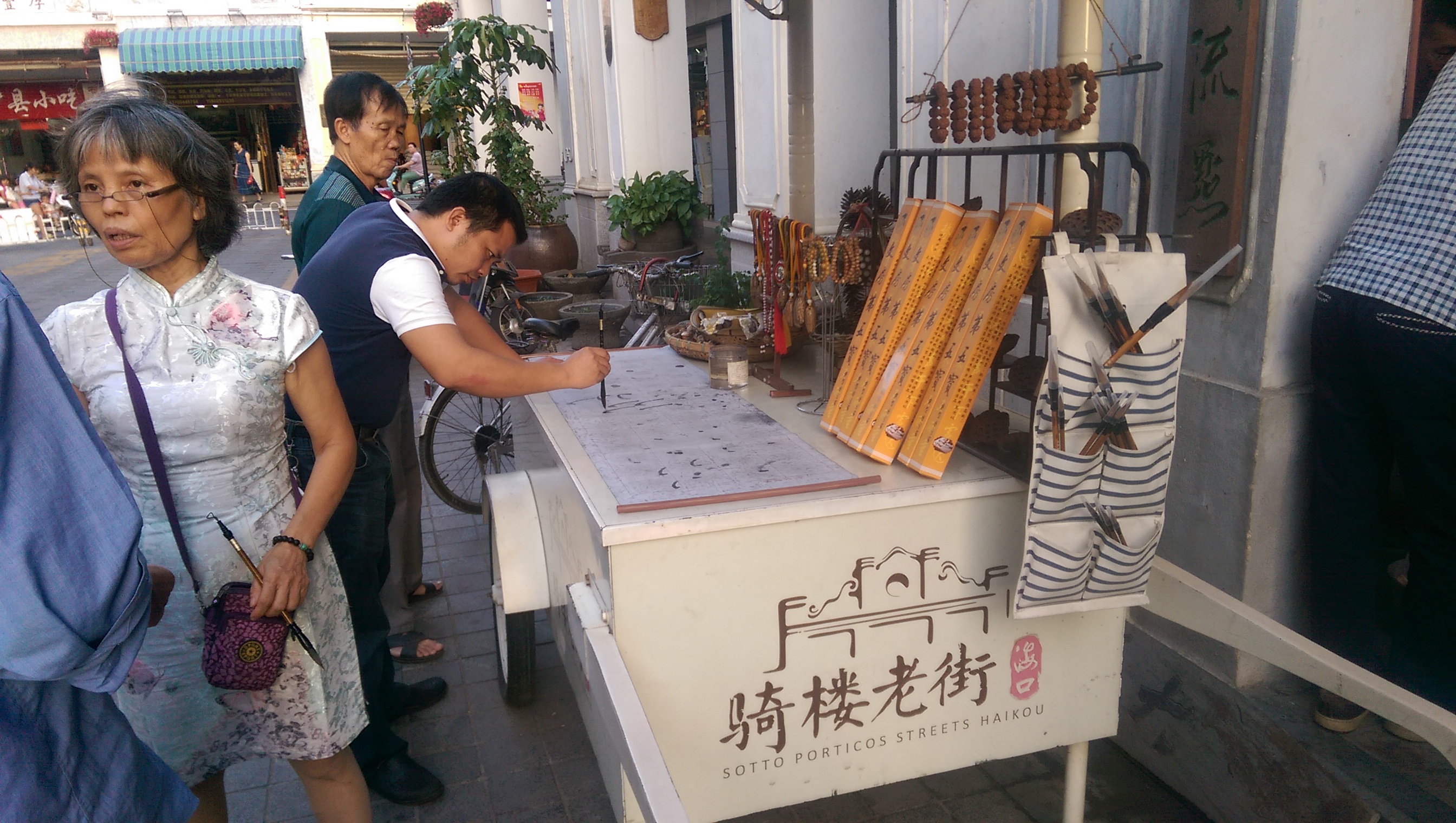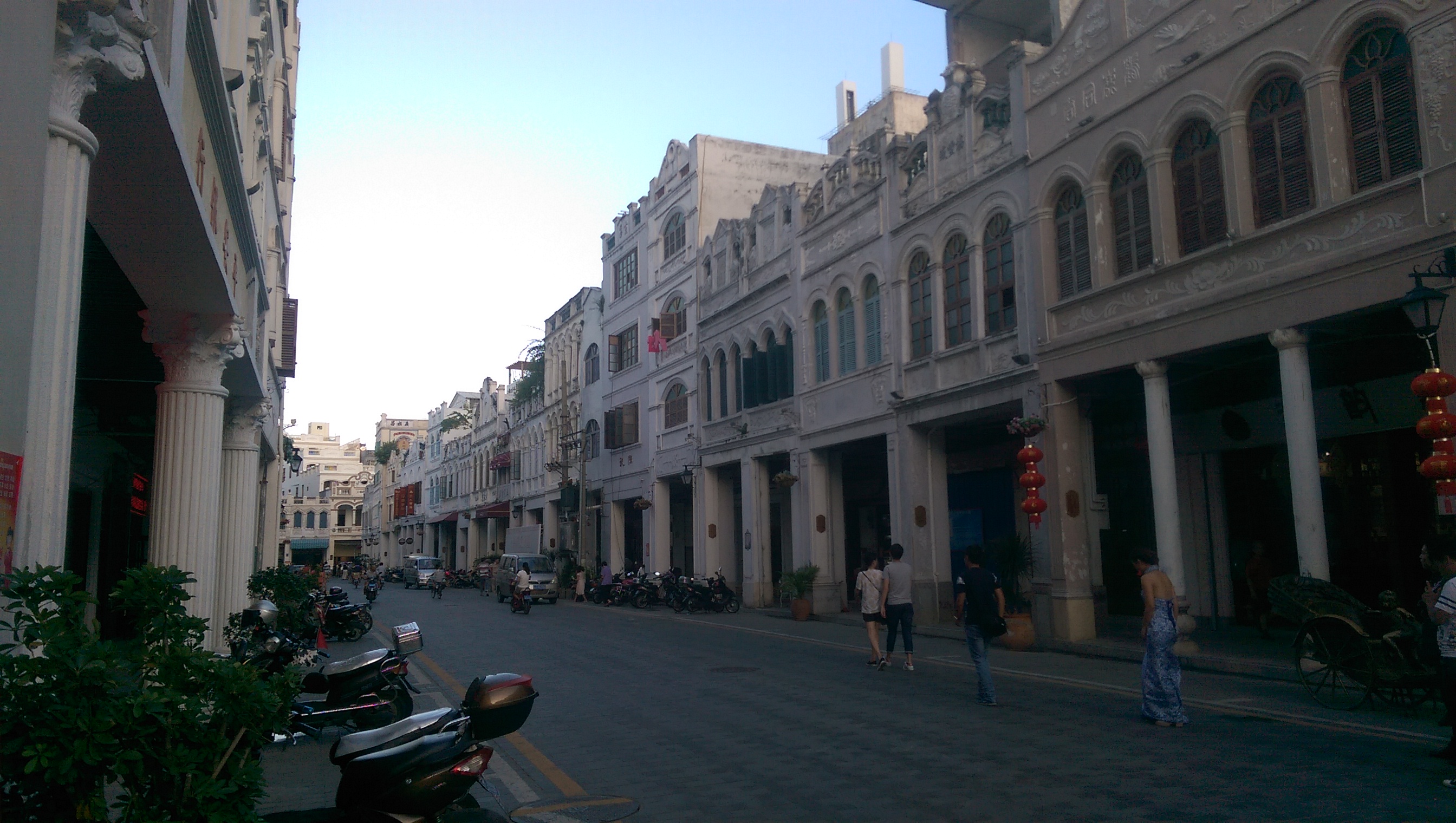 Then, I walked along the next street (in purple). It's the back alley of the splendor I had just recently seen, and it was as opposite of attractive as could be. They were just as ancient, but instead of being rebuilt to look nice, they were just left to rot. And what got to me even more was the fact that there were still people living in these houses! You could see families getting ready for dinner through the broken-down patches of windows. I was equally mesmerized by these buildings as I walked down this street, thinking "how could two opposite ends of the spectrum be literally just right next to each other!?"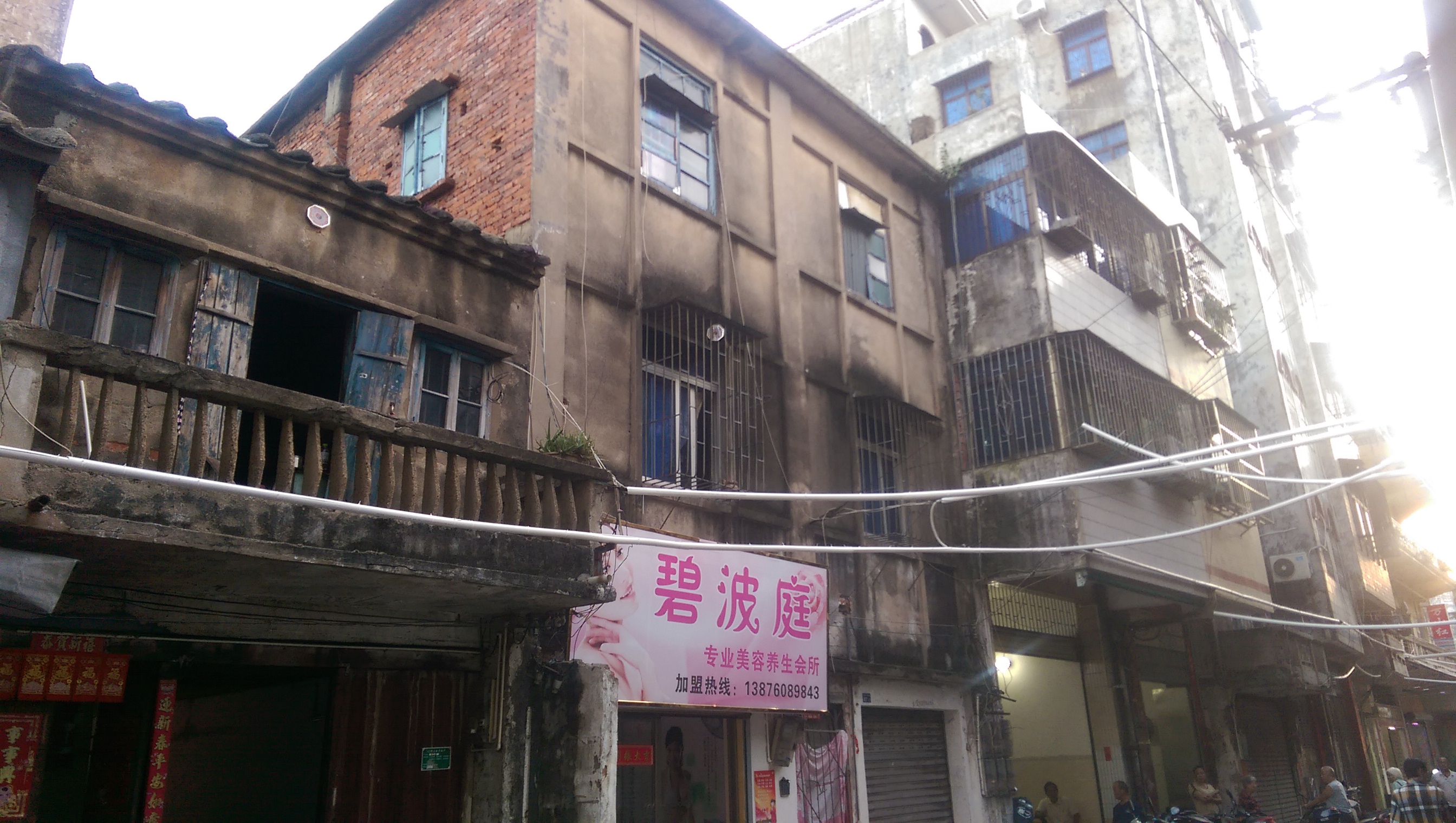 I continued south down the main road of Boai North Road, 博愛北路. You can find all sorts of random businesses everywhere. Some people fixed bikes. Some people did carpets and tiles. There were lightbulbs, curtains, drums/equipment for lion dancing, pets… there wasn't "everything you can think of", it was more like "everything you wouldn't think of".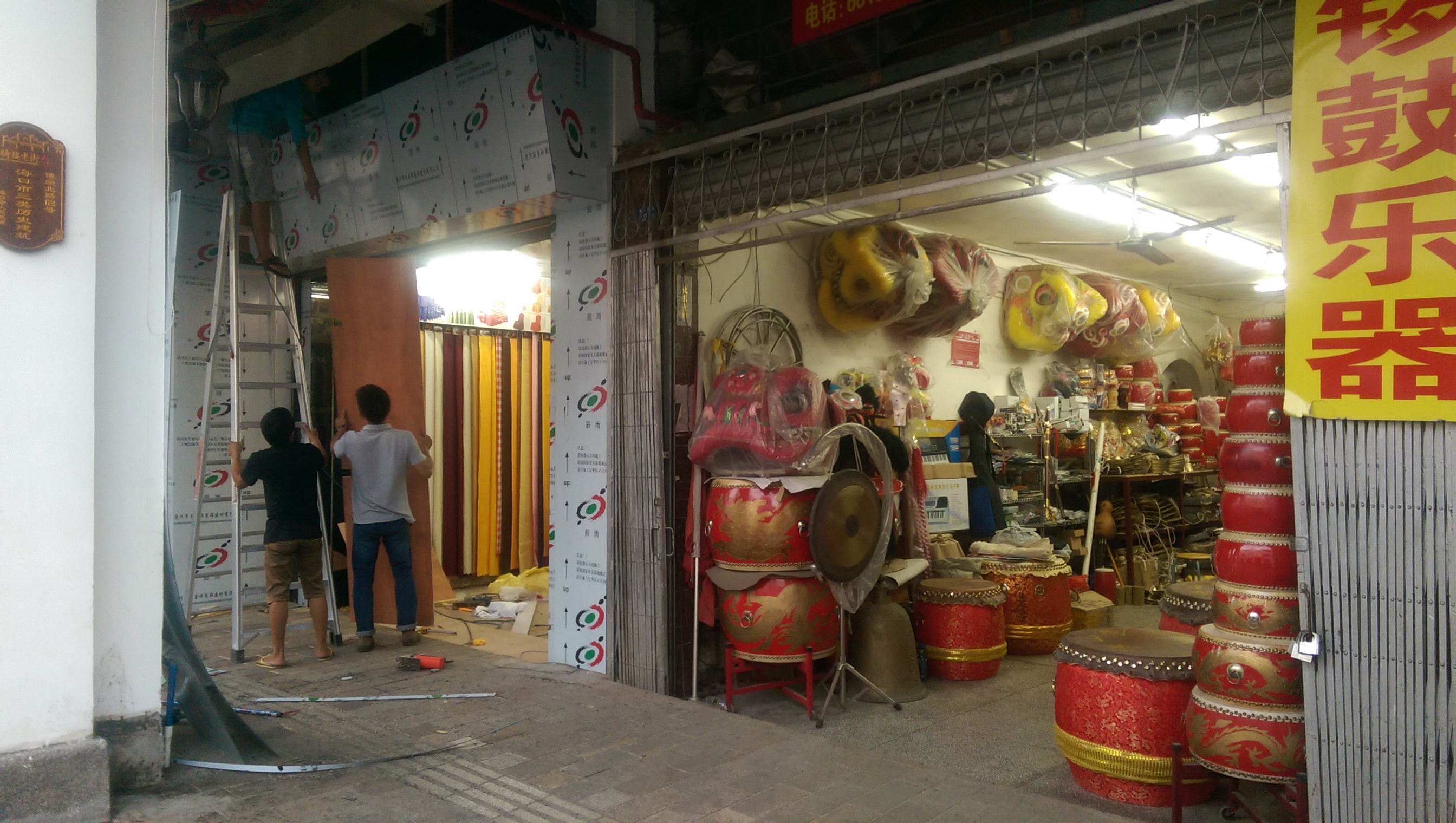 The conditions of these buildings get continuously worse as you get more and more south. The original city becomes more apparent, although all that's left now are ruins.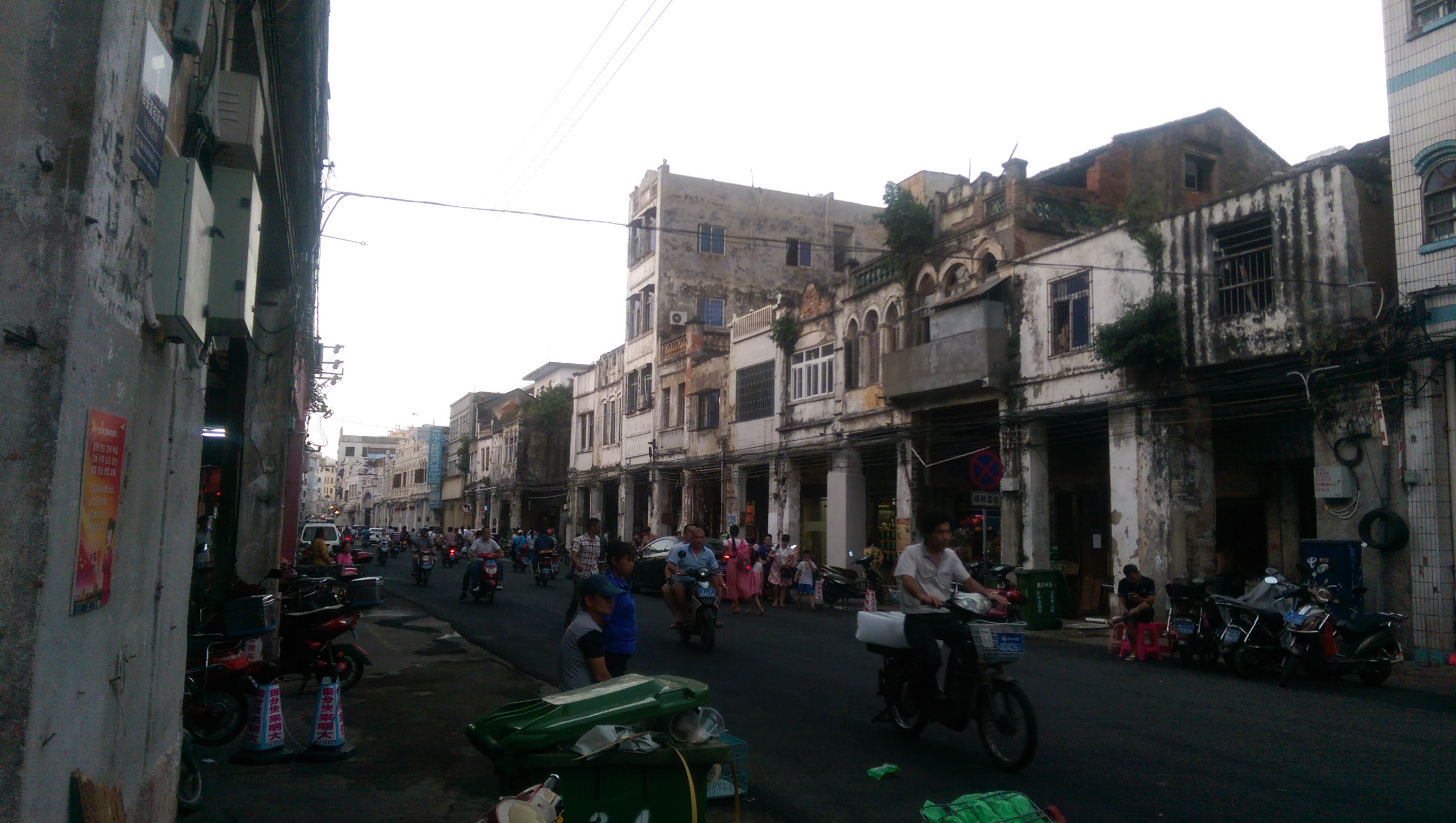 If you're looking for souvenirs, there's a small alley here that sells all sorts of Chinese dried food. Chinese people like to use these as gifts, right? But just for the record, every single stall here looks exactly the same, despite there being an entire street full of them.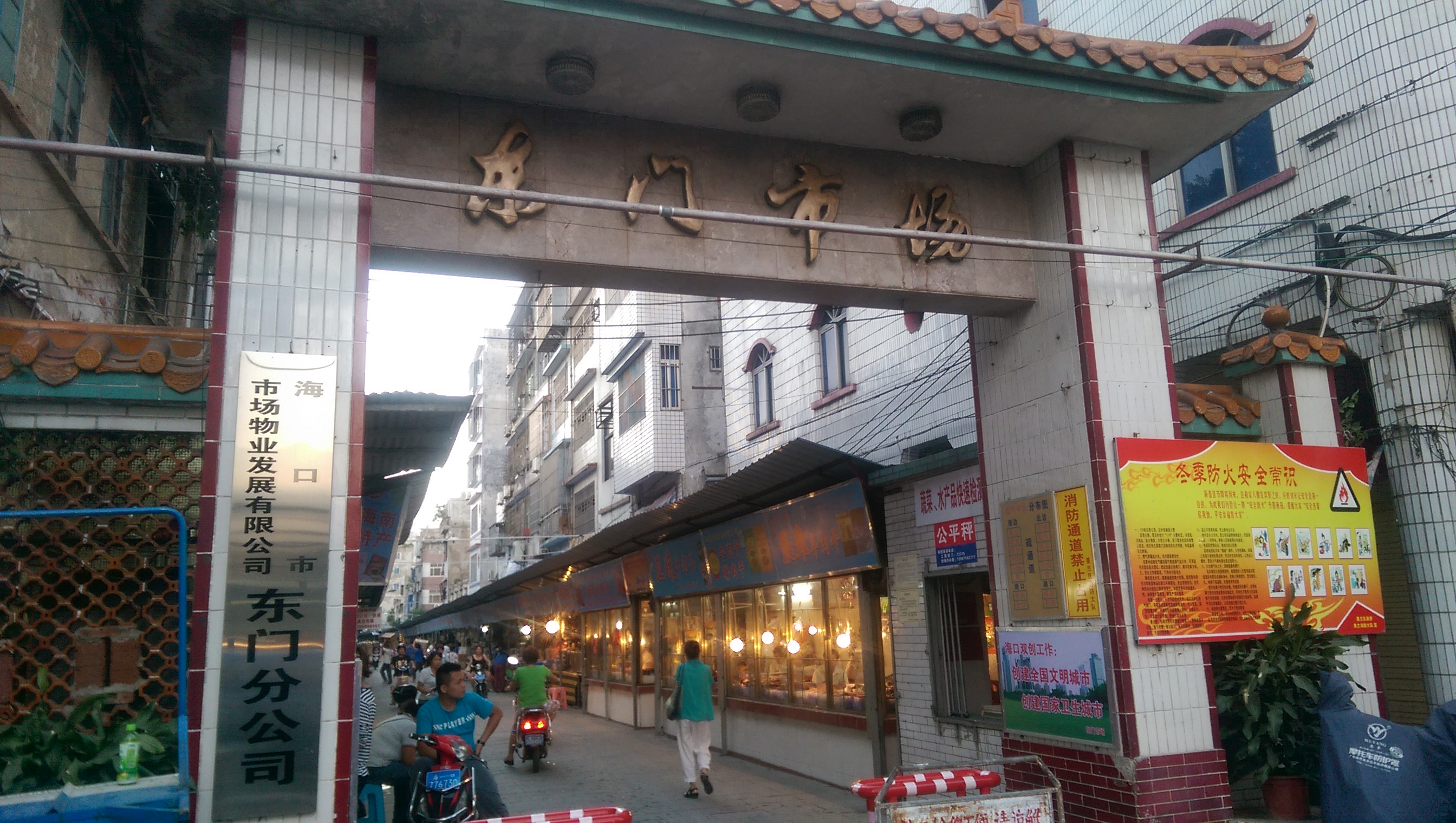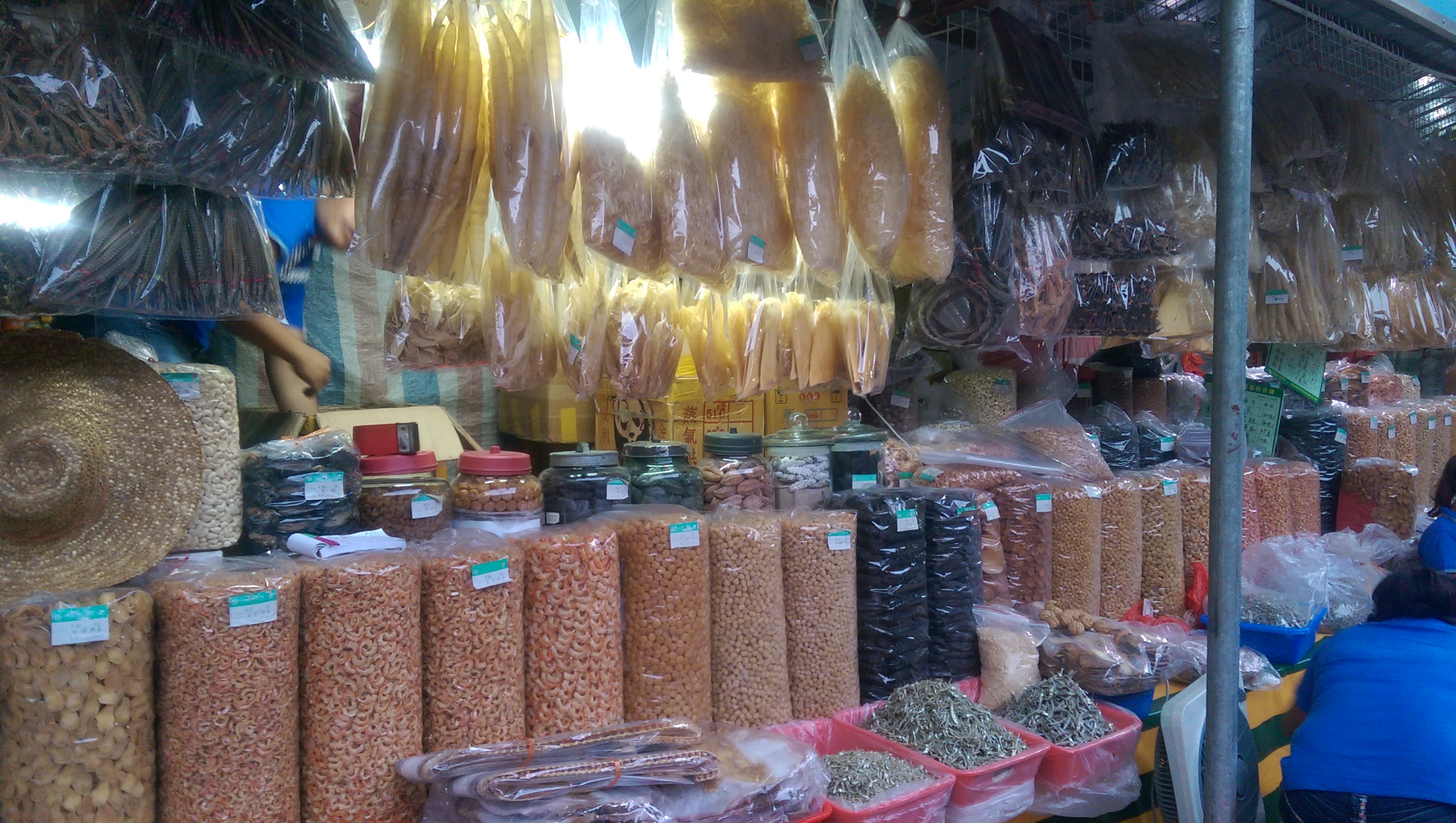 At this point, I had hit Jiefang West Road (解放西路), and started walking back towards Friendship Plaza. This road is another busy area. The traffic is crazy. Both sides of the street are lined with stores, but they're the old type of stores that are just… more plain, I guess. Despite that fact, I still saw a lot of people shopping and hanging around.

I found another mall before I made it back to the roundabout. At the top floor, there was this random market that resembled a bit of the Richmond Night Market. But again, they only sold clothes. I've barely seen anything else!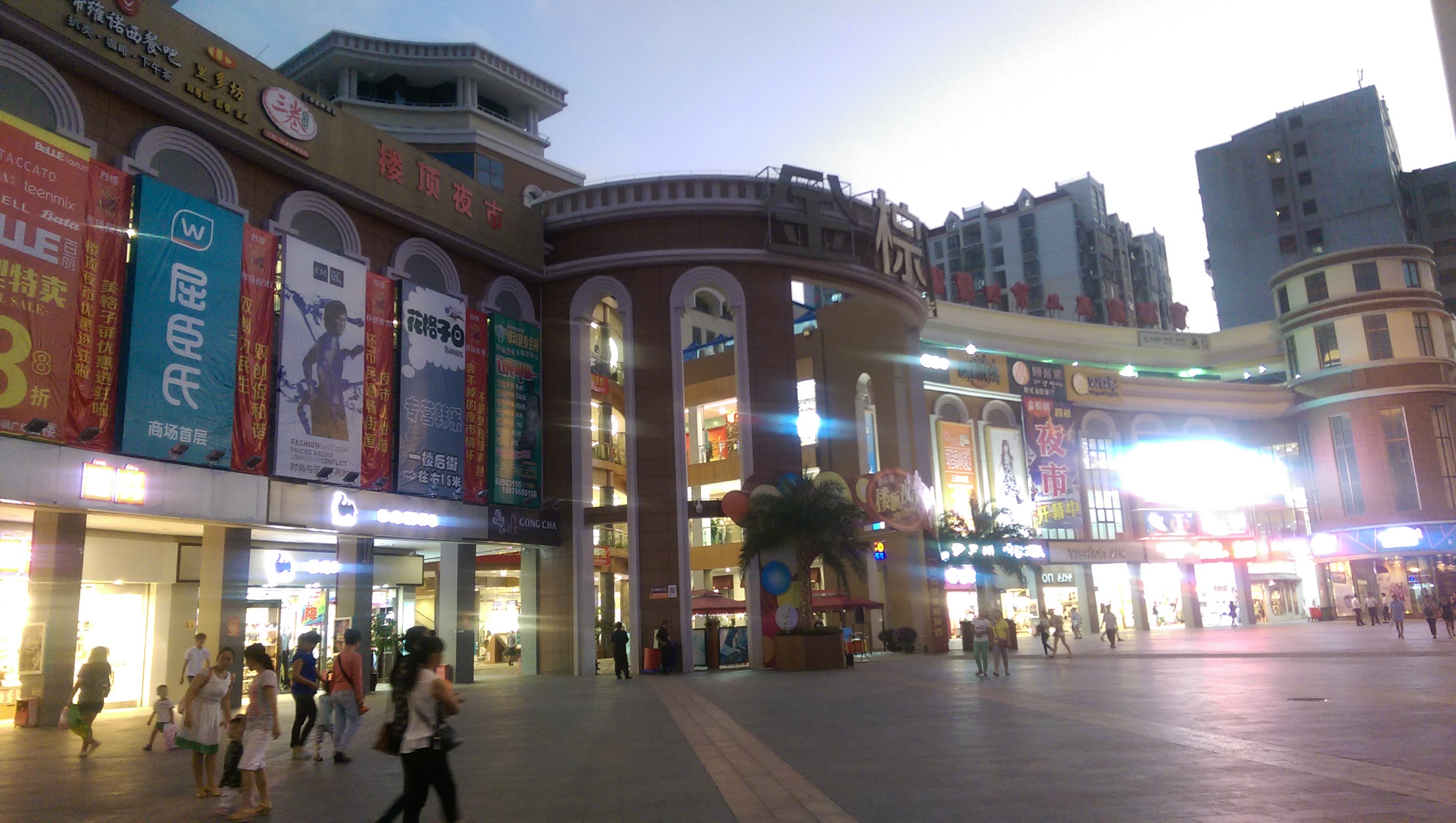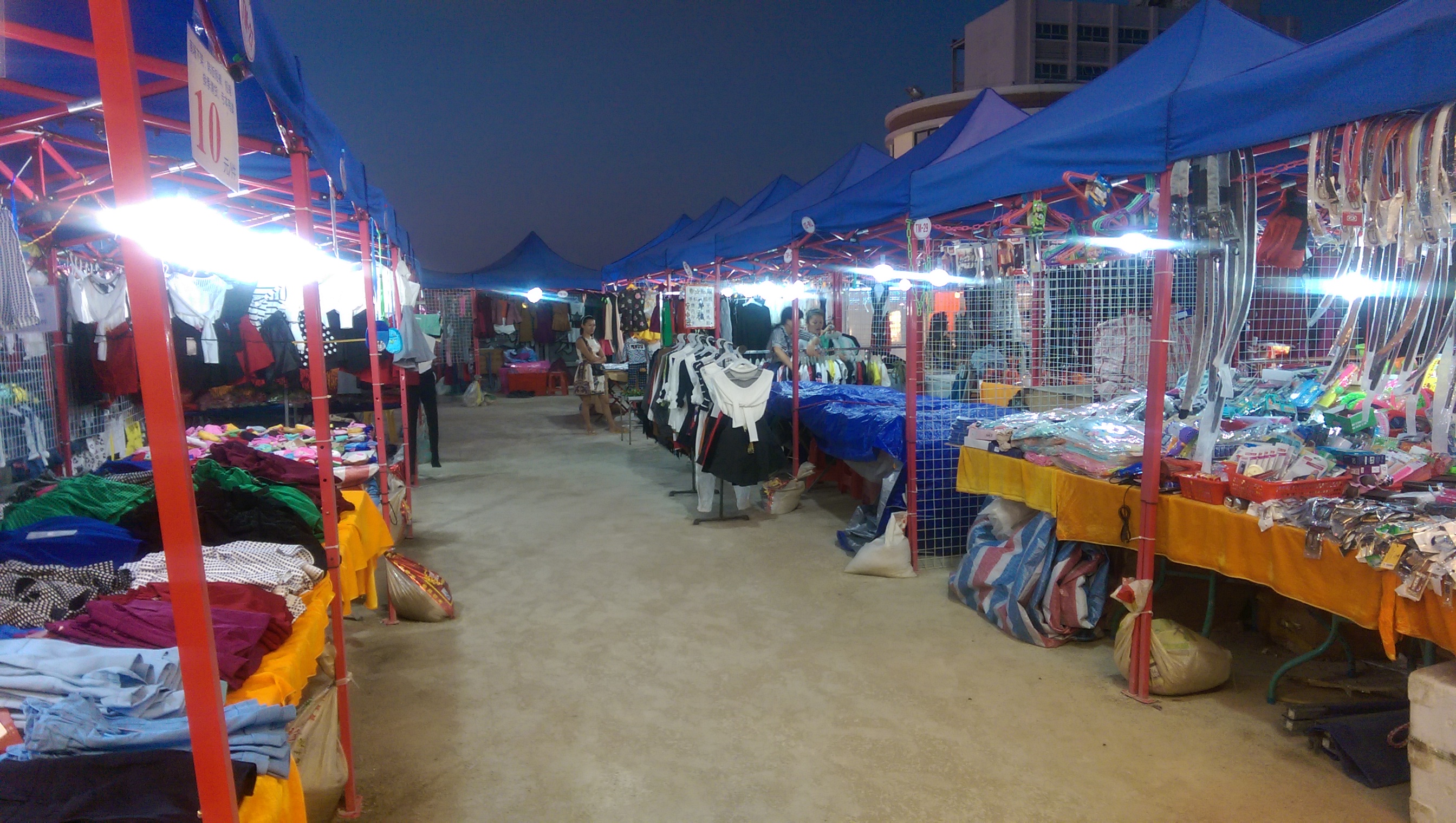 At the back of the mall, there's another small street full of snacks. I decided to try the "roasted gluten snack" (烤面筋). They use the same flavouring as with roasted lamb skewers, and that was probably the main reason why I liked it so much.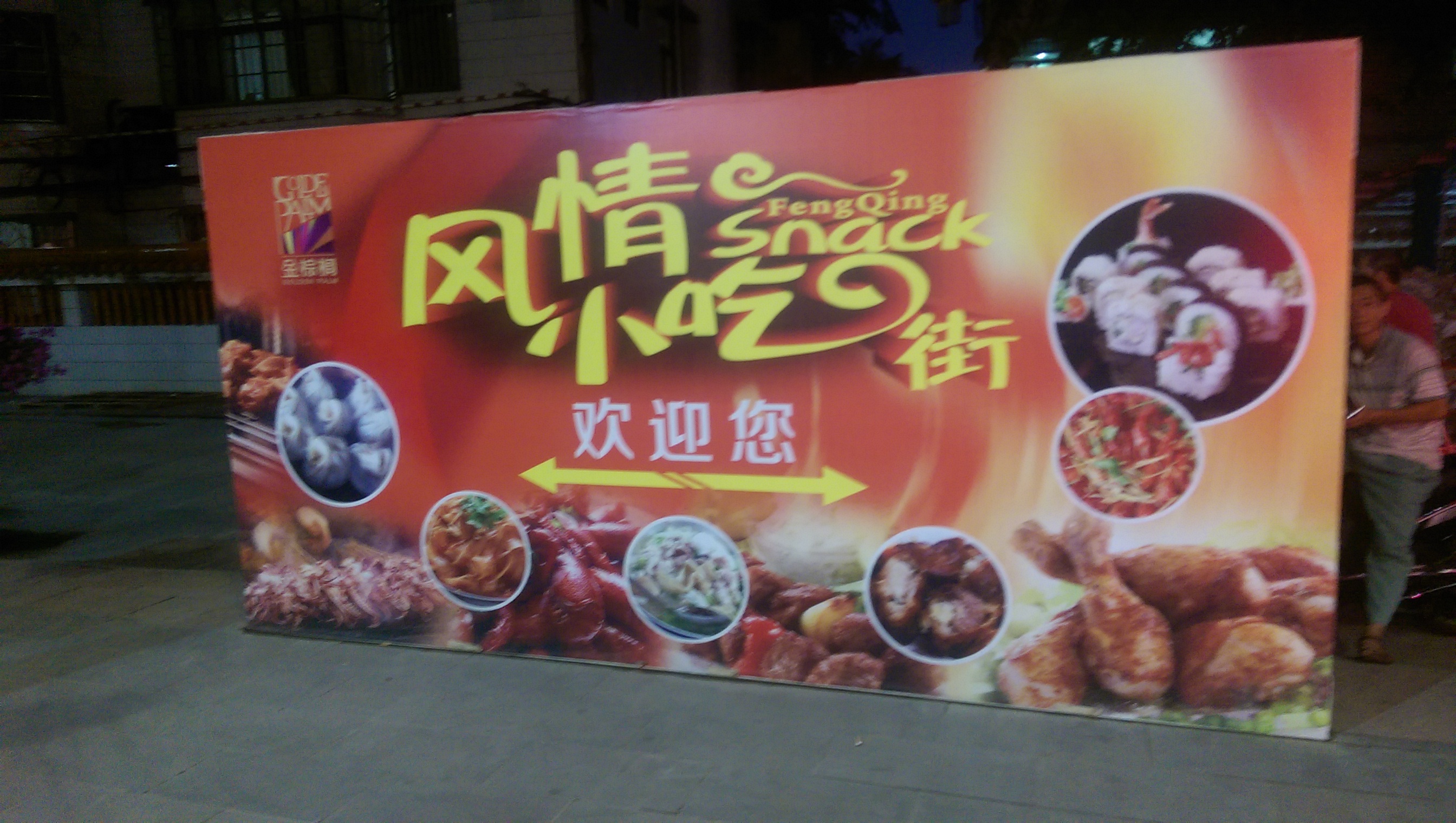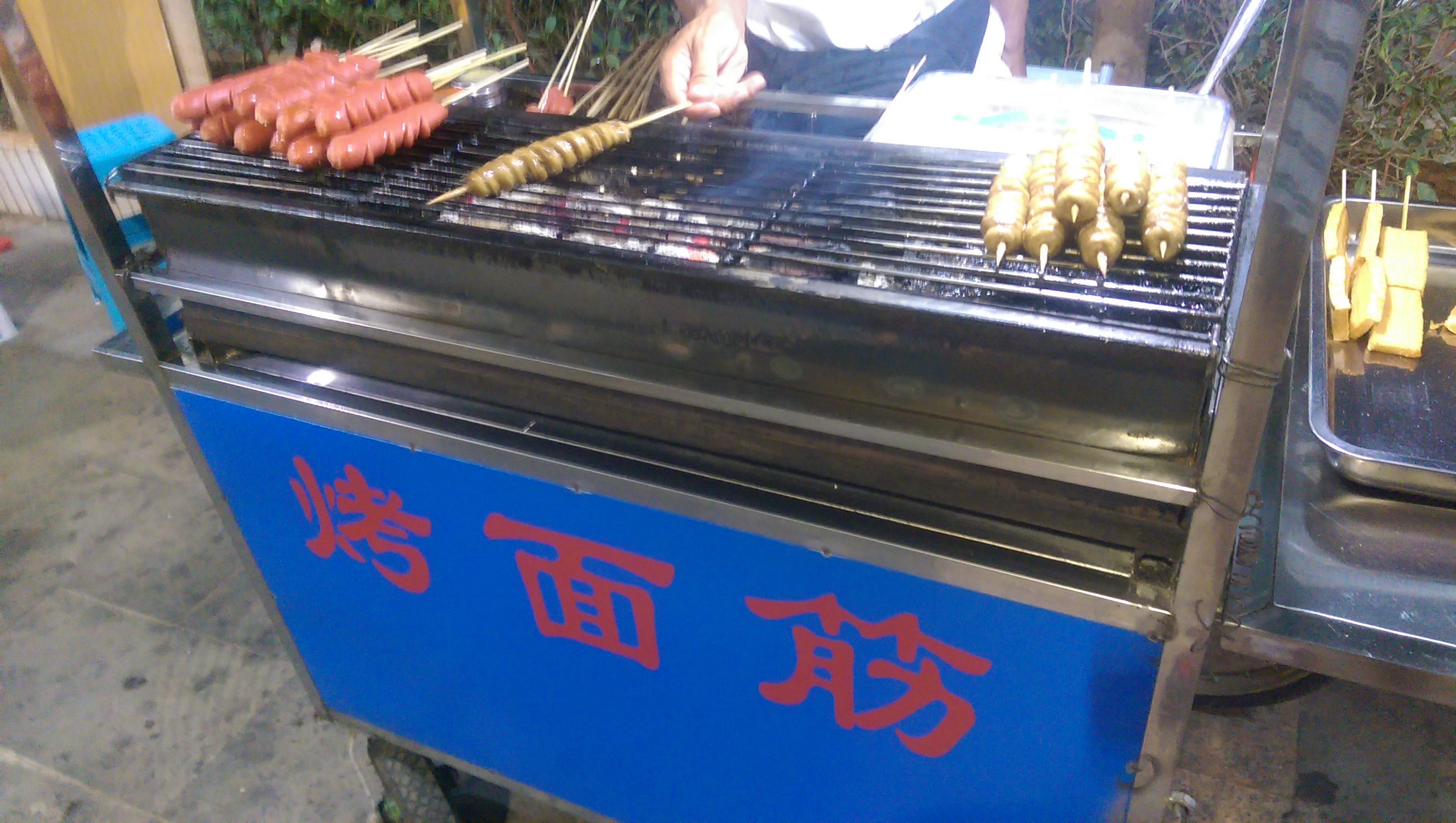 When I got back to the roundabout, it was already completely dark.

Back to 騎樓小吃街 for a second round of snacks. I came here on a weekday, so when I was here earlier in the day, this place was deserted. Now that it's the evening and people are off work, the environment is a lot nicer. You can feel the buzz of the crowd as everybody gathers here for dinner.
I tried two more things. First was this coconut jelly on papaya. With these kinds of desserts, the deciding factor is always the quality of the fruit. But it seems like papaya is in season right now (and I say this because I see my hotel serving papaya at the breakfast buffet every day), so this turned out good.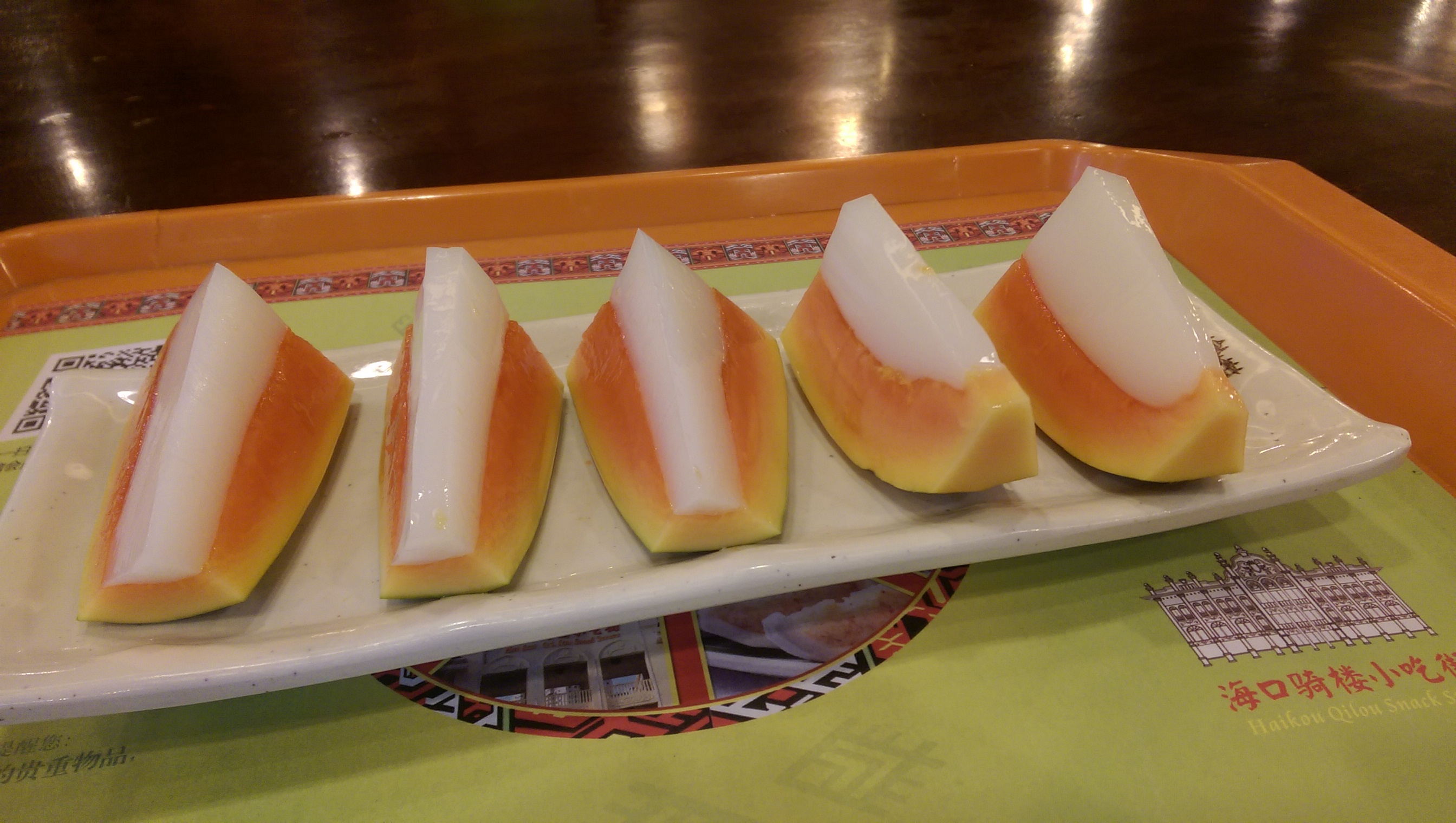 The other thing I tried was this dish of "騎樓腸粉". I absolutely love 腸粉 in Hong Kong, and I was wondering what was so special about this dish being from "騎樓". It is a bit different. I watched them as they cracked an egg right away, and beat it into the raw batter. At this point, the 腸粉 is still in a white, liquid form. Then, they put they mixture into a square pan, and then into the steamer (at the back of the picture). When it's finished, you get these very thin layers of starch, which is then kinda just rolled into a dish and served as it is.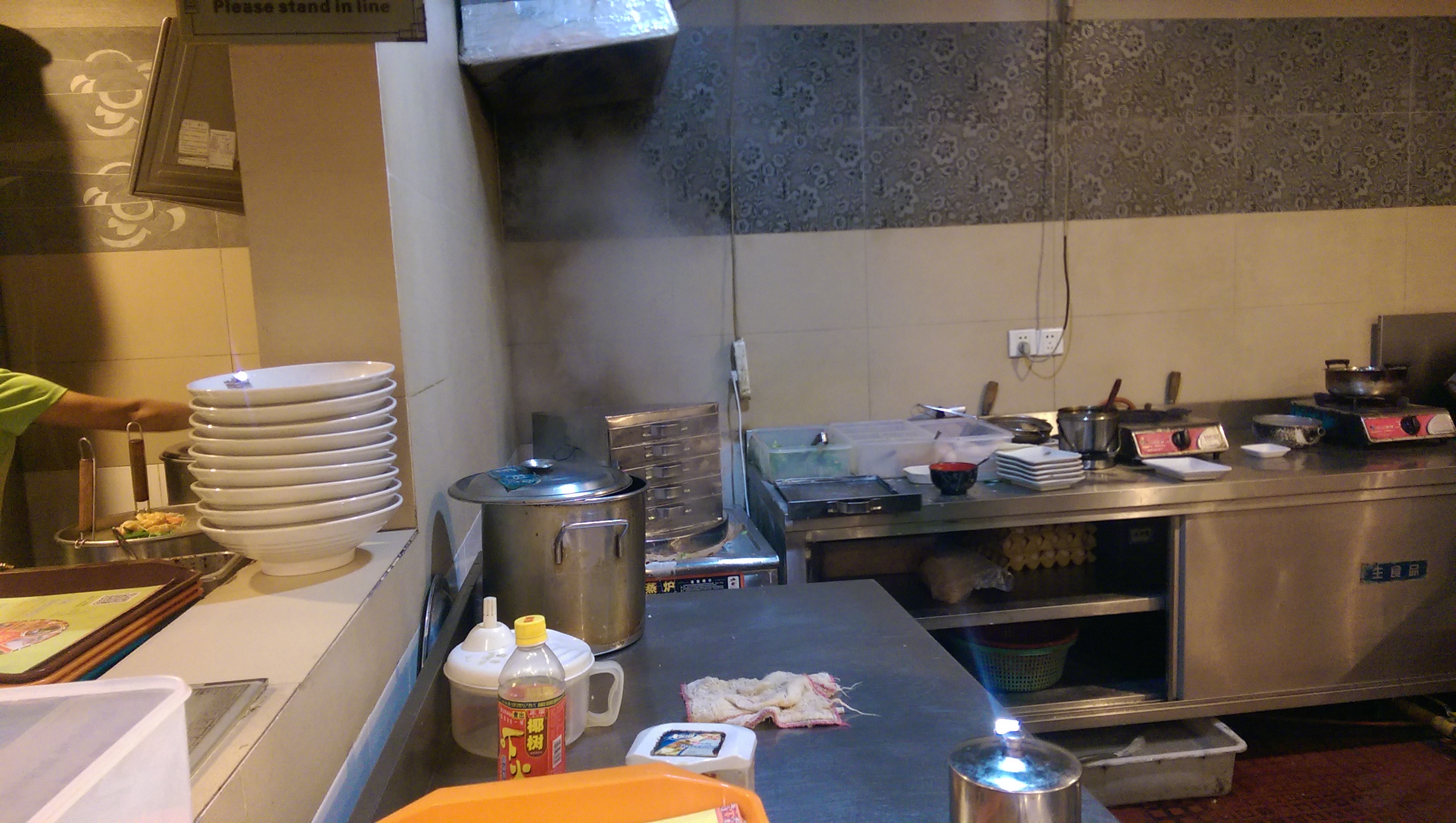 At this point, it wasn't actually that late, but the dark sky makes me feel uneasy to stay out alone for too long. I took the same bus to get home. On my way back, I walked past the back alley of some dai pai dong finishing up their business for the evening. People just wash their dishes with some buckets and a hose, right outside.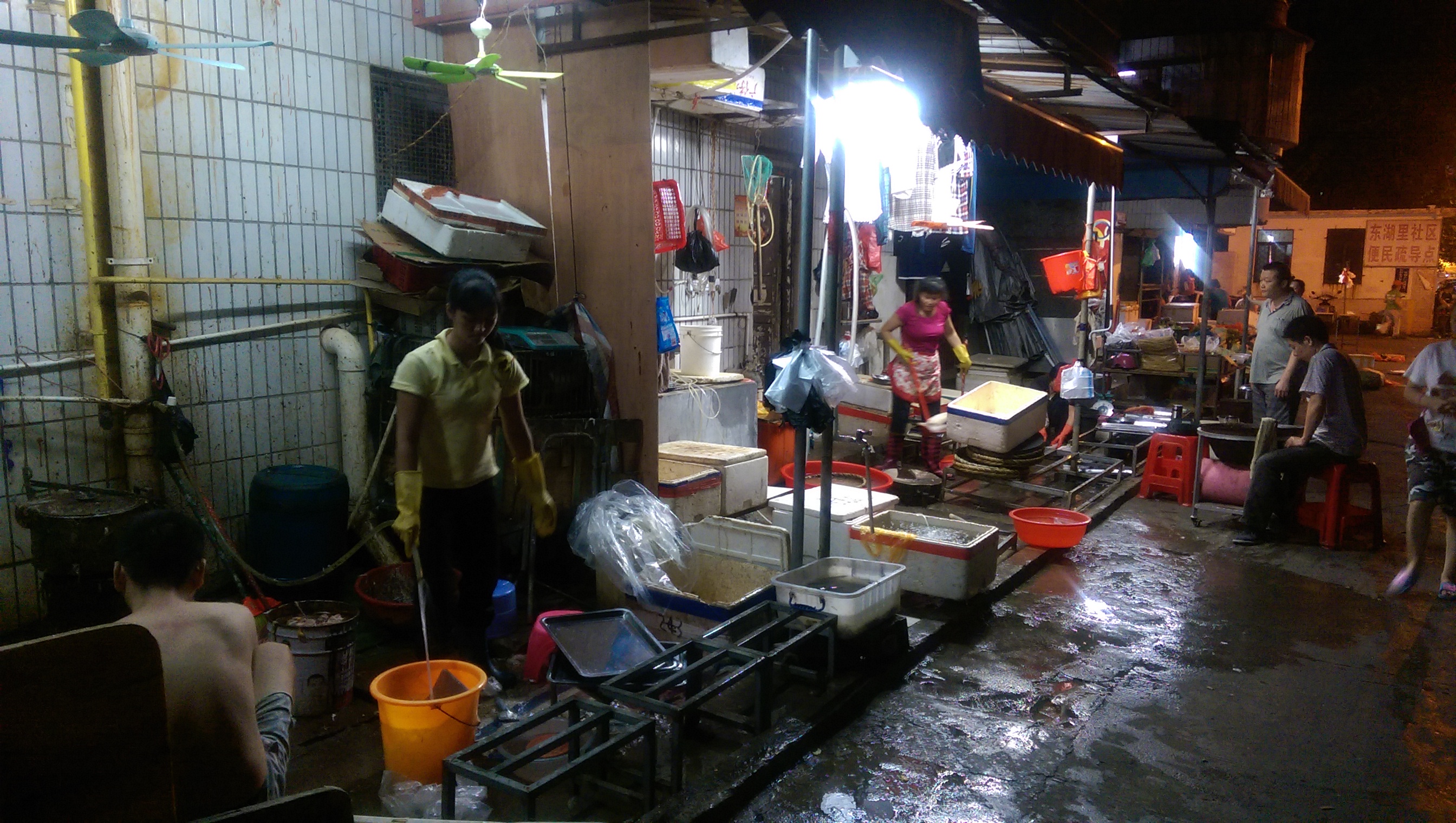 It's hard to describe how I feel about this city. There's the most undeveloped type of village life not too far from here. The old city center still reflects in the living conditions of the lower class, despite an attempt to tidy up and turn it into an attractive area. A huge area in the middle of the city is covered with dirt and dust right now, but development is clearly in progress. Then, at the north end of Haikou, there's the beautiful Hilton Hotel, skyscrapers, and apartments – clearly an upper class neighbourhood.
The contrast of what you see is hard to fathom. People are so rich, and so poor at the same time. I know every city in this world has its gaps between the rich and the poor, but not all of them are so physically visible. That's exactly what makes Haikou interesting for me. There's no real attractions here. When people tell you that there's nothing to see in Haikou, in one sense, they're absolutely right. But in another sense, there's everything to see. You can witness so much in just one single city.
That's probably the last day of my foreseeable Haikou adventures. We're planning to visit Sanya this upcoming weekend, which will be another exciting adventure in itself, but that also means I don't have much more time to see Haikou! Then again, I guess there's always more to see in every city… you can never see it all. For now, I just feel lucky to have experience what I have over these few weeks here.