It was quite some time ago when I hiked all the way up to Victoria Peak. I remember it was not long after I landed in Hong Kong for my co-op job in 2013, and that was my first time learning the lesson that a short 15 minute bus ride from my house can be a 3-hour hike.
Today, I re-learned this lesson hiking to Stanley. By bus, it's about 20 minutes from where I live. On foot, it took us over 3 hours from the Wong Nai Chung Reservoir! Not to mention that we actually hiked up two mountains. It's physically hard work, and also mentally tiring when you finish one mountain and realize there's yet another mountain to be scaled. Nevertheless, we did it!
I like this trail (the Wilson Trail) more than the Hong Kong trail up to The Peak. This one is a lot more steep and challenging, and feels a lot more dynamic, whereas the Hong Kong trail is very flat and also quite boring in some sections. I find the view on this trail a lot more interesting too. When you're hiking to The Peak, you simply see the other side of the mountain – Wong Chuk Hang, Aberdeen, and a whole lot of green. But on this trail, you see landmarks that you would never see otherwise. They're literally hidden behind a bunch of mountains in the middle of Hong Kong Island. Pools of water such as the Wong Nai Chung Reservoir and Tai Tam Reservoir. And of course, there's the view over Stanley, which I absolutely love.
Not far after starting the trail, you'll see this view of the city as you look back behind you. The tiny Wong Nai Chung Reservoir is in the foreground. As I stood in awe of this view, it once again dawned upon me how close we are to the busy hustle and bustle of the city. This beautiful nature is literally right in our backyards. We don't even have to go far to enjoy it.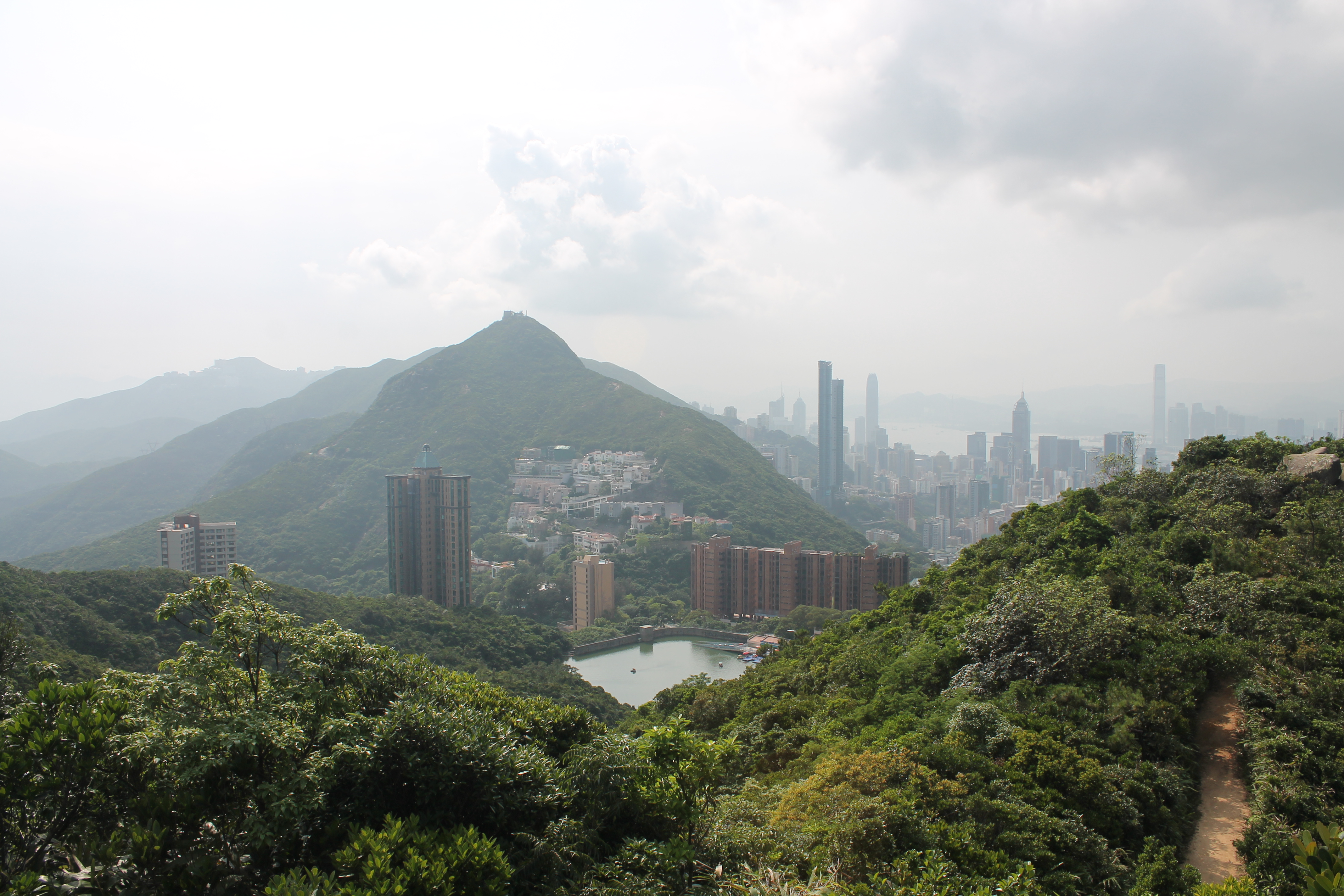 At the peak of the first mountain, Violet Hill, you'll get to this 3-way fork in the road. Two of the roads go back to around where we started, and the third one is the road over to Repulse Bay and Stanley.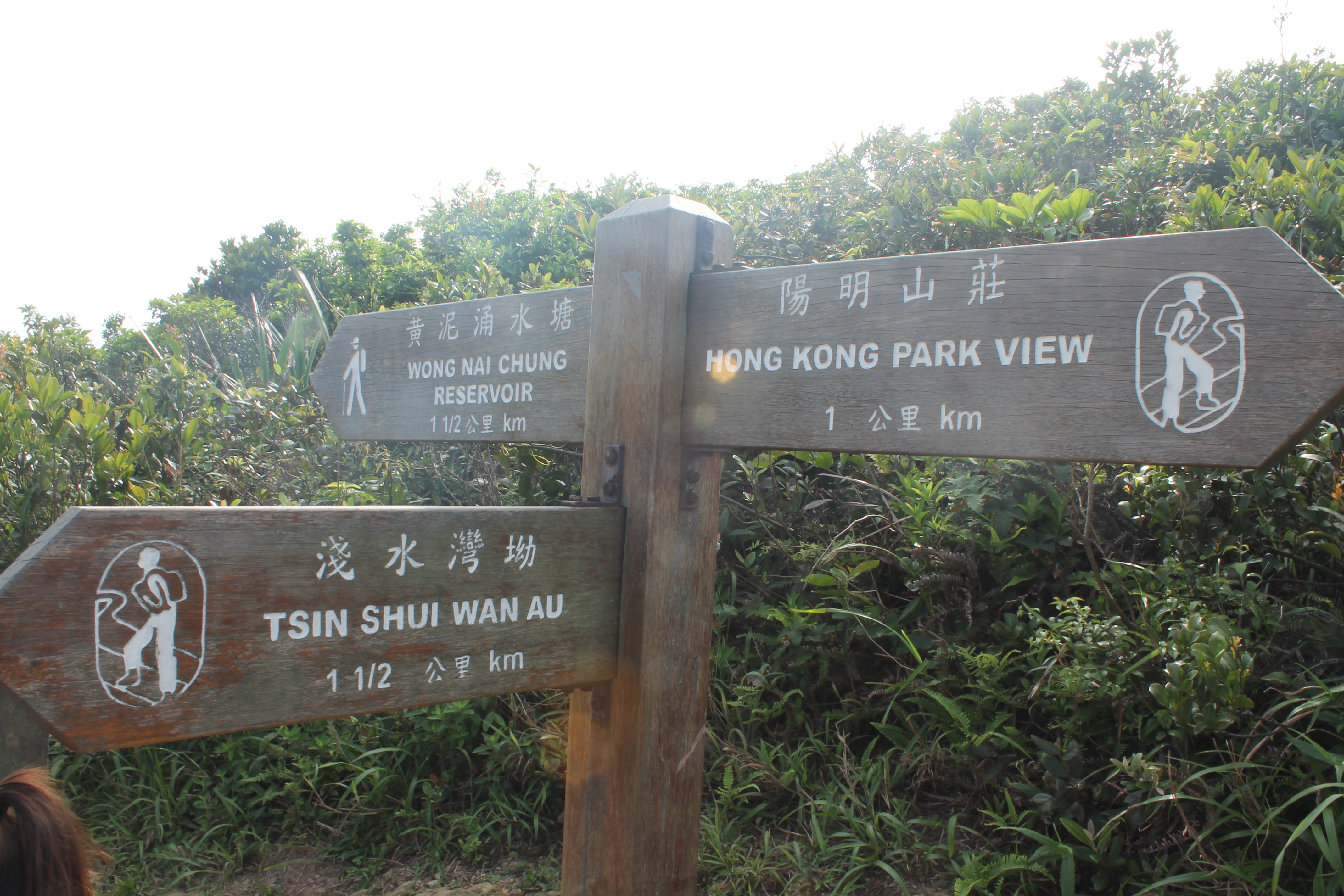 As we were descending Violet Hill, we already got a good look at the Tai Tam Reservoir. That's a pool I definitely don't see often. The first time I ever knew it even existed was when I took a bus from Stanley to Shau Kei Wan, and it went past this area. (I remember this sketchy bridge that only had one lane… couldn't even support 2-way traffic!). This is only my second time even seeing it.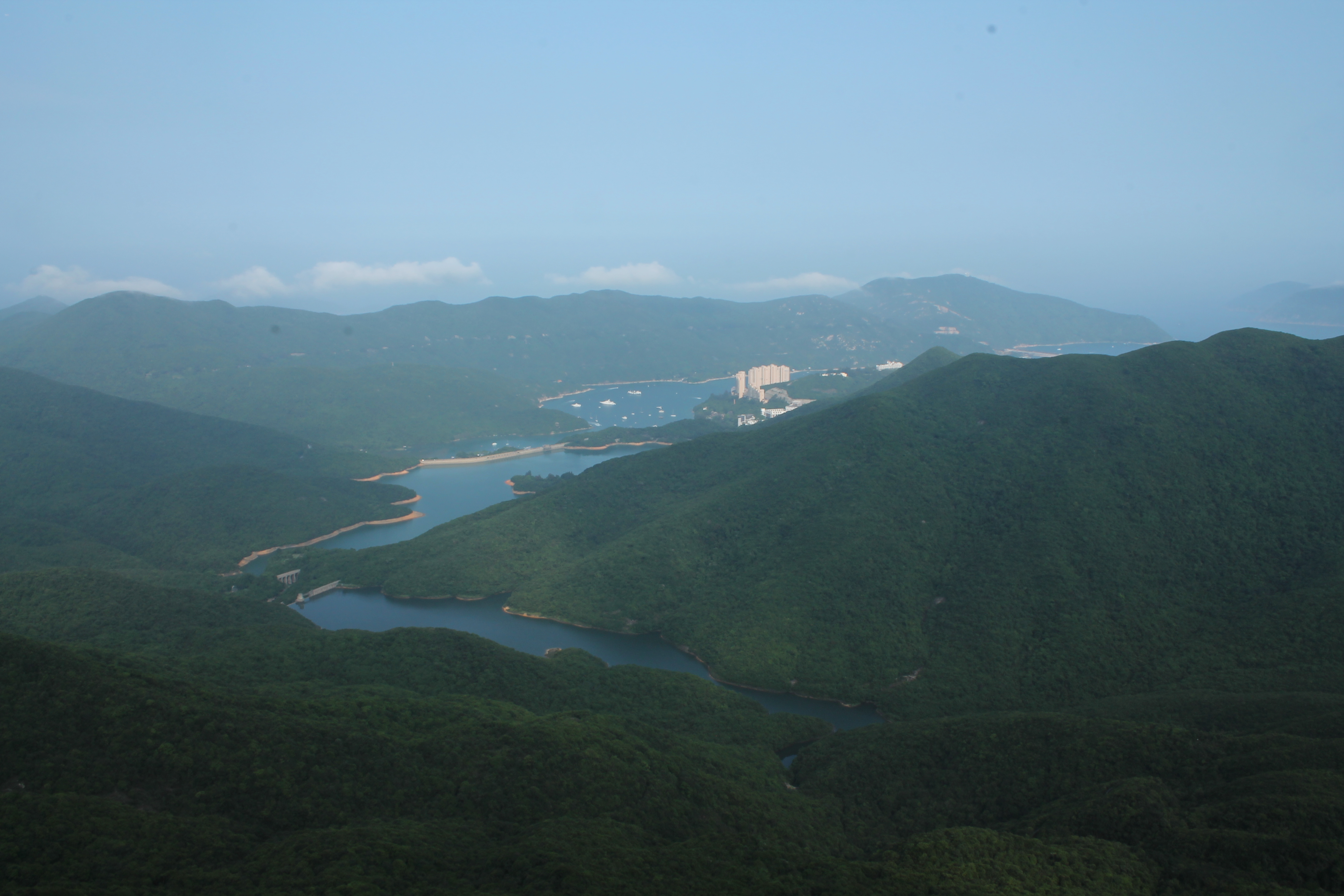 Finally, we got to this midway point. I wasn't actually that tired at this point. It's when you realize how far away you still are… that mental thought provokes the physical fatigue in your body.
There was actually another trail from here along the Stanley Water Catch that would have gone around the mountain rather than on top of it. You probably would have a much better view of Repulse Bay on that side, whereas with the route we took, we barely saw it.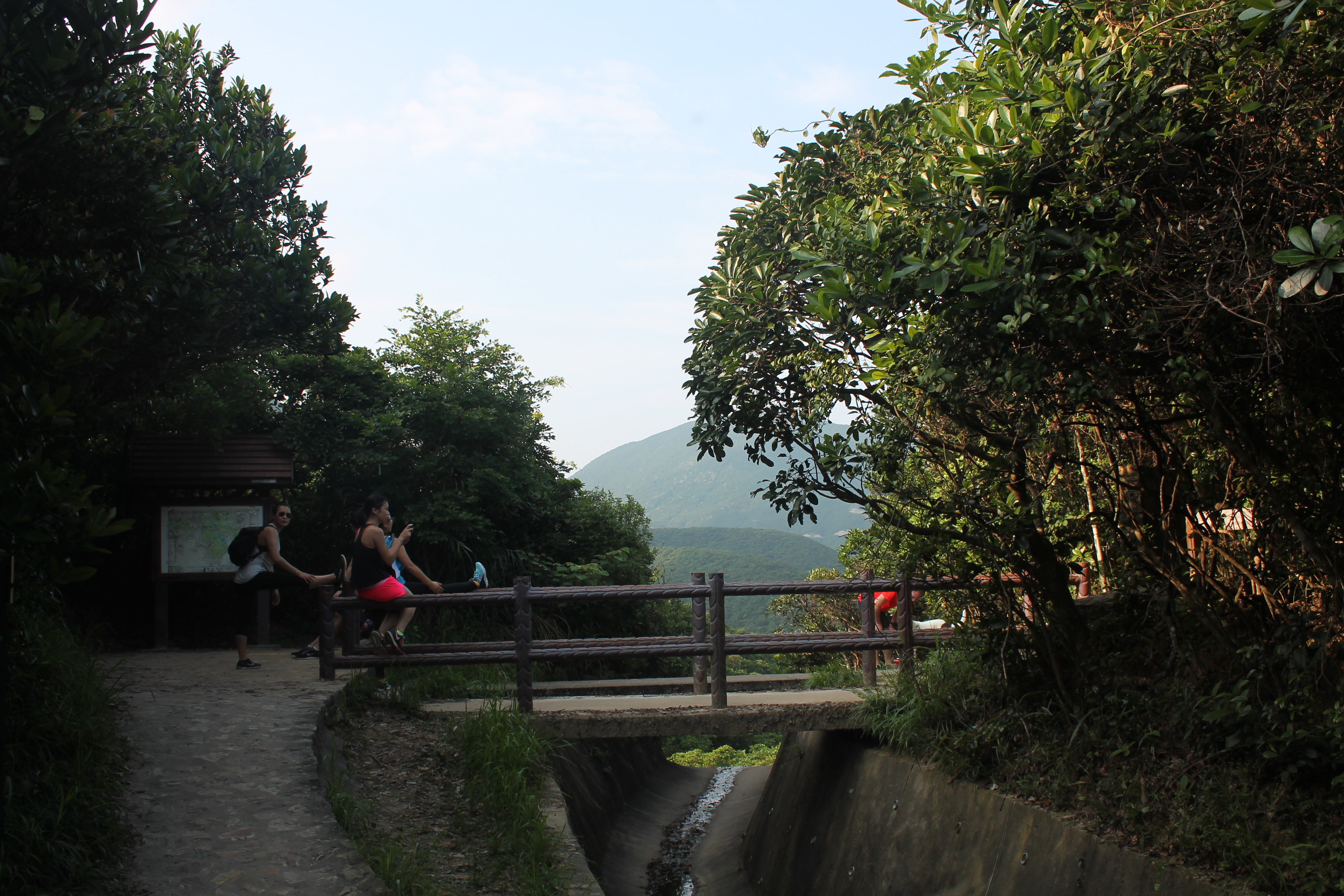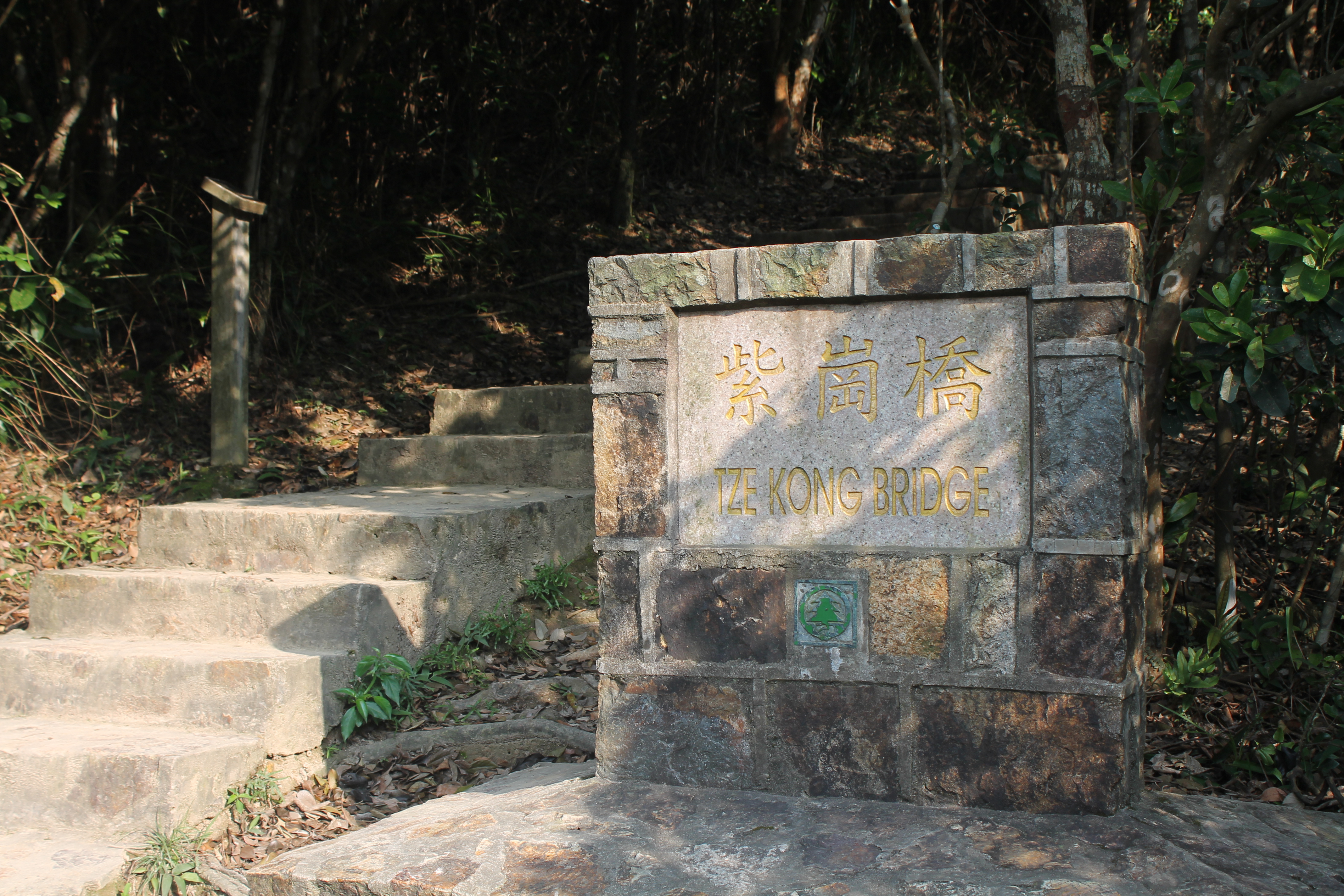 Nothing much to say, just follow the road. There are stairs… and more stairs… and yet more stairs. When you're already tired after the first mountain, the stairs feel like they're never-ending.
Eventually, you'll be faced with this view. Stanley is one of my favourite places in Hong Kong, and so naturally I like seeing it from afar too.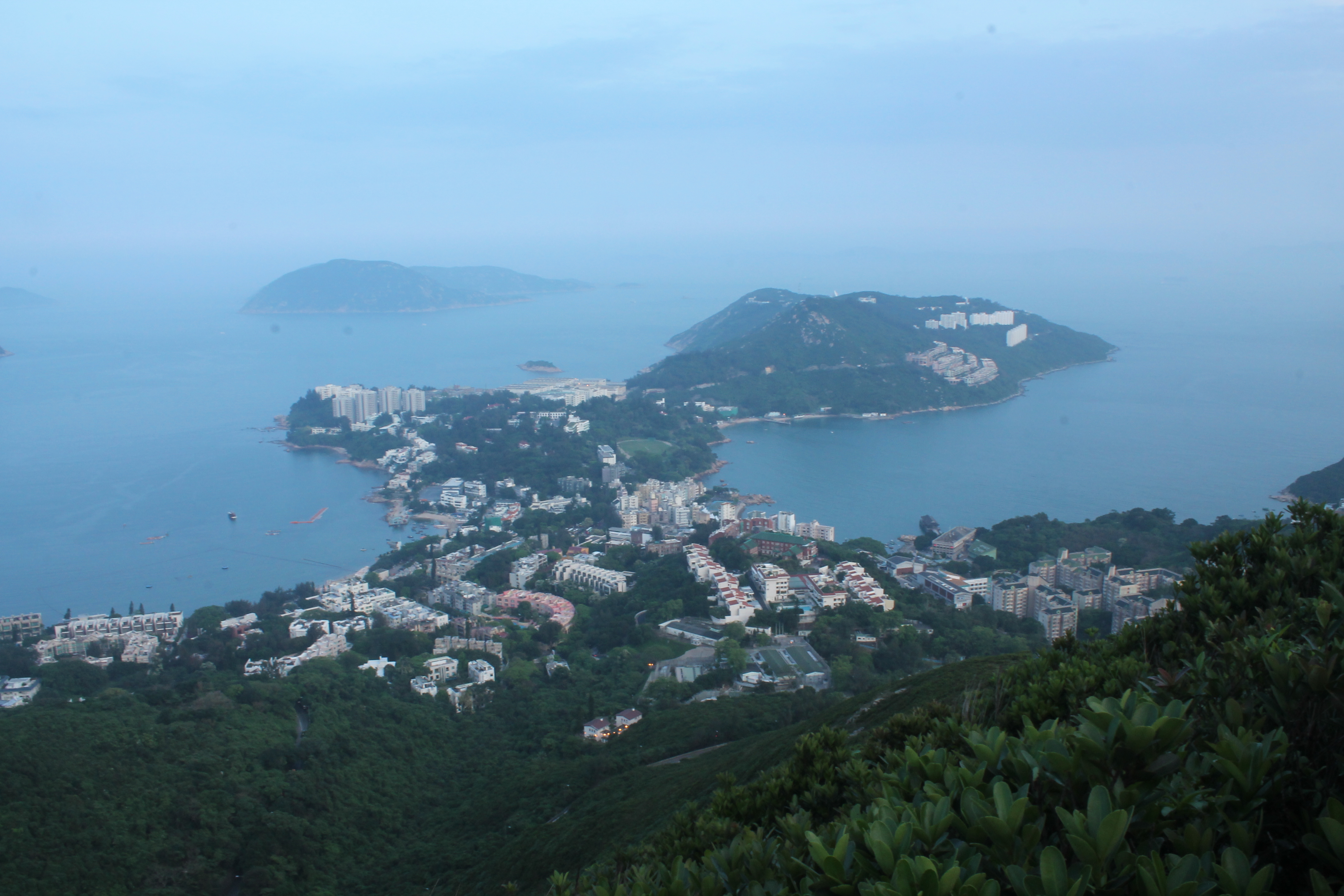 Like many other scenic routes around Hong Kong, there's an observation point with a captioned picture of all the landmarks that you're looking out at.
Before you get to the trail end, you'll merge with the other Stanley Waterway trail I mentioned earlier. Right next to the trail end is a bus stop, but its a really bad bus stop for catching buses because its around a downhill bend, and the buses are usually flying way too fast to see you in time. We got skipped by two buses (even though we were waving frantically!), and in the end we just caught a taxi to Stanley Market. It's actually really close – the base fare of $22 will get you all the way there.
We also had amazing weather, but it was a bit too humid. I was completely out of water by the time I was at the peak of the second mountain. Even though I'm expecting more sunny days in the summer, the ideal hiking season is probably almost at an end. Once June hits, I'm sure nobody will even want to step outside!
All in all, today was a successful day. I continuously replenished insect repellent and sunscreen throughout the day, after learning a harsh lesson at Repulse Bay last week. (Seriously, where I come from, the beach isn't a popular place for mosquitoes to hang out!). Completed the day with only 2 bites. I call that a win.