I always write about food, whether purposely or subconsciously. It's just too easy to snap pictures of your snacks, even if you've had the same thing dozens of times before. But this time, it's about a special meal that made a lasting impression on me. Not just because everything was aesthetically pleasing, but because it actually tasted good while looking nice. And so, I decided it's worthy of a dedicated post.
The restaurant is literally called Yum Cha, located in Sheung Wan, and I was expecting something like the classic Lin Heung Tea House (蓮香樓) that is oh so famous but I haven't been in probably like 10 years. But nope. It's located in a very modern plaza, with English as the dominant language, and there were signs for happy hour. That was the first observation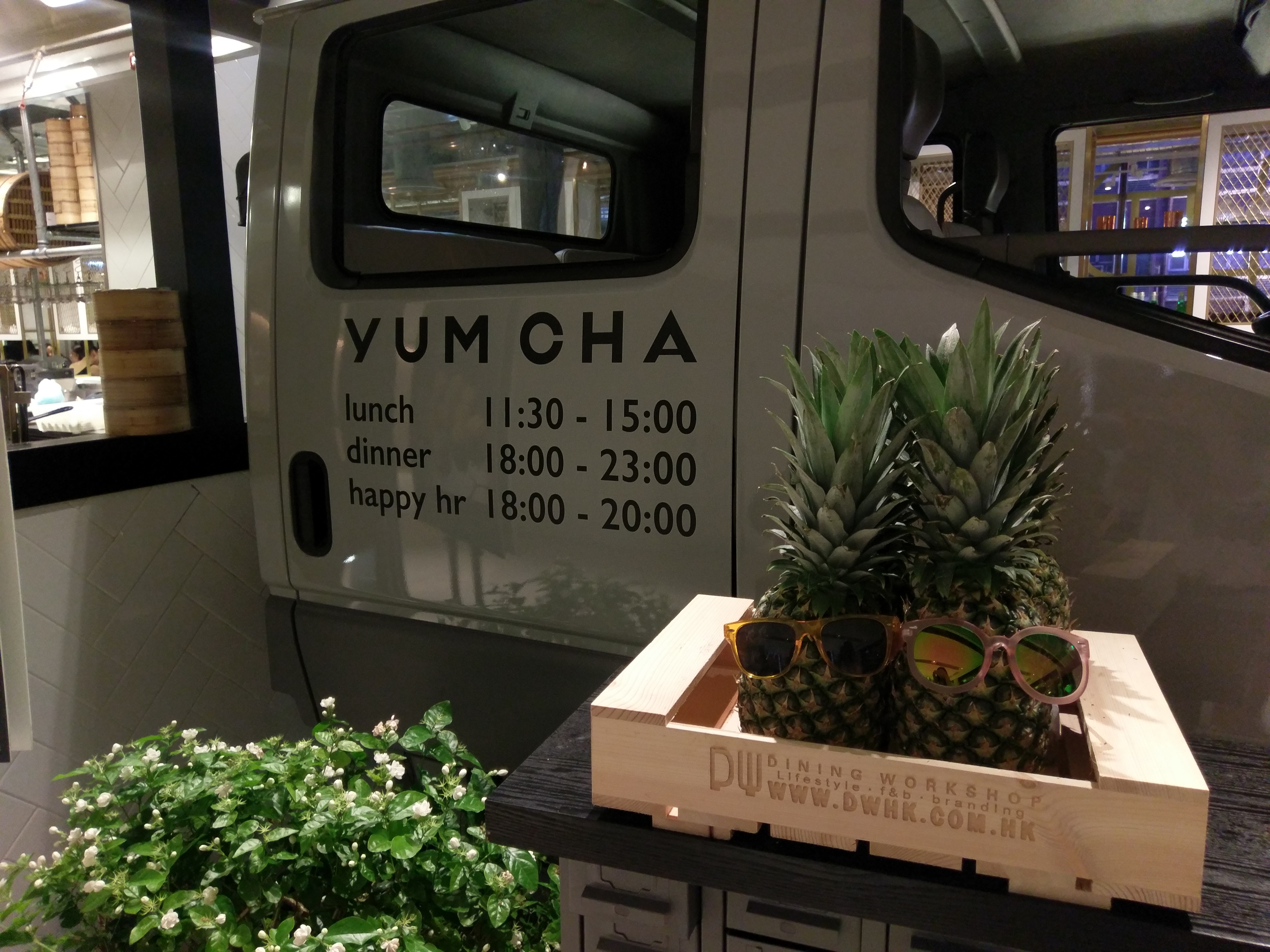 When I walked into the restaurant and saw the seating, I felt like I was in a Disneyland hotel restaurant. The setting was all perfectly lined up, and the environment was brightly lit with hanging lights. I sat down, and saw the ceramic teapots and bowls. I loved the basic-ness of it.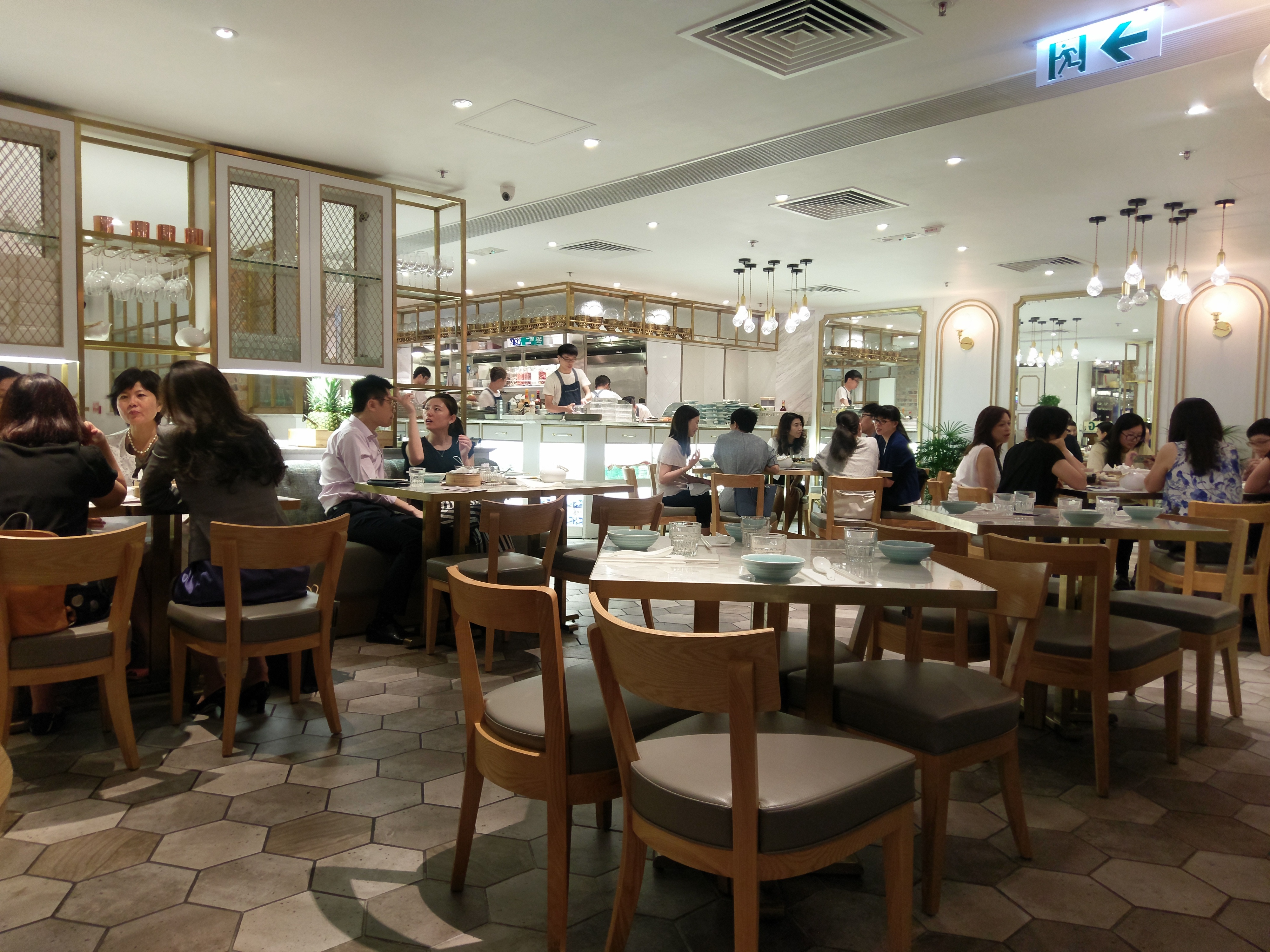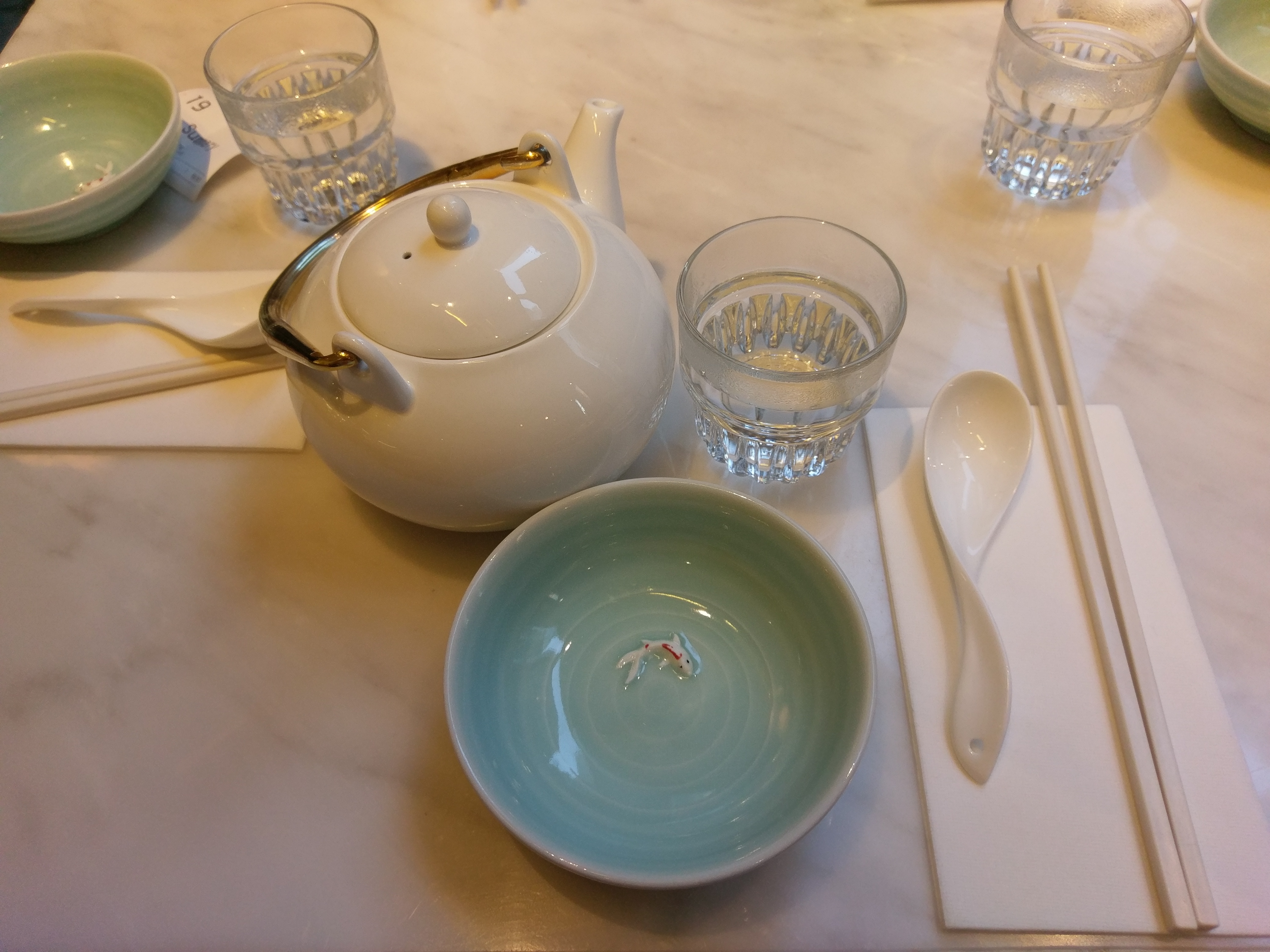 The selling point of this whole restaurant is the aesthetics, so of course you would expect fancy food as well. It's not that prestigious, but it certainly is cute. The best part is that it tastes good as well!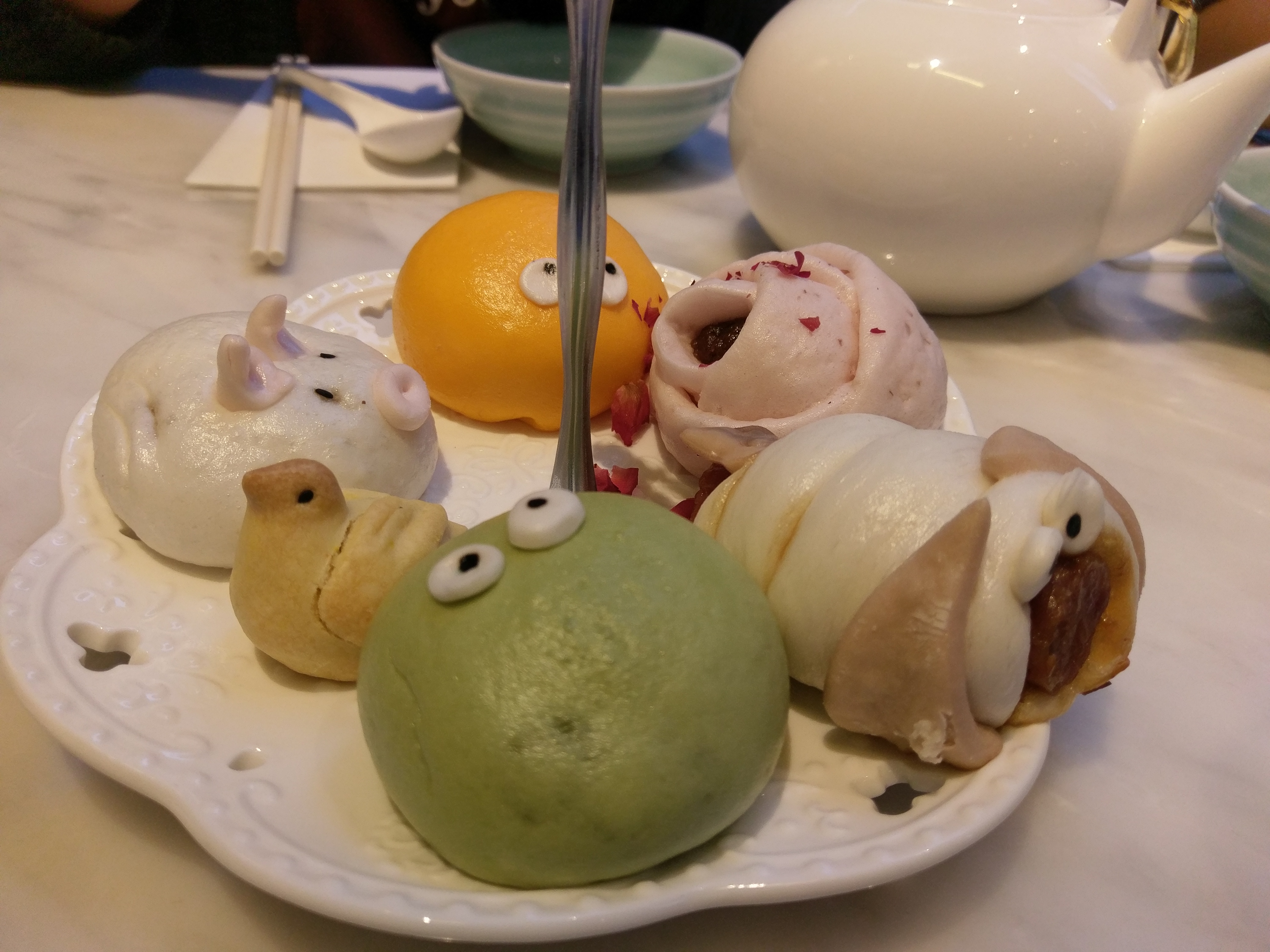 We ordered a bunch of dishes for four people, so we could try a bit of everything. That orange dish is cold winter melon, marinated in orange juice. It's one of their highest rated dishes, and I really liked it as well. The orange taste is really strong, yet there is still the texture and taste of winter melon in the background. The steamed buns are a bit typical – I mean, the pigs are just BBQ pork buns with eyes, nose and ears. The green blobs are like custard buns, but matcha flavoured. I like ordering these things that you probably can't find anywhere else.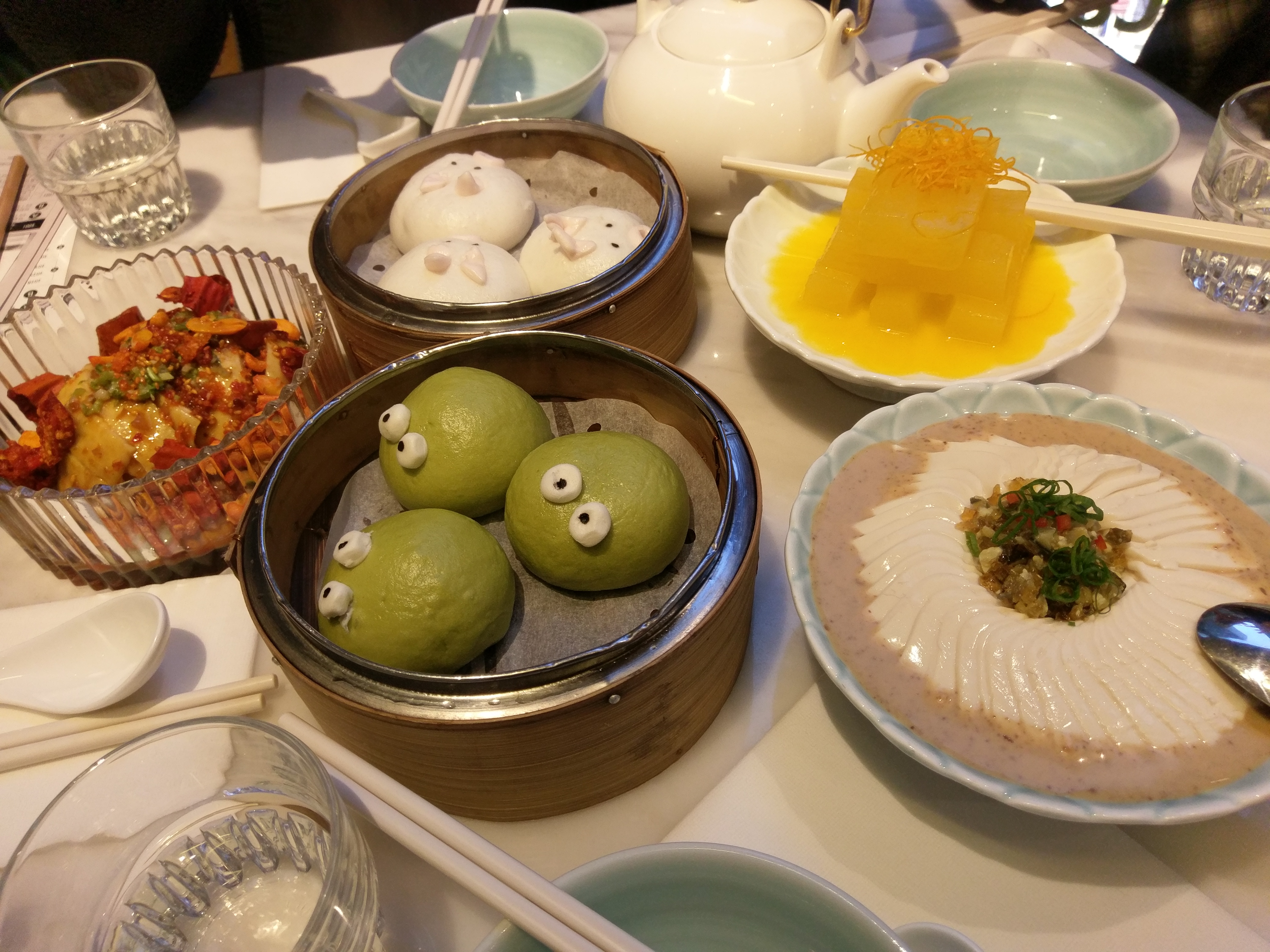 Anybody that knows me also knows that I don't eat spicy foods, but this time I was the one to choose the spicy chicken (口水雞). It wasn't actually the hot kind of spicy, it makes your mouth numb afterwards. Since I never eat spicy foods, this was the first time I ever experienced this feeling. I think I would be able to take it again (as long as the dish isn't actually spicy).
The dish of tofu looked pretty big when it arrived, but the dish is actually very shallow. In fact, all their portions are pretty small for their price (around $60 for dim sum and $100 for other 'larger' dishes).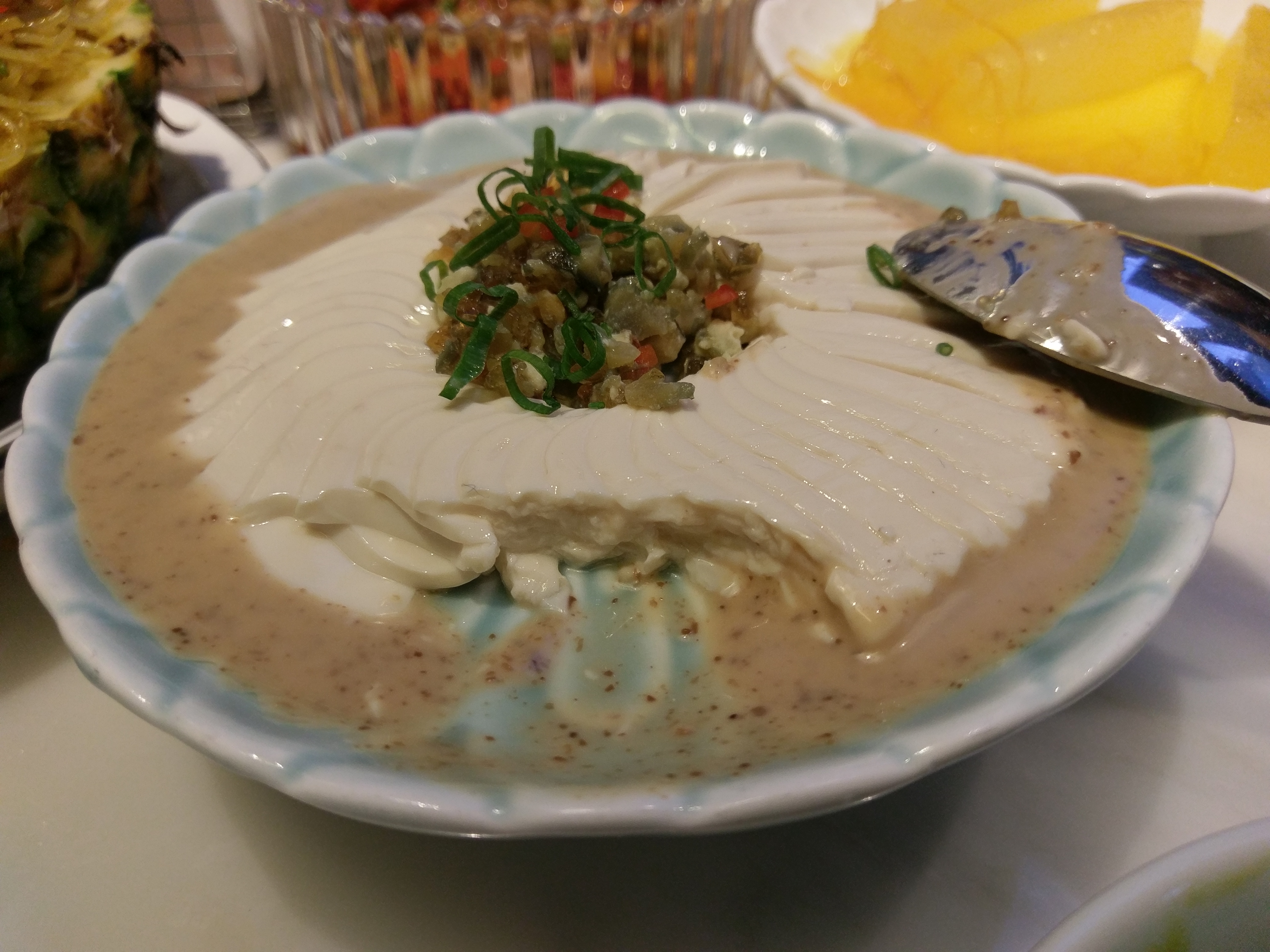 This calamari was really good as well, although I think calamari is a really easy dish to like. The fried noodles weren't my favourite – not because they tasted bad, but because I don't really like that dish in general – but at least it came in a pineapple so it looked cool.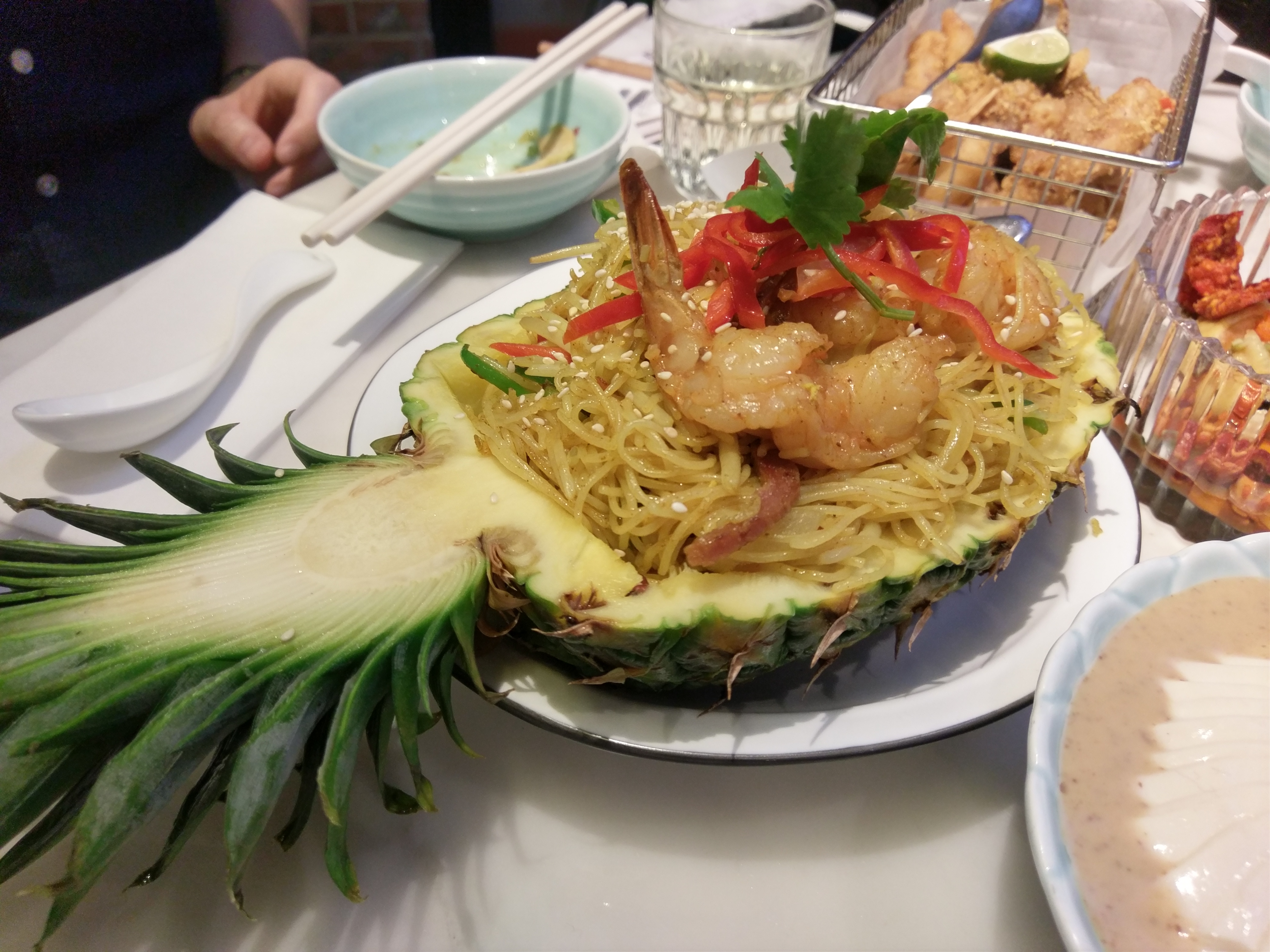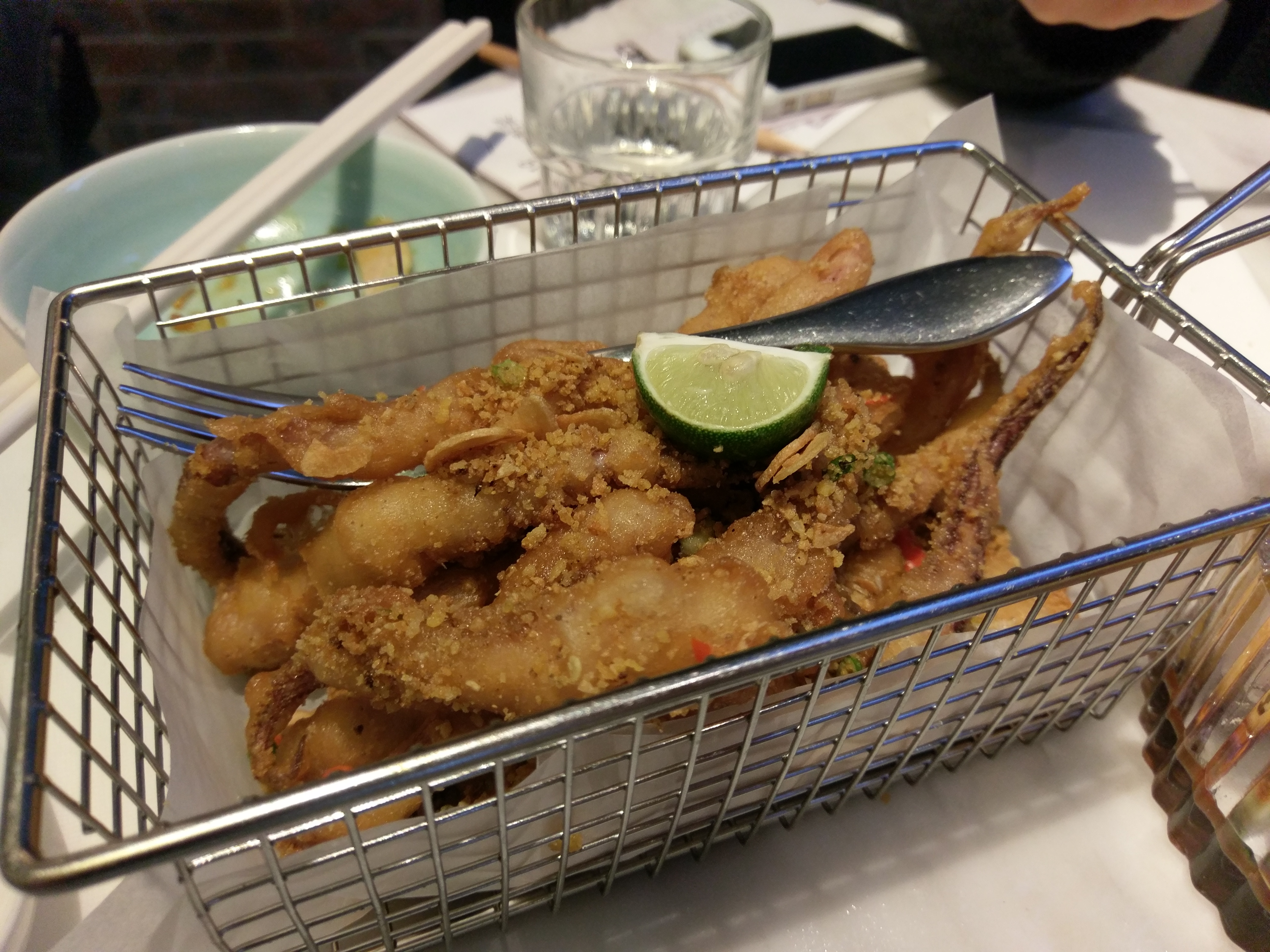 Speaking of looking cool, I really noticed it when the dessert came along. We ordered a mango pudding (which came with cotton candy on top, just to make things interesting) and a few traditional Chinese desserts which came in a steamer. The steamer was steaming from the dry ice underneath, and I thought they would be cold, but it wasn't. It was just bubbling to make it look more appealing than it actually is.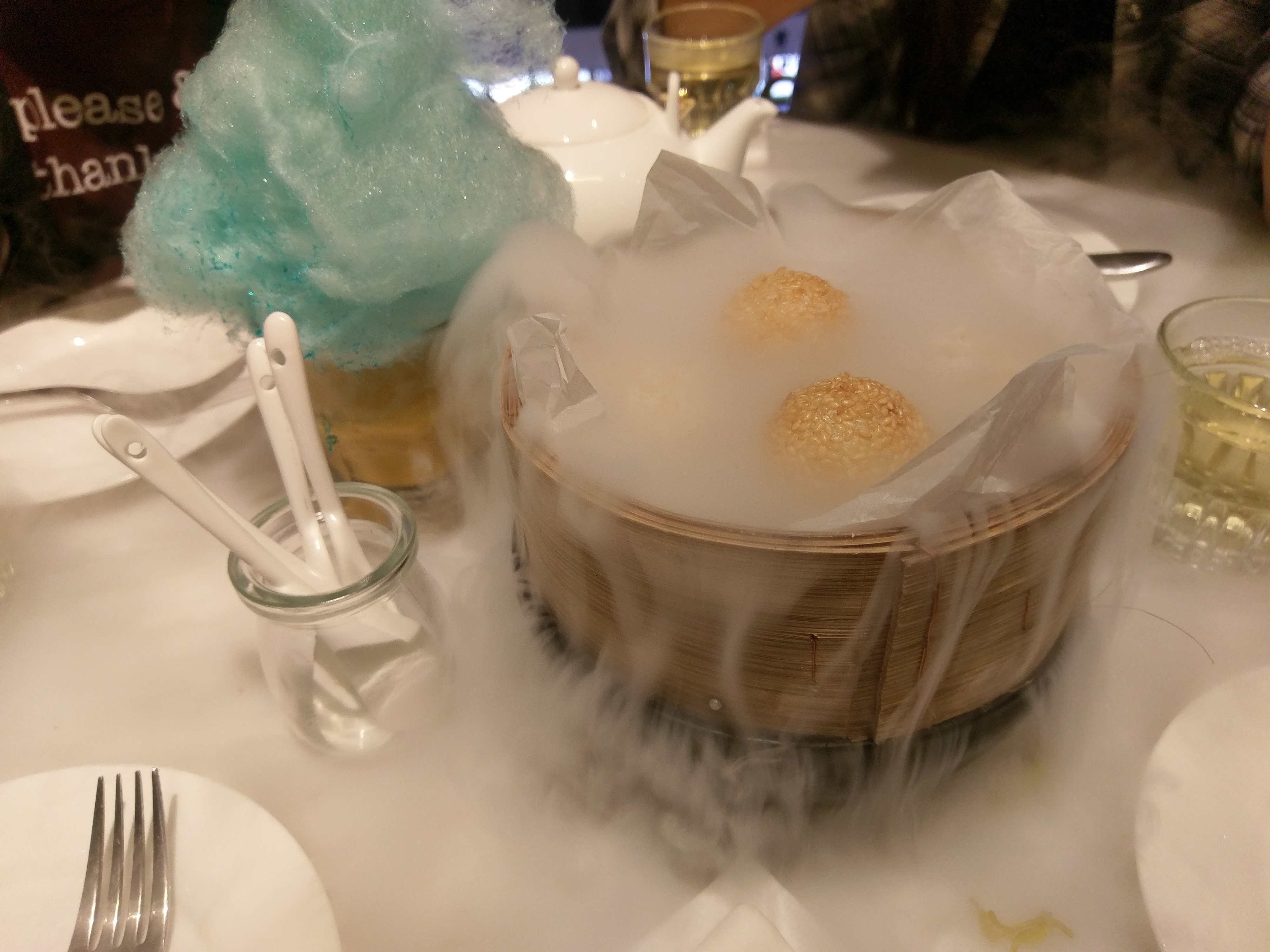 When all the dust cleared and everything settled, this is all there was: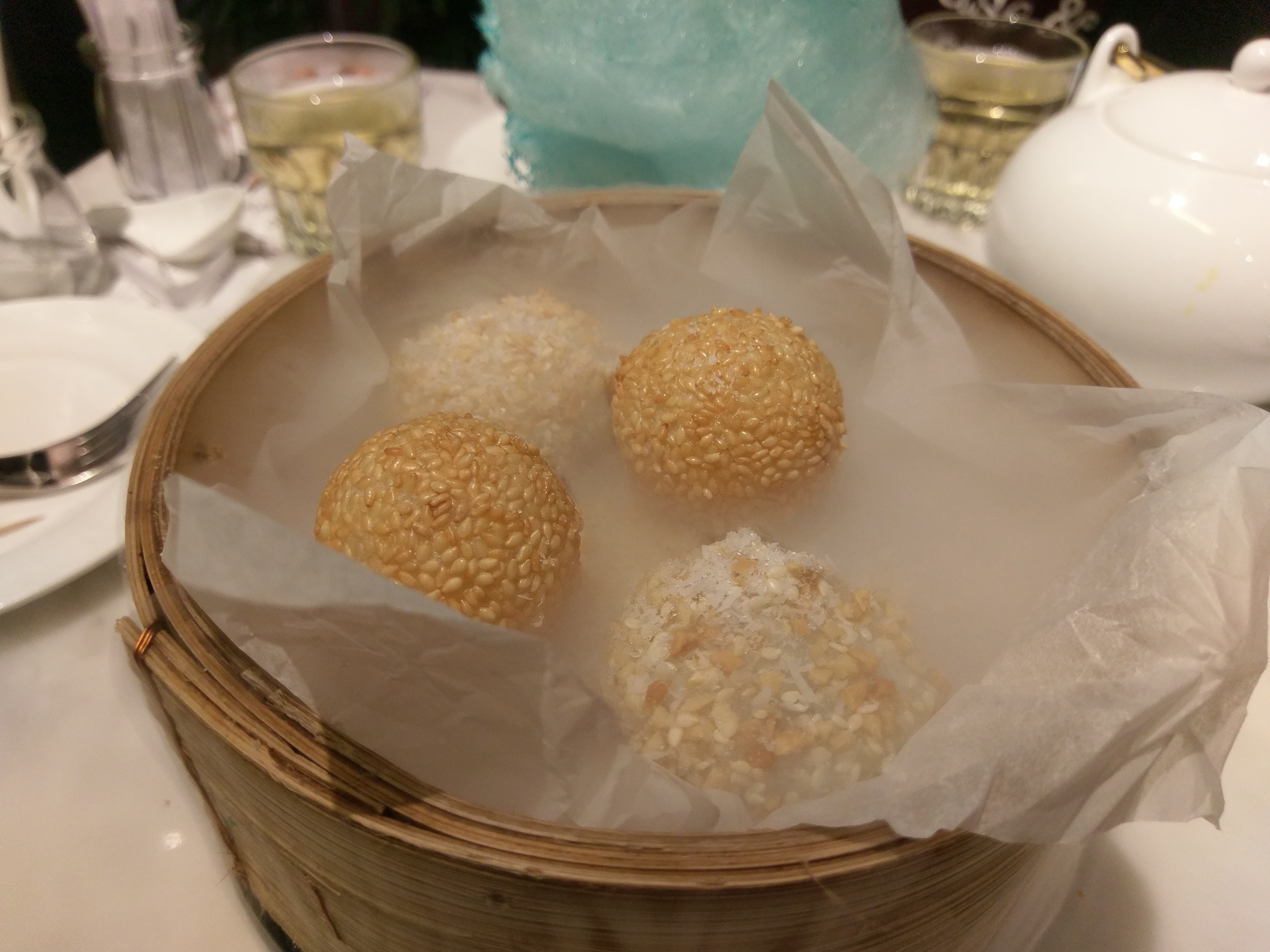 Since it's clearly a Chinese-Western fusion restaurant, he glutinous rice balls were chocolate-filled.
For all you whitewashed kids out there coming back to Hong Kong to enjoy your summer holidays, this is the place for you. Traditional Chinese with a Western twist to it. It's a bit on the pricey side, but for an occasional treat at a worthwhile restaurant, it definitely was not bad.