This all started when one of my friends said to me, "I don't want to be labelled by my job. Every time I meet someone, it's like 'Hi, I'm ______ the accountant'".
And so I started thinking.
For as long as I can remember, no matter where I go, I have been labelled as 'the girl that plays soccer'… 'soccer girl'. Even before I actually meet people face to face, somehow they already know this one fact about me. I guess it's nice(?) that people recognize me, although it leaves me a bit embarrassed/ashamed to say I can't remember their names as well as people can remember mine (recognizing the only girl is a lot easier than recognizing every single other guy!). But I also wish I could make a different first impression rather than being just 'soccer girl'. What's worse is that I usually don't even have a fair chance to meet you before you hear about 'soccer girl'.
That is why I write. It's my open vent to the public. Regardless of whether or not you want to listen, it gives me some contentment to articulate the things I want to say. Today, it's the answer to this question: What does soccer girl have to say about 'soccer girl'?
First of all, I want to say that I don't even know why it's such a big deal. I mean, I come from a team of girls that play with a huge league of girls that has more than one competitive level – and they all play soccer. There's a countless number of 'soccer girls' out there, so it makes me ponder how people can even use this name to recognize me and only me.
Obviously it's also culture-related. After all, I am born Chinese, and no matter how Canadian I pride myself as, I still grew up in an environment surrounded by Chinese people. In this community, women aren't supposed to be so active. They're the ones that are meek and sheltered and need protection. (Just for the record, I'm as opposite of that as can be… I'm competitive and dominant and I'm a lone ranger that takes care of myself). And so, back to the point: not a lot of Chinese girls play soccer. As a result, that label is indeed defining, and it seems to be printed on my forehead wherever I go.
So, I play soccer – this indeed is a fact. But there are so many stories behind the fact that you could inquire, and it would also give me a chance to be more than just 'soccer girl' in your eyes. Things such as…
How did you start playing soccer?
My parents would say it started on the night I was born – the night that Denmark won their one and only Euro Cup title so far. Personally, my earliest memories of soccer was playing with my dad in my backyard when I was around 5 years old. We would just kick a ball around, either passing or shooting on each other. I remember I liked to be the goalie because you were allowed to use your hands. We didn't have an actual net in our backyard, but we would just pick two 'things' to be the markers for our goalposts, so the space between, say, two trees would be our goal area.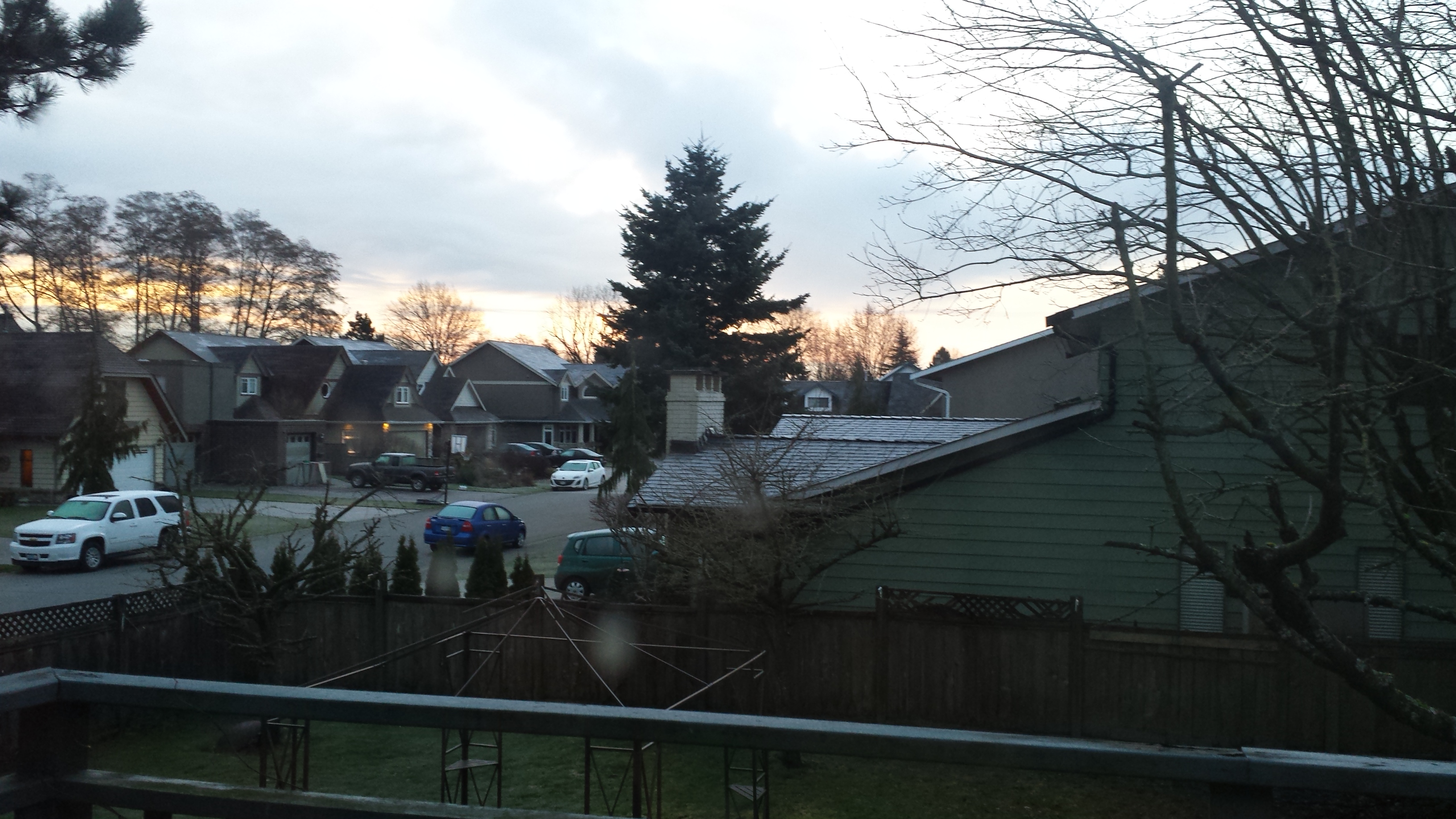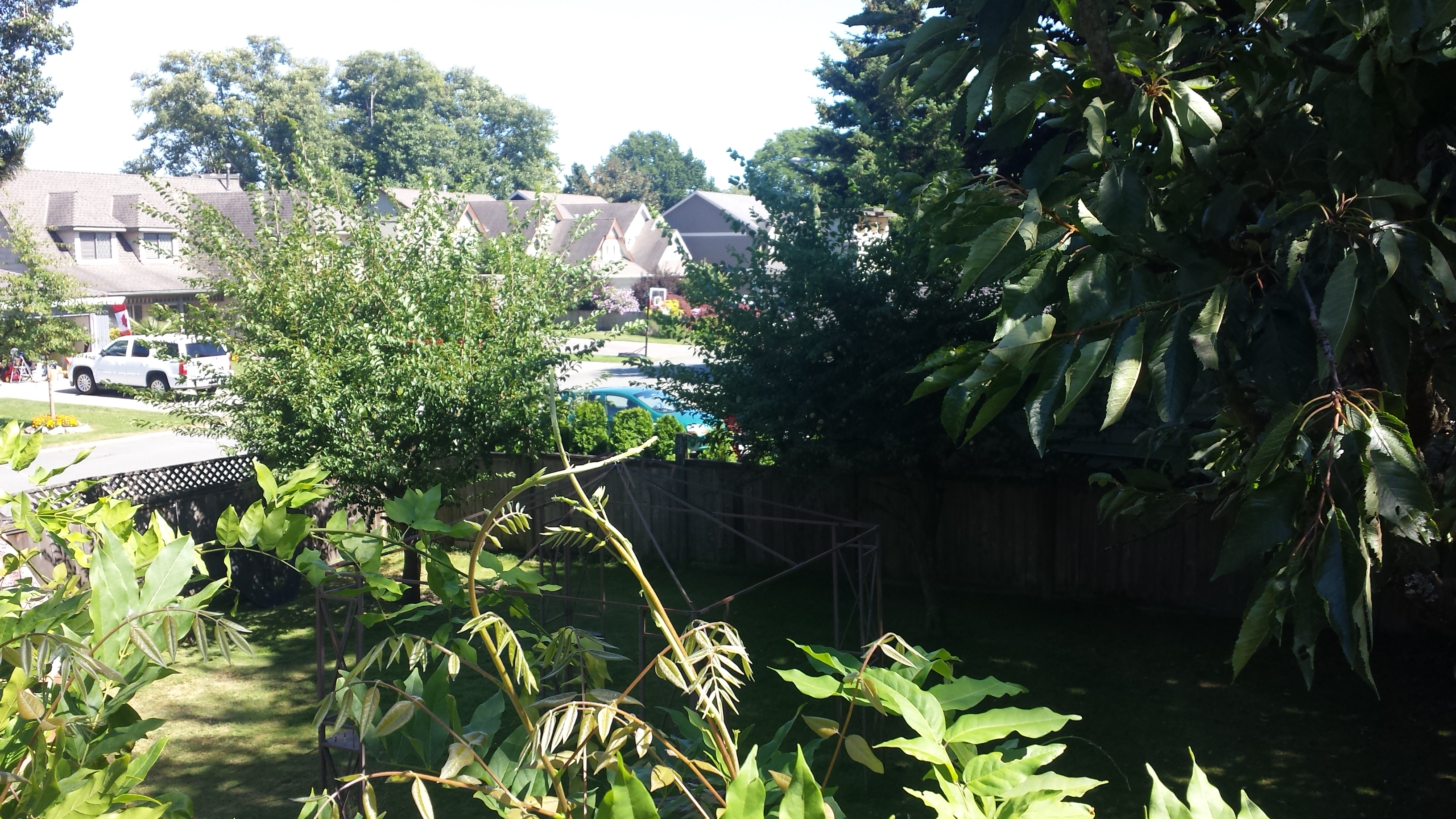 My backyard through the seasons, also the first soccer pitch I ever knew.
As a kid, I actually played a lot more than soccer. It's a blessing to have grown up in the era before smartphones and iPads, because that meant I spent a lot of time outside as a child, just playing. The kids along my street used to all get together and play street hockey. I tried figure skating classes and spent time on ice hockey and lacrosse teams. My friends at church liked basketball, so I would shoot hoops with them. Of course, you pick and choose your favourites as you grow older, and I ended up choosing soccer.
Why soccer, and not another sport? Or why not another non-sport hobby, like an instrument or painting?
I am way too active to sit down in one place, so sports are a good fit for me. I also really like to use my brain (ironically, this impatient person does enjoy playing chess and mastermind and putting puzzles together). Soccer puts brainpower and action together. It's actually really strategic, and you have to always be thinking about where to go next. Of course, your athleticism determines whether or not you can carry out what you're thinking in your head.
All sports are like that, yes (except for maybe track and field or something). That's why I also play basketball. Despite many attempts to get me into volleyball, I ultimately rejected it, because I don't like how it hurts my hands.
My dad, being an avid soccer fan, was obviously another factor. Aside from playing with me, he also sponsored a company team, and I remember always watching them play when I was around 12 to 15. I would sometimes play along with them, and they had a great coach that made me into a much better player.
When I was younger, nobody taught me that being a girl that plays soccer would give people the impression that you are a rough, 粗魯, un-lady-like person. I'm grateful for that. If people gave me such advice that stopped me from playing, today I wouldn't be able to enjoy this sport along with the years of memories it has brought for me.
What was soccer like for you growing up?
When I got old enough to join other kids, I started summers at soccer camp. I remember at that time, there was a guy named Jason Jordan, part of the local Whitecaps team (way before Whitecaps joined MLS), that helped out at the camp, along with another guy (I forgot his name). They asked to write/draw what dreams we had, and my mom helped me draw a picture of the World Cup. Mostly we just ran around during camp, but I do remember learning how to juggle a soccer ball, and playing my favourite camp game: head or catch.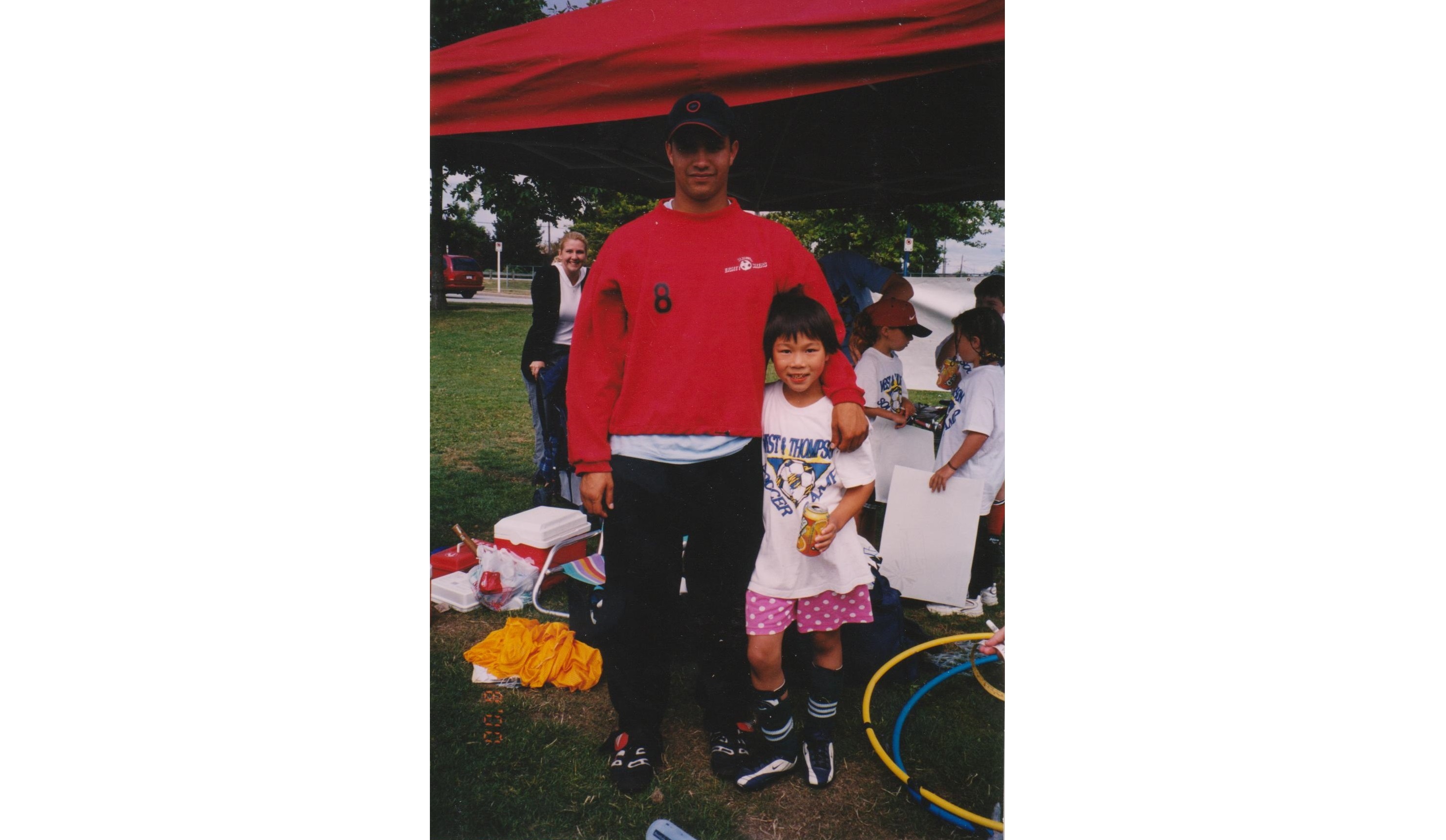 Me with Jason Jordan. He was number 8, I became number 18.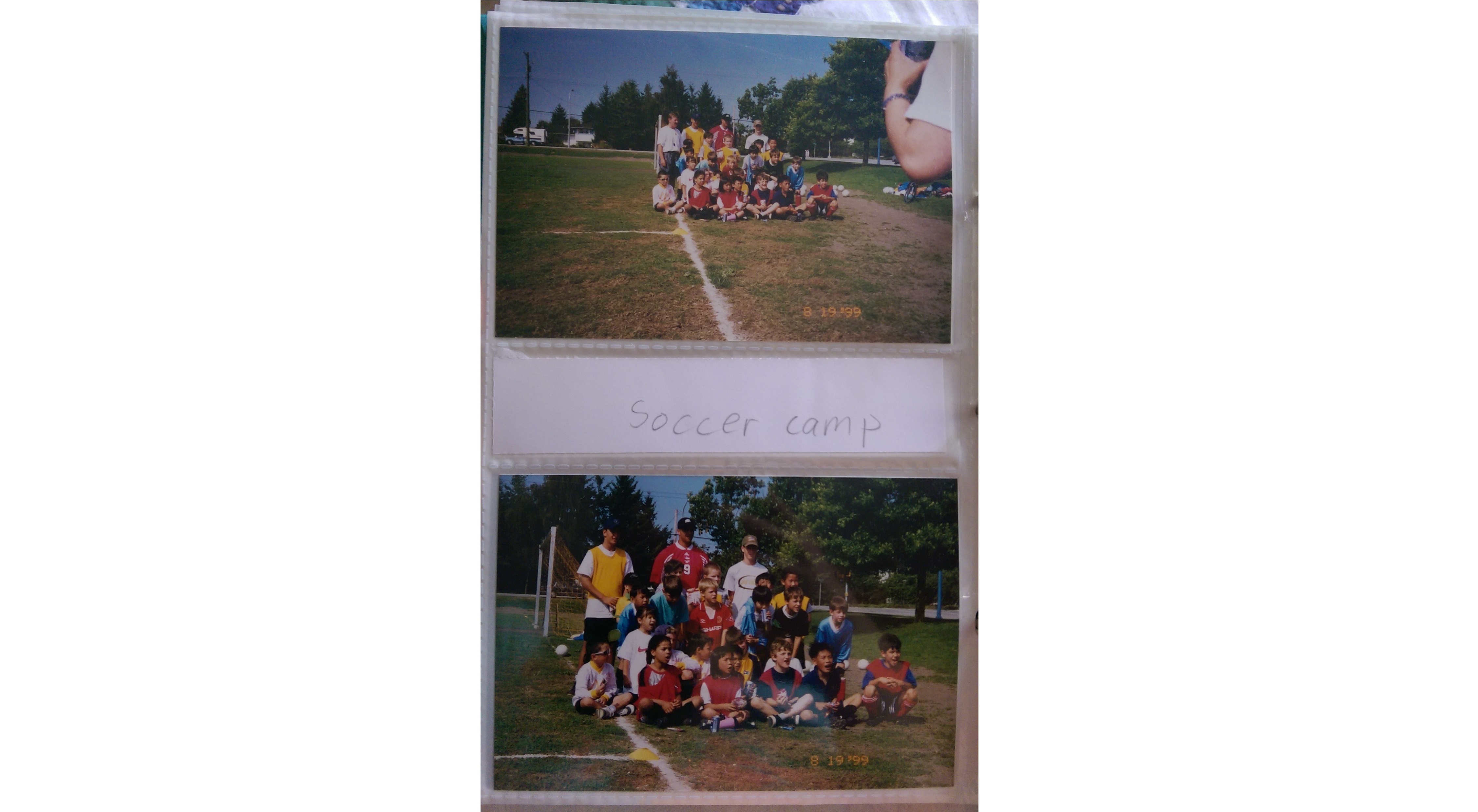 My childhood was in the era of film prints, yes.
Soon after, I started playing league soccer. It was a non-competitive type of league, the type where all 20 people followed the ball around wherever it went, and you would easily score if you could get the ball a bit higher on net. (We were kids… what did you expect?) That probably lasted 2 or 3 years.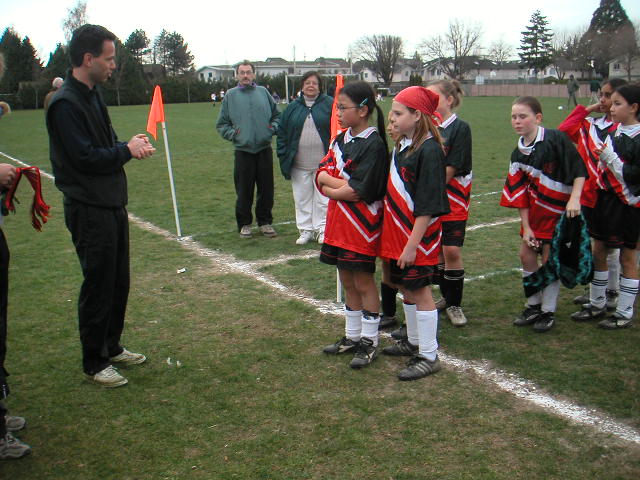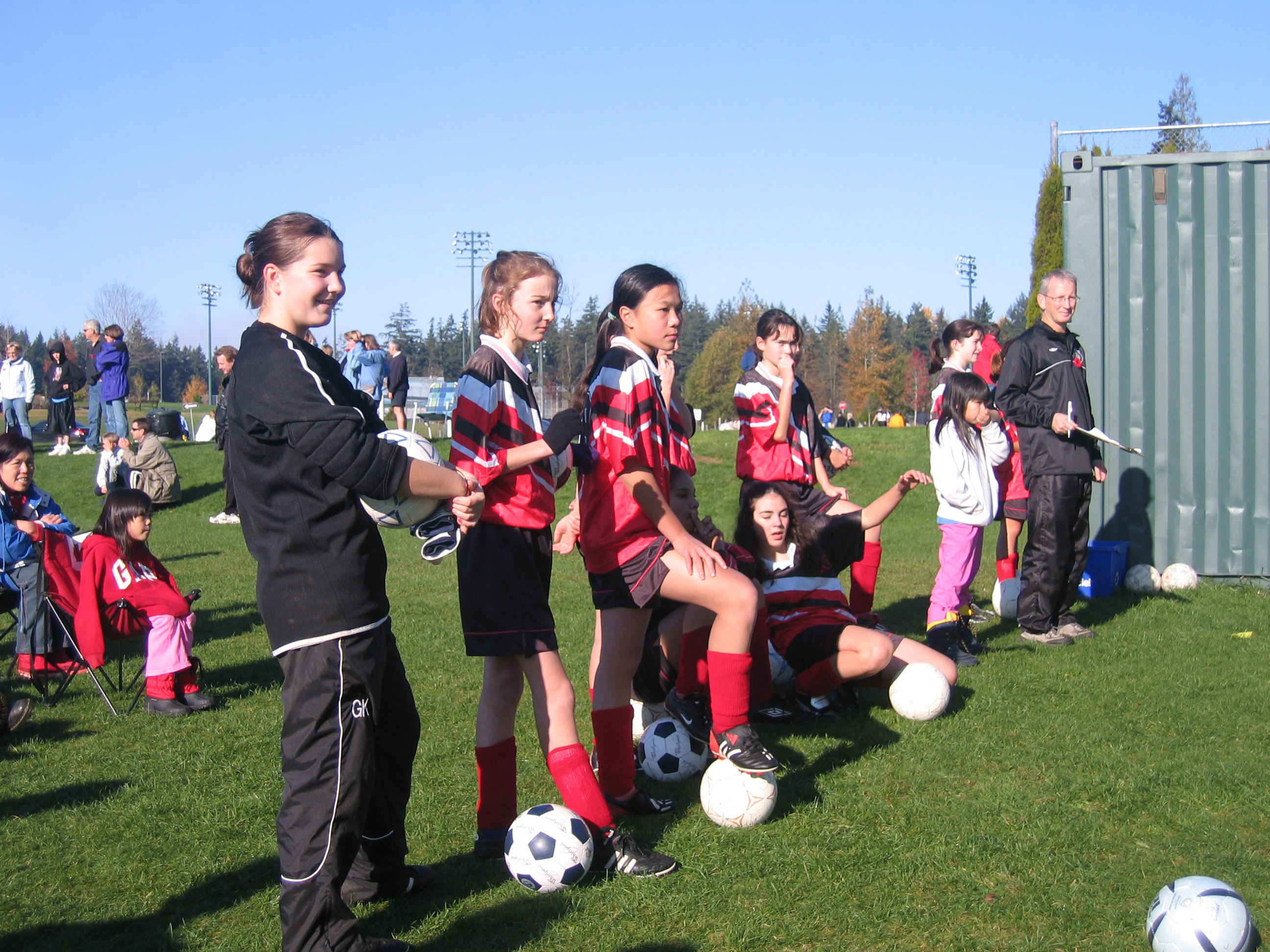 I'm a bit older now, but that inner me is still there.
I don't remember exactly when competitive soccer started, but I would guess around the ages 12 or 13. That's when we actually had tryouts to make a certain team, rather than simply being assigned to random teams. During those years, I actually played at quite a competitive level. There were two practices and one game every week, and it isn't until now that I realise that my commitment is nothing compared to my parents. Those games took us all over the Greater Vancouver area – as far as maybe a two hour drive for a regular league away game. All that driving is one of the reasons why I know the suburbs of Vancouver decently well. Every now and then, there will be this really random neighbourhood that I recognize because there's a soccer field nearby that I've played on before.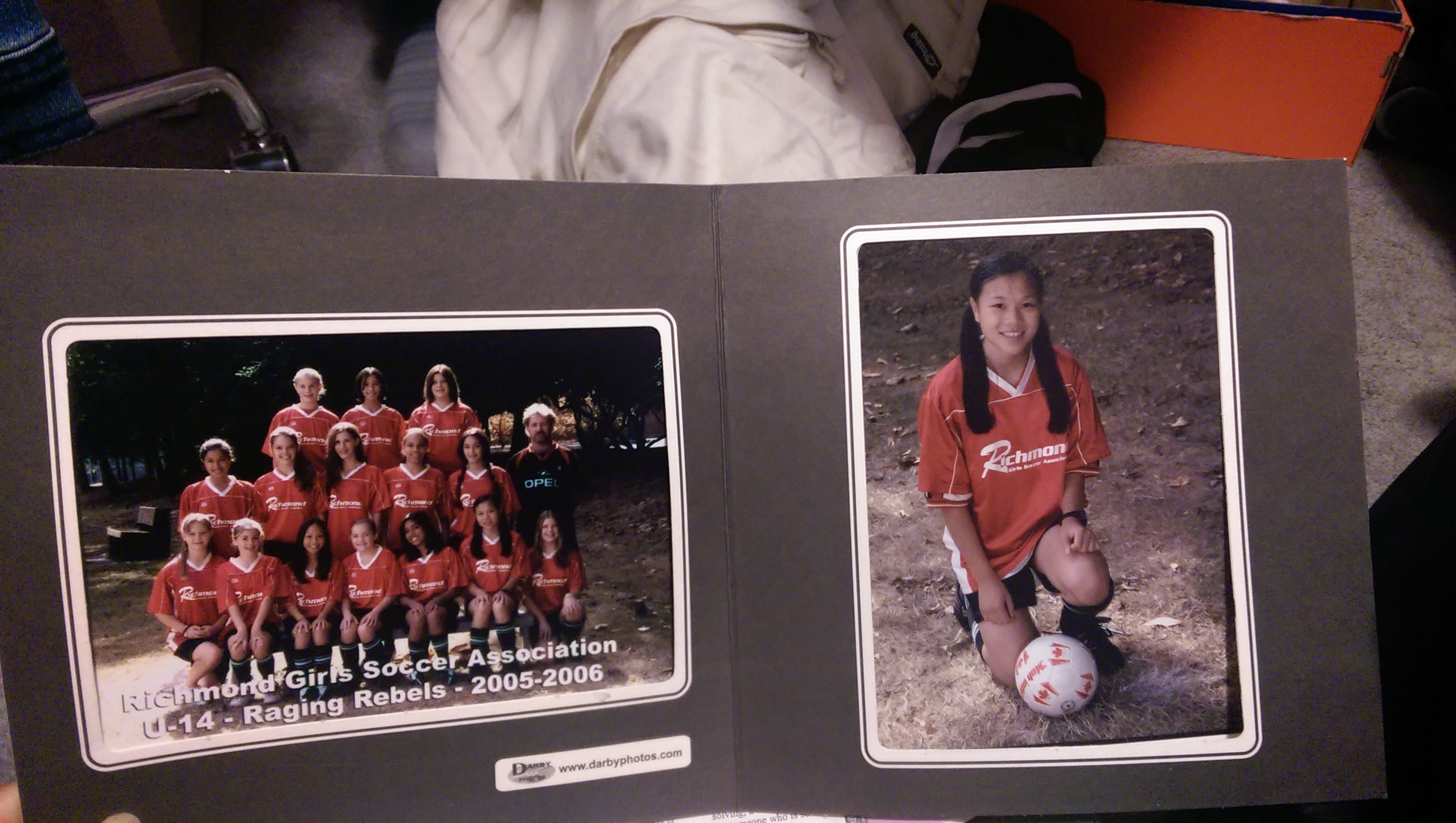 As we got older and more competitive, the photos also got more professional.
The soccer season runs from September to April, and anything after that depends on how well you do in the playoffs and tournaments. Our team also did summer tournaments before the start of the regular season. I'm sure we went to Penticton (about a 5 hour drive from Vancouver) at least twice. I don't even remember how we actually fared in the standings, but I remember it was a fun road trip with the team. We went go-karting, water skiing, tubing, our car broke down on the Coquihalla Highway… those are the things I never forget.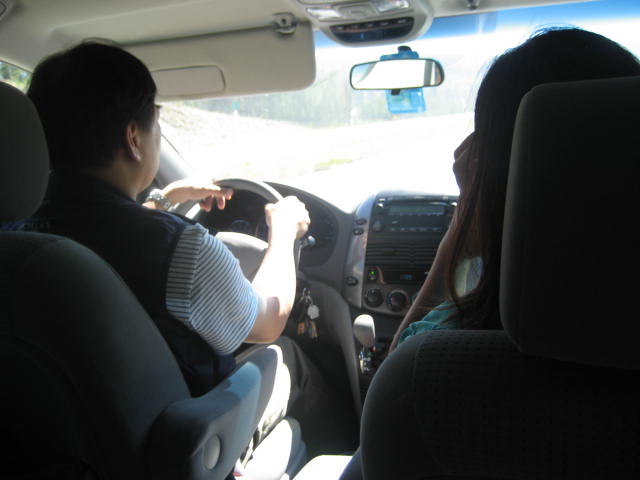 Road trip! That's one of the things you miss out on if you grow up in Hong Kong.
That's another thing I really like about soccer, and I can't really find it here in Hong Kong – the team. Soccer is truly a team game. You win not because you have the 11 best players, but because you have the better team as a whole. Knowing where my teammate will be running to, even without her having to yell it out, is what makes us a split second faster than the other team. Every year, the roster does change a bit, but it's mostly the same, so there are some girls that I've played with for many years.
The team is really what makes soccer fun. We were a strong presence on the field, but we also did a lot together away from the soccer pitch. The yearly road trip tournaments, as I mentioned earlier. We did fundraisers together to raise money for personalized team clothing, which I'm still proud to wear this very day. It's really special to have a group of people all working hard toward a common goal. I remember telling another friend how we raised $1000 (CAD, not HKD!) by collecting and recycling cans and bottles (about 5 cents each), and she was in awe. Our car wash was another good one. One of my teammates made a chant: "Car wash~ by donation~ at the Esso station". I still remember it to this day.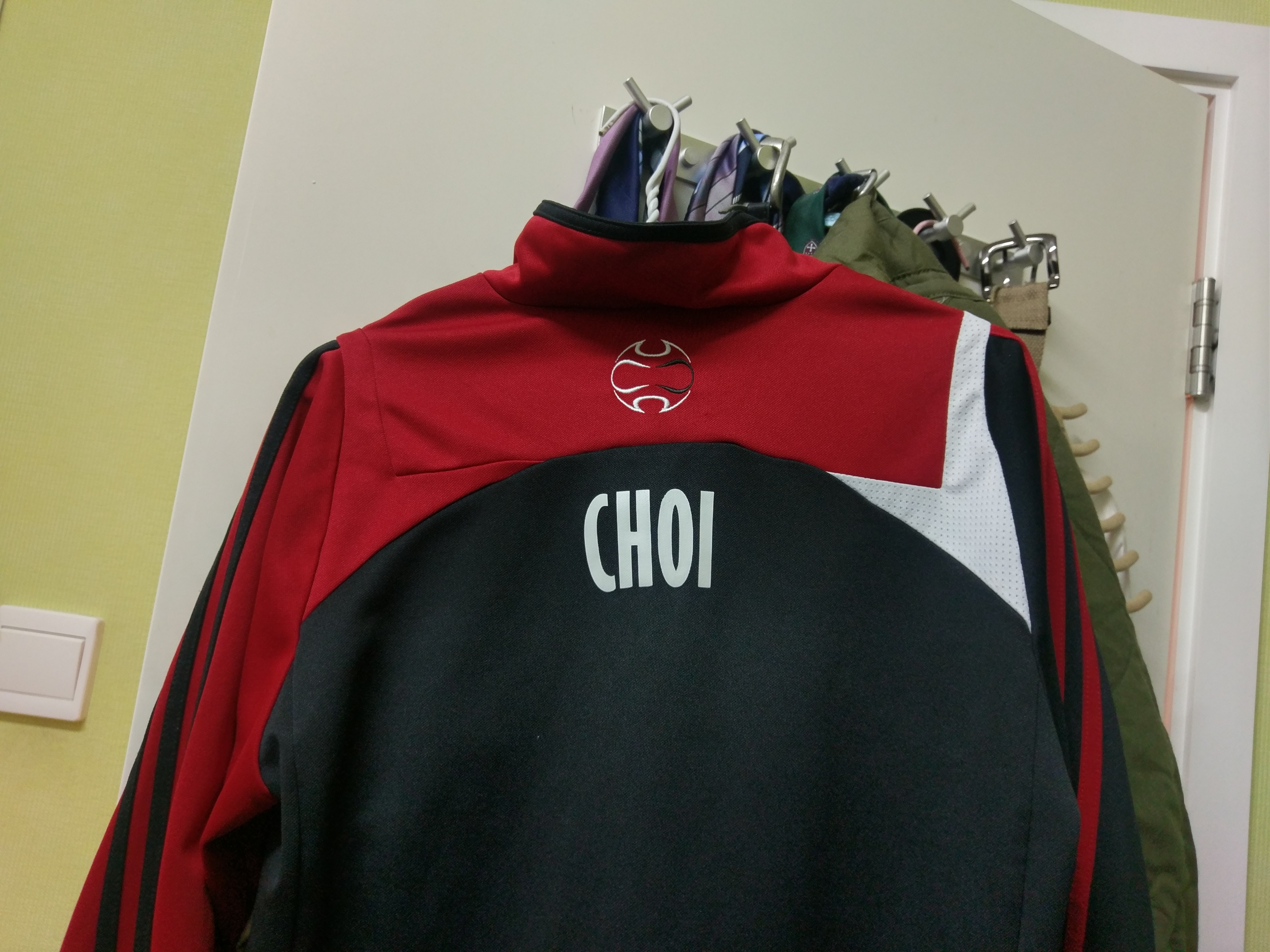 I'm also very glad it still fits after all these years 😉
What is your favourite team? What do you watch?
Actually, this is the most common question I get after people find out I play soccer. And anyone who has asked this will also get this answer: I don't watch soccer. Not anymore.
Being a Vancouverite, obviously I follow the Canucks. And once you're into hockey, you'll find that all other sports are too slow for your liking. Hong Kongers will say that they don't know how to follow hockey because it moves too fast and they can't see the puck. If you can't understand ice hockey, at least understand that however 'too fast' you find hockey is however 'too slow' I find soccer.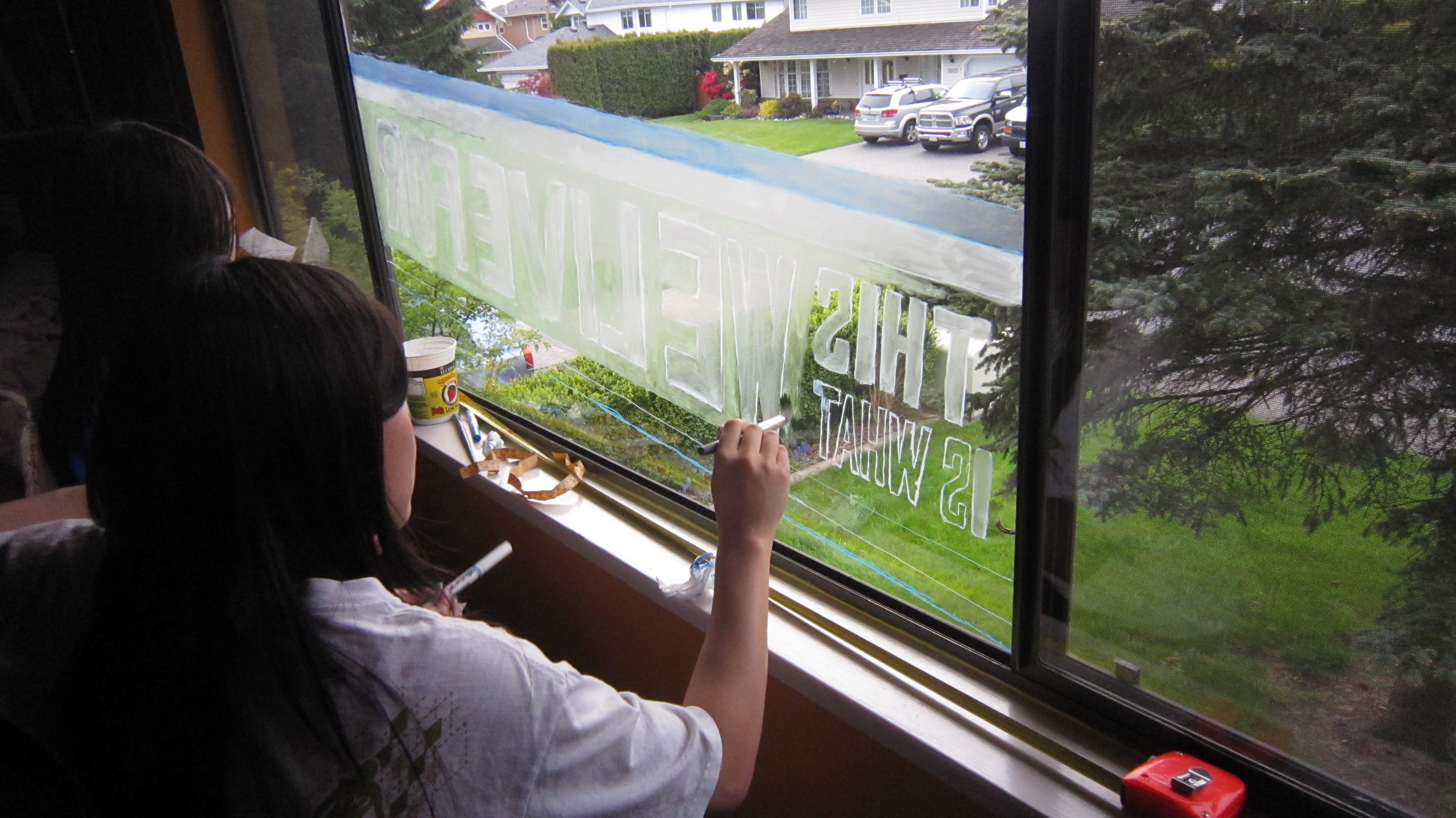 Me being a die-hard Canuck fan, as usual.
However, there as a time in my life when I did watch English Premier soccer. When I used to play competitively, it was almost a need for me to watch, because it would ultimately help me improve my game. Back then, my favourite team was also everyone's favourite – the Red Devils. It was the era of van Nistelrooy and David Beckham. Needless to say, Beckham was also my favourite player. I remember practicing his banana shot, dreaming of scoring on a corner kick one day. (Just for the record, it still hasn't happened).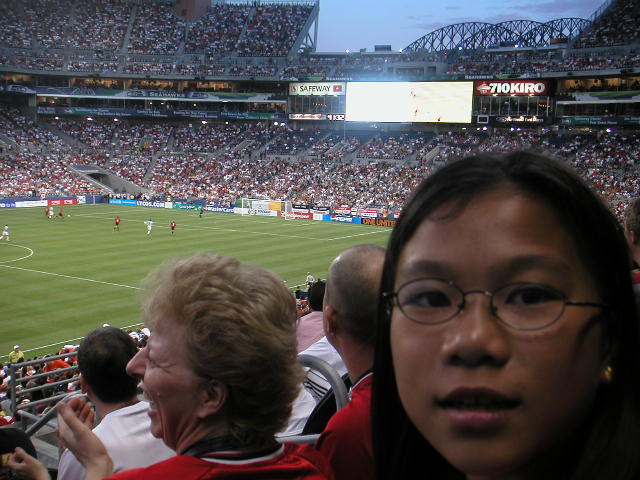 This picture was from 2003, when we drove down to Seattle to watch Manchester United play against the Celtics. Ruud van Nistelrooy scored a beautiful goal – he was literally facing the opposite direction of the goal, and then in one swift motion, he suddenly turned around and scored. I can still see the replay in my head.
What are your fondest soccer memories?
Winning and losing is part of the game, and although we probably won more games than lost, there are two memories in particular – one win and one loss – that really stand out to me.
The win was in 2007. We finished that year on top of the standings, winning a medal for our usual season. On top of that, we also won a same-but-different tournament. Essentially, it's with almost the same teams as in the league, but played tournament style. The final was played in Chilliwack, and after the game, we received not one, but two medals for these two achievements.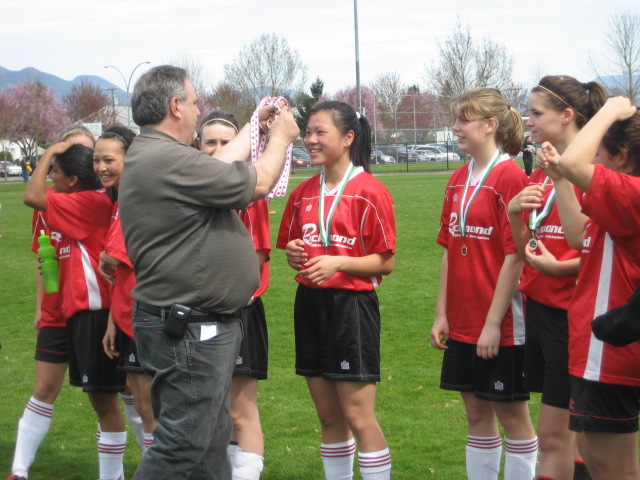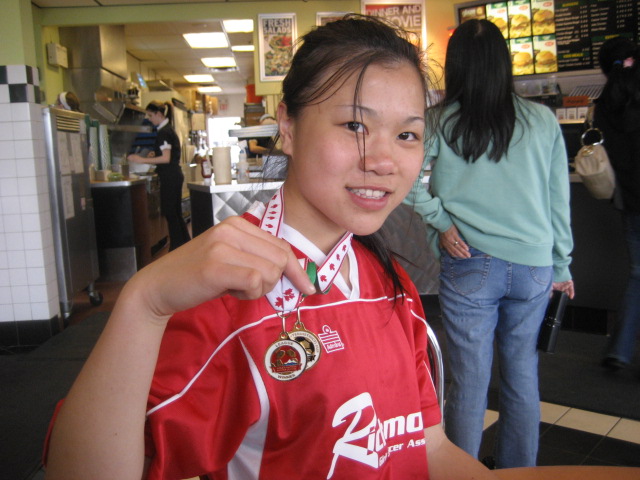 The loss… I don't even remember what year anymore, but for sure it was after than the Chilliwack win. We were in the knockout stages of that same tournament that I mentioned earlier, meaning that we had to win to move on. We were down a goal, and tied it minutes before the game ended. In overtime, we scored – but the 'golden goal' rule of soccer ceased ages ago, and our opponent ended up tying it back up. Finally, in the penalty kicks, I was our first shooter – and scored! But the rest of my teammates didn't. And that's how we were eliminated from the tournament that year. However, the reason why this is a significant memory for me is because as we were leaving, one of the parents on the other team came over to me and said "You girls played very well, but it was unfortunate. You deserved to win." Yes, I thought so too.
When did competitive soccer end for you, and what came afterwards?
I always say I stopped when I hurt both my legs real good. I made a really bad sprain on my right ankle when I was running down the stairs in 2006 (it wasn't even soccer related!), and ever since then, my right foot never handled the ball the same way again.
I didn't give up yet. I trained up my left foot to be just as fluent as my right, if not better, which is why I have no problem playing with both feet. I played dominantly left foot for about 2 or 3 years, until I killed my left foot as well. This time, it was actually during a game, and I even went to the hospital for that one.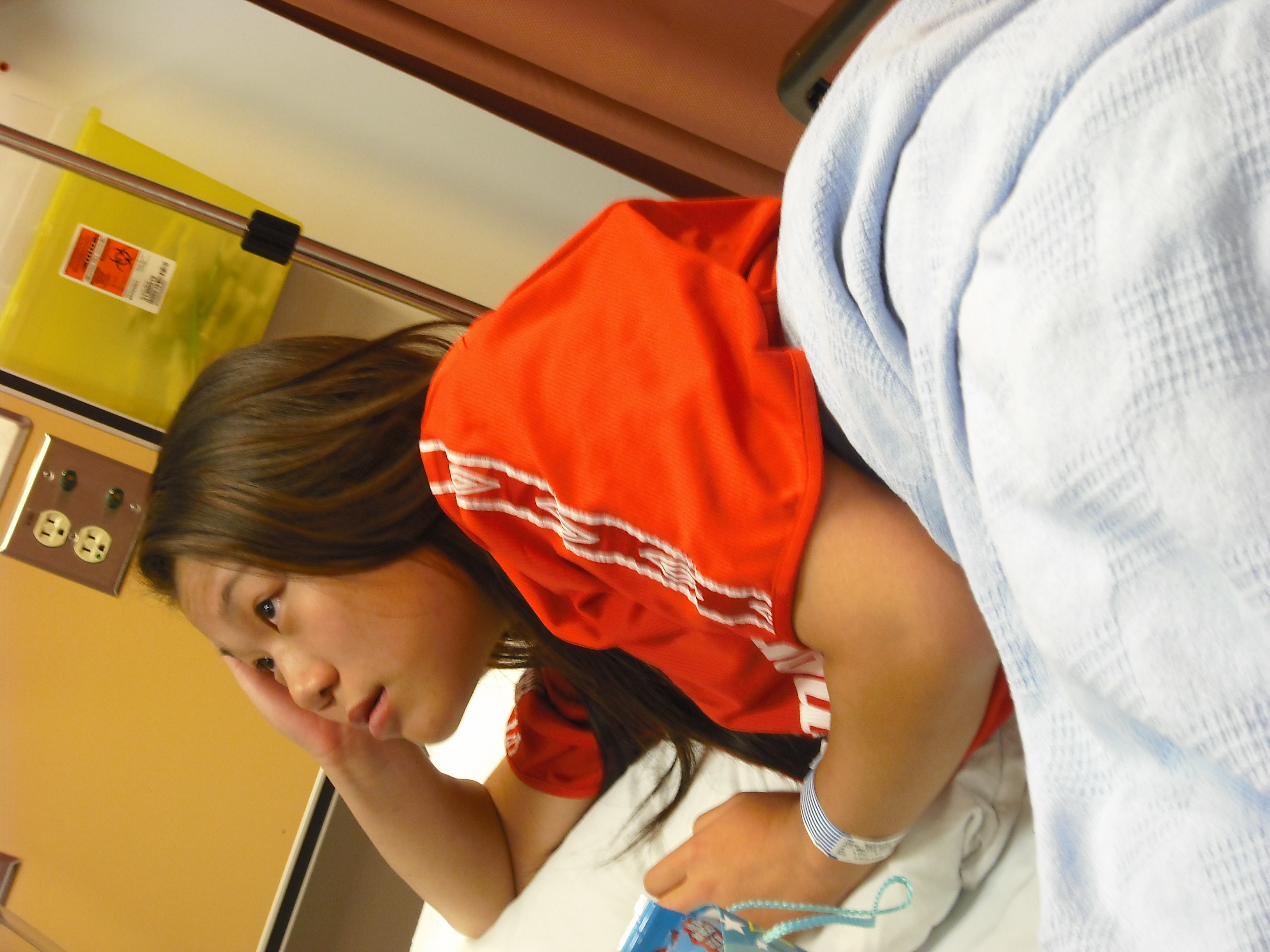 I'll spare you the picture of my ankle being twice its usual size, and leave you with a confused-looking me in my hospital bed.
I literally had crutches at least once a year. Injuries were so common that I even bought my own pair of crutches and they're still sitting around somewhere at home (I think). The first time, everyone would ask me "what happened?!" and by the third time, it was "oh, again?".
However, when I left Vancouver for university, that was the end of my real soccer 'career'. I tried playing on a competitive team in Toronto, but it was extremely difficult in this huge city with no car to get around in and no more parents to support me, and I ended up quitting after a few months. I still played for fun on intramural teams throughout university, but that was really just 'for fun'. Ever since being out of high school, I don't think I've had a real 'practice'.
It doesn't mean that soccer was any easier. I'm not talking about the opponents, but the sacrifice and commitment. Engineering Science required a huge investment of time, and it was quite tough for me to gather the time and energy to go out even just once a week for a game of soccer.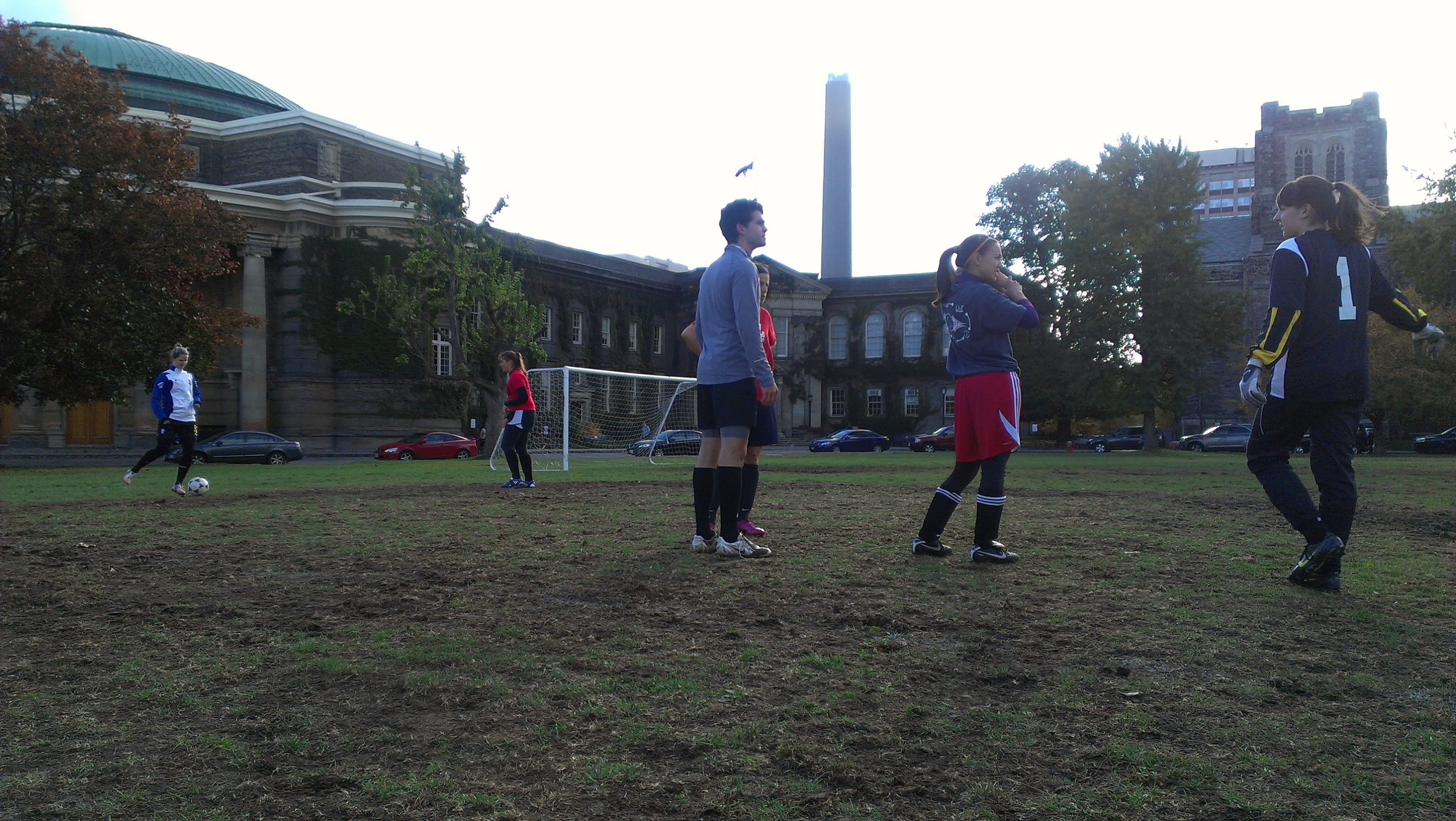 Soccer during the fall semester, on Front Campus outside of Con Hall.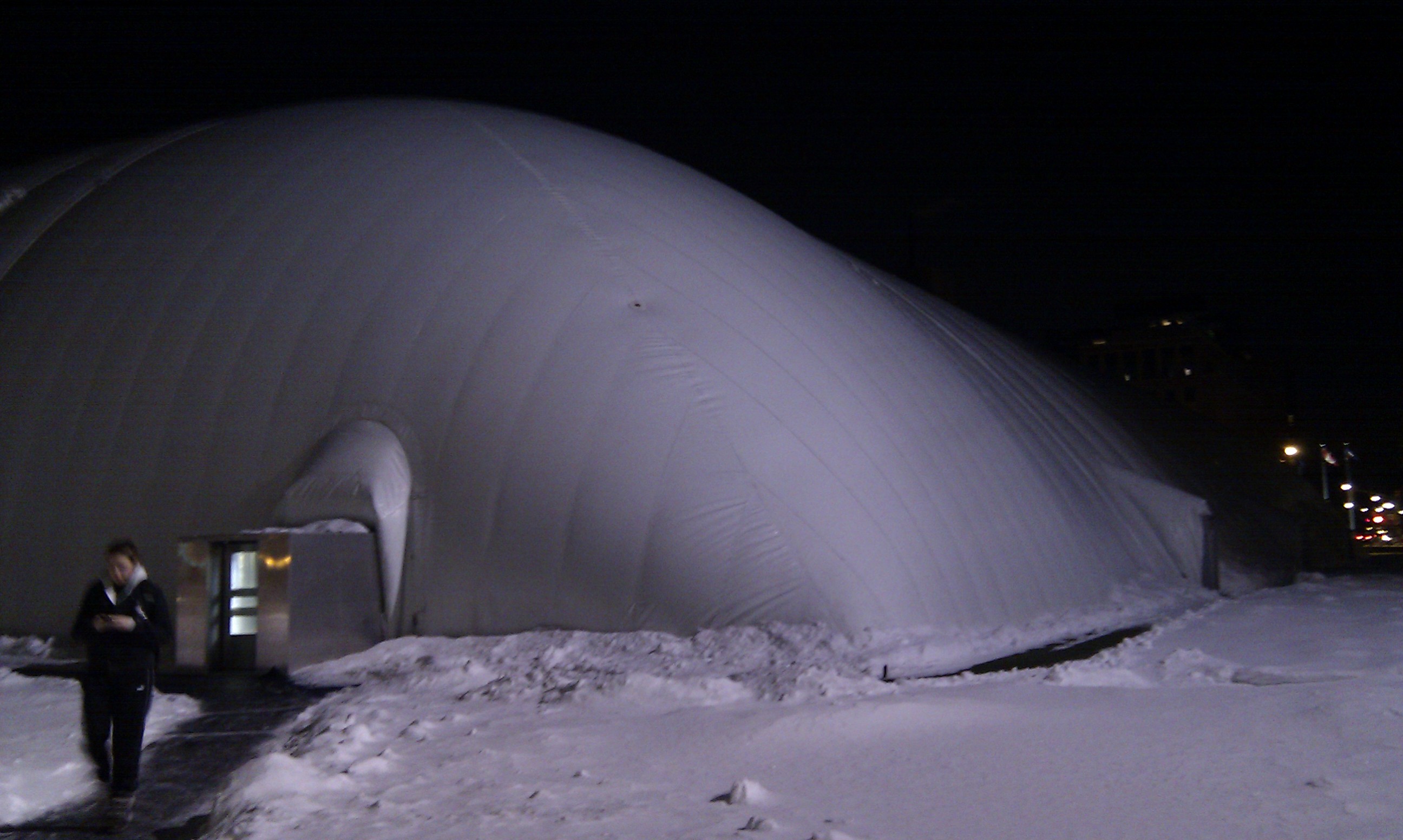 Soccer during the winter semester. If there's anything you should know about Toronto, it is that the city turns into a land of permafrost for 3 – 4 months every year (depending on how lucky you get), and there's no way you can play soccer on a snow-laden ground. That's why we have this huge bubble that appears during the winter season every year!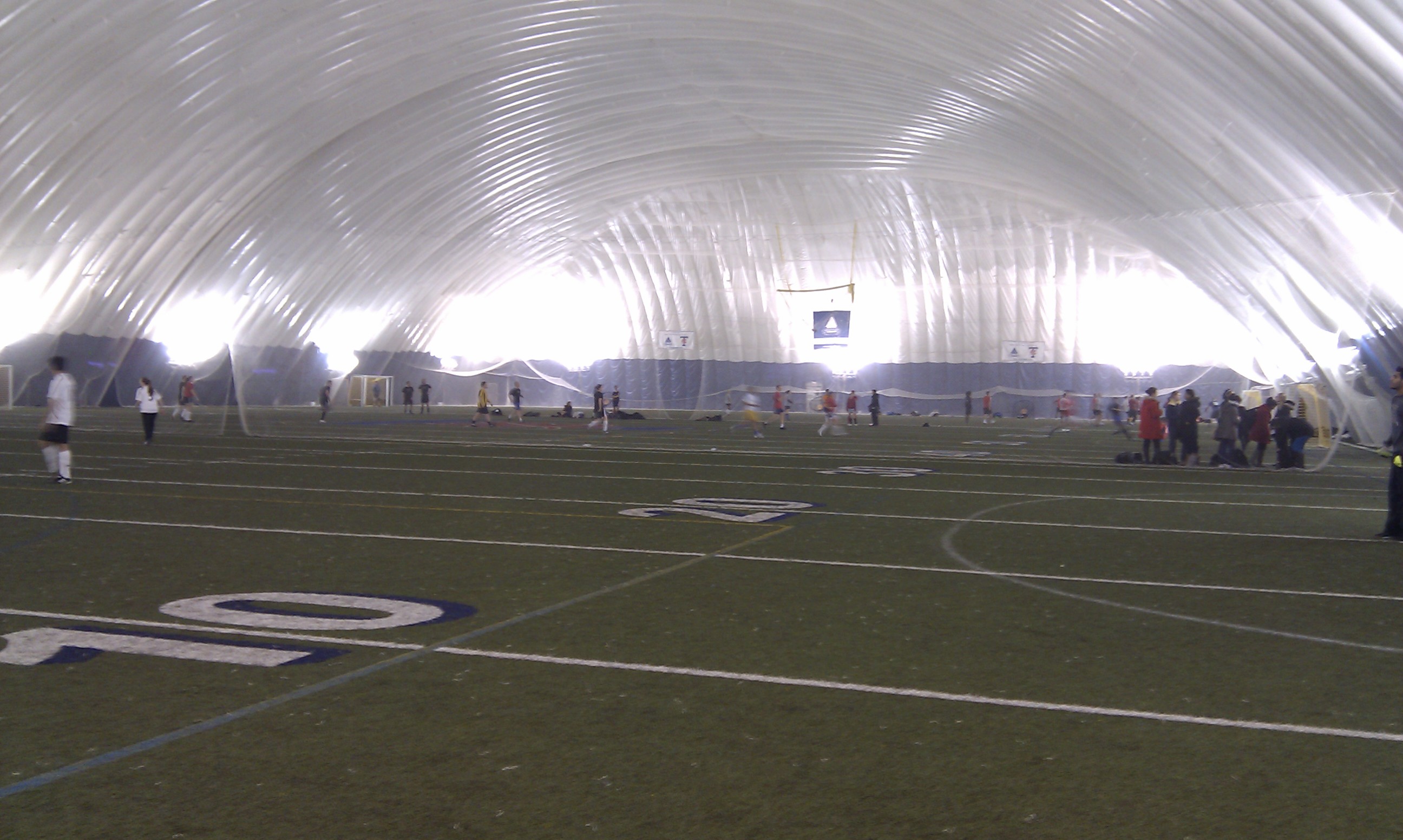 Inside the bubble, we play 3 games of 5-on-5, with those nets that you see to fence off each play area.
Anything that you regret about soccer?
Like I said already, I'm glad nobody turned me away from soccer. This is a big part of my life that has helped shaped me into who I am today. I definitely do not regret picking this route, even if it means thunder thighs (sigh) and first impressions that I can't take back.
There is one regret, and that is my arrogance when I played on my high school team. My high school was very academic-focused, and our sport teams generally didn't perform that well. The girls soccer team, you could say, was hopeless. I usually play forward, but I got put on center mid with that team. I used to feel that I was too good for them, and I would skip practices every now and then if I didn't feel like going. I wish I could take all that back. I now realise that there is so much more to learn from playing on a team that is subpar versus playing on a team that easily beats all their opponents.
What else? What next?
The 'high' of my soccer career is definitely behind me, and I'm not quite as good as a player as I once was. The truth is, this fact is quite frustrating for me at times – to be playing against an opponent and failing to make a move that I definitely could have achieved 10 years ago. The hype over 'soccer girl' also give me pressure to perform well, because I know I'm really not as good as people would expect.
Despite all this, I still play soccer today because I truly enjoy it. When I was younger, I learned piano (as an average Asian kid should). I did enjoy music, but I didn't enjoy the lessons. My mom was in a dilemma and asked one of my elementary school teachers what she should do, and the teacher told my mom to force me to learn until I can play music on my own. You don't have to excel at piano, but if you just know enough to be literate with music and chords, you will be able to enjoy it for a lifetime. That's the same with soccer for me. I'm not great at it, but I'm sure I'll be able to enjoy it for a lifetime.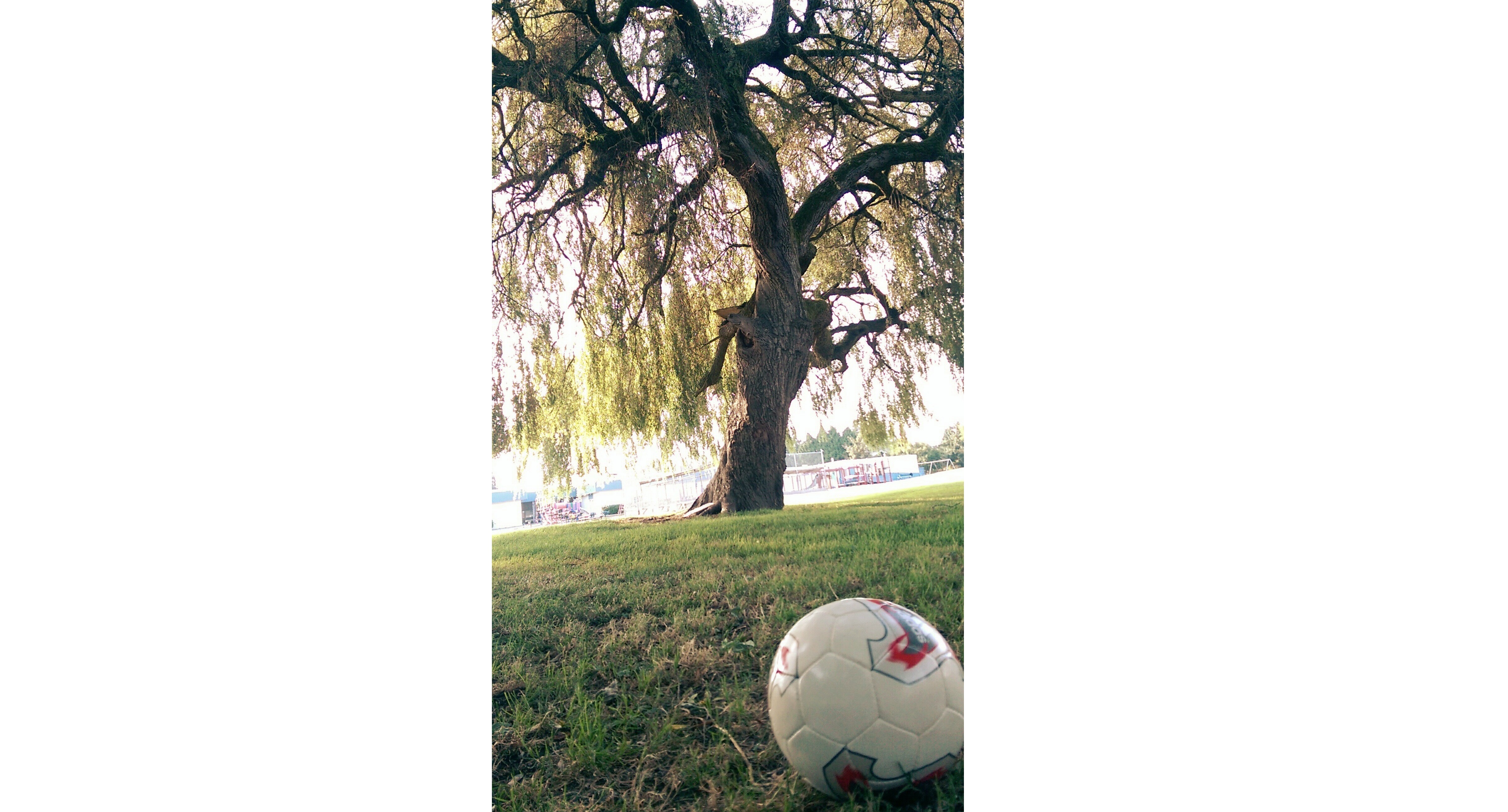 This post ended up a lot longer than I expected, and it's okay if you didn't read it all. I just wanted to throw this wild idea out there: that there might be more to soccer girl than just 'soccer girl'.