Here to continue the story of my Taichung adventure with Day 2 at Cingjing Farm. Taiwan is a very interesting country, with cities lined along the flat west coast, while there is an entire mountain range on the east coast. Cingjing farm is a farm at an altitude of 1800 meters, hidden within the mountain range of Taiwan. By car, it's about a two-hour drive from Taichung.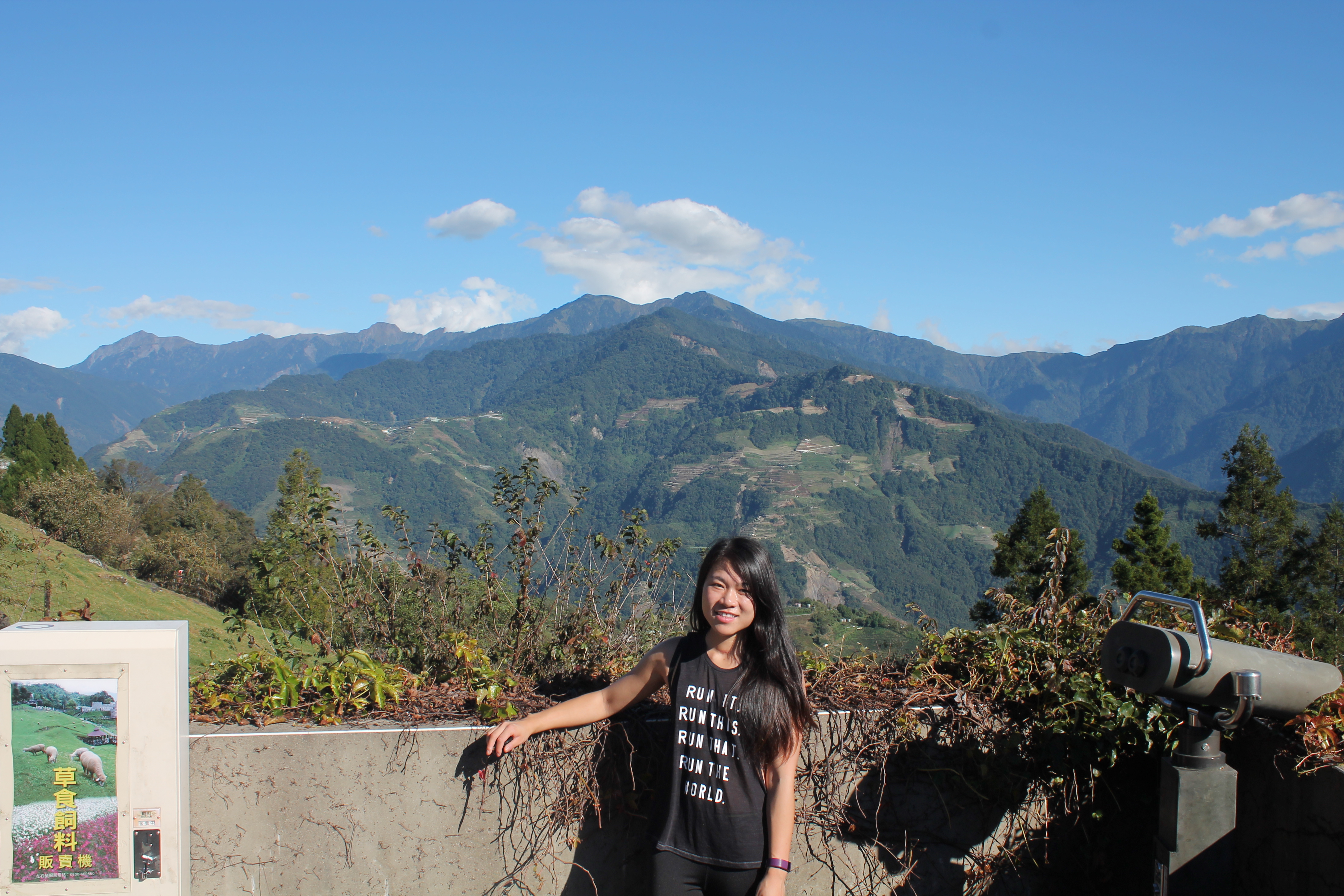 This is a huge farm, but we arrived at 2 PM and only had time to see around a quarter of it. You have to pay admission to get into the Green Green Grasslands, but once you're inside, you have endless access to the roaming sheep and green pastures.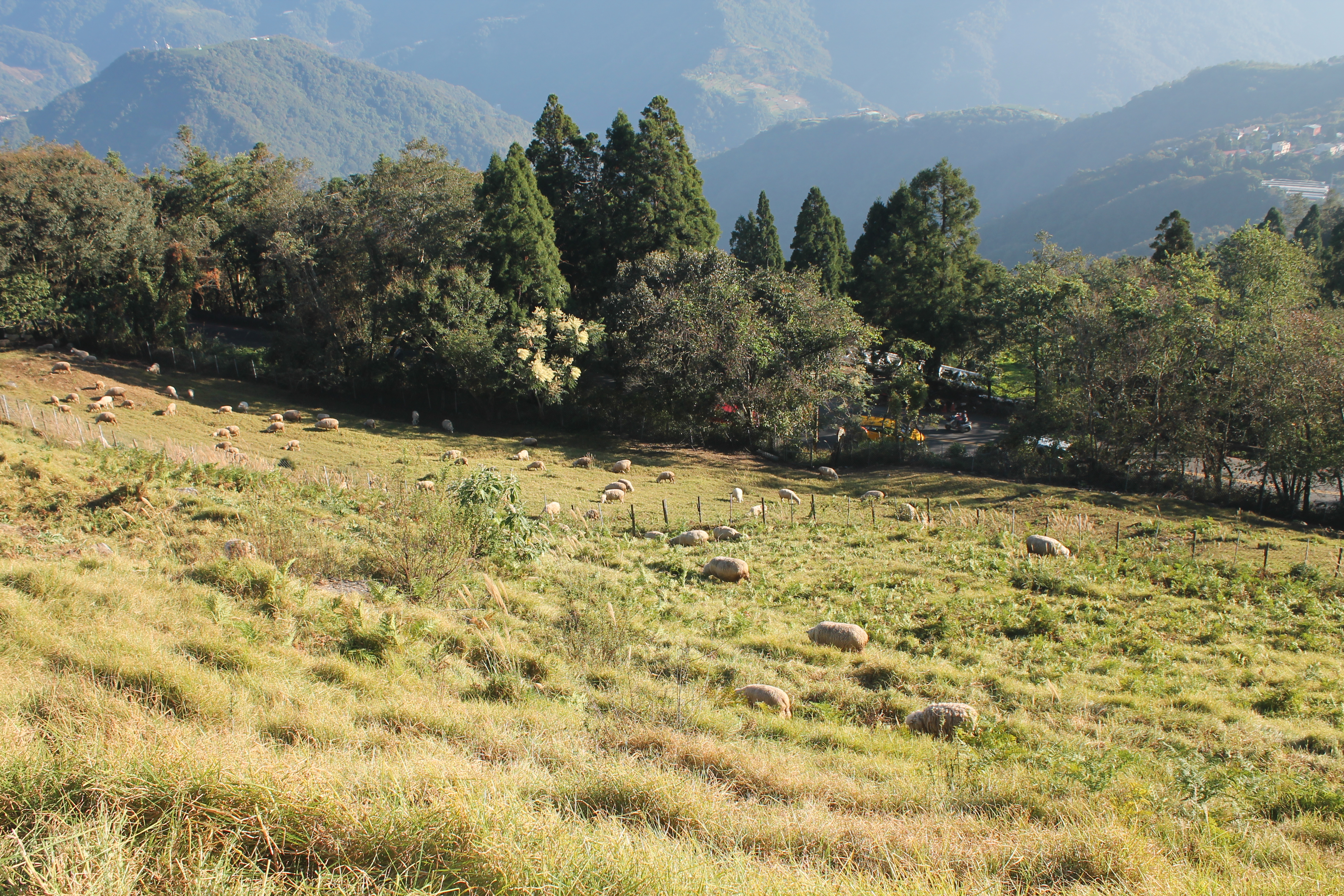 I wanted to go hiking around Taichung, because I knew it was a smaller city and more well-known for wildlife rather than the city itself. This wasn't exactly the type of hiking I was thinking of, but it was still an enjoyable journey. I'm more of a 'trek through the woods' kind of person, rather than 'walk on a paved road and call it a hike'.
There are tons of sheep everywhere, some of them sheared and some of them still all fat and furry. I haven't been to a farm since what seems to be forever, so I felt like a kid all over again!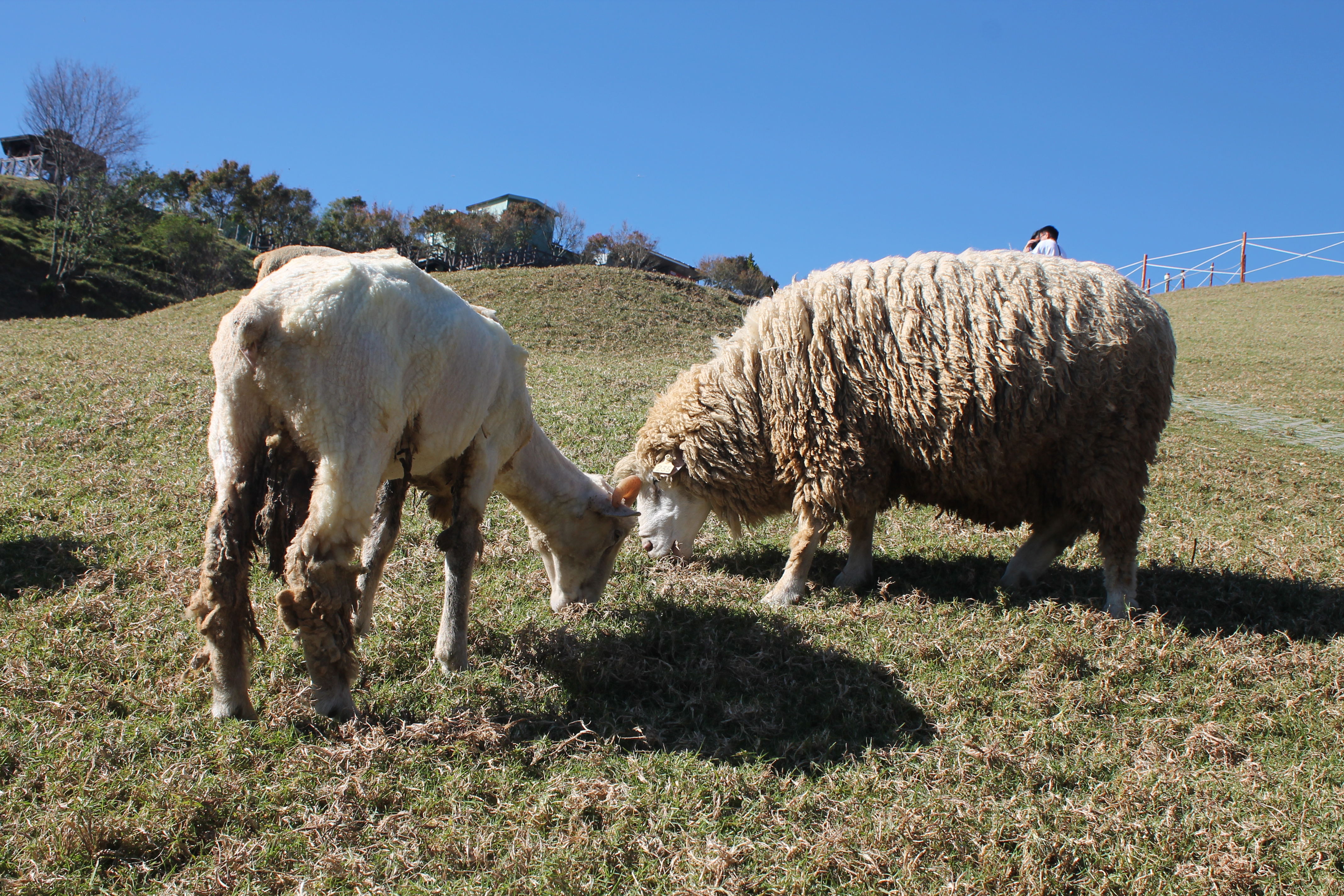 Since there's a lot of sheep, naturally there is sheep milk as well. I tried a popsicle made of sheep milk, and there is a very heavy sheep flavour to it – like when you eat lamb stew. However, the popsicle is also sweet, making it a weird mix of sugary lamb-ness.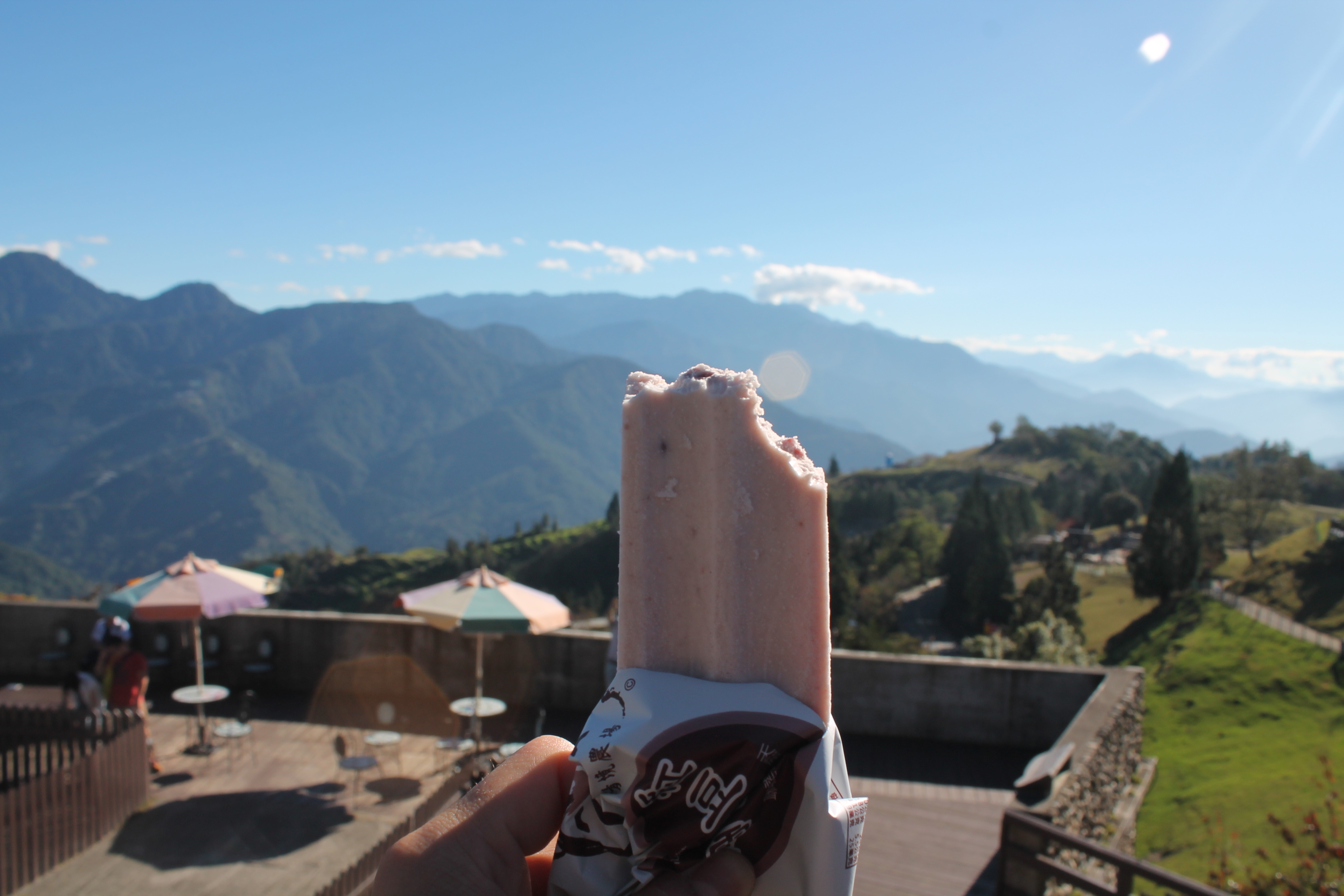 We sat down for a Mongolian horse-riding show, which is nothing like I've ever seen before. There is a ringmaster which keeps the horses riding on pace in their tiny little circle, and the riders, do all sorts of fancy tricks on their horses. I guess it comes from days of war, when they had to ride sideways and stuff to use their horse as a shield. In this modern 21st century, it almost seems like a lost art.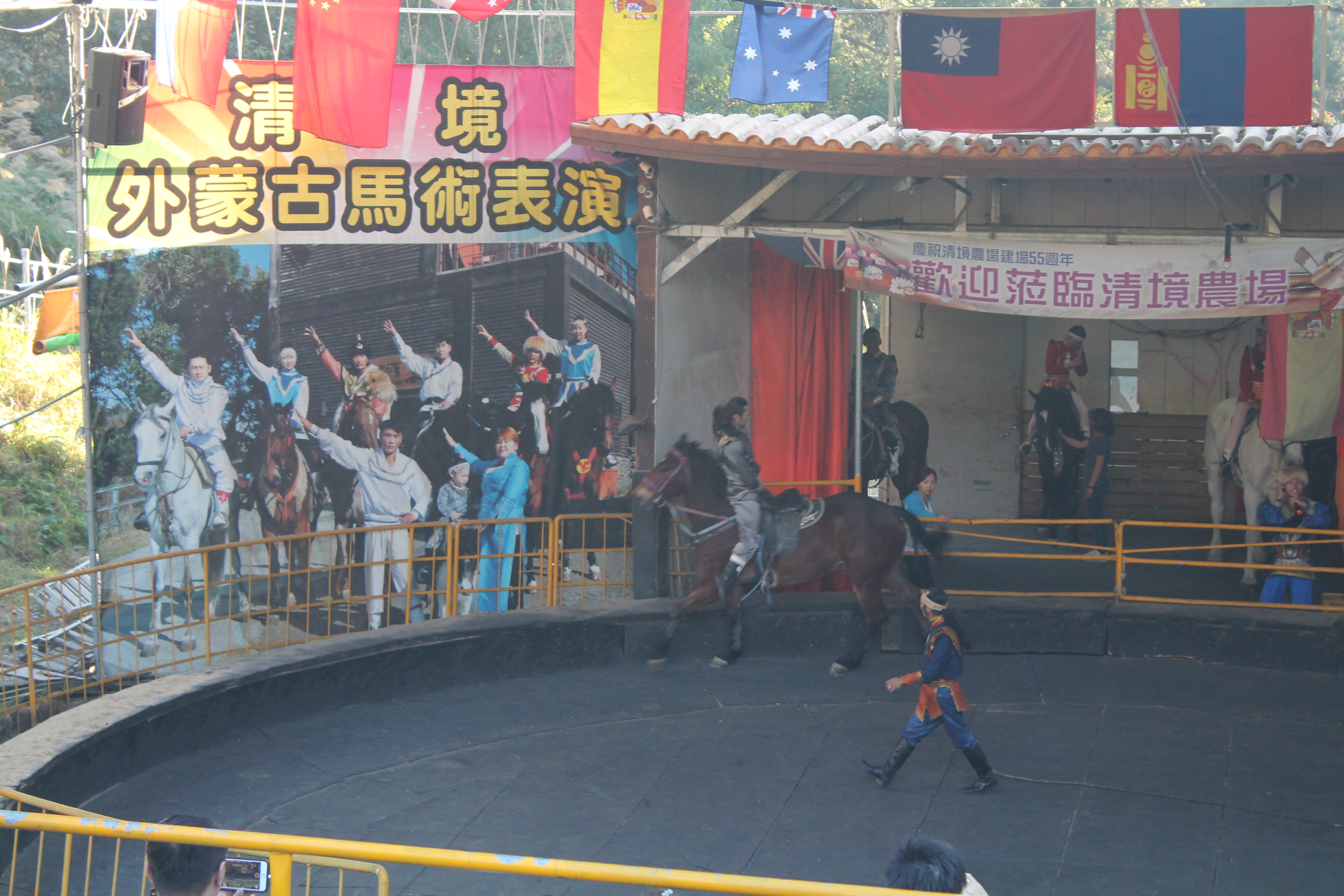 Outside the farm, there is again a bunch of food stalls to lure tourists, and a few gift shops. One of the more interesting gift shops that I saw was this very naturally collected honey that they process right in front of your eyes.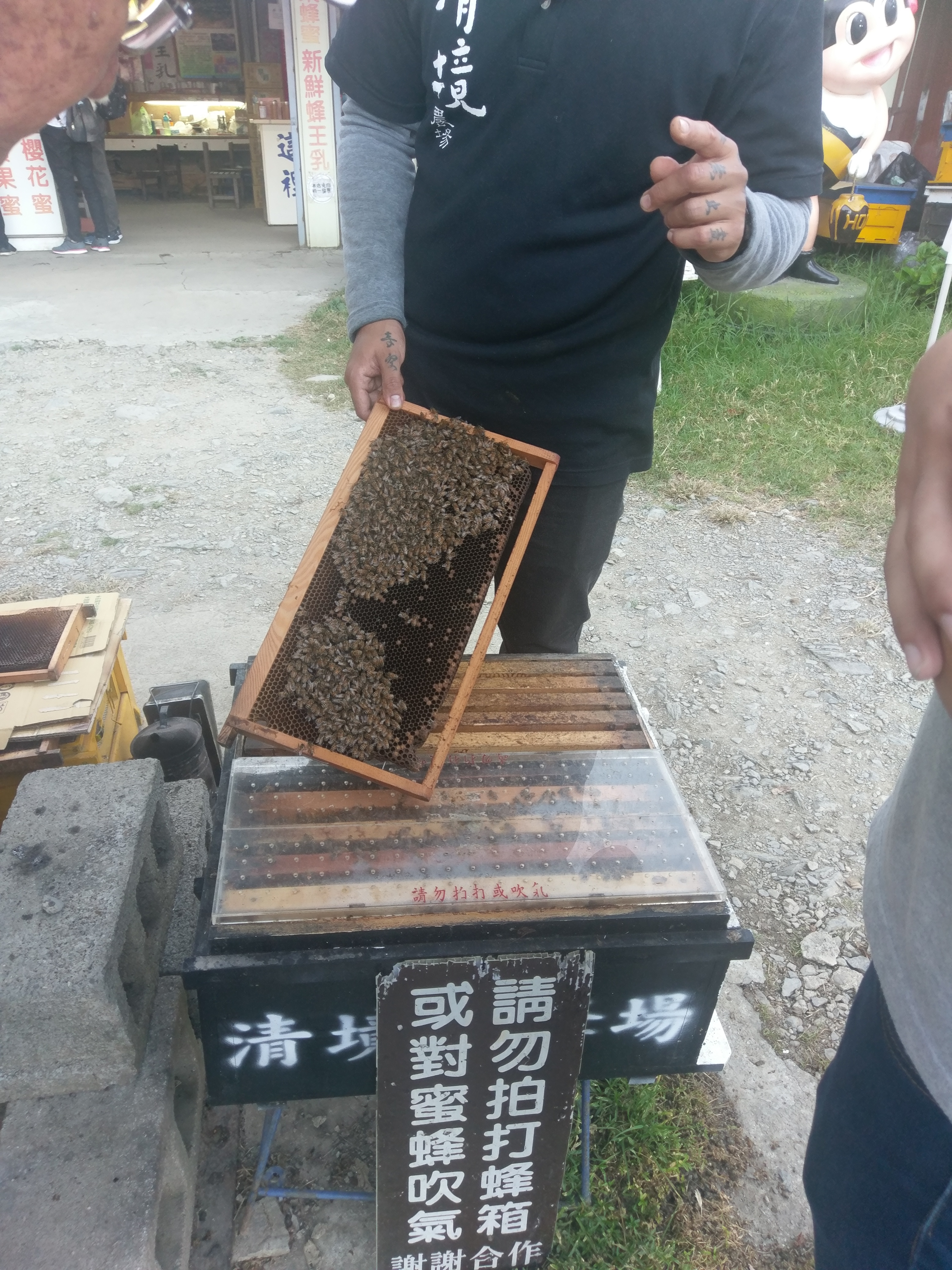 I've seen bee farms before, and I know that bees collect honey in their honeycombs, but I never get to see what comes after that (or maybe I was too young to remember). The guy gives it a few good whacks to get rid of all the bees, and then he puts the honeycomb into a machine that spins really really fast. The honey whirls out of the honeycomb by (nerdy word alert) centripetal force.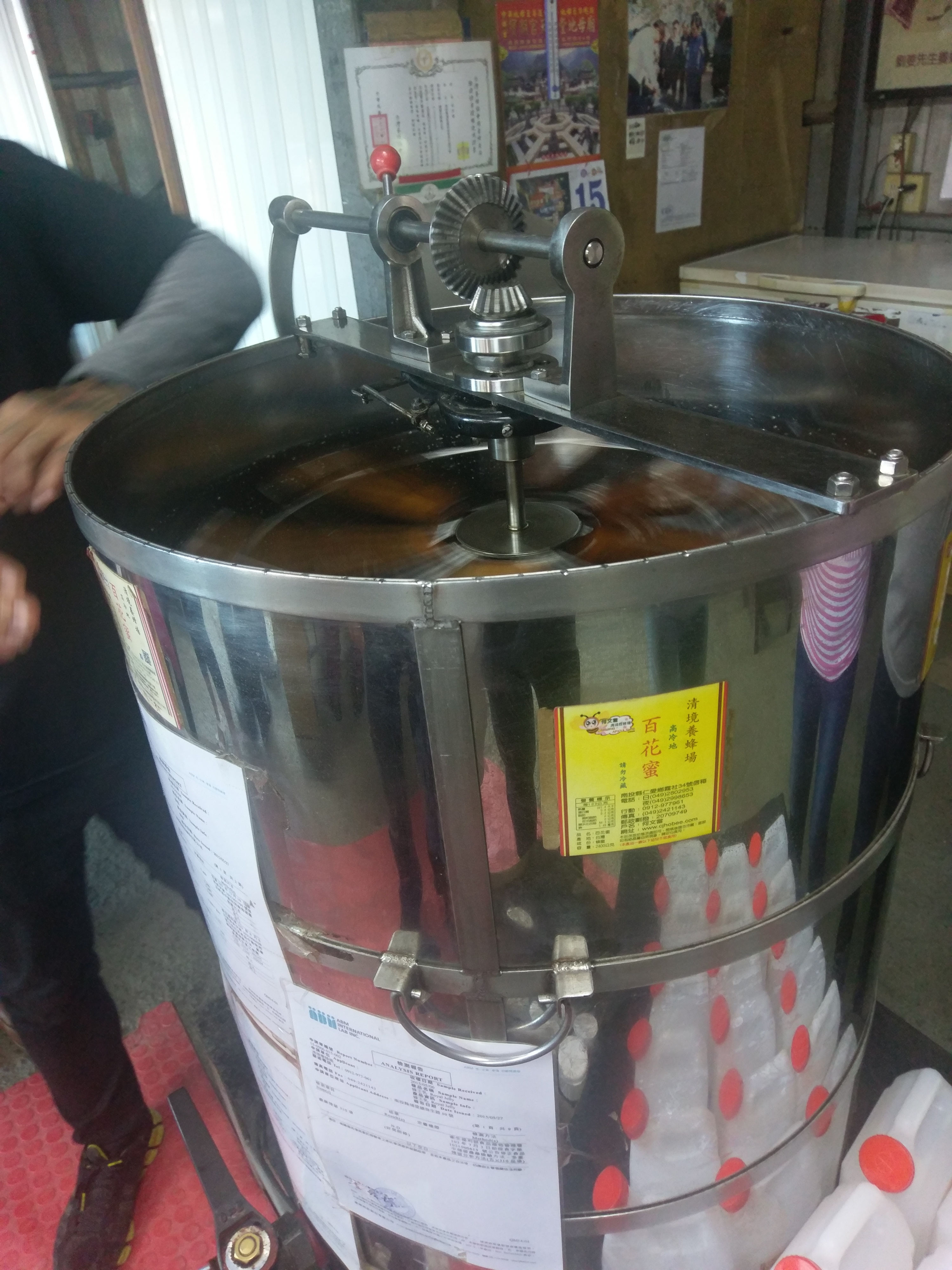 When you open up the tap, the honey comes flowing down. The guy also covered a small toothpick with honey, put it under his lighter, and showed us how it heats up and boils but doesn't blacken. He told us that non-natural honey (ie. honey that has sugar added to it) will easily scorch and turn black, while natural honey does not do that.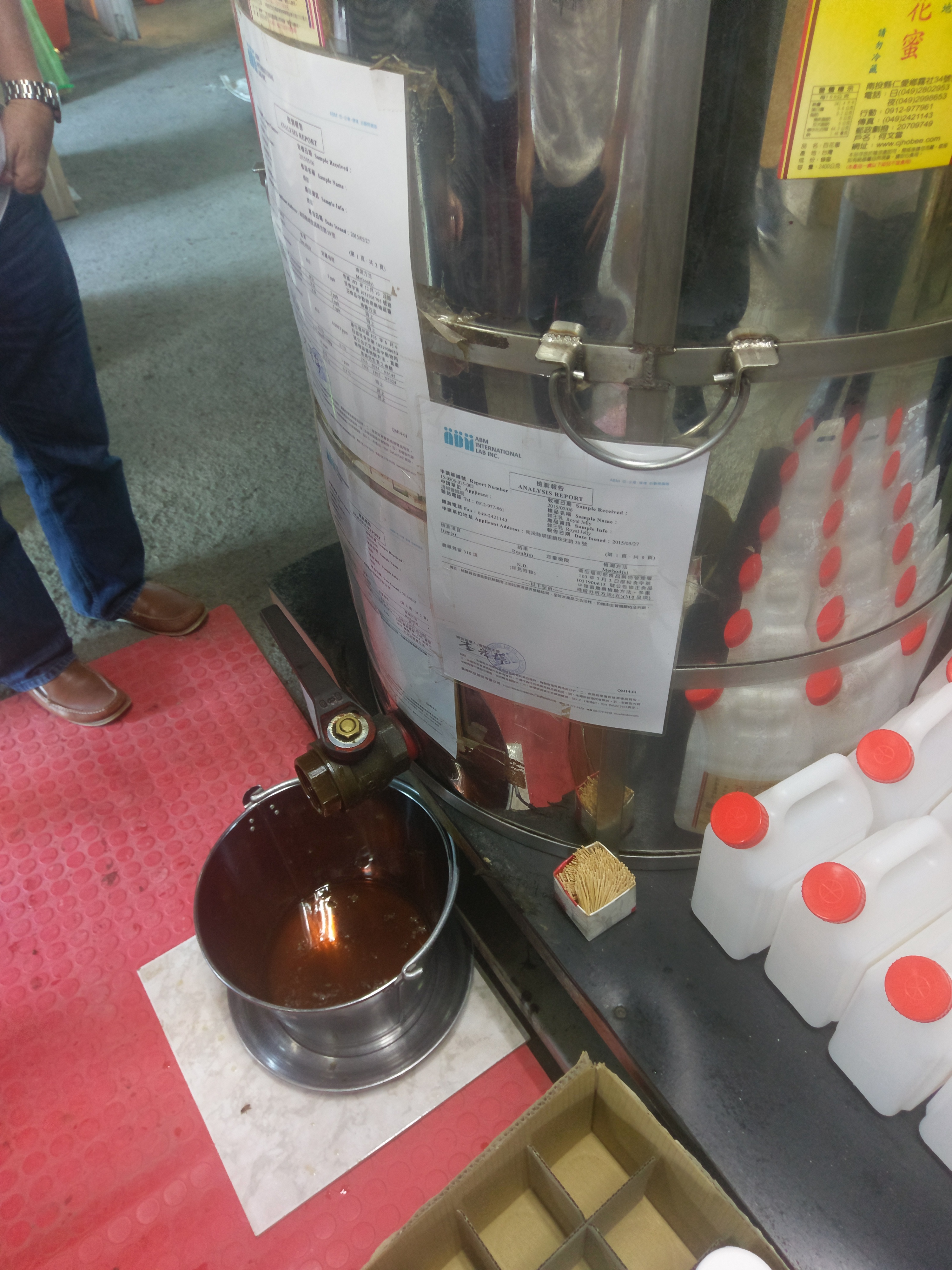 I was almost sold, but then unfortunately I only took carry-on luggage to Taiwan and I didn't have enough room to buy lots of things. Next time!
It is also worth mentioning that around the Cingjing farm area, I saw many bed-and-breakfast type lodges, and even a small mall for shopping. 7-11 was not uncommon, even though this road up the mountain was a narrow, one-lane road. The path is not as well-paved as the Sea to Sky Highway, but the amenities around the area are very complete. I bet there are a lot of local tourists that spend a few nights up in the mountain range, just to enjoy the clearer air and hike some trails.
As we were leaving, I caught a glimpse of this beautiful sunset.

By the time we got back to the city, it was dinner time, and we had our local friend take us to a more local place for dinner. It's a dish that I've always seen on Taiwan dramas: 魯肉飯. When you watch Taiwanese dramas with subtitles, the subtitles will say '魯肉飯', and I always thought that '魯肉' was some sort of special meat. But after being in Taiwan and getting an explanation from our local tour guide, I found out that '魯肉' and '滷肉' are the same thing – so 魯肉飯 is literally just minced pork rice. However, the minced pork does come in different types of fatty goodness. This particular one that we went to serves a delicious pork belly.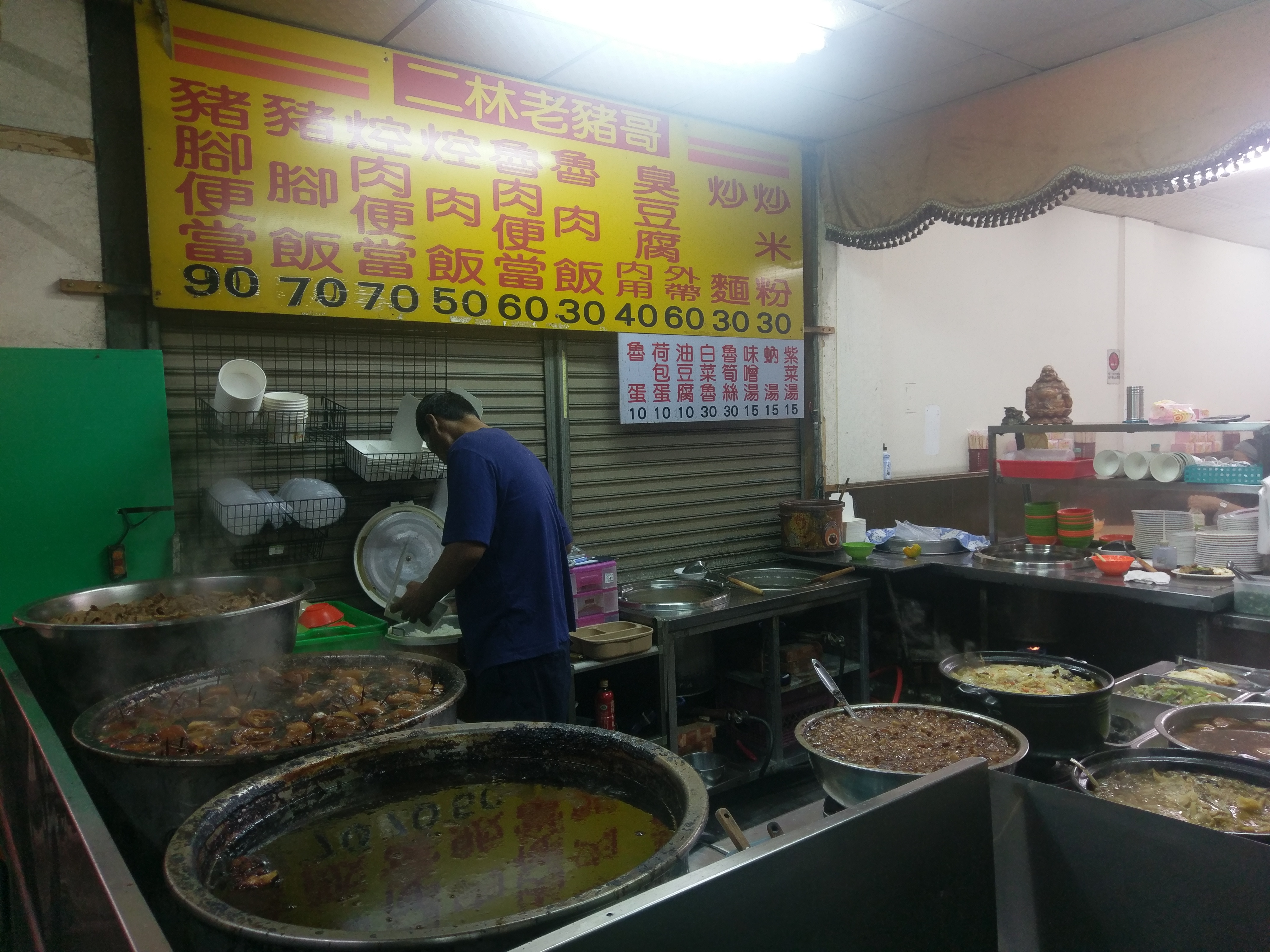 We at it exactly how they eat it in the dramas, too – just a very simple stall on the side of the street.
Just for the record, what they call a 'bento' (便當) includes side dishes, while the 'rice (飯) only has the meat on rice.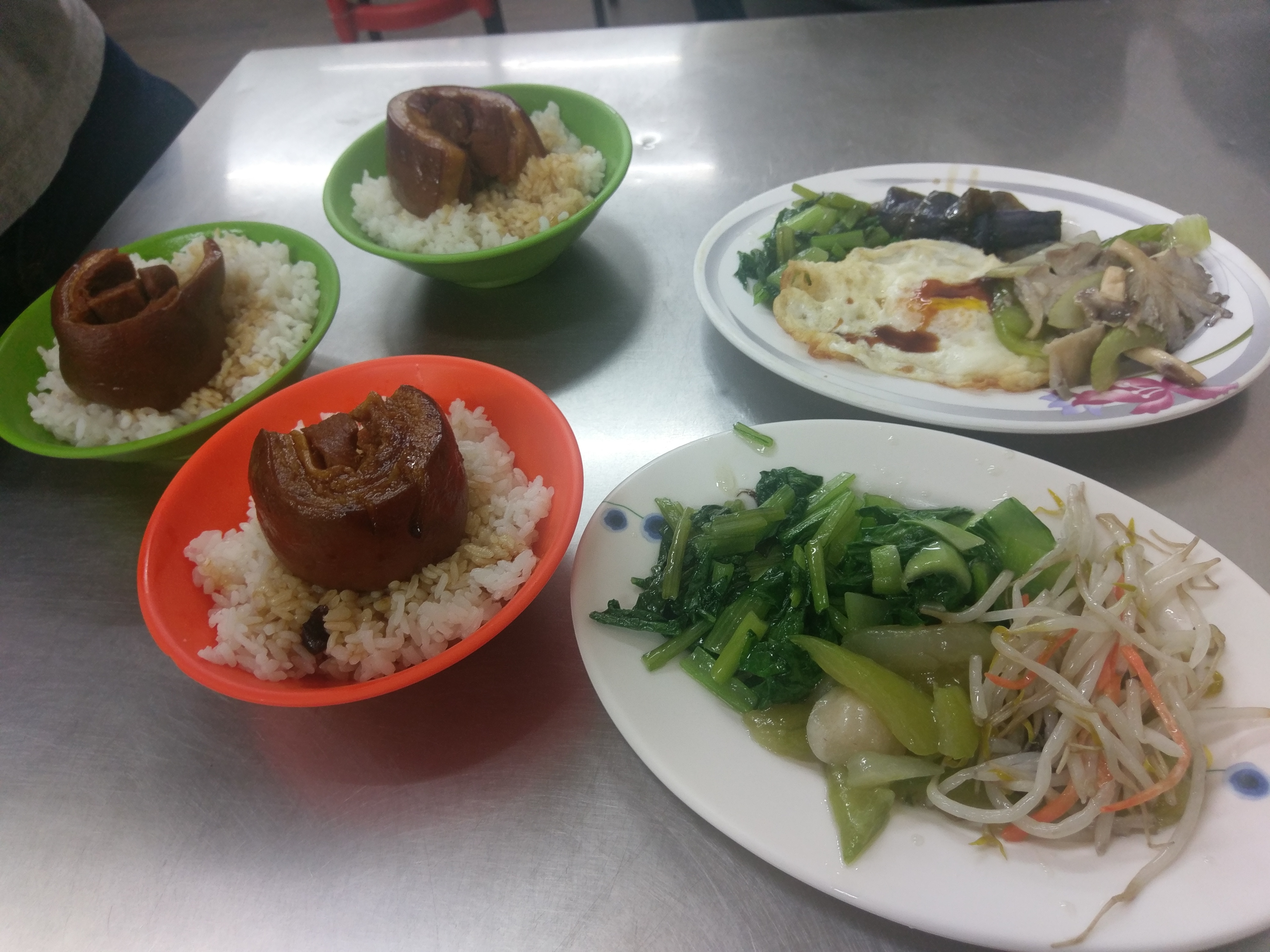 After dinner, we continued on with the post-dinner ritual, which is more food from the night market.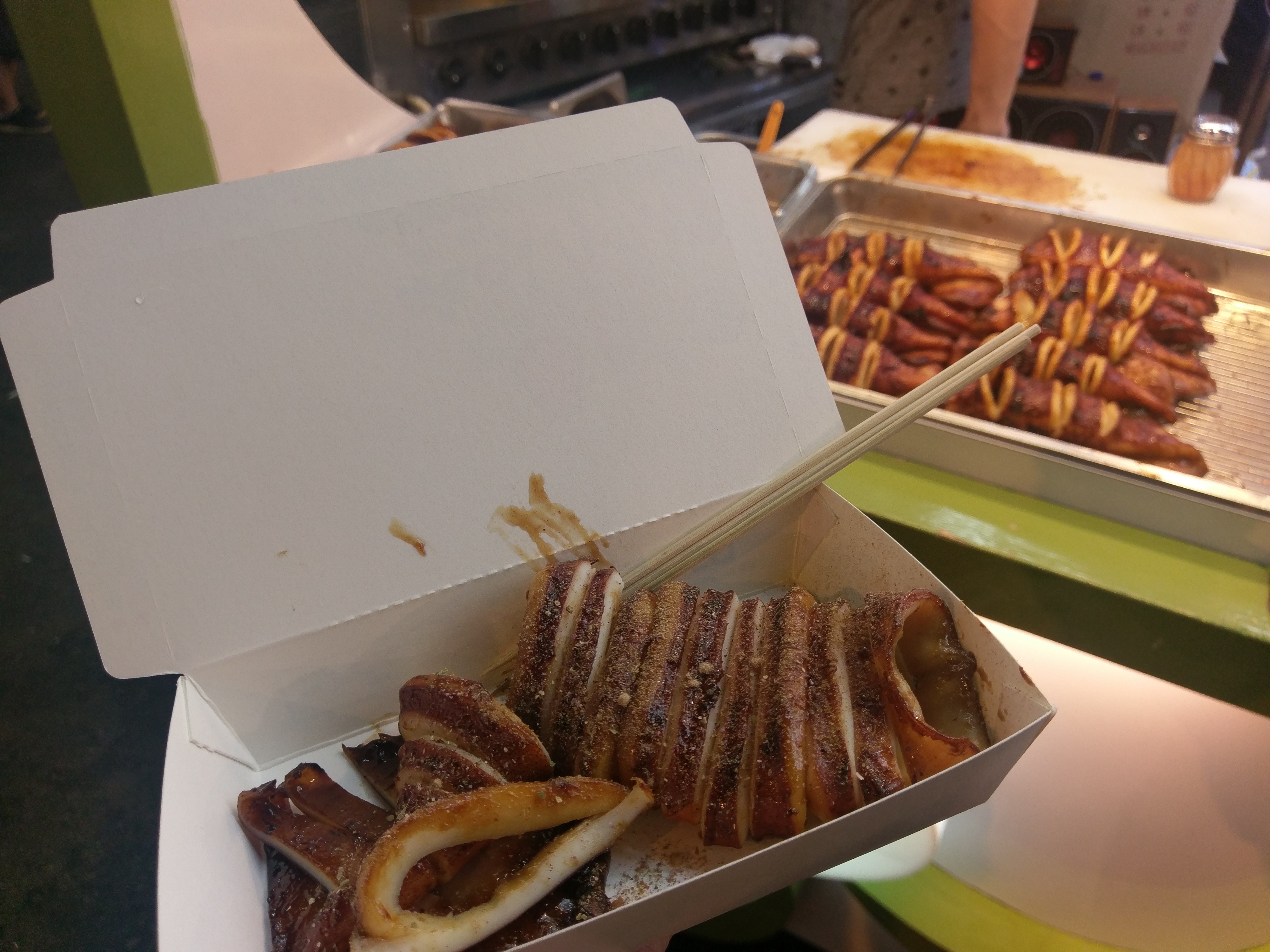 We literally did the Hong Kong thing and lined up here because there was a huge line of people: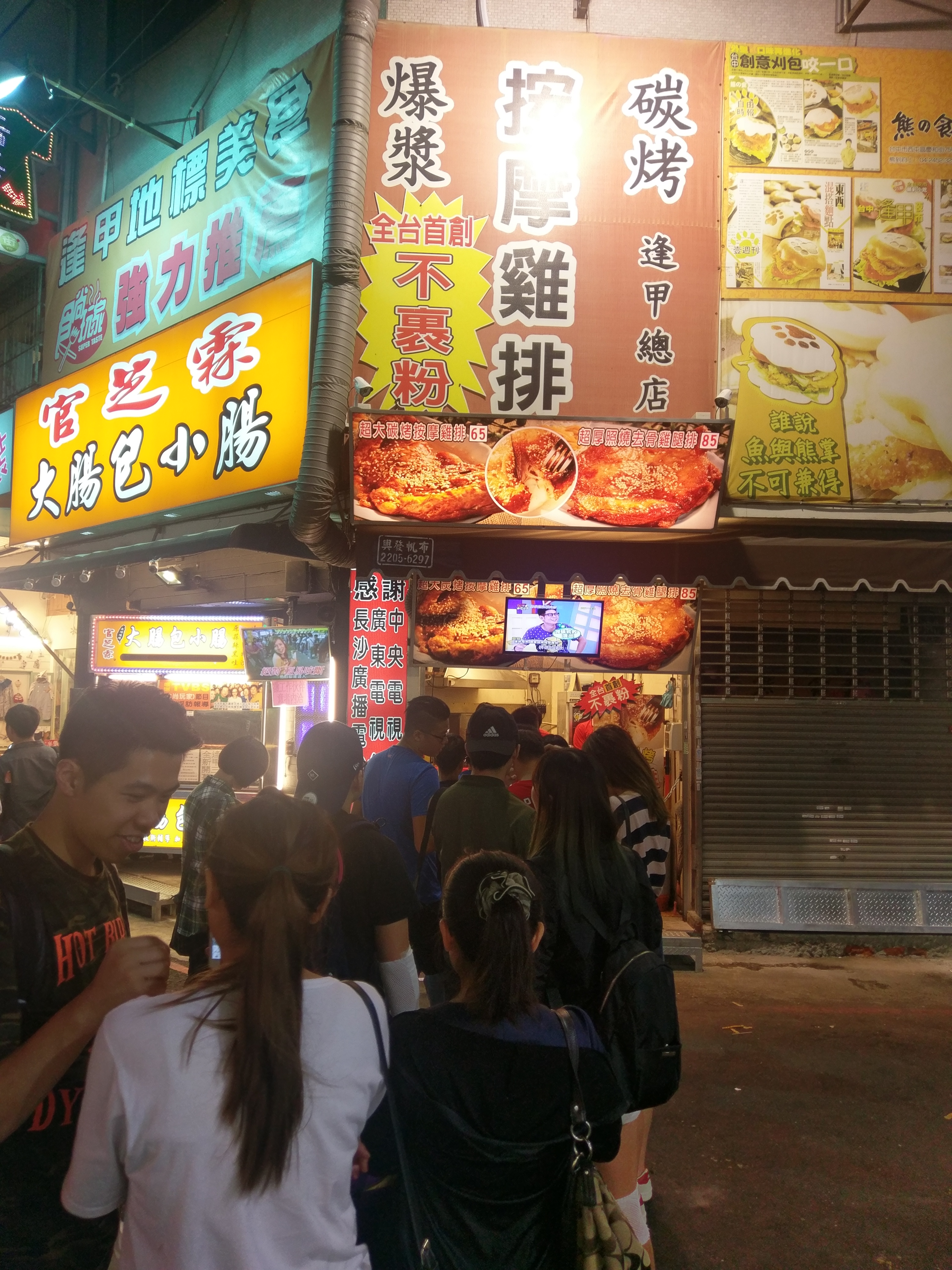 Their chicken wasn't bad! It was very tender chicken breast meat. I do wonder how they do it. The flavour is quite strong of lemon though, so that might not be favourable to everyone.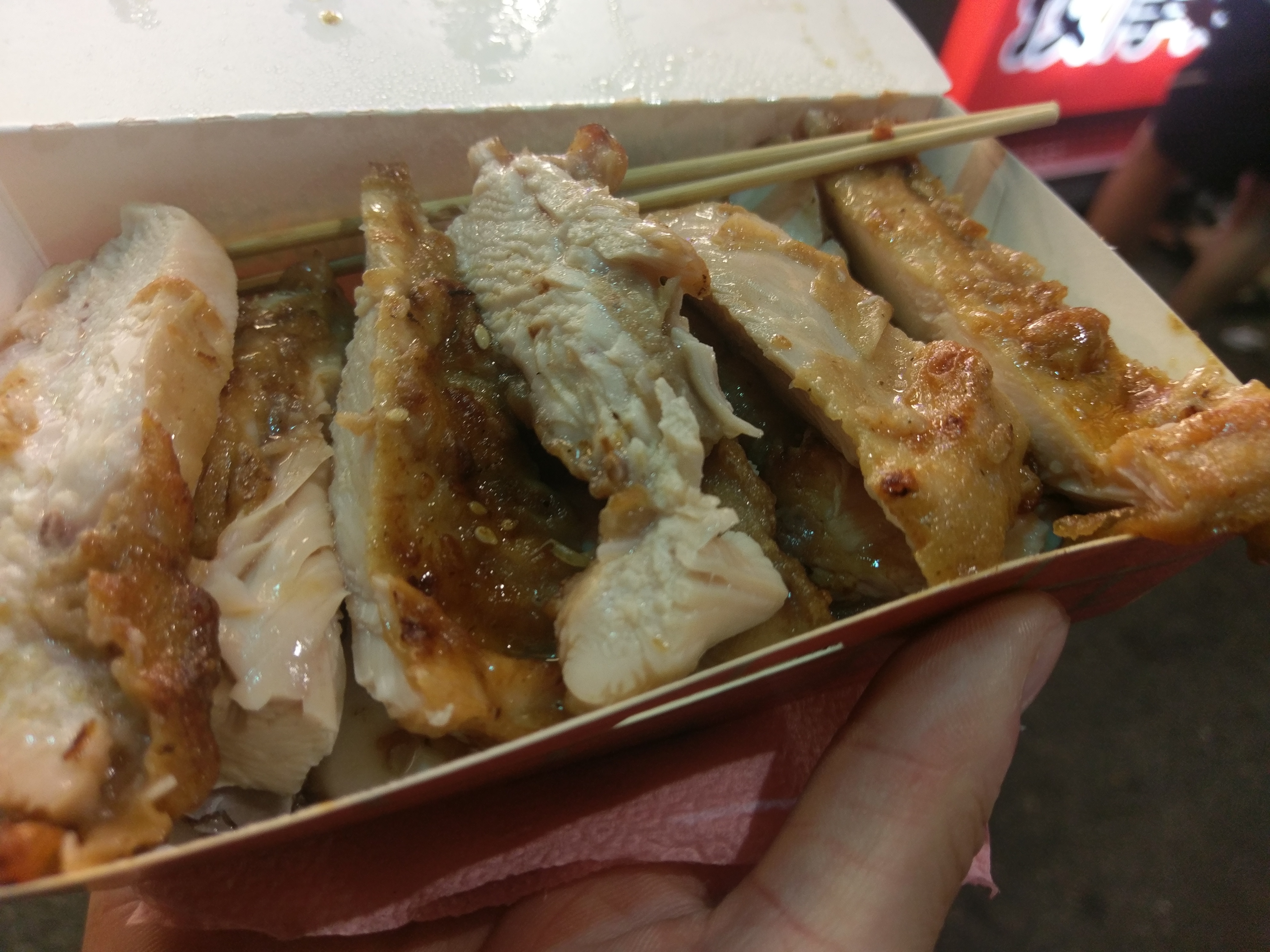 At one of the more iconic intersections or Fengjia Night Market, there is a takoyaki stand which everyone recommends. Maybe it's just me… after spending 3 months in Osaka, I don't think any other takoyaki is quite up to par. Including this one.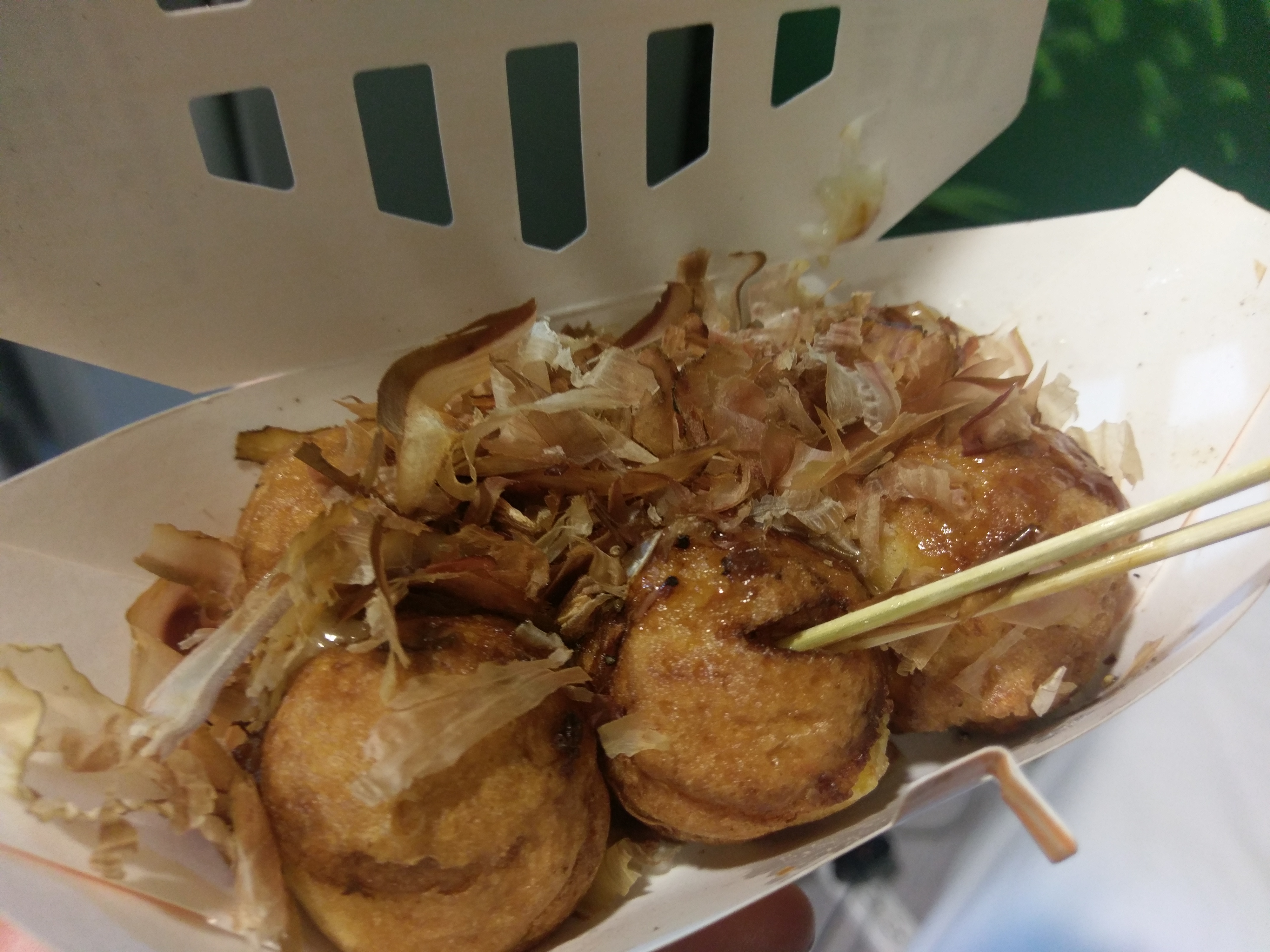 Taichung feels like a mix of rural China and suburban Osaka. The receipts they give you are exactly like the ones you get in Japan. When you walk through the more quiet residential areas, the environment reminds me of where I stayed in Japan. The buildings aren't too tall – only 2 or 3 stories – but the city is really dense. When you get to a place with more shops than residential buildings, that's when it merges into the feel of China. I'm talking about the areas that are lined with local stores, not the huge brand name malls. The layout of the building is almost the exact same – two huge pillars on each side to support the overhanging part, and then the actual store front is a bit 'hidden' inside.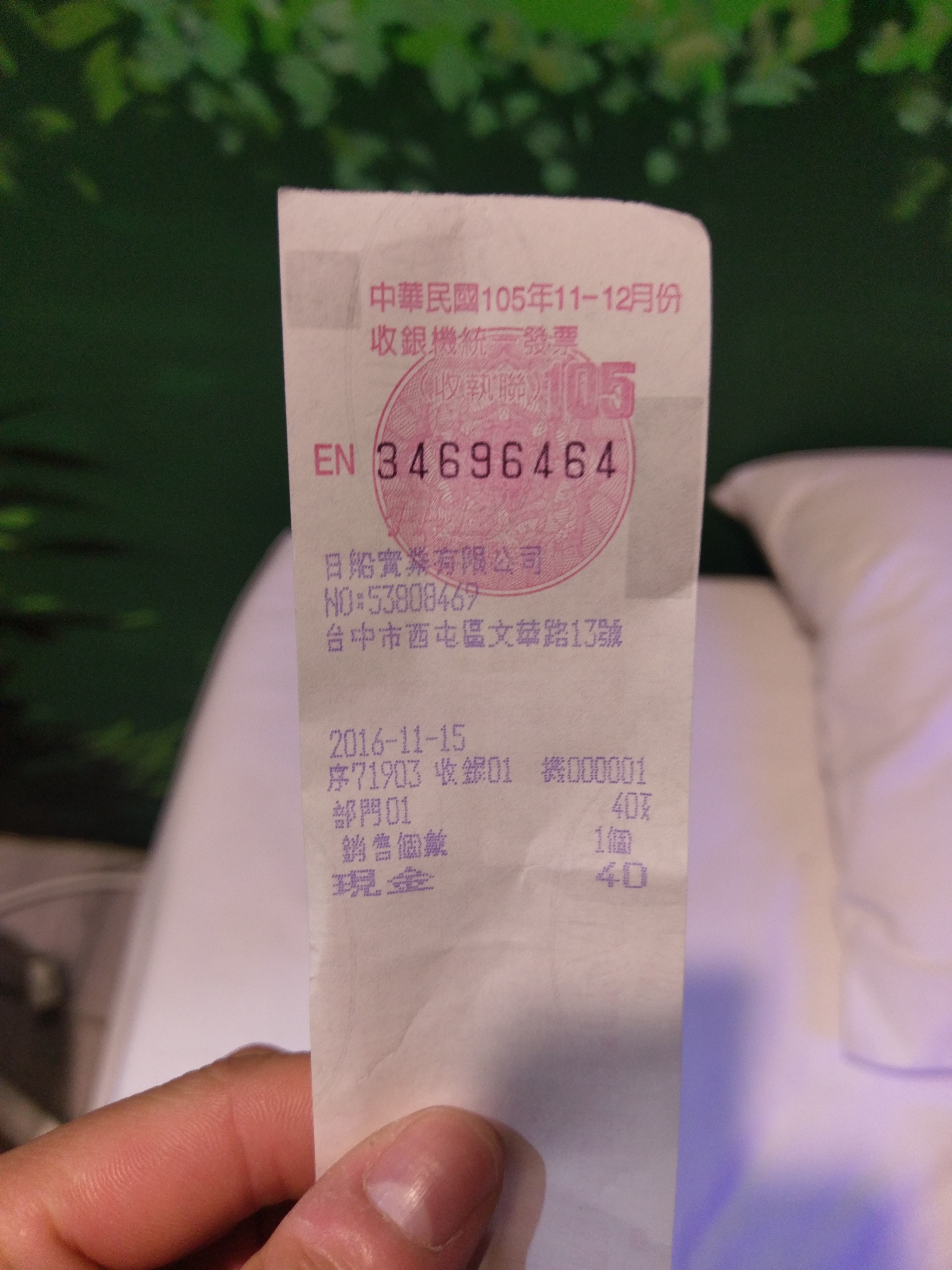 After seeing all this food, it's not so surprising that I gained 5 lbs on this trip, eh?