It seems like whenever I'm back on my blog, it's to talk about my travel adventures. I guess those are the most interesting things to write and read about. Otherwise, life feels pretty much the same at work. I think more importantly, I don't have as much free time as I used to, so naturally it makes more sense to document these 'larger' trips rather than the small things of my everyday life.
So yes – Osaka! I've you've been following since the very beginning, you would know that this city is where my blog started way back when. Of course, since I was going to Osaka, I went back to some of my old posts of this city and re-read my own words. It's weird – distinctly remembering random moments here and there, and yet being fully conscious that this was four years ago.
Every time I get back to this fact, I'm a bit overwhelmed to be completely honest. Four years… that's a long time. I was 21 and thinking that being in my twenties is old. I had just finished my third year of university, and hadn't even graduated yet, let alone start working. I was shy – Osaka was a big turning point for me. I remember the growth and change in my own life that was so very distinct in those short three months.
My original plan was to go back and visit some friends that I haven't seen in a long time, but with only a few days in town and lots of people going along my vacation with me, I only had time to see one or two friends. I also really wanted to go to Universal Studios Japan (again), because they had added a few things since the last time I visited, including the Wizarding World of Harry Potter! But again, since I only had a few days in town, my plan was to go to USJ only if I could make it to Osaka on Friday morning.
As I mentioned before, I fly standby on my own company, and I was pretty sure I would be able to make it to Osaka – it's just a matter of what time I arrive. Thankfully, we had no problems at all with the standby tickets this time. We left Hong Kong on Thursday evening at 1 AM, and arrived Friday morning at around 5:30 AM (local time). At these hours, there isn't much air traffic, and our flight was extremely punctual; it even arrived 40 minutes early!
Our first stop was Endo Sushi, located at the Osaka Fish Market at Noda Station. Funny story – I actually came here four years ago, not knowing where to look. Actually, I came here expecting to see the fish market, but I came on a Wednesday afternoon, meaning that I was way too late. Fish markets open at 5 AM, and by 7 AM they're already done selling all their fish and cleaning up. When I visited four years ago, I just saw a completely empty warehouse.
This time, I did my research and made sure that at least the restaurant I wanted to find is open. Since our flight arrived so early, we were at the fish market by around 8 AM, and yet we still missed all the fish-selling activity. However, we did catch some stores at the market still open, and most places cleaning up – better than my last attempt I suppose.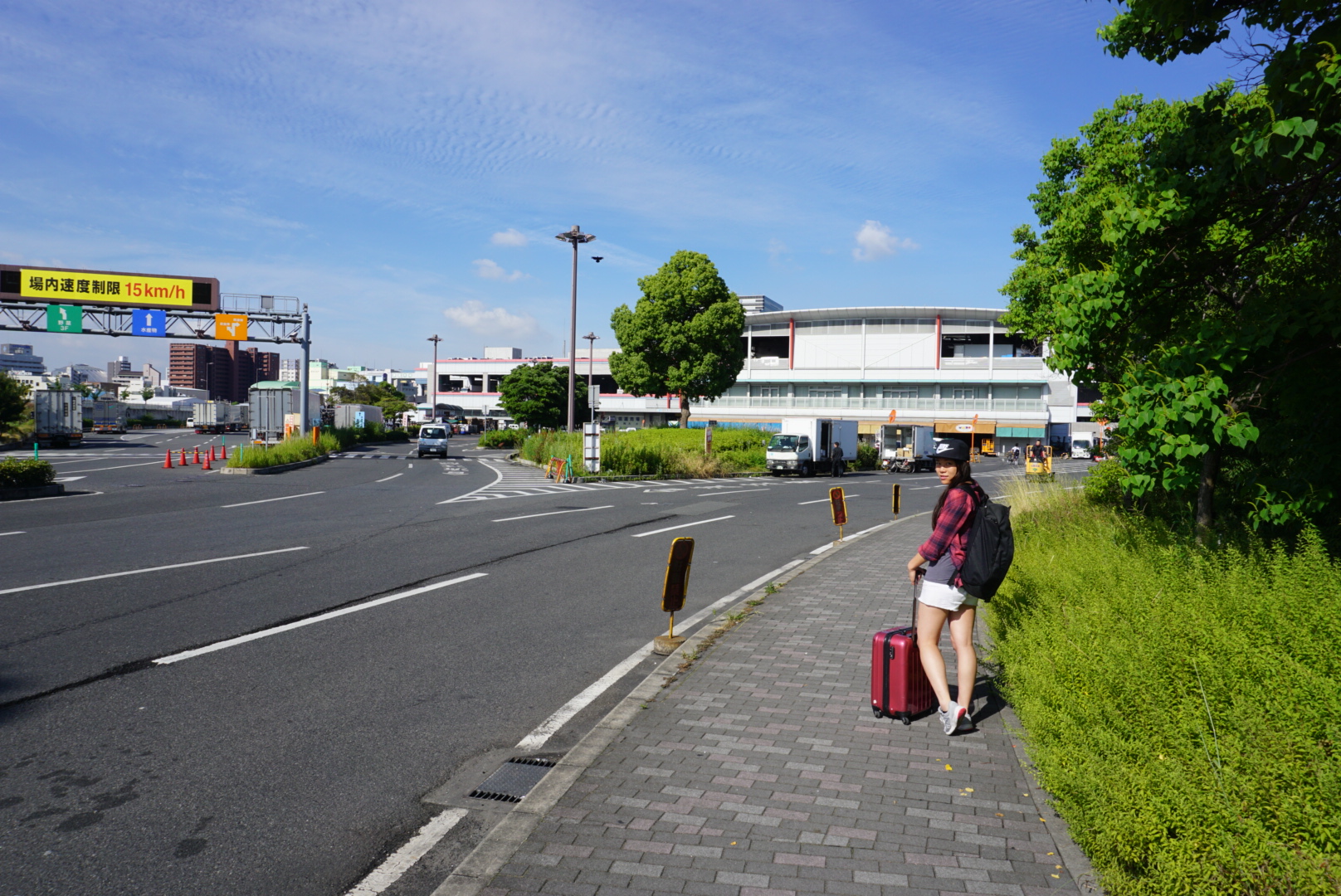 This restaurant is pretty small inside. They are open until 2 PM, so you can make it for lunch, but definitely expect a wait. At 8 AM on a Friday morning, there weren't many people.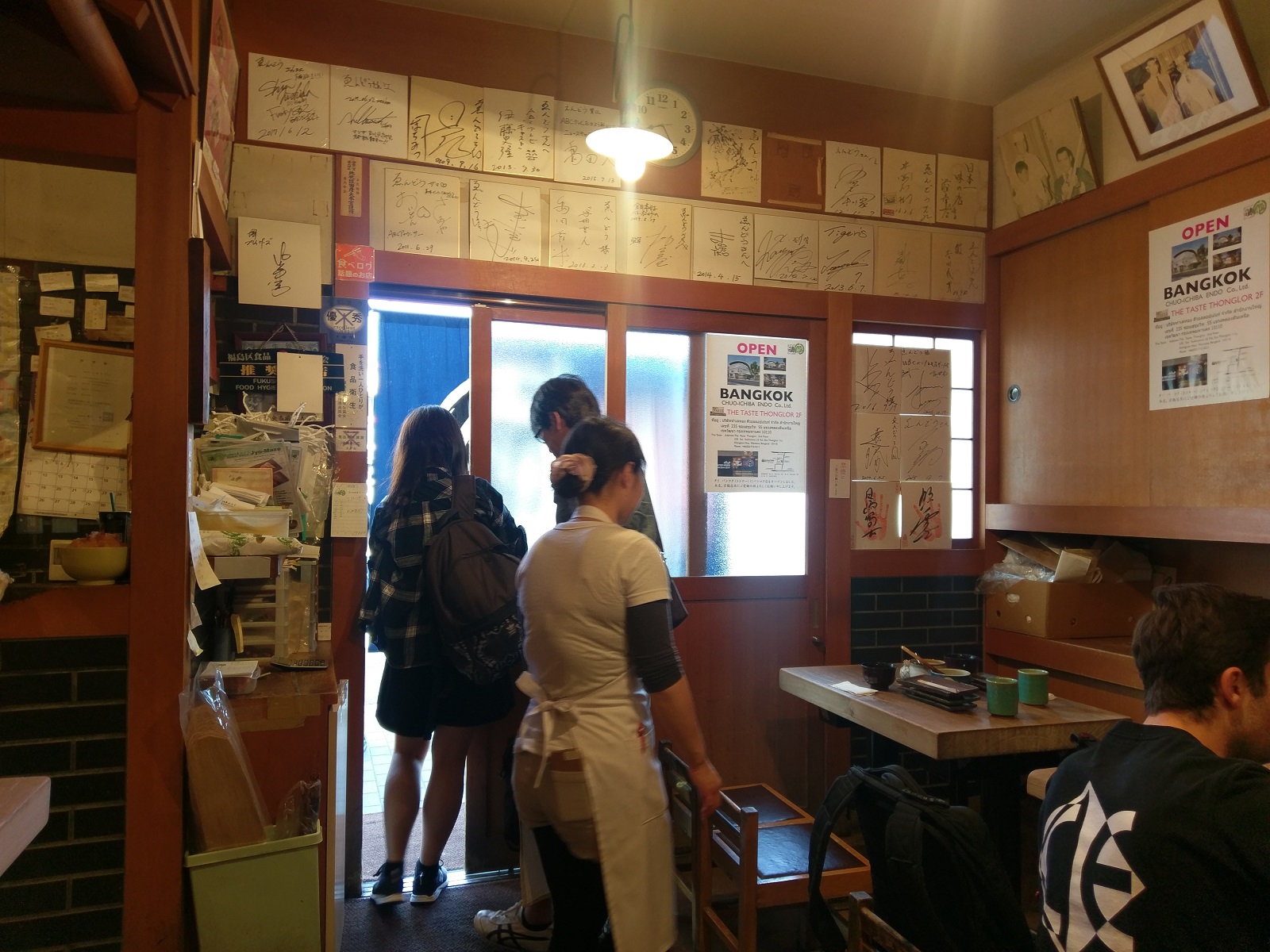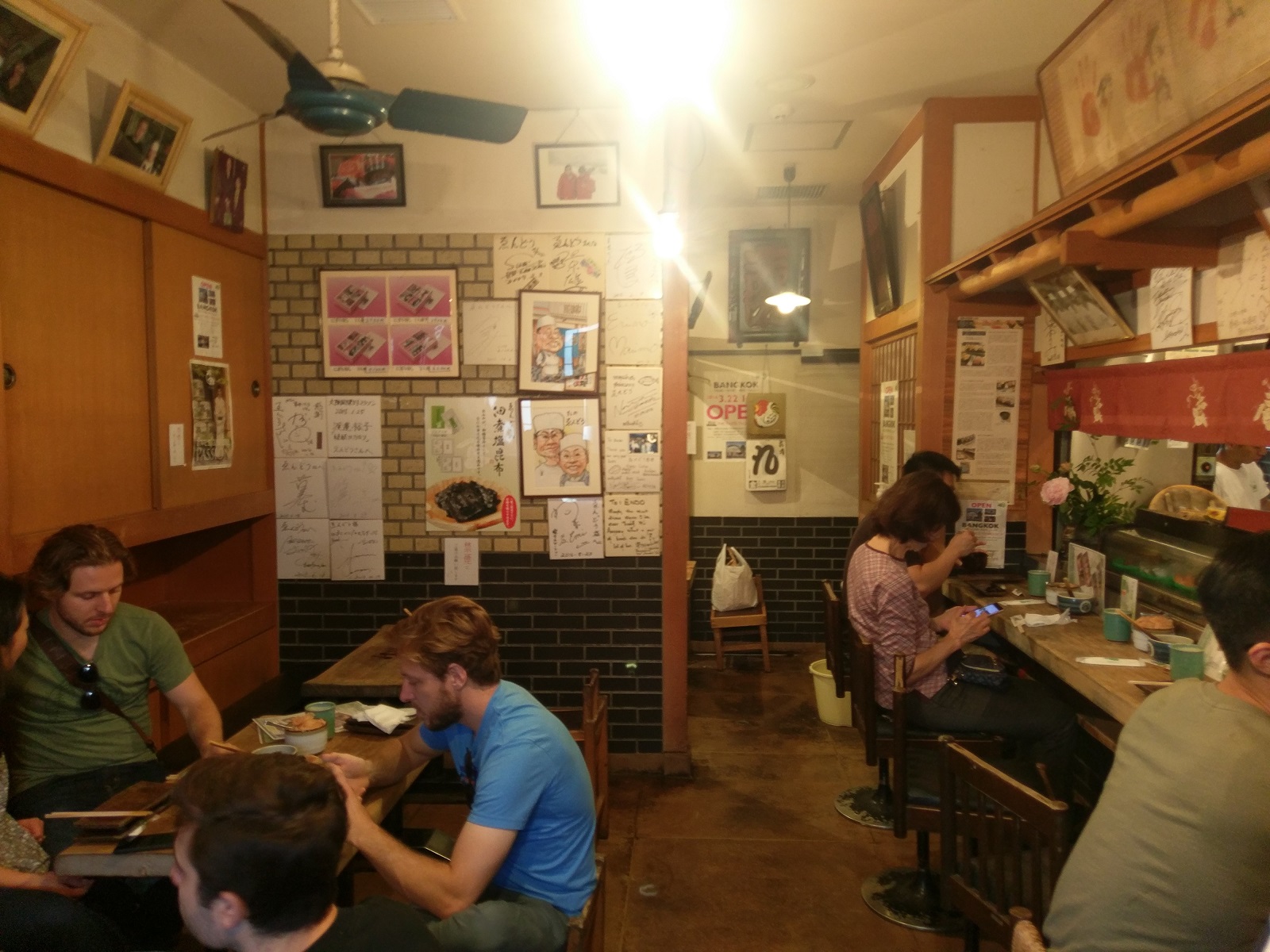 Their entire menu consists of only four items, plus miso soup. You can choose your desired sushi platter – each one costs 1050 yen. Their sushi is extremely fresh and straight from the fish market. Most of the pieces were just around room temperature – you can tell that the meat had never been previously frozen. The toro (fatty tuna belly) is definitely the most famous piece, and that's pretty much the sole reason most people go to this place. For five pieces of premium sushi (not the all-you-can-eat kind), 1050 yen is a pretty good deal.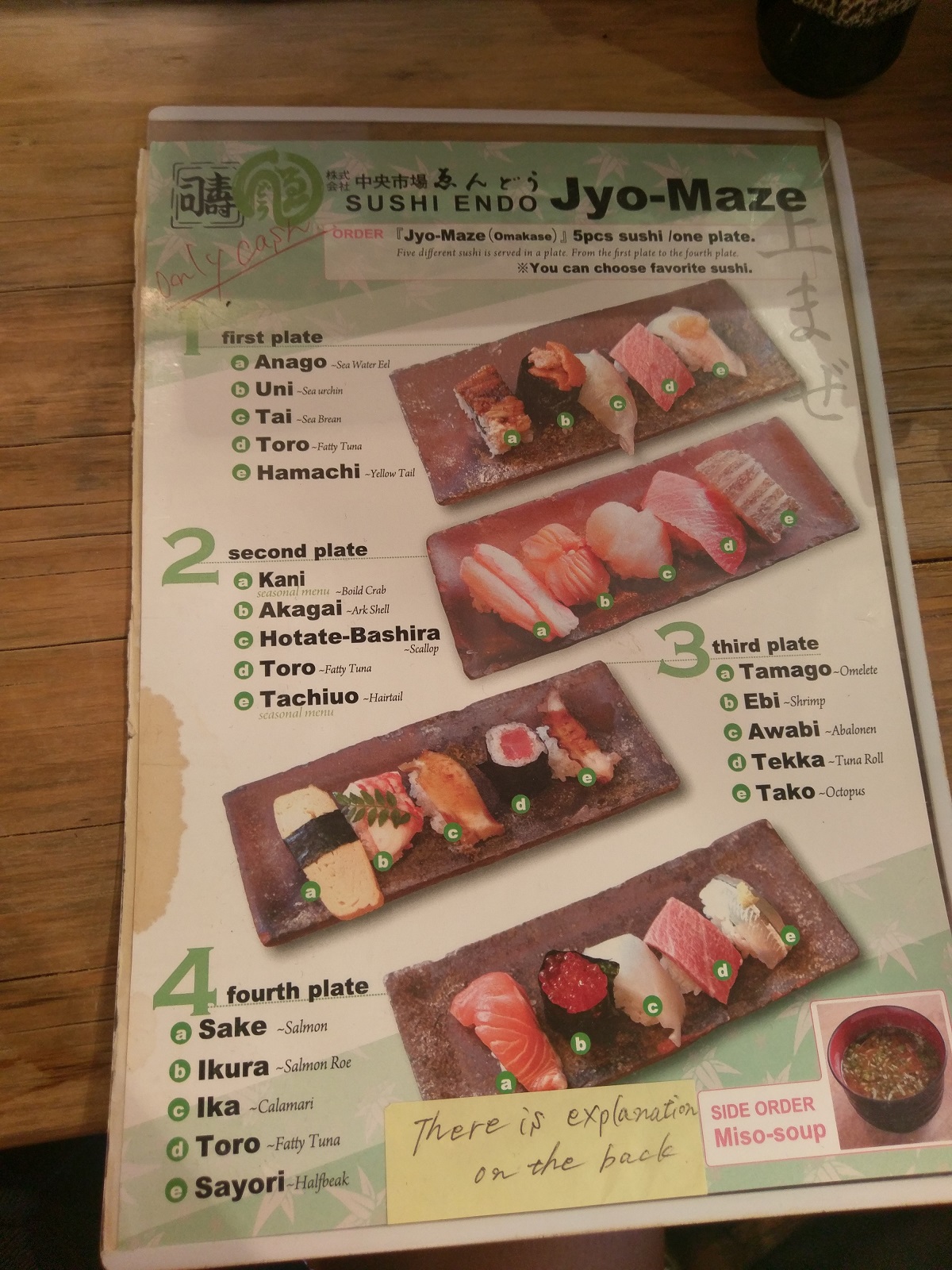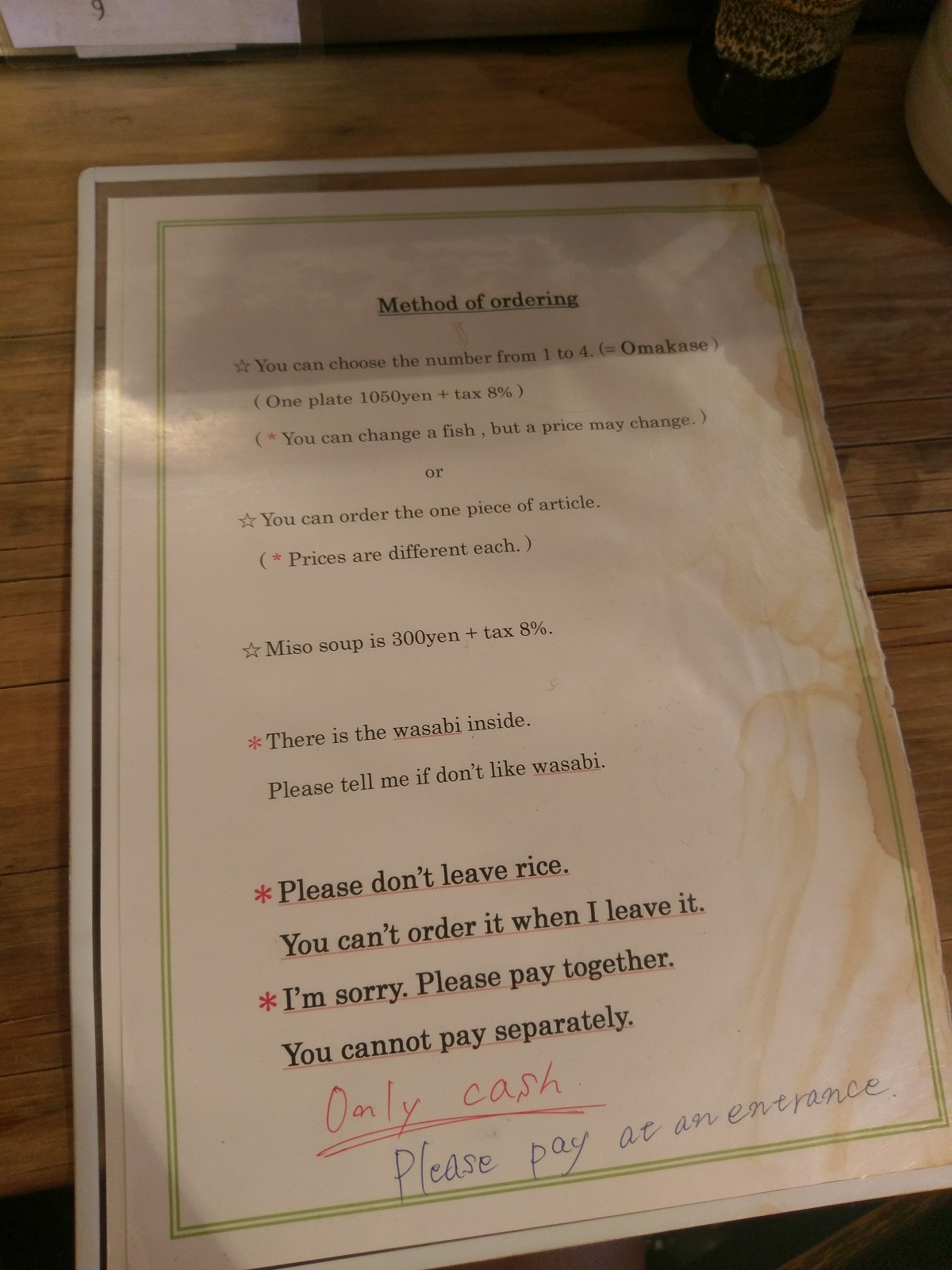 Itadakimasu!
If you're looking for this place, it's quite hard to find. There are only a few restaurants at the fish market, and this is one of them. We were a little hesitant to go inside, because the blue cloth covering the entrance made it seem like it was closed. But anyway, this is the one.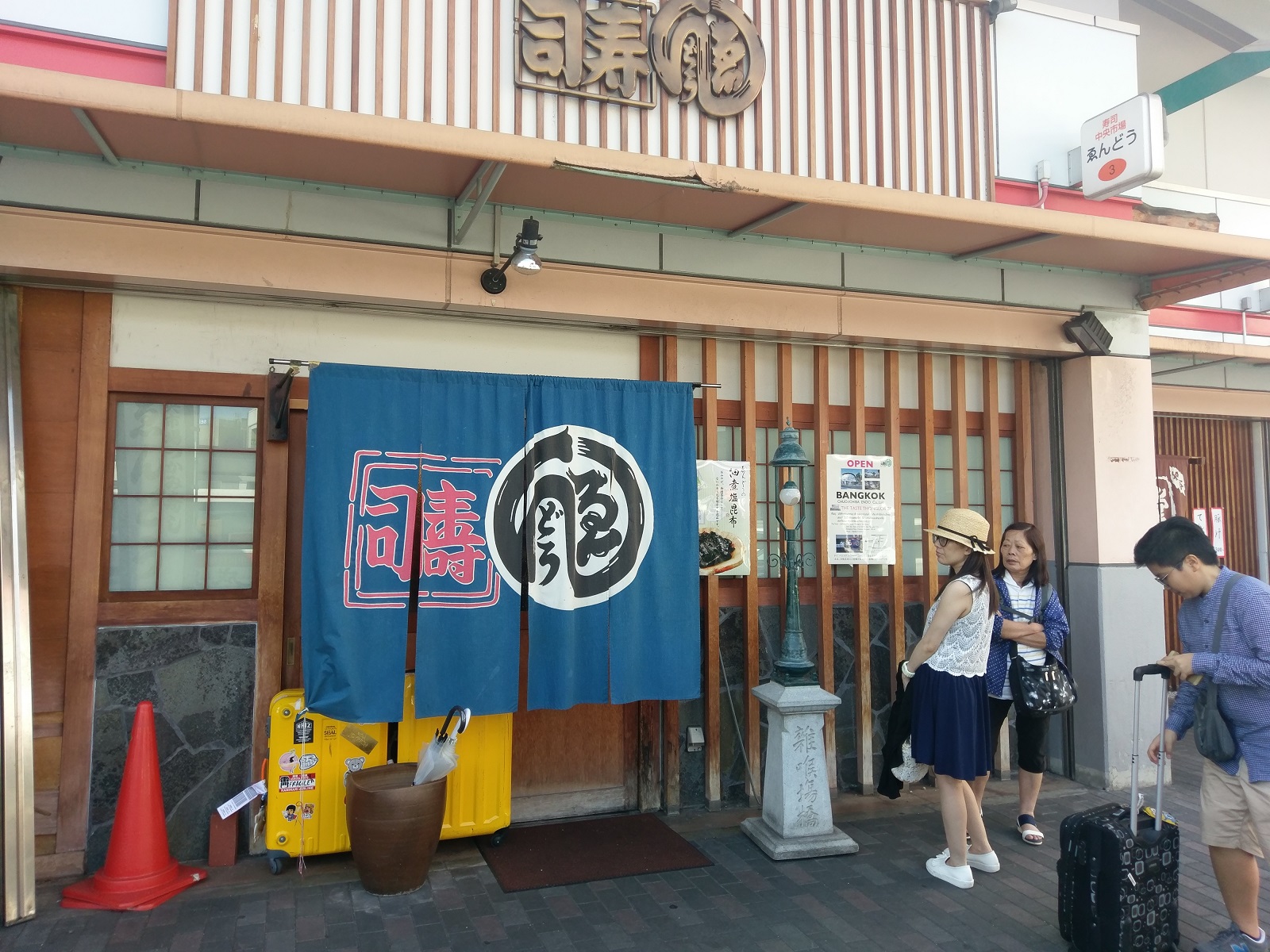 Random observation on our way to the fish market: I saw a map of the neighbourhood separated into blocks and sections. Remember my confusion with the addressing system in Japan? Seems like there actually is a way to find out where you want to go… if you can find this master map for the neighbourhood.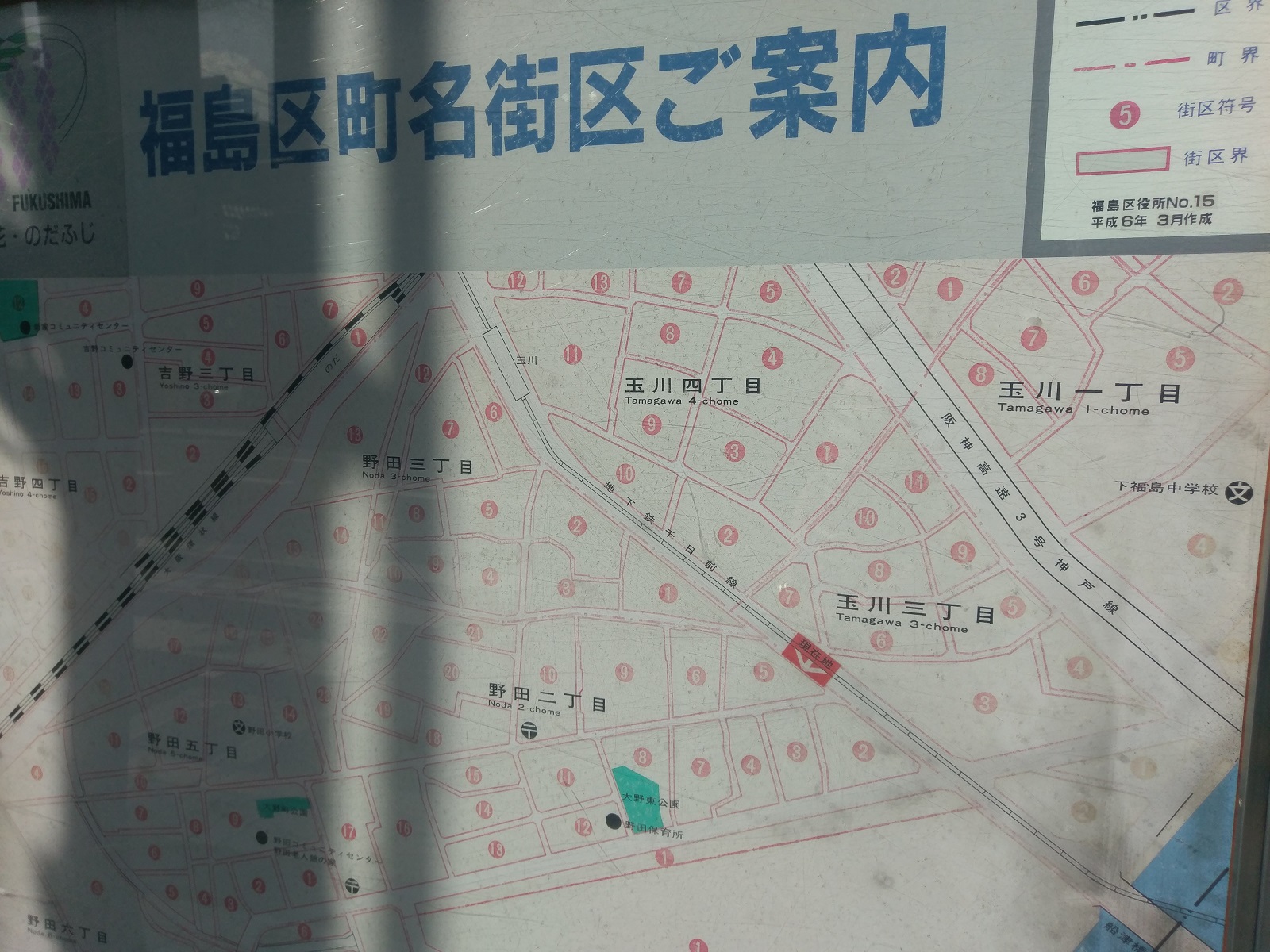 (After a chat with a Japanese friend, I found out that they actually want to change the addressing system so that each road has a name. Basically, change it like the addresses that we are used in Canada and Hong Kong. And I believe this change is expected to happen in time for the 2020 Tokyo Olympics?)
Next stop: Universal Studios! We got to the park before it even opened, and there was a already a huge line. I was thinking, this may have been a mistake… but luckily, once we got inside, the crowd dispersed into different directions. I know that USJ is quite popular on the weekends, which is why I only planned to go if I could make if for the Friday. Otherwise, this day would have had to happen next time.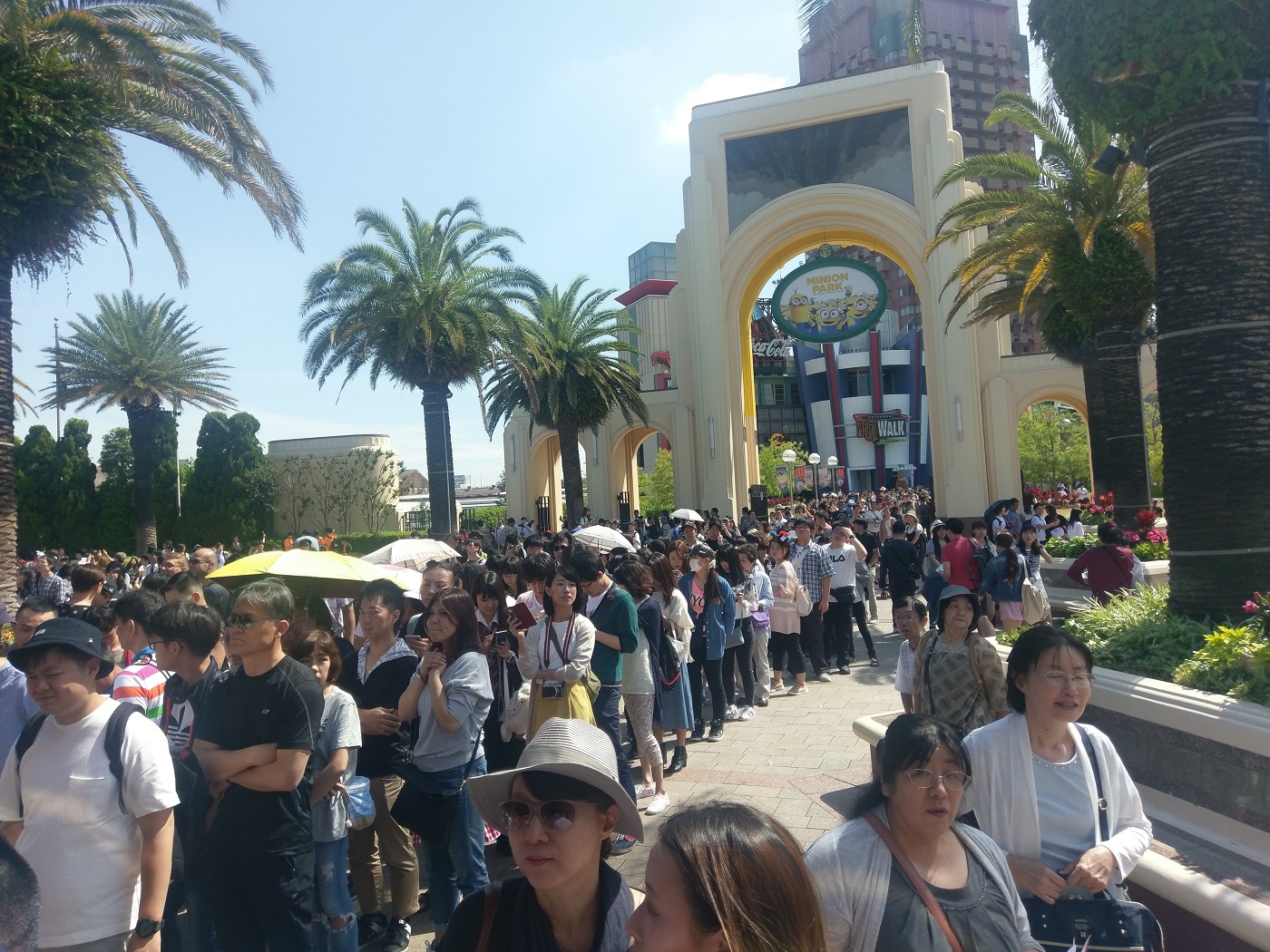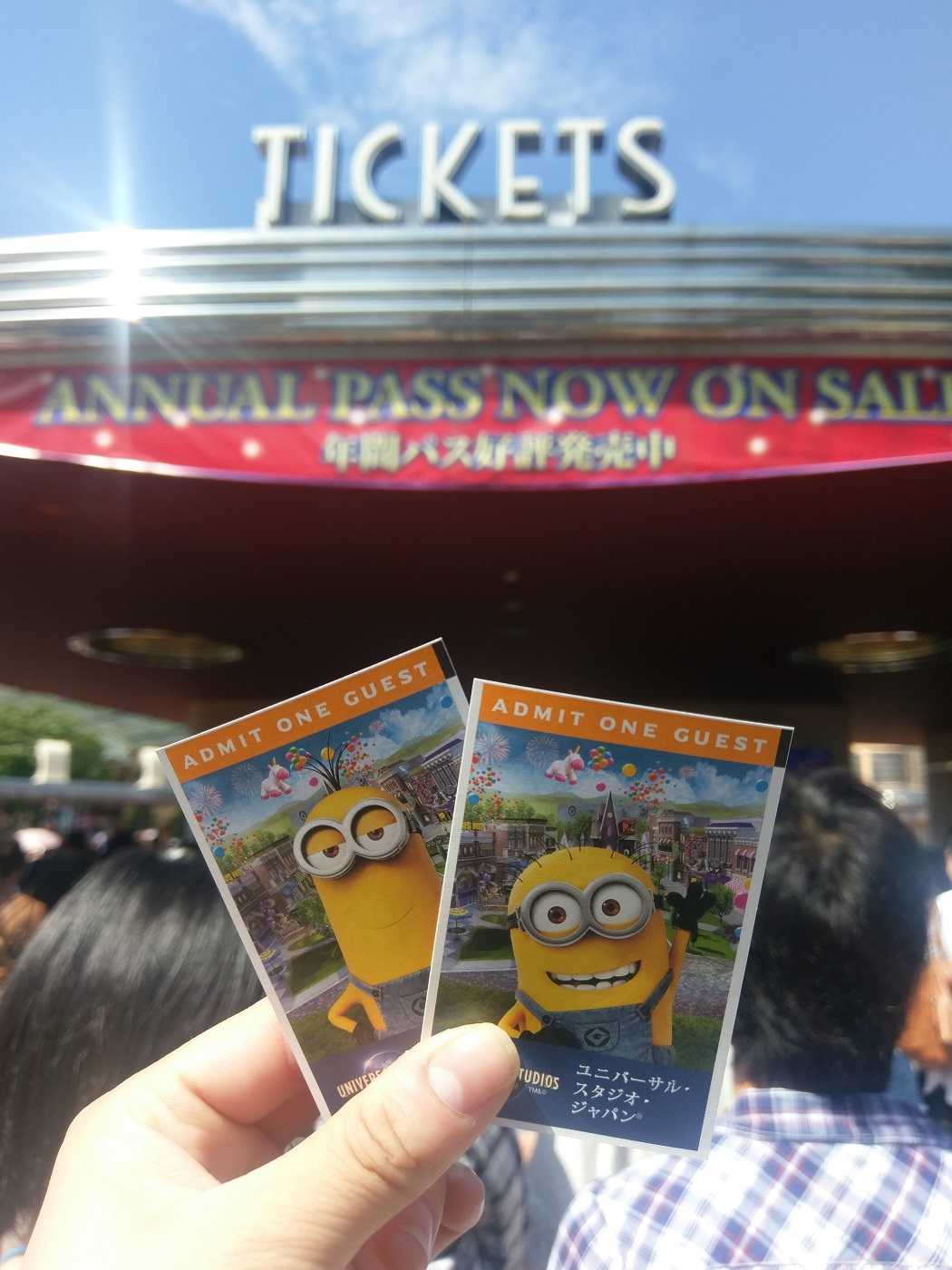 Once we got into the park, I ran over the Harry Potter World. I saw that usually, you have to get tickets just to get into the area (and you come back at whatever time it says on your ticket). I guess because we didn't go on a weekend, there weren't as many people, and they didn't even have to give out tickets. We could just freely walk in and out during the day.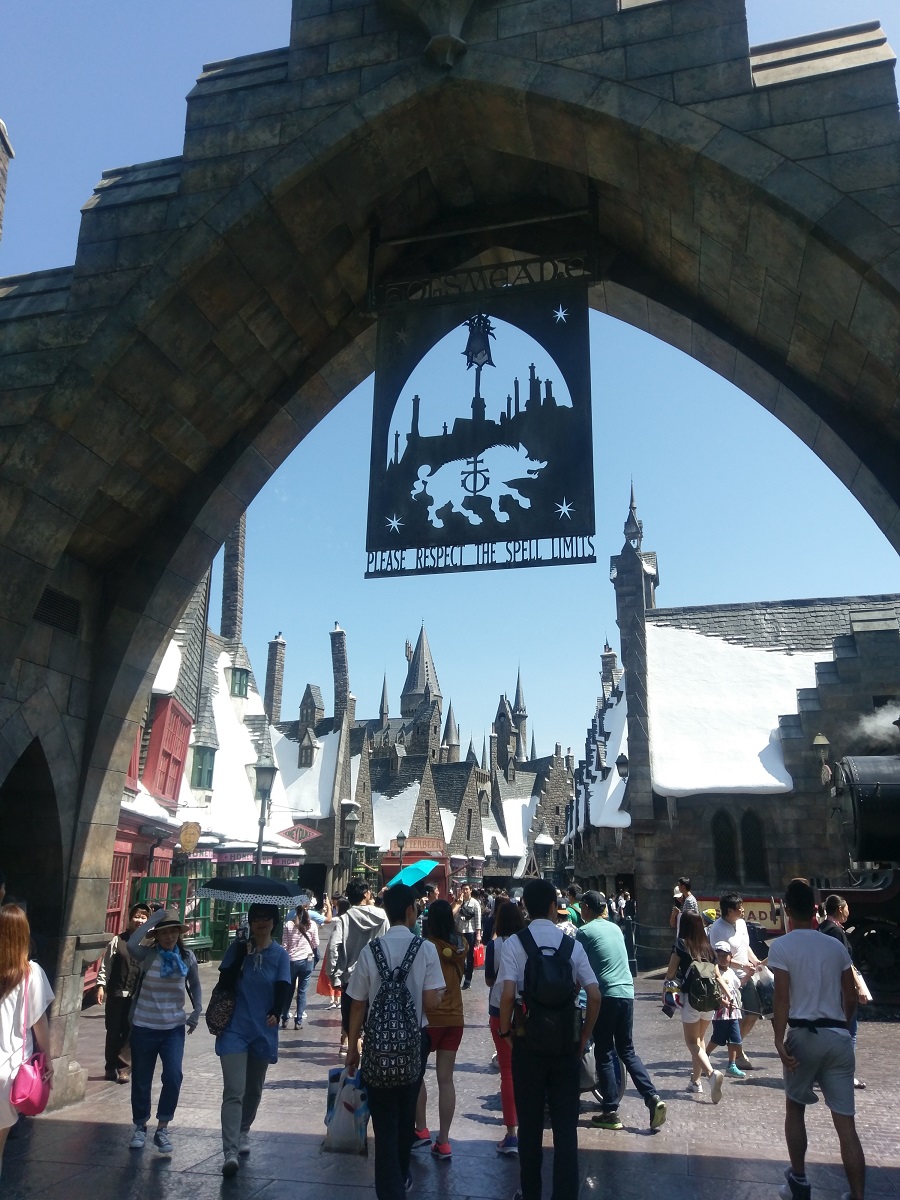 Being a Harry Potter fan, I was extremely excited. I read all the books and watched all the movies. I love the idea of this magical world in a parallel universe to ours. Even though you know it's a fantasy book, the tiny details are extremely well done. It all makes sense, why we've never noticed witches and wizards in this world before.
I didn't really know what to do first, so we went to Ollivanders and watch a wand show. Basically, Ollivander comes out and selects someone to pair up with a wand. It's like in the book – you don't choose the wand, the wand chooses you.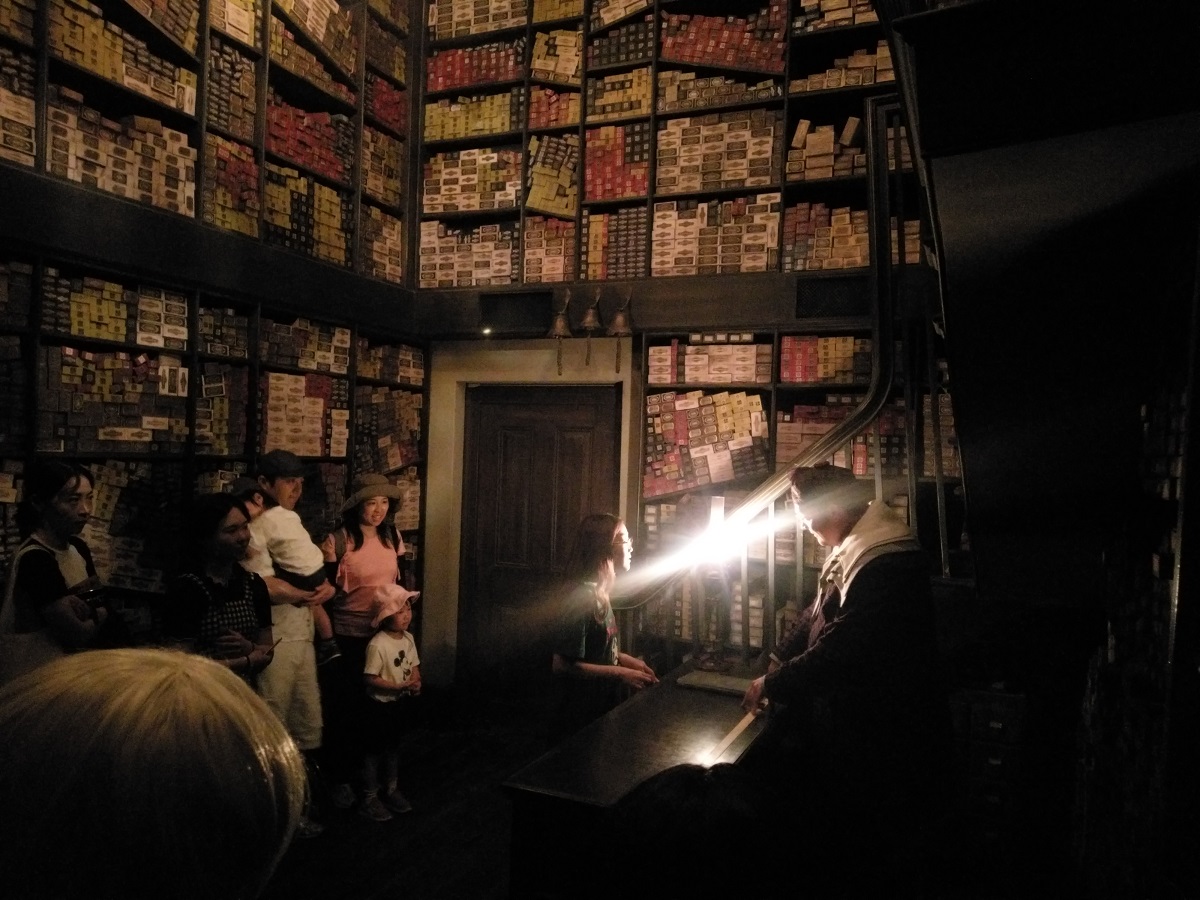 Once we came out, we saw Hogwarts Castle, and a pretty long line coming out from there. That's when I wish I had rushed to this line first. By the time we made it to the line, it was already at 120 minutes – and keep in mind, this is still only around half an hour since the park opened! Oh wells. I figure that if I don't line up, I'll never get to play anything, so we went for the 120 minute line.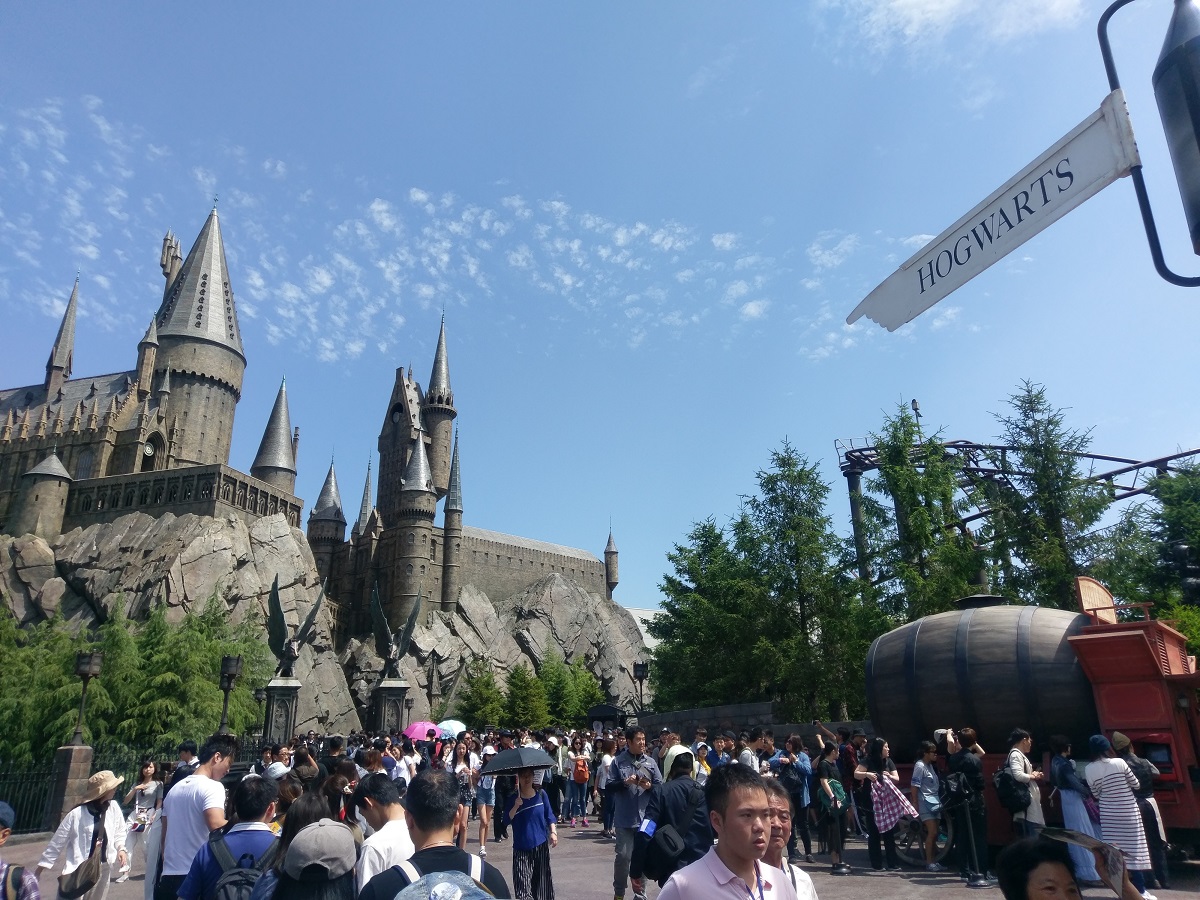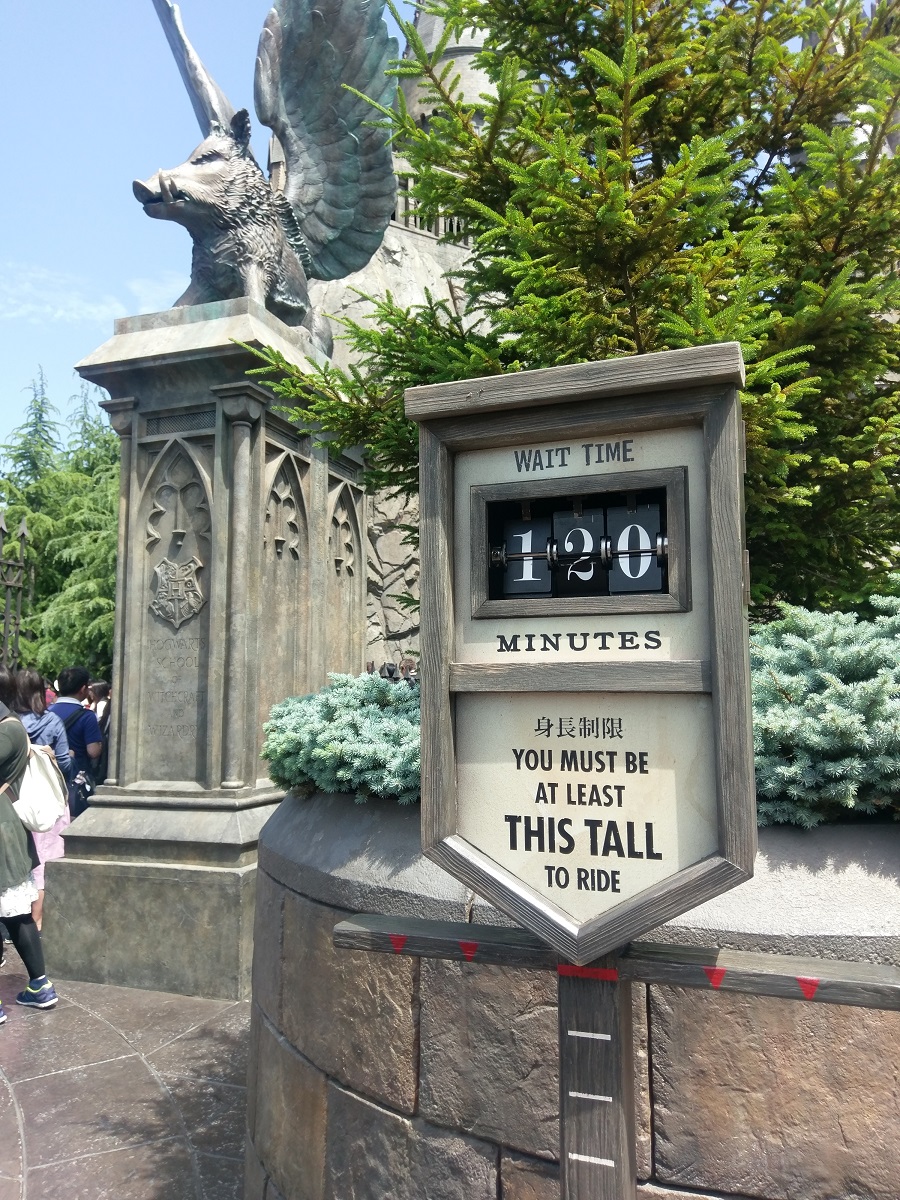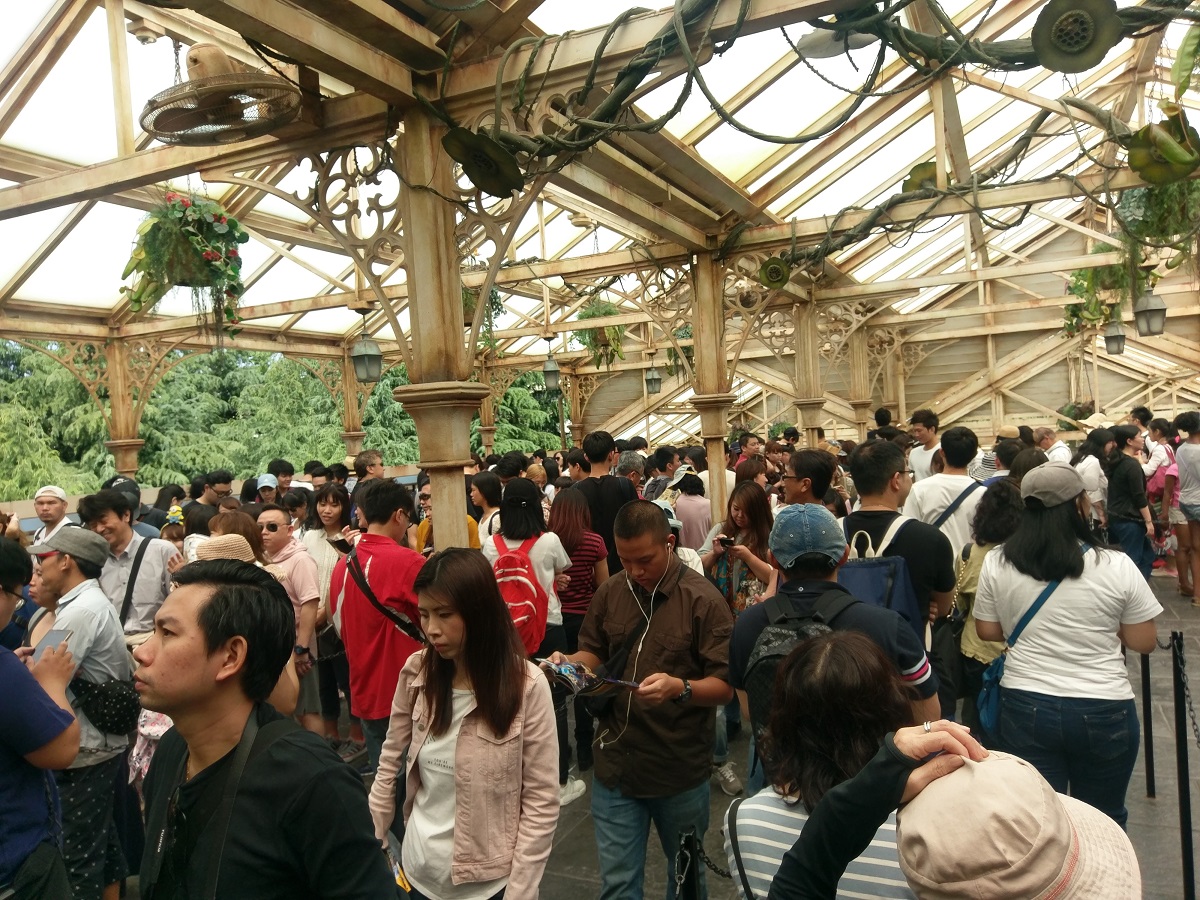 I don't think it was entirely 120 minutes (probably closer to 100), but I think it was worthwhile. Inside is a roller coaster, and as you travel around Hogwarts Castle, you get to see different scenes from the story. Sometimes, you're looking at a TV screen, while other times, you're looking at a real (mechanical) monster coming out at you. The thing is, this ride is extremely well-designed. I couldn't even tell when I was looking at an artificial TV screen, and when I was faced with real-life items! As a fan, you will definitely enjoy this ride.
I spent a lot of time looking at gifts and things through every gift store. They have the same stores as in the book – Ollivanders, the Owl Post, Zonko's Prank Store, Honeyduke's Homemade Sweets… just like Disneyland, this is why I love USJ, or theme parks in general. They're different from amusement parks. Places like Canada's Wonderland or Six Flags are for the roller coaster thrill. Theme parks immerse you in a completely different world.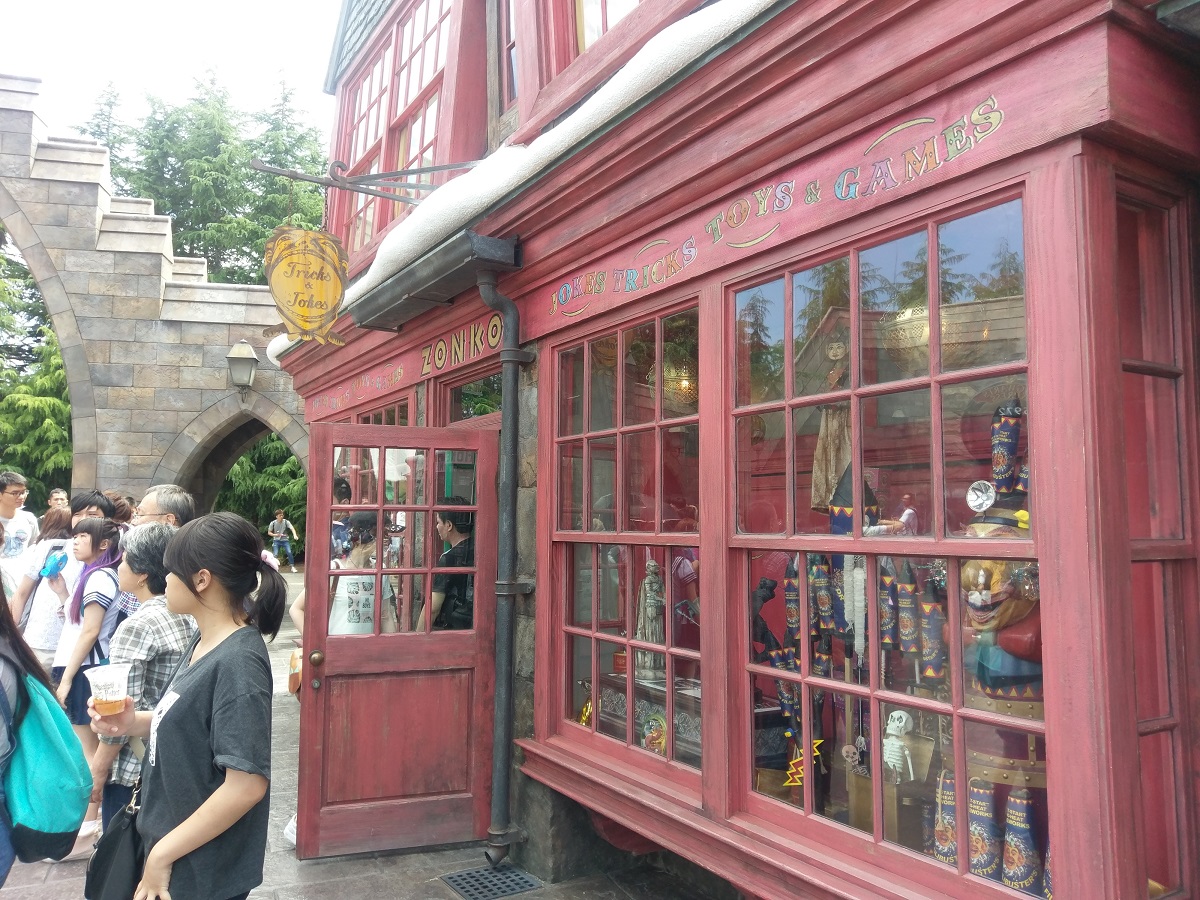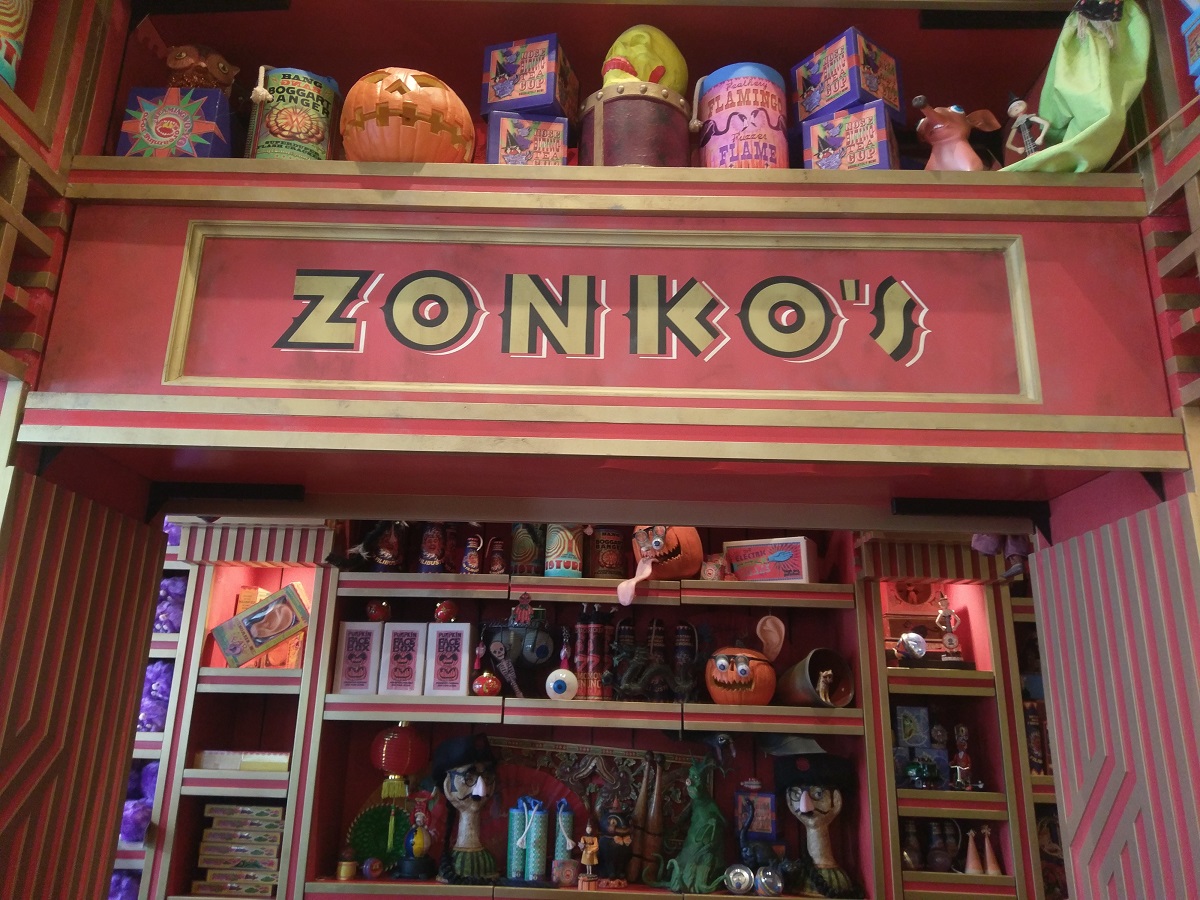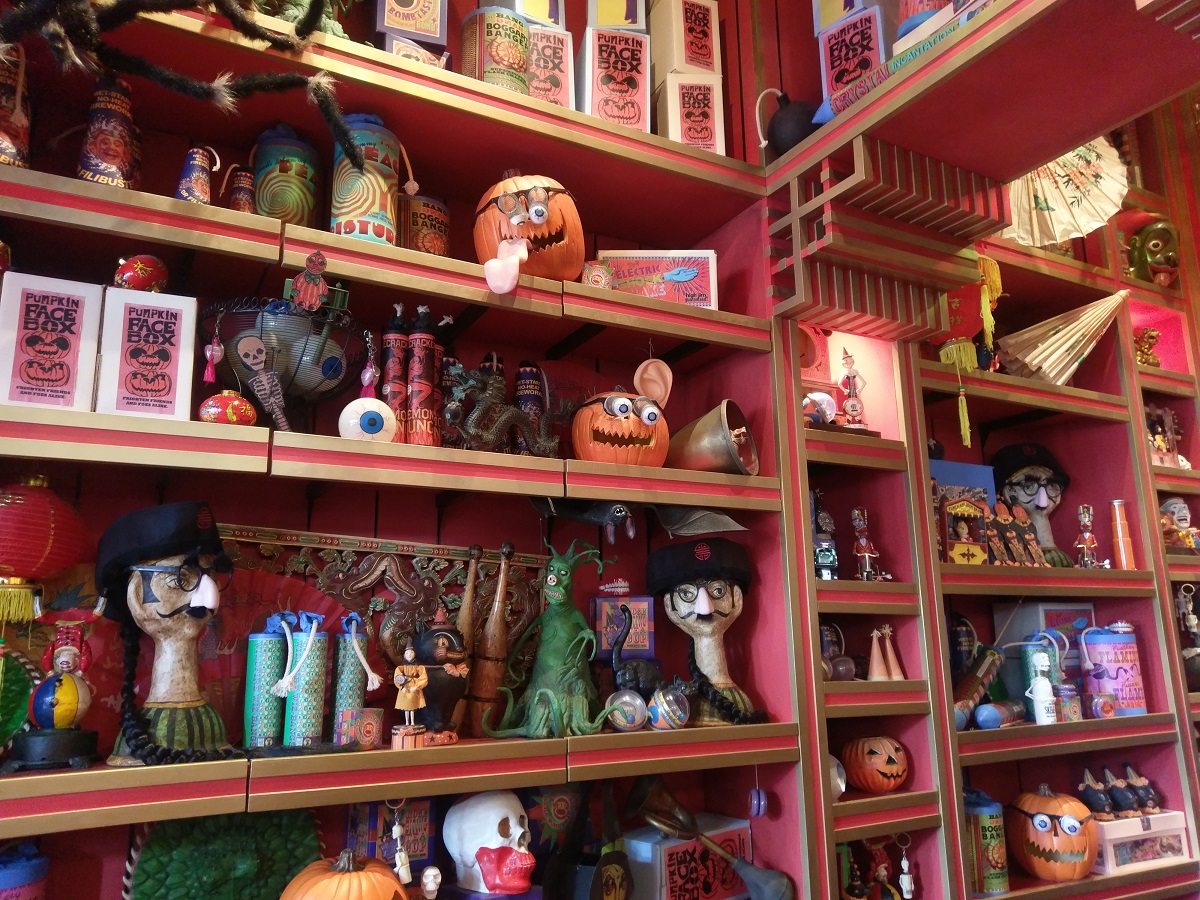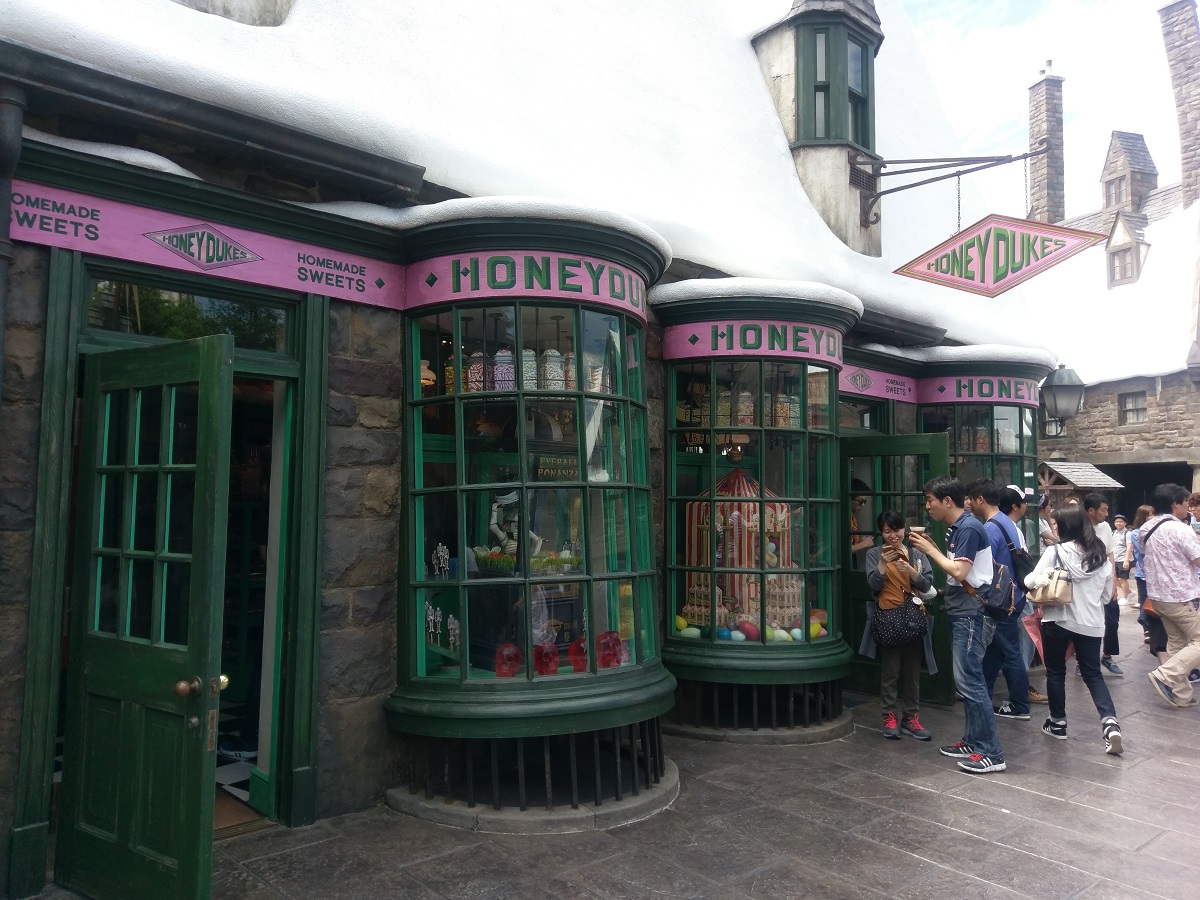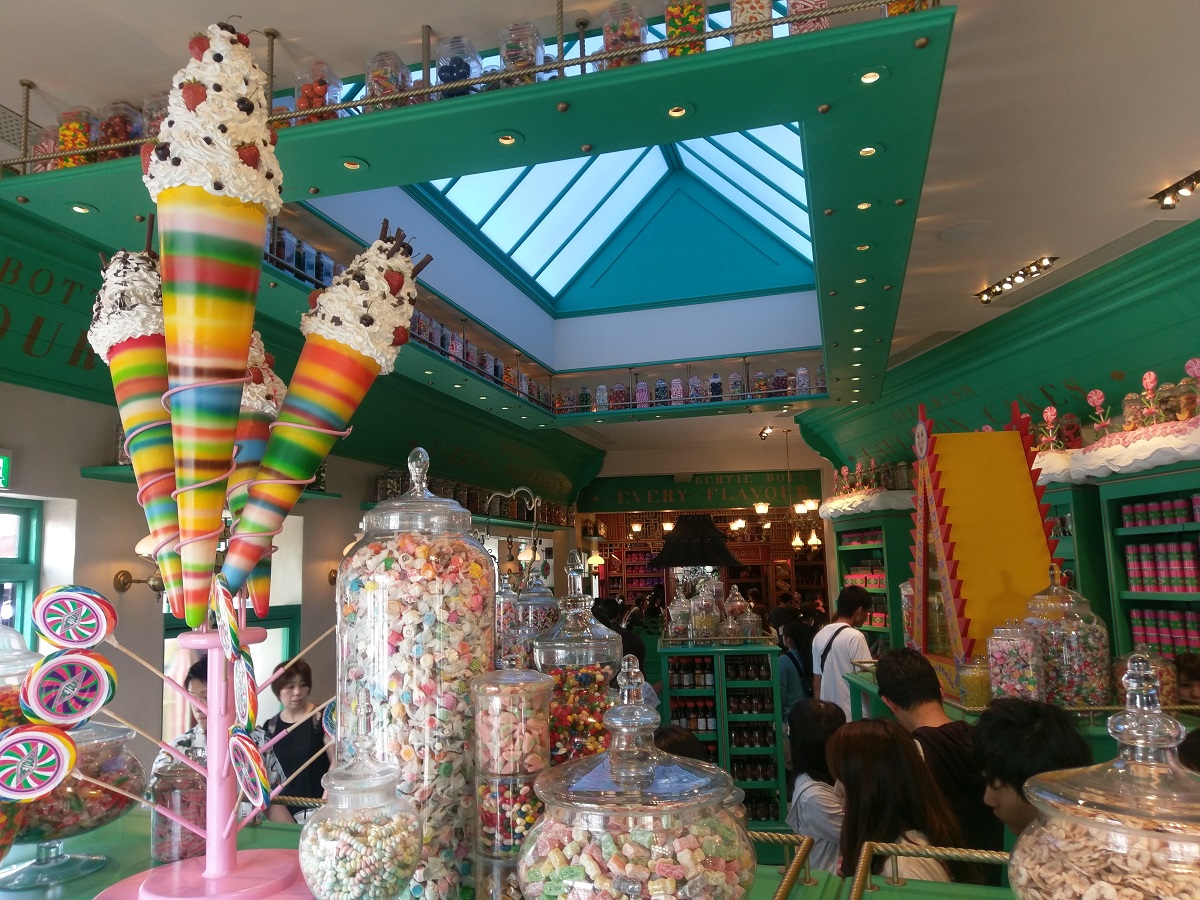 I really wanted to buy a chocolate frog, but it was quite hot outside, and I was pretty sure it would be a melted frog by the time I got back to the hotel…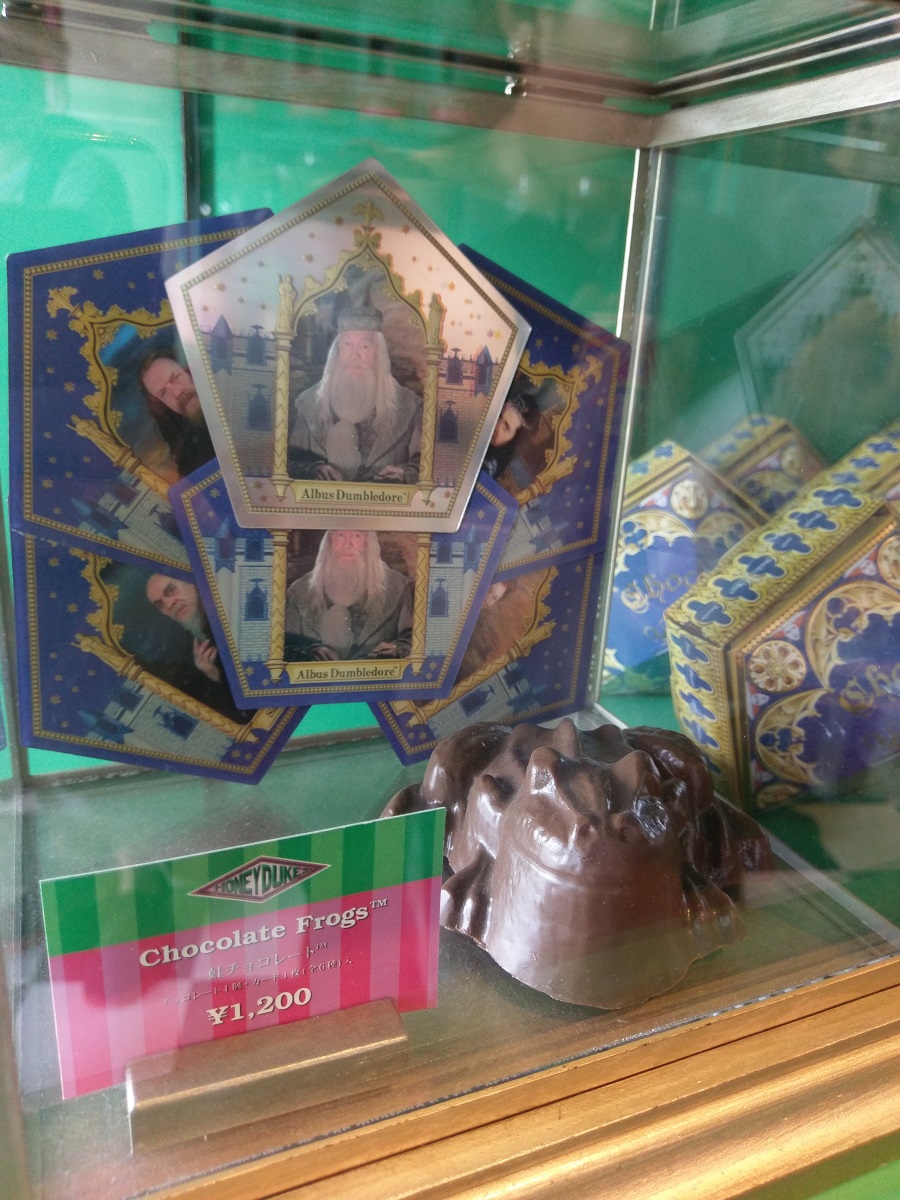 They even have Bertie-Bott's Every Flavour Beans! And just because it was specifically mentioned in the book, they definitely have an earwax flavour 🙂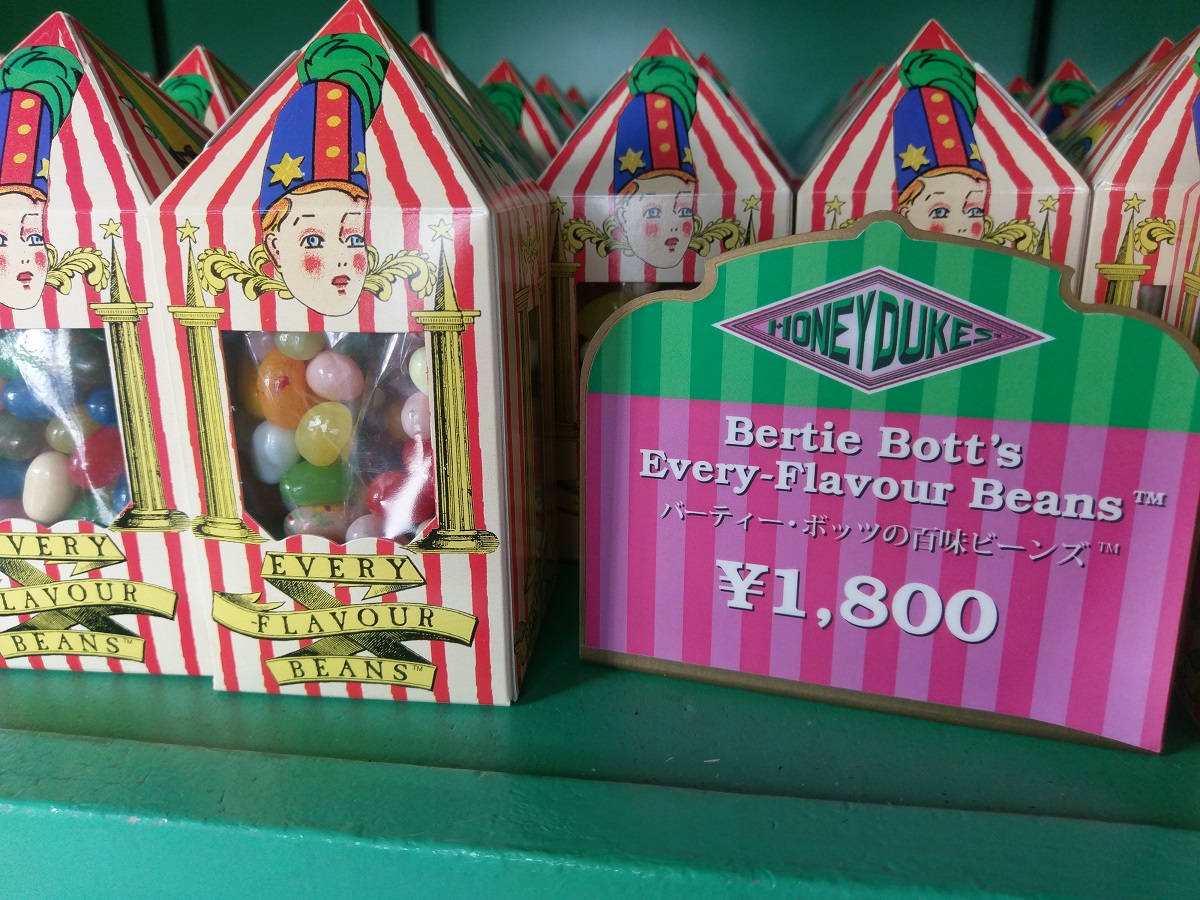 If you've read the books, you would know that Moaning Myrtle is a ghost that haunts one of the girls lavatories in Hogwarts Castle. The women's washrooms in this world look exactly like they do in the movies, and you even hear Myrtle's voice all over the place. (I don't know if it's true for the men's… probably not, otherwise it wouldn't be realistic!).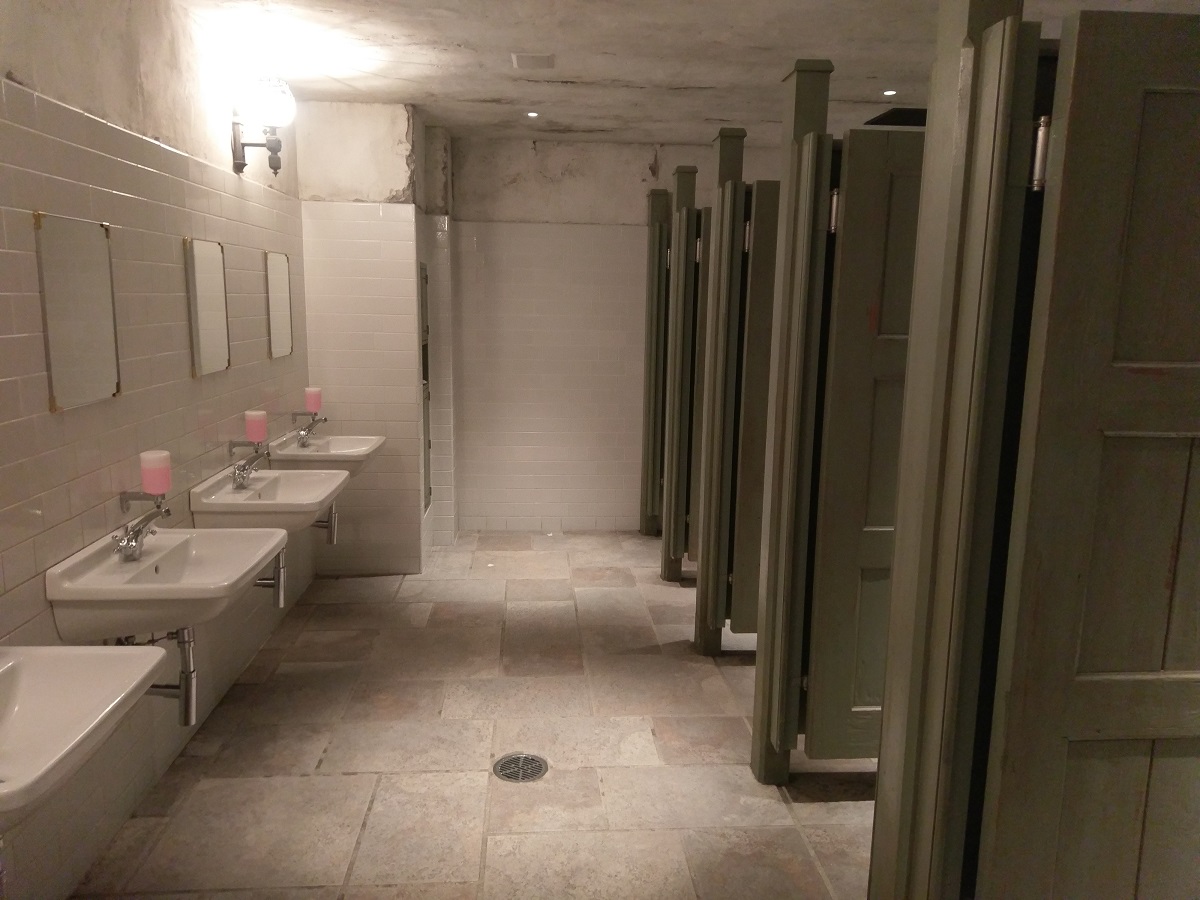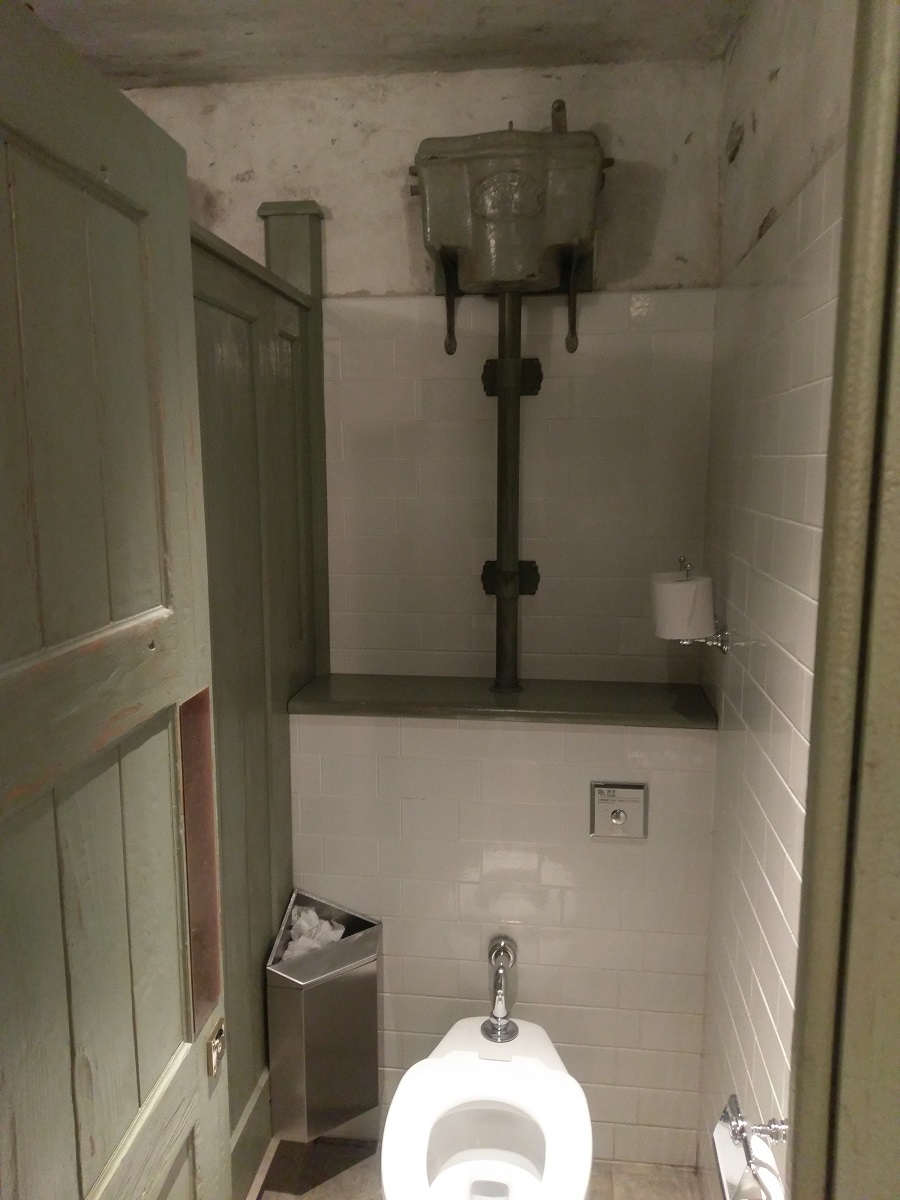 There are shows every now and then. We caught the one where Durmstrang boys and Beauxbatons girls come out to do a performance. In case you didn't know, Hogwarts isn't the only school – these are two other famous ones in the wizarding world.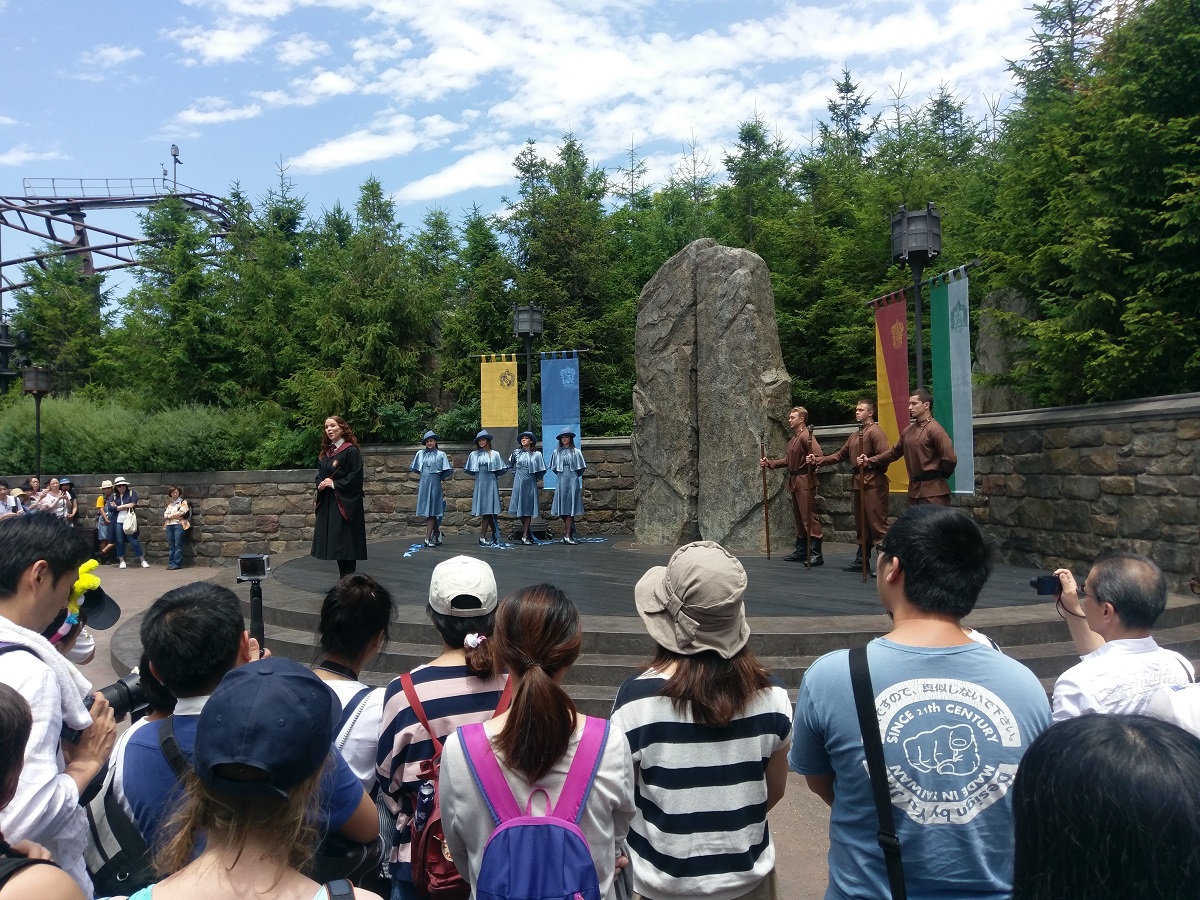 Our lunch was spent at the Three Broomsticks. Lots of events happened in the upper floors of the Three Broomsticks in the books. If you look up, you will also see a lot of staircases leading to rooms that you can't access. 80% of this world is what they (physically) make of it; the remaining 20% is how your mind fills in the blanks in between.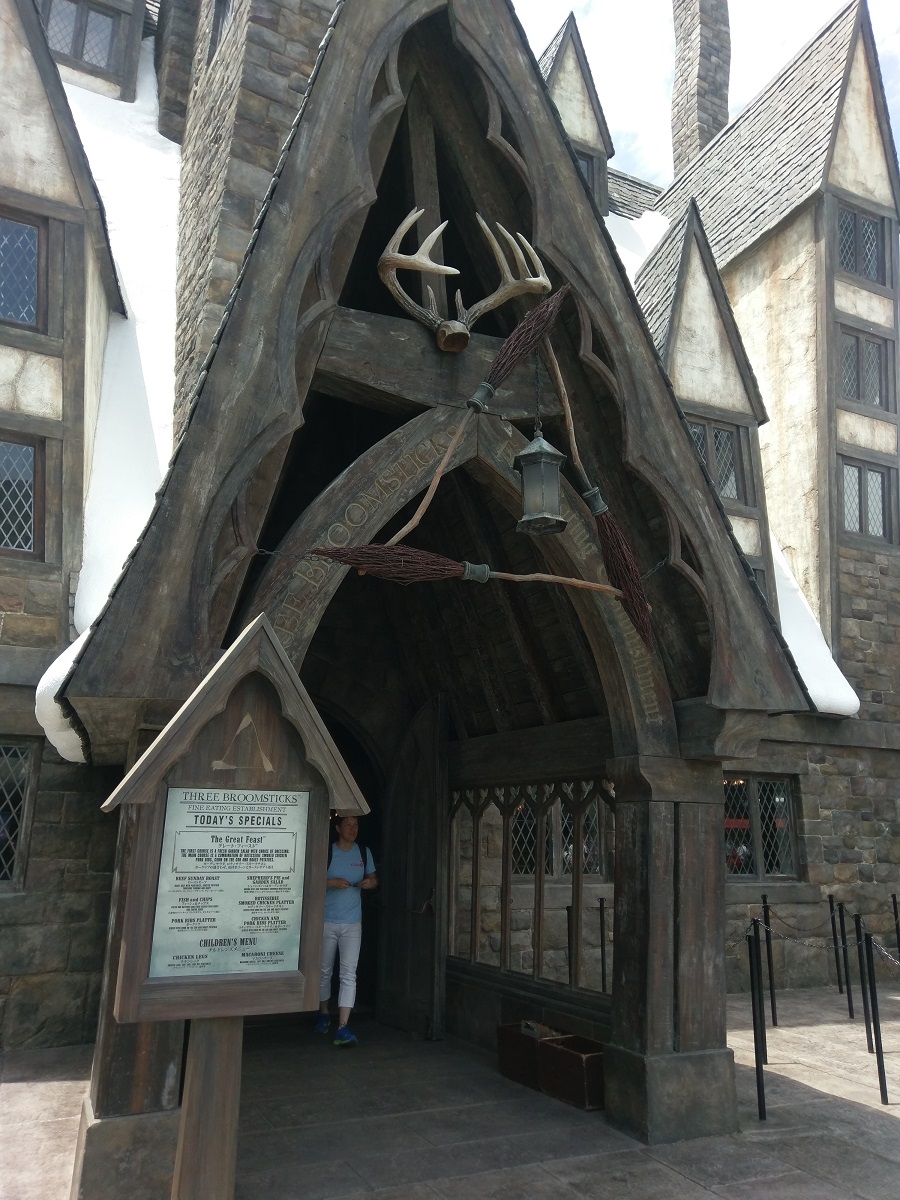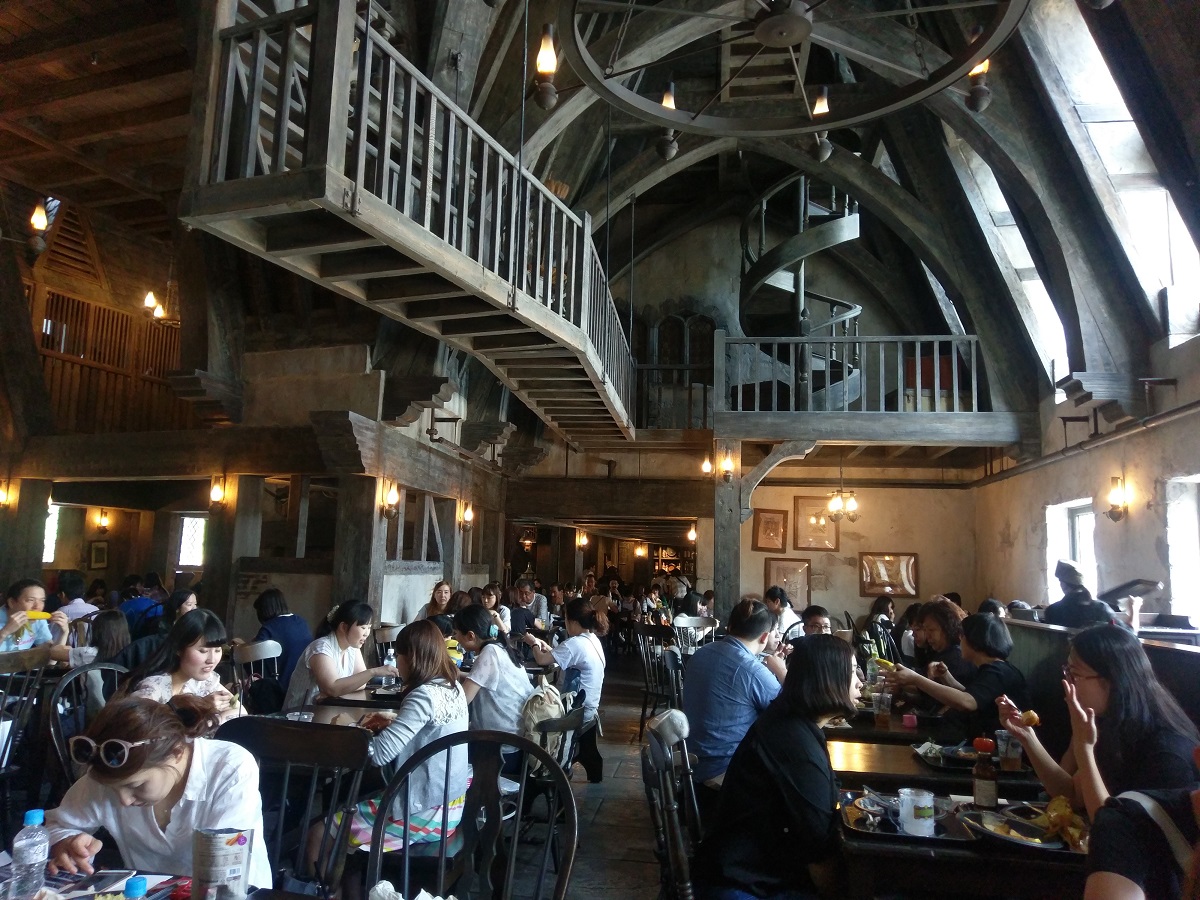 After some more photo-ops with the Hogwarts Express and the car that Ron Weasley crashed, we finally left this place at around 2 PM. I loved every bit of it. The experience is so immersive and feels real  in so many ways. Time to visit the one in Orlando someday!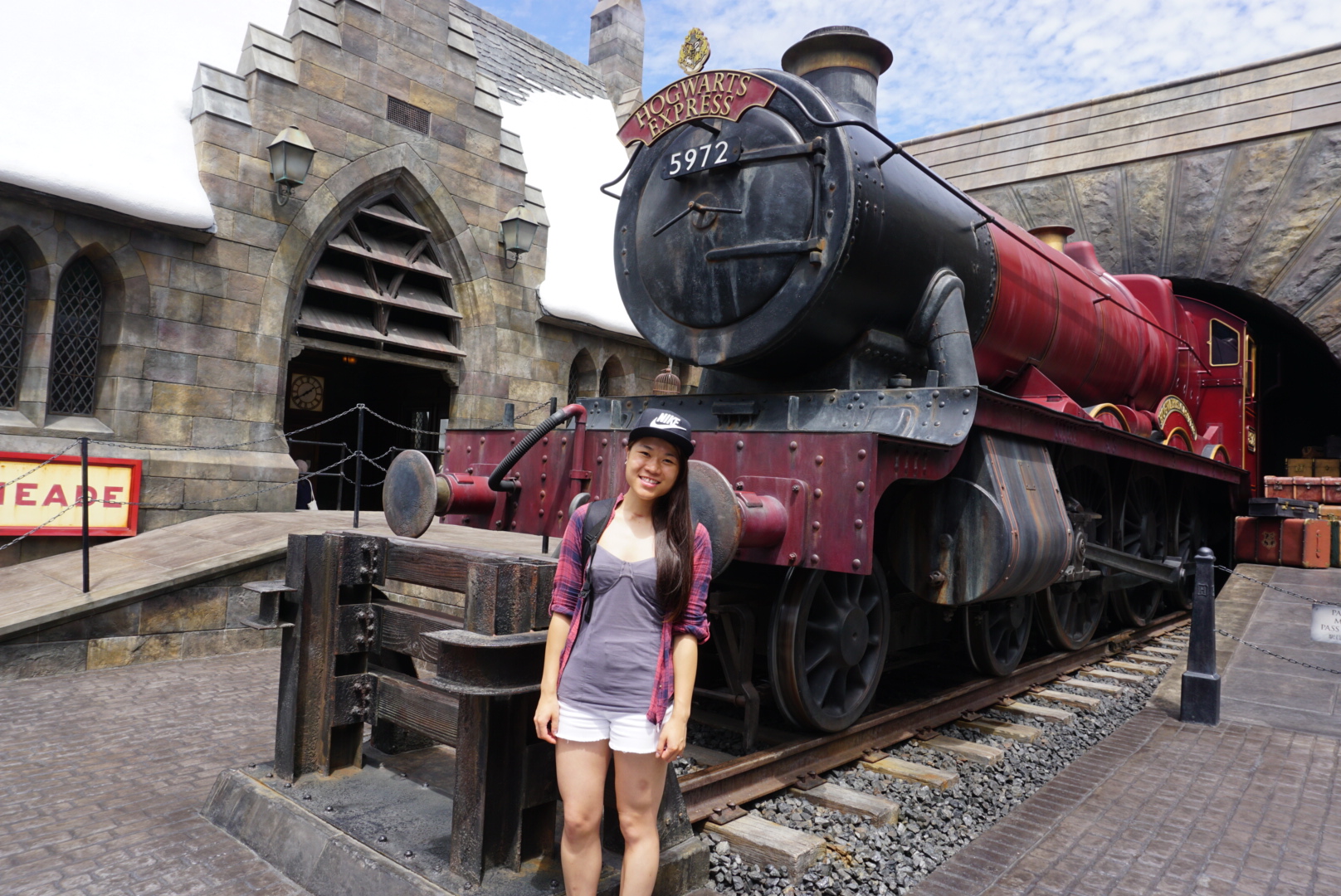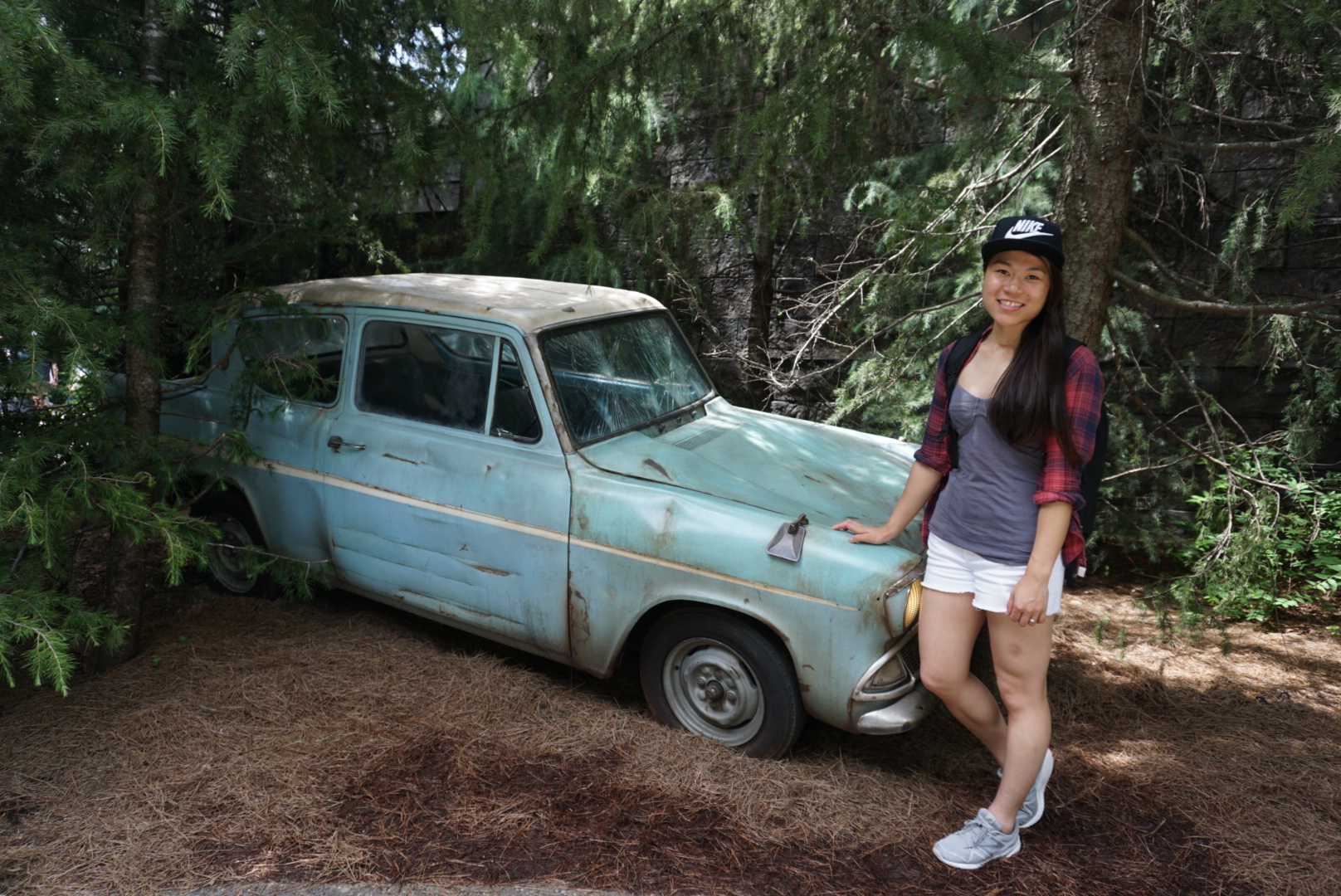 P.S I'm not quite done with Universal Studios yet, but this is where I'll have to leave you for now. My laptop took a fall and my monitor is completely dead… no computer to blog for a while 😦