By now, I'm quite behind with my adventures. I guess the main reason for my lack of motivation is because I really didn't do much with my Osaka trip. I mostly went to places that I've already seen before, and caught up with a few friends. For me, the most interesting part was reading about my exchange experience from four years ago (time flies!!) and seeing how everything was, well, pretty much still the same. Except me, I suppose… four years older.
One thing I didn't have time for, but I actually really wanted to check out, was this patch of grass I used to walk past all the time. Would it still be there? What stage of growth is it at now?
Like I said, I mostly walked around places I've already been before. Shinsaibashi and Pokemon Center were must-visit places for me. I also went to revisit some memories at Osaka University. Everything is pretty much as I remember it.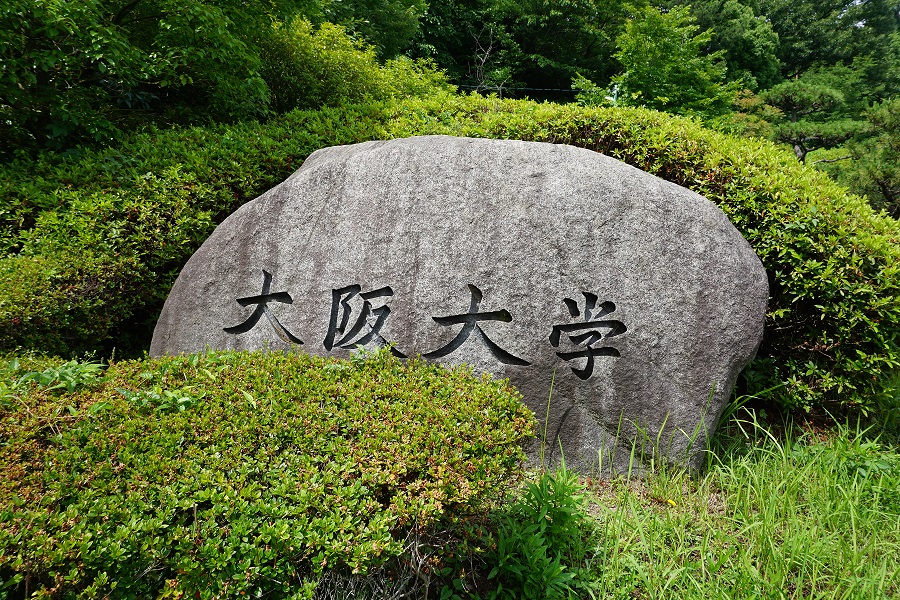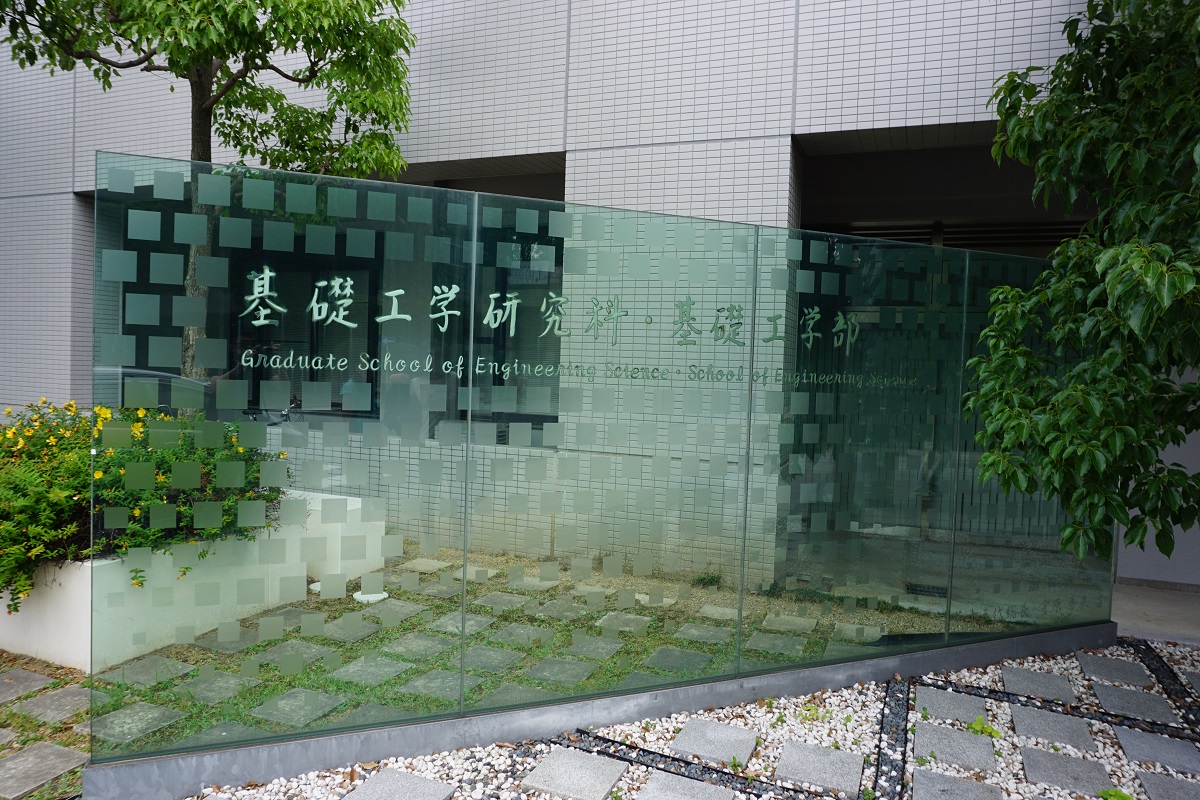 That being said, there were still some new adventures for me. One was the Momofuku Ando Instant Ramen Museum in Ikeda, a little north of Osaka. It introduced the technology of instant noodles and all the challenges they had to overcome to develop the design of instant noodles you see today. By now, it's too common – you don't think too much about it. Things are much easier with precedent (ie. when you have someone else to copy off). But back before there were any instant noodles, and you're designing literally the first one in the world, there are so many challenges that you wouldn't even realize are coming your way. Even simple things, such as how to make sure the noodles cook evenly, or making the production line possible, were not so easy to come up with back then.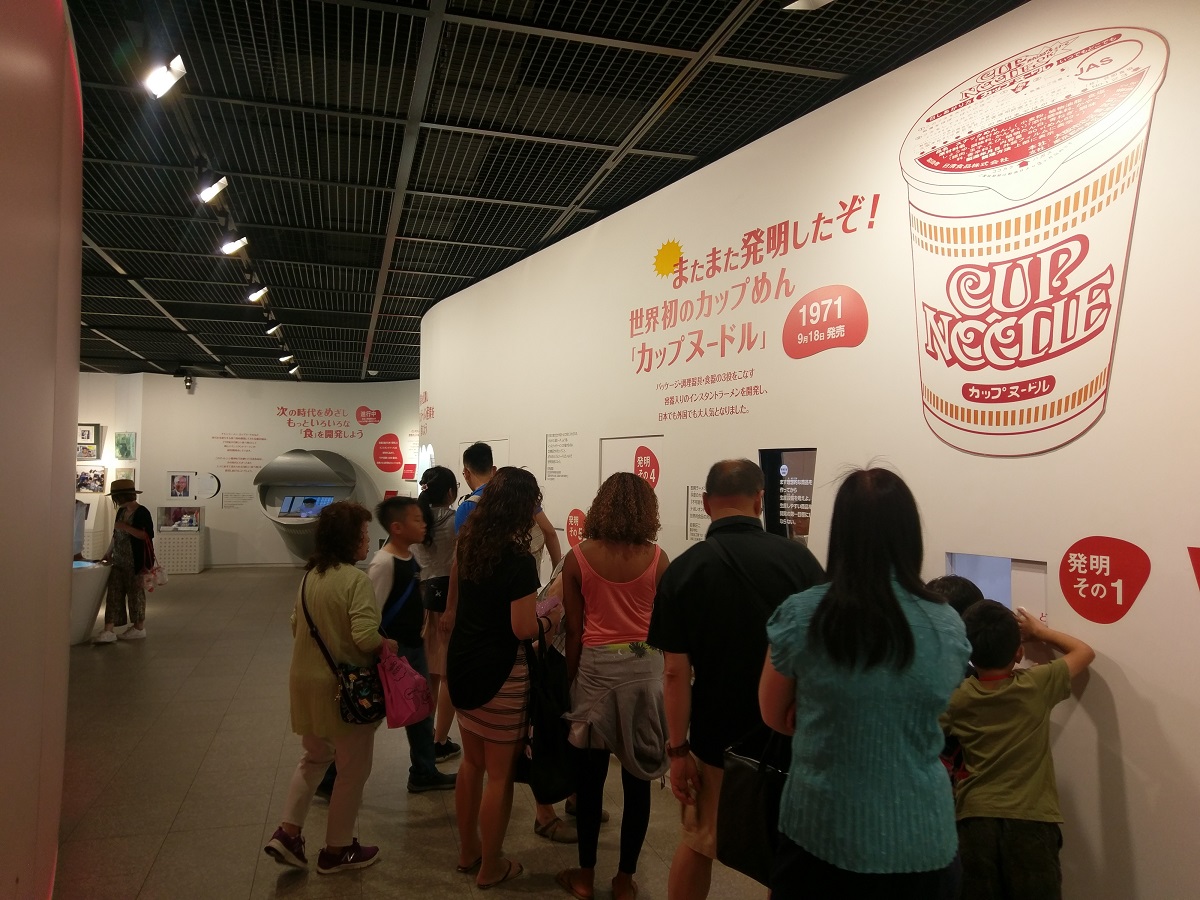 Another place I really enjoyed was a mall called Namba Parks. It wasn't really so much for the mall (we didn't even shop in it), but because there's a beautiful greenspace designed along with the mall. There are lots of benches located in midst of the trees for people to take a rest. There's a small amphitheatre area for outdoor events (although there was nothing going on when we visited). There's also multiple patches of grass for people to just lie down and do nothing. It was very relaxing just to be there, and quite a big contrast from the typical Hong Kong busy city.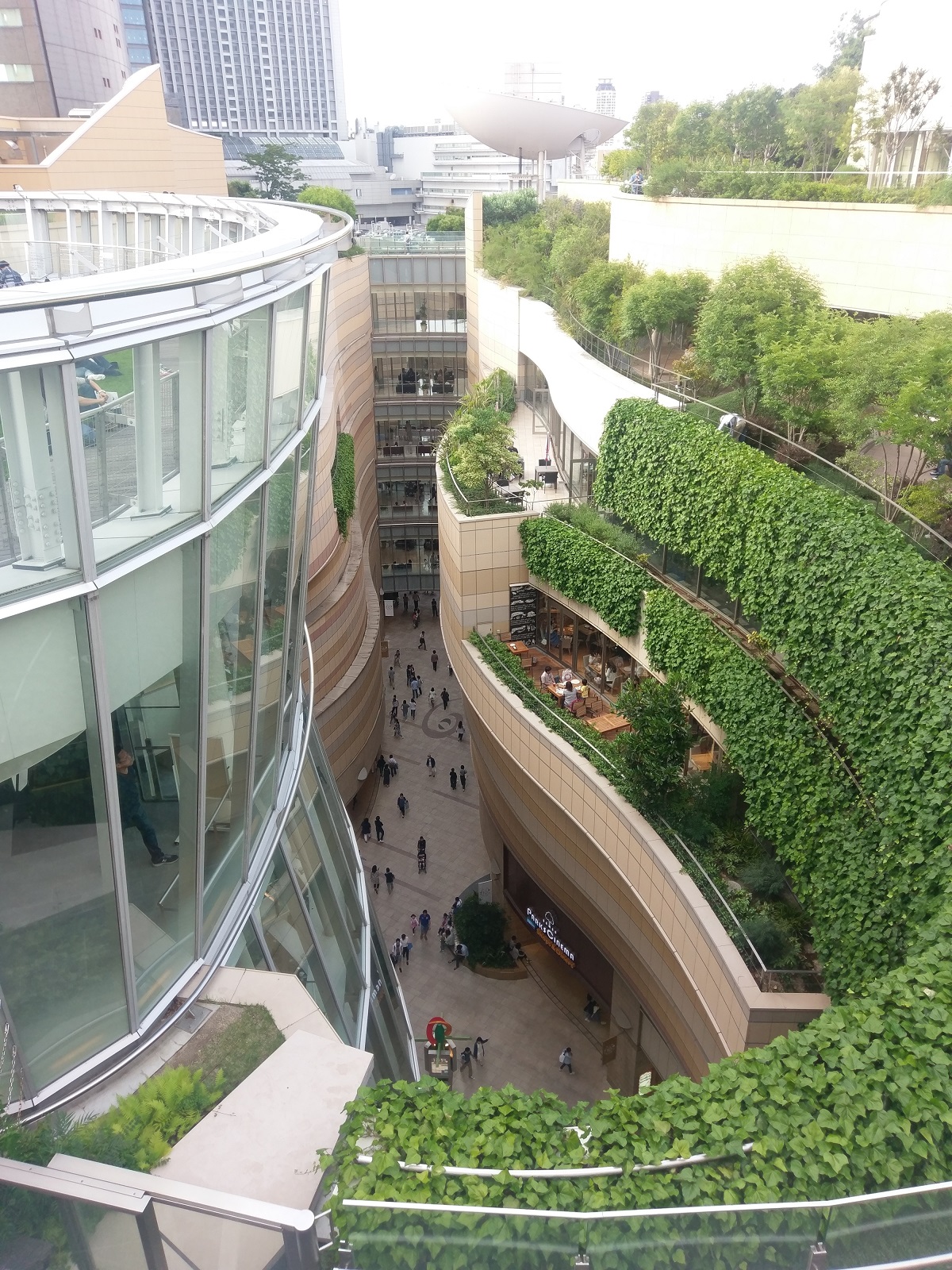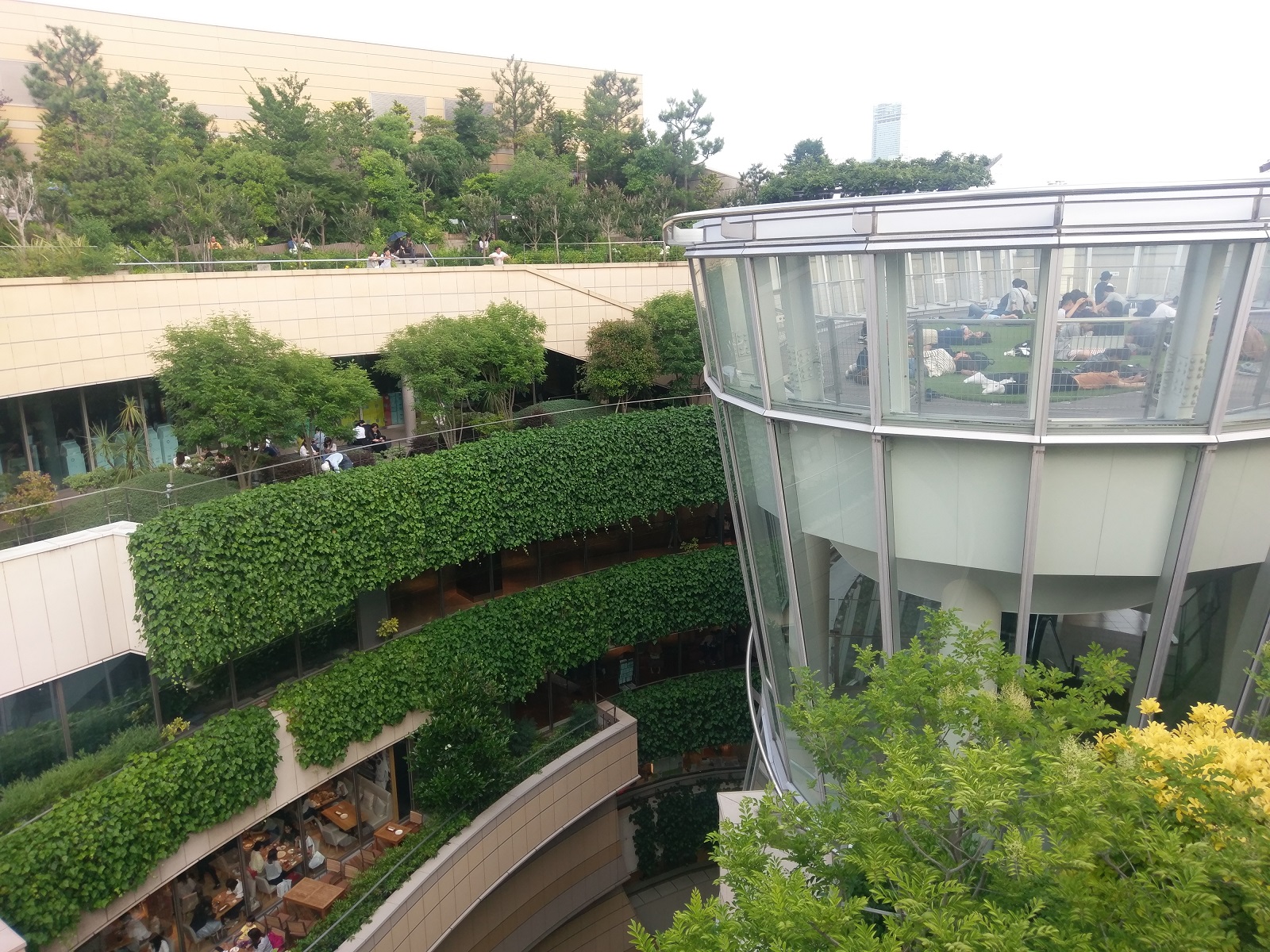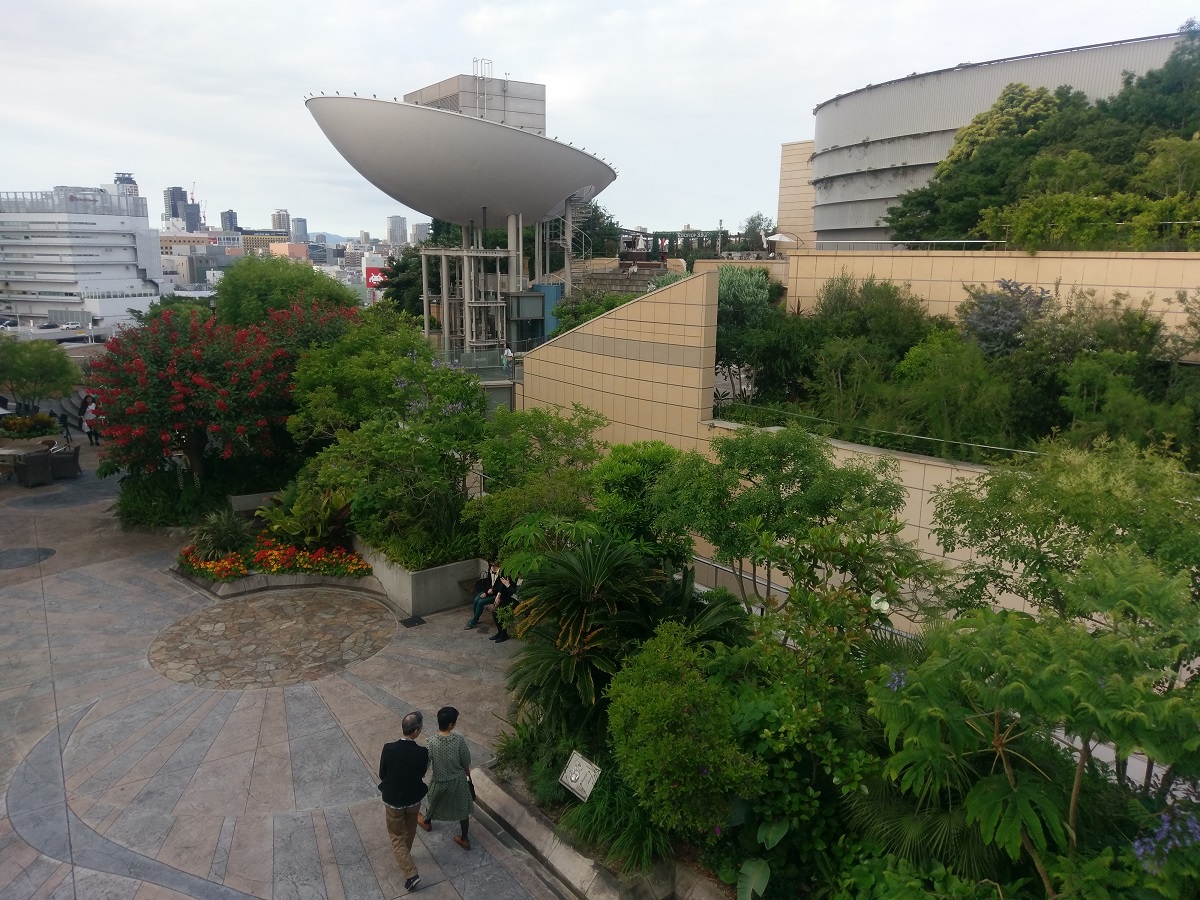 Aside from that, the trip was basically defined by food. Ramen, takoyaki, sushi… we made sure we stuffed ourselves with enough Japanese food to make the trip worthwhile. I specifically looked online for a wagyu beef place to try, since this is one of the things I never did try when I was here four years ago (on my student budget). We found Matsusakagyu Yakiniku M, a tiny place off the alleys in Dontonbori. There are the 'three big beefs' in Japan, denoting the three cities that are famous for wagyu beef. This resturant specializes in Matsusaka beef, which is one of the three. The other two are Kobe beef and Yonezawa beef.
We ordered a beef platter, among other things. They helped us lay it out in order from leanest to fattest, so you can really taste the difference as you step up the 'fatty' ladder. At the fattest end of the spectrum, that's when the beef seems to melt in your mouth.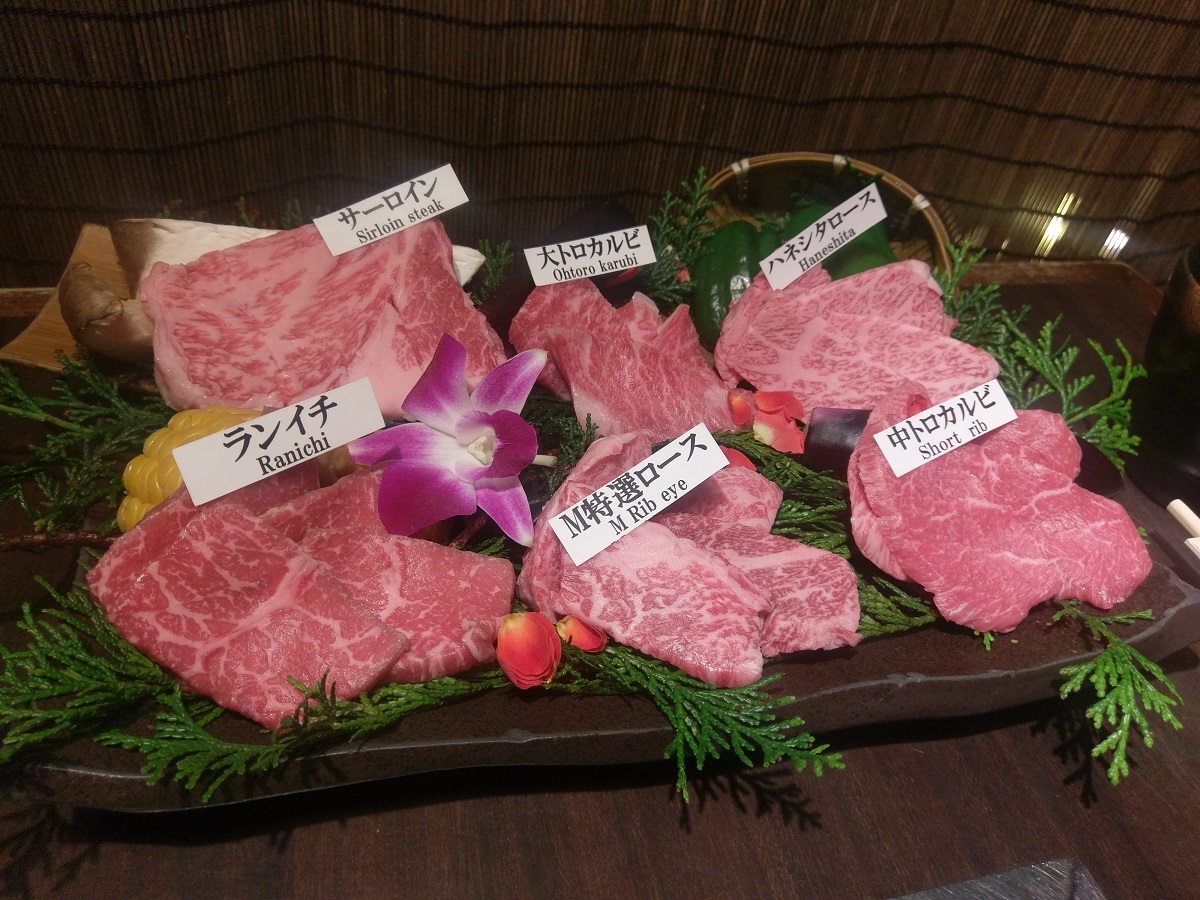 It's a DIY place. You have to BBQ the beef yourself. They give you a general guideline though – around 15 seconds is enough.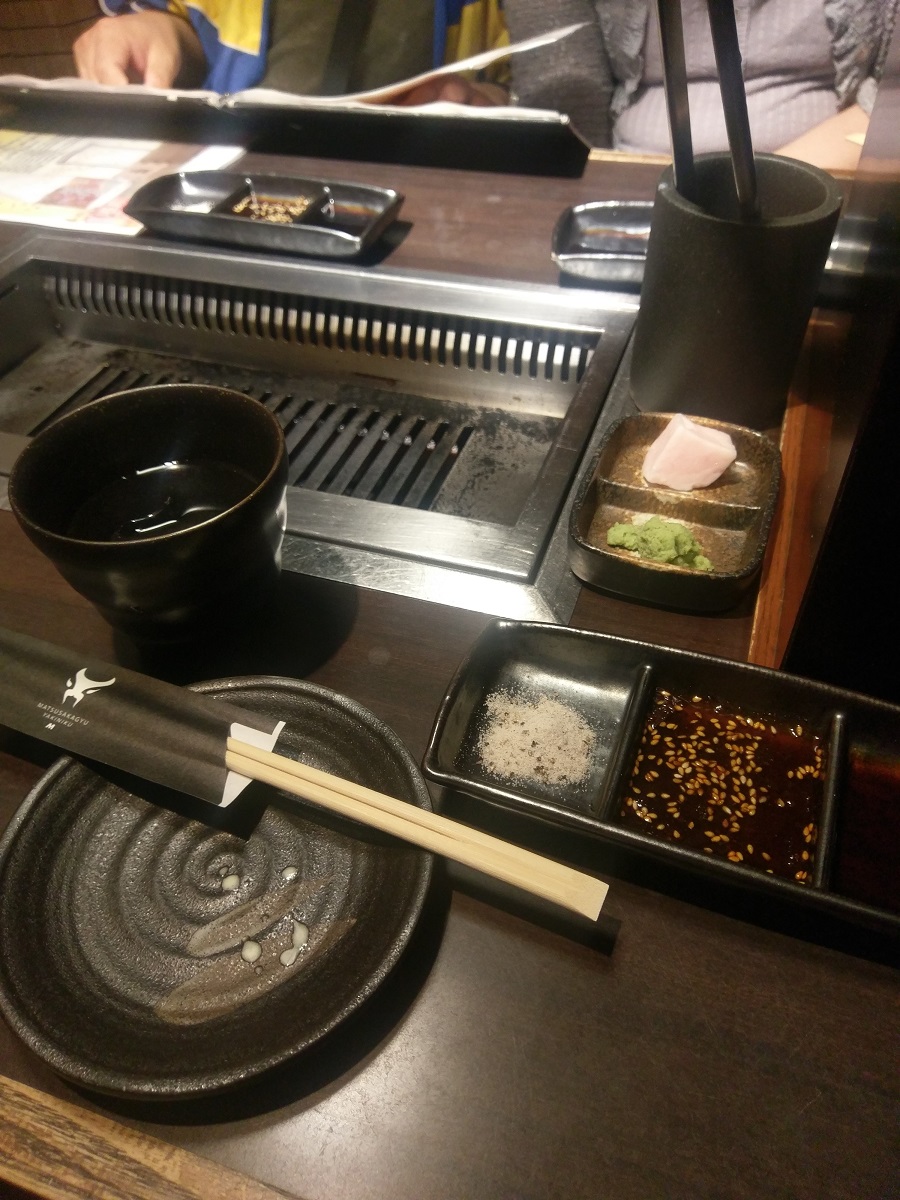 This is the 'oil' you use to prevent the meat from sticking to the grill… a large piece of beef cholesterol.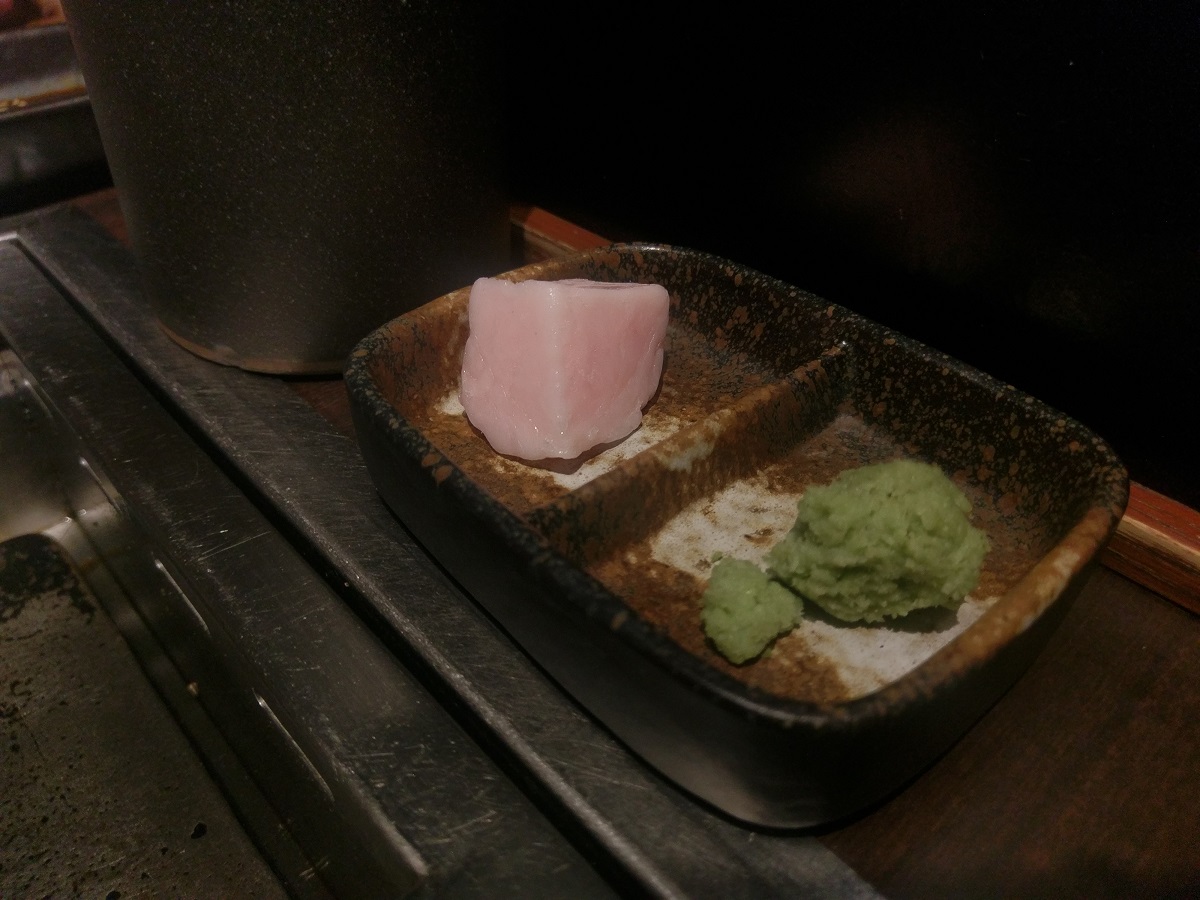 We had dessert pretty much every day. And we had Pablo more than once. This is my absolute favourite place in Osaka. For 700 yen, you can get the most delicious cheesecake I have ever tasted in my life! I'm pretty sure you can't say the same for many other places.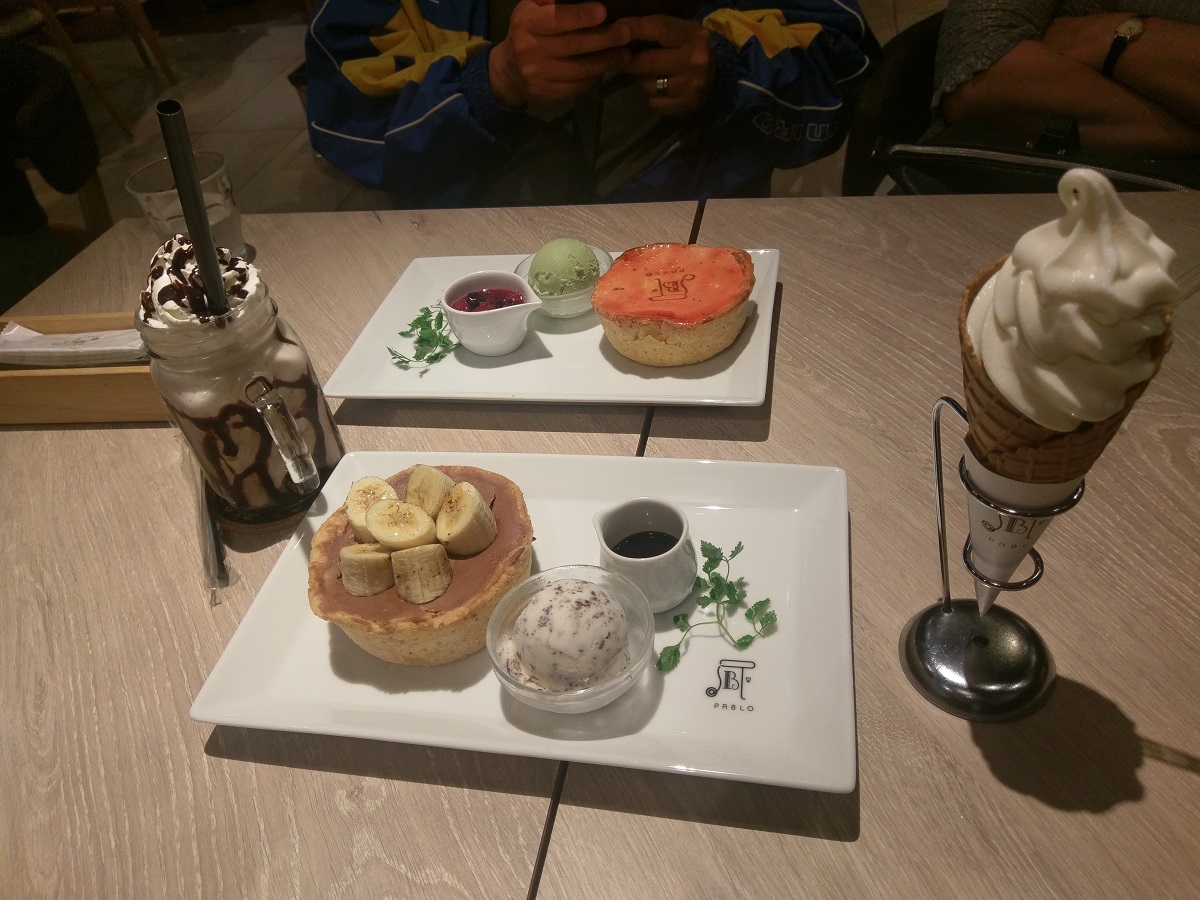 Before leaving Osaka, I bought (among many things) a Starbucks tumbler to take home with me. I really like the Starbucks designs that they have in Japan. Each city is beautifully represented by unique colours and drawings.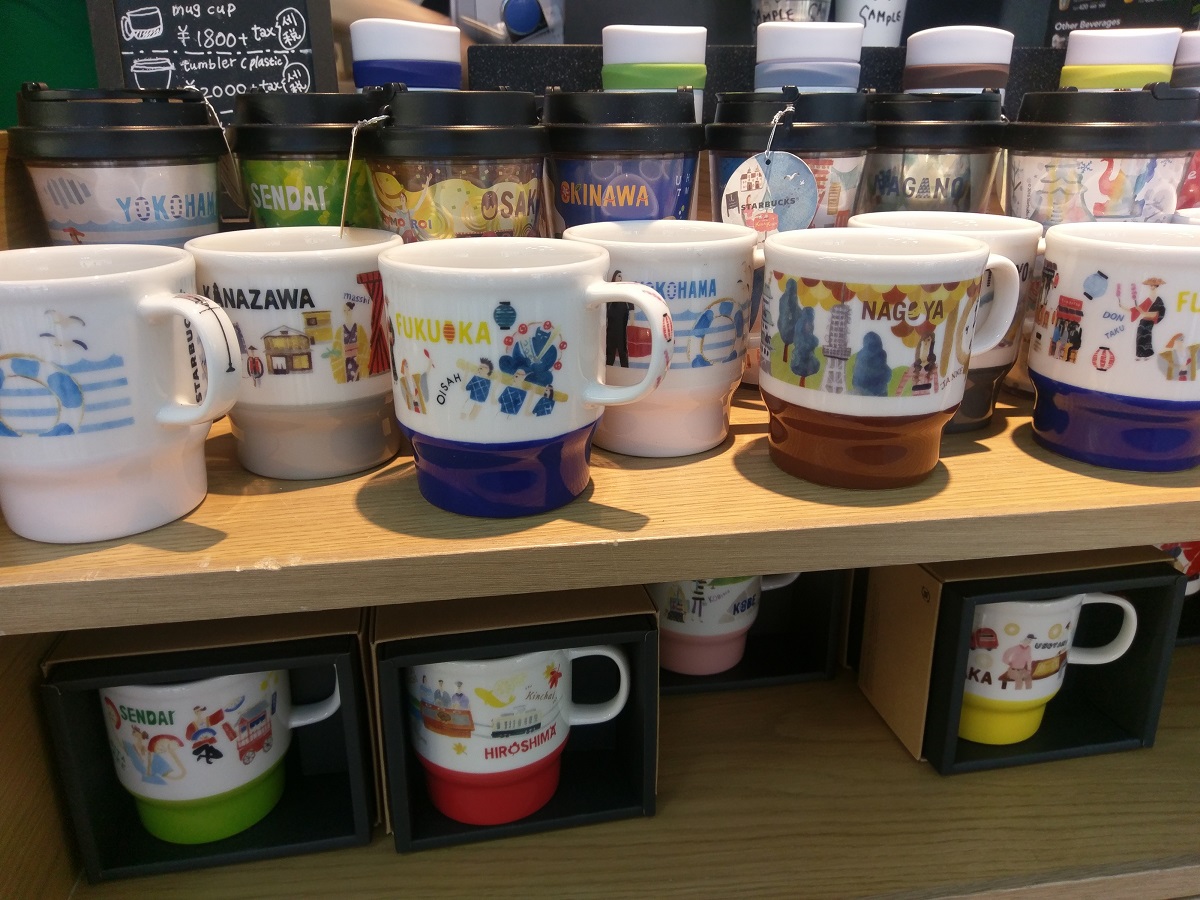 This year is the year where I'm finally done with studying, and I'm starting to take advantage of my employee perks of working at an airline. It makes me realize that it's actually quite easy and inexpensive for me to take a vacation! So don't worry, even though four days in Osaka is not nearly enough, I can easily jump on a flight at any time.
Also a quick update before I go. July has certainly been different for me. I'm suddenly back in the office, away from airplanes, and forced into a 9-to-6 life. There are always pros and cons. No more night shifts, which is much better for me in the long run, but also no more sunrises to watch. No more of being free on random weekdays, but it's also easier to meet up with friends who also work in an office environment. I'm still slowly learning about the processes that go on in the office, and paperwork is not nearly as interesting as being on the front line, but as long as there are things to learn, I think my time is worthwhile.
I'll be heading to Vancouver for about a week during the last week of August, again flying with my company. Tickets are very cheap for me, so that's good. The downside is that I'm running out of days off to take, so any other extended vacation will have to wait until next year!
After working in Hong Kong for two years, I'm finally moving into my own place! The apartment is currently under renovations and will be ready by mid-August. After that, it'll be a lot of furniture shopping and setting up. I'm hoping I can be fully moved by the end up September.
We've been lucky to have lots of rain this summer. It's not quite as hot as usual, although I know it's still too early to say. We'll see how August goes!