It's been a while since Osaka and my late post about it. Like I said, I've been back in the office for a while, and while there are both ups and downs, I definitely miss the life of shift work. Recently I took two trips, and they were both forced to be quite short because I don't have as many days off as before.
Vancouver was, well, the usual. If I had a good two weeks or so in Vancouver, I'd be able to go around to my favourite spots, spend a bit of time just enjoying the weather/writing, and then I'd come back to tell you about it. This time, like most of my trips home nowadays, I spent almost every minute seeing someone to catch up. There's just too much at home to treat it like "just another vacation". Most importantly, I attended a wedding of a pair of good friends of mine since high school. My short week there was stressful, if anything. I waited at the airport for 3 days and couldn't catch a flight until the third day of standby, and even lost my wallet in the process. (Just for the record, I have literally never lost my wallet before… the money isn't even the issue, it's all the other cards that I need to reapply to get back that is the biggest stressor!). In the end however, I'm just grateful that I was able to catch my friend's wedding. This marks the beginning of a new page in my life as well – the first close friend of mine getting married!
The real adventure I want to talk about is my most recent trip to Taiwan – in fact, so recent that I only just got back yesterday! This trip was organized by the hiking club in my company, and the club funds for all your expenses on the mountain (lodging, trail fee, tour guide, food). You only need to pay for your plane ticket (which is cheap for us) and whatever else (say, if you want to stay an extra few days in the city). For me, that meant a $400 HKD standby ticket to TPE, and one night at a hostel for $228 HKD. Good deal!
Anyway, last year the club went to Yushan (the highest mountain in Taiwan at 3950m). They were planning on Mt. Fuji this year, but since Fuji is only open for a few months in the year, they decided on Xueshan instead. In case you don't know (I certainly didn't know before this trip), Xueshan is located in the mountain range somewhat between Taipei and Taichung, and is the second highest mountain in Taiwan at 3880m. Mt Fuji is at around 3700m, so after scaling this one, it would be my highest mountain yet.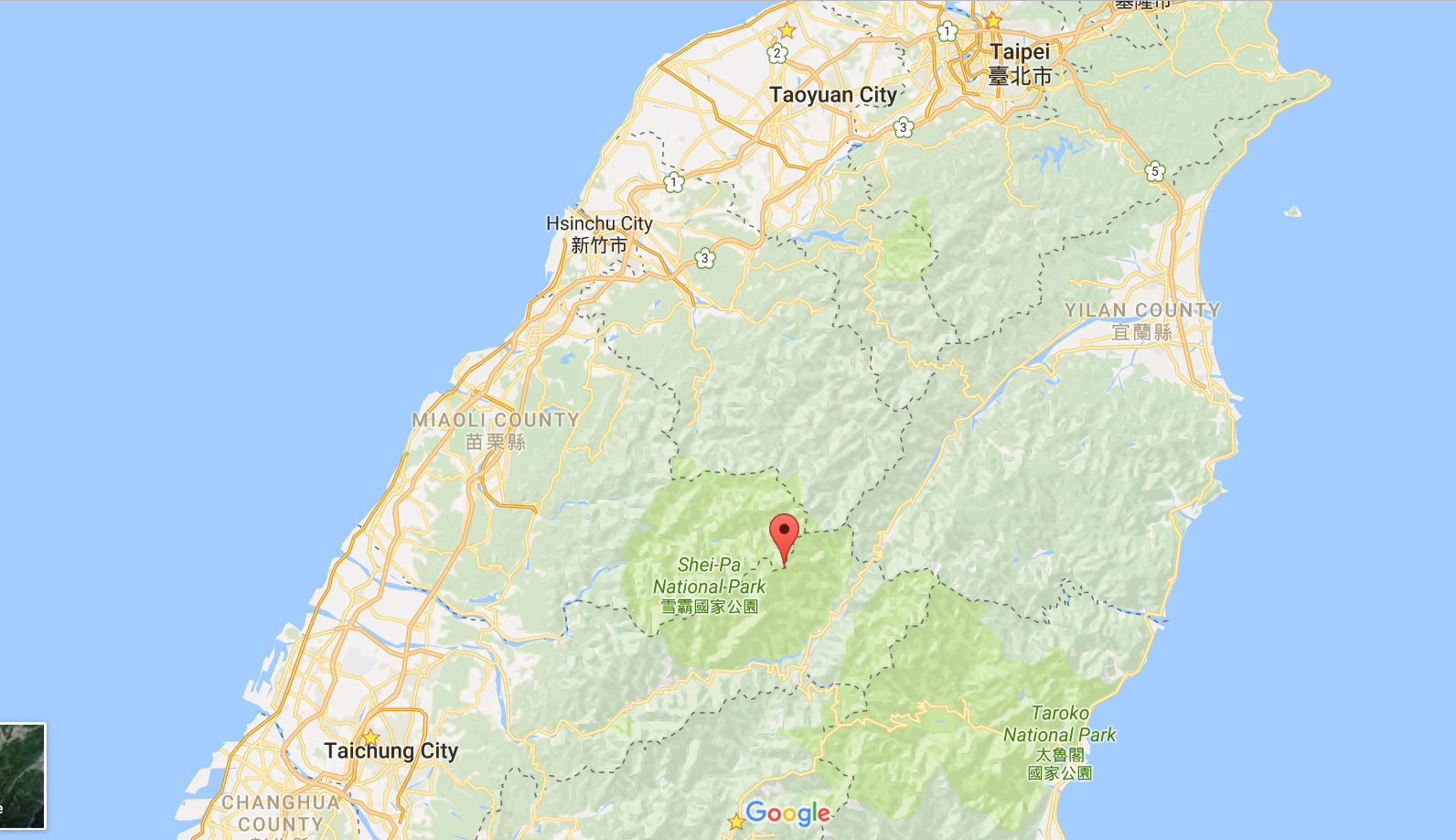 When I saw the email, I was pretty interested, but it's still hard to kick yourself to go when it's so far. You have to take days off and buy plane tickets and all that! But then a few coworkers also wanted to go, and once you have friends together, it makes the decision a lot easier. So yeah – that's why the trip was made in the first place. Otherwise, I don't think I'd ever just 'randomly' go on a hiking trip to this mountain.
We took the earliest flight to Taiwan that our company offered, which departed at around 9AM. The flight was looking a bit full, but with some luck we ended up on the empty business class seats! So on the short one hour flight to Taiwan, I had already eaten a hearty breakfast.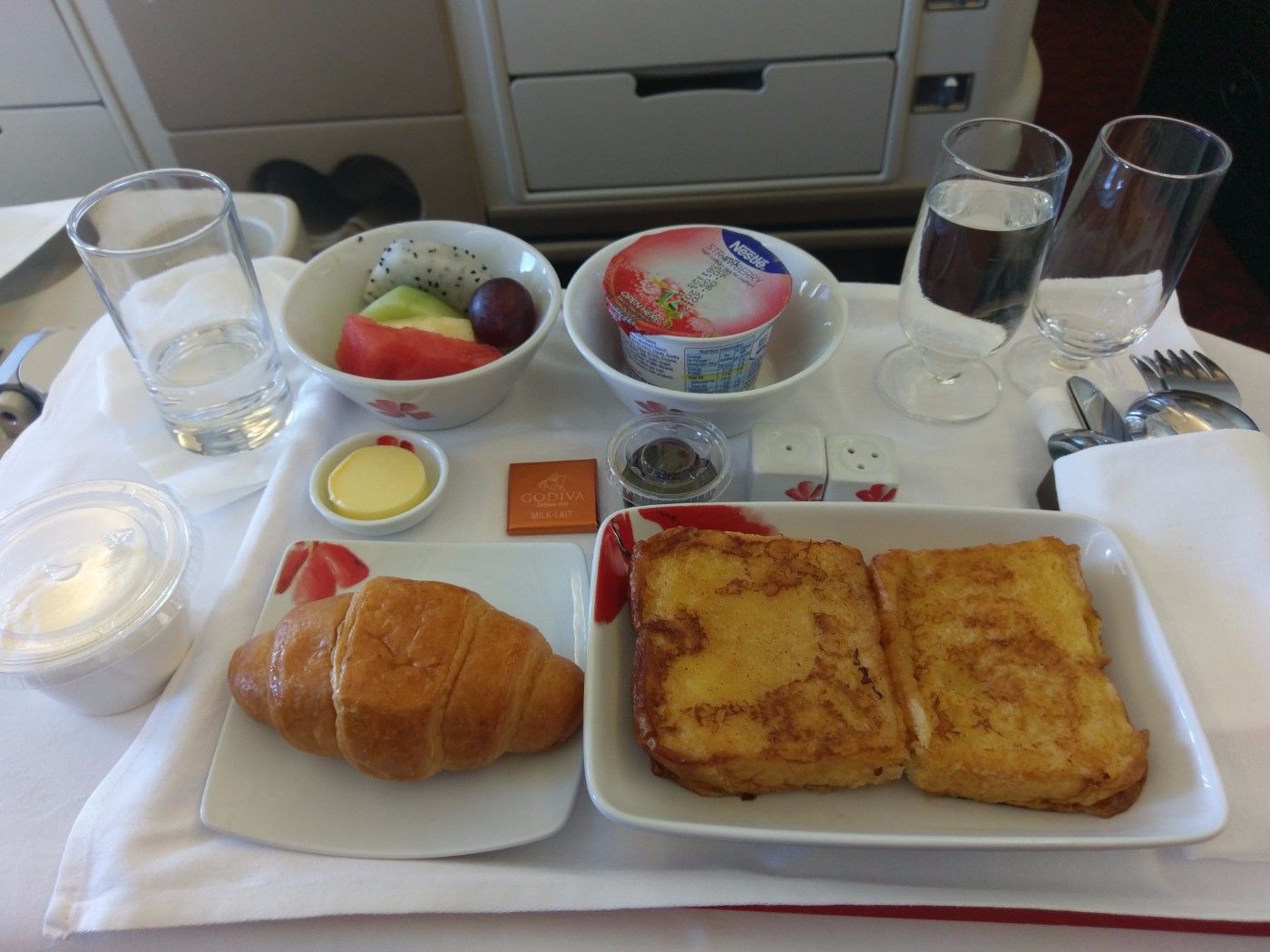 By the time we were past immigration and got our luggage and everything, it was close to noon. We got some money exchanged (the rate is 1 HKD to 3.69 NTD at the airport, which the market rate is closer to 1 : 3.8, so you might want to get money exchanged in advance) and bought SIM cards, and then we just sat around the food court for 4 hours.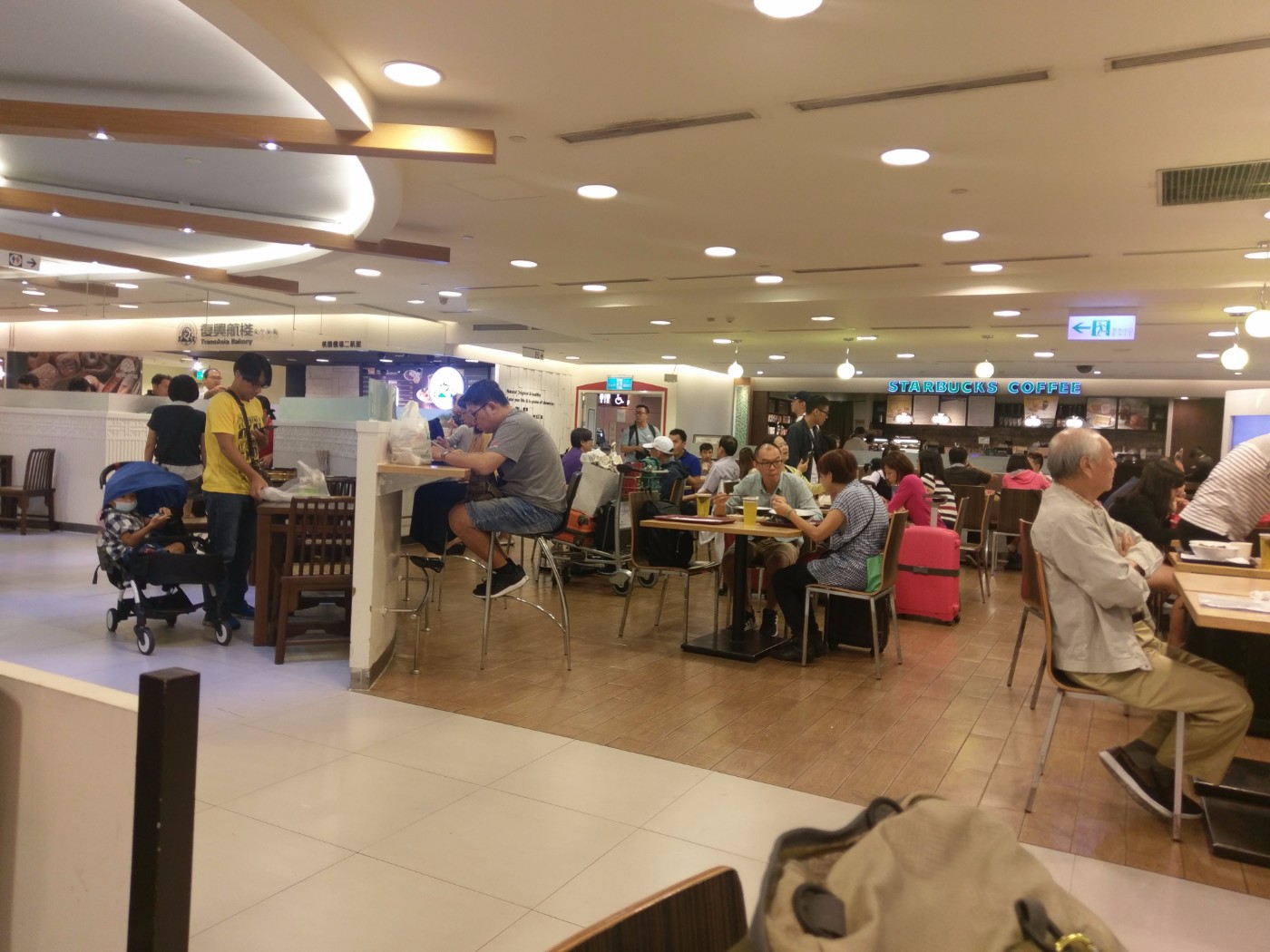 Even though airport food is generally overpriced compared to the city, the meals still felt cheap compared to Hong Kong. I was actually quite full after the meal on the plane… but once people around you start eating and you're stagnant for long enough, you feel hungry enough to eat again. I had these soft boiled eggs from 7-11 (the best!) and a small meal of 魯肉飯 (minced pork rice – I believe I wrote about this during my previous trip to Taiwan too). I mean, I'm in Taiwan… might as well eat some local food?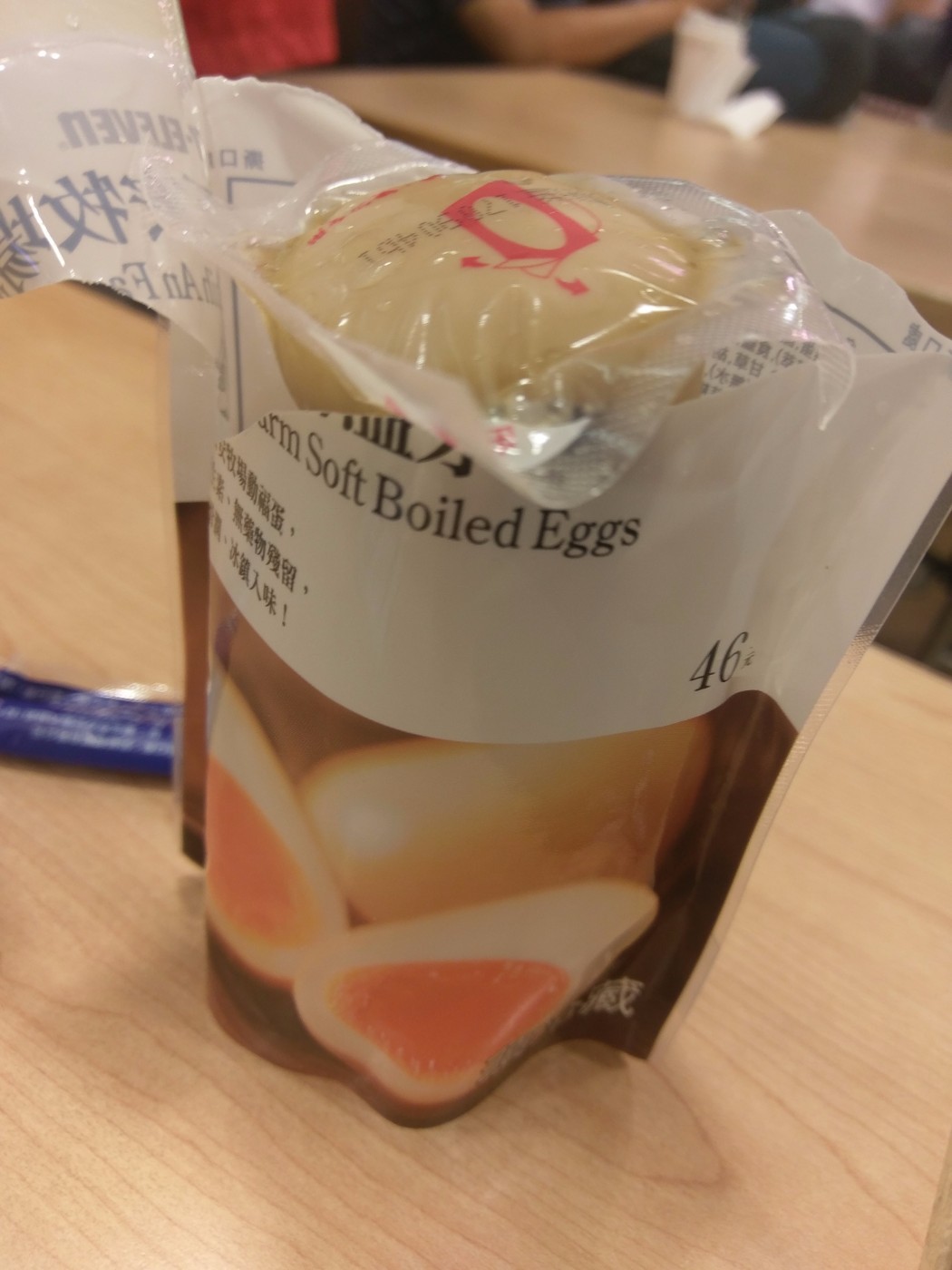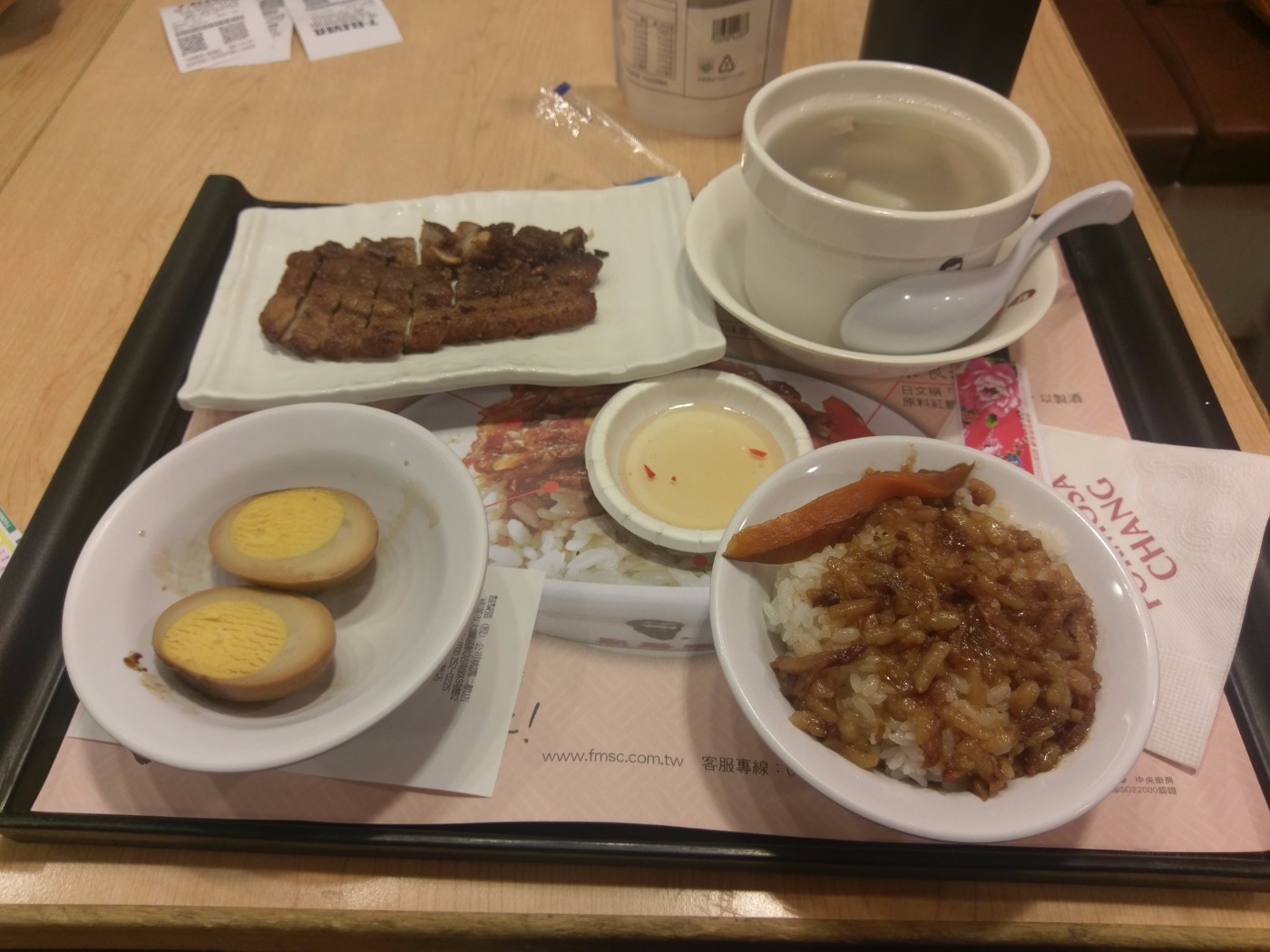 Then, the tour guide and the rest of our group all arrived at 4 PM, and we finally got on our bus to start our trip! Once I got on the bus, I slept straight away. Two hours later, I was woken up to find myself in Yilan, where we ate a nice local meal. If you're counting, that's already 3 full meals plus a couple of snacks, and all I've done so far is sit and sleep… that's not a good start!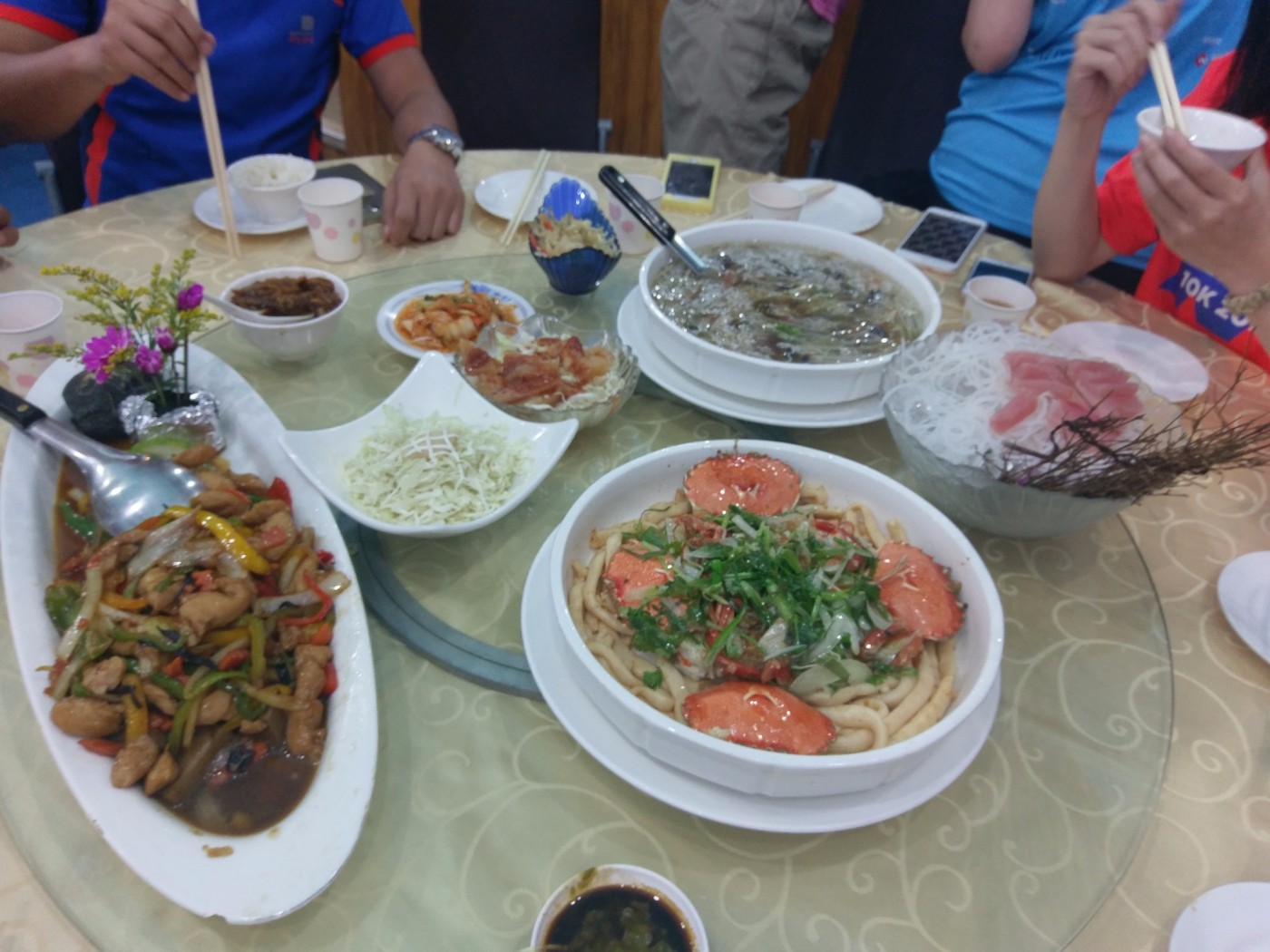 Yilan is quite a small city, with almost a village feel to it. It reminds me of some of the small suburban cities in China. It's not a place that I would plan on visiting, so I'm glad I had this opportunity to pass by.
Three more hours on the bus after dinner, and finally we got to the trail head at around 10 PM. The trail head is at an altitude of approximately 2100m. There is a cabin next to the start of the trail where they check your passports and make sure you paid the trail fee, and then they make you watch a video about the mountain. Mostly it's just rules of common courtesy and safety. Once that was all done, we started making our way up!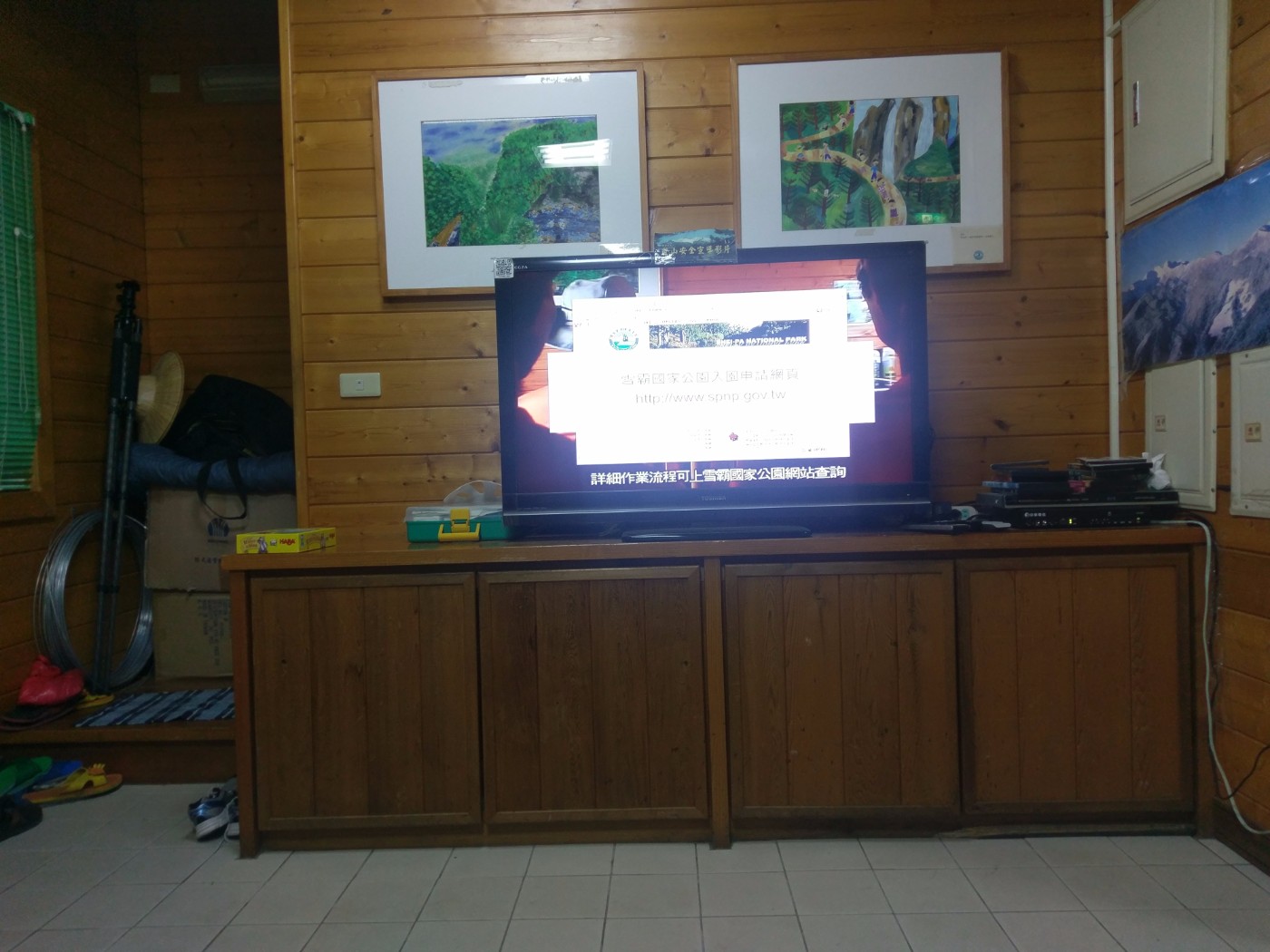 Two kilometers in, we found the Cika Cabin (elevation of 2400m), which is where we stayed the first evening. There wasn't much to do once we arrived – it was 1 AM and already all dark. We just went straight to bed.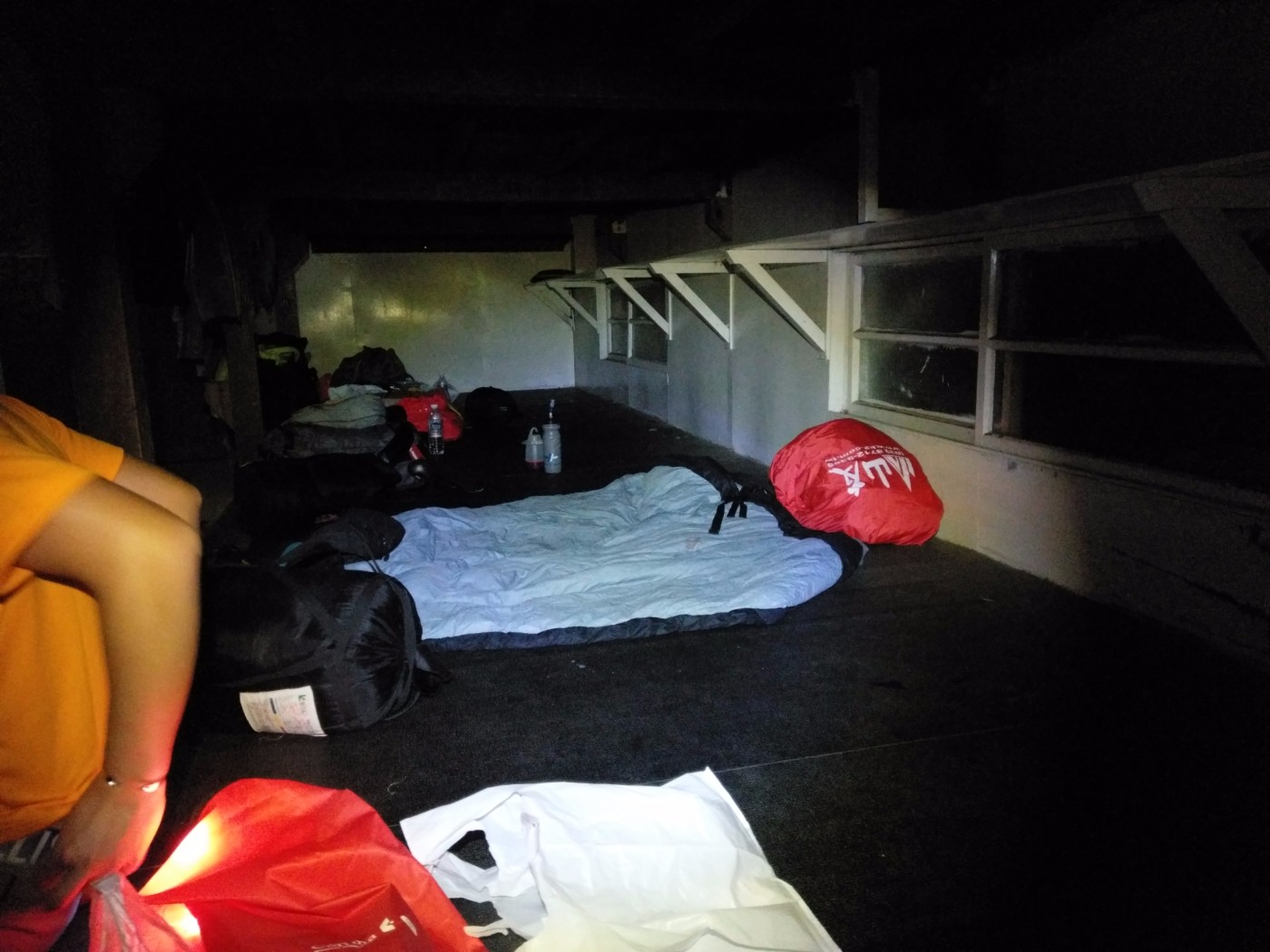 (By the way, along the entire route, there were many of these signs giving an introduction to the mountain and it's history. It seems like there is a lot of rich history left behind from the Japanese occupation.)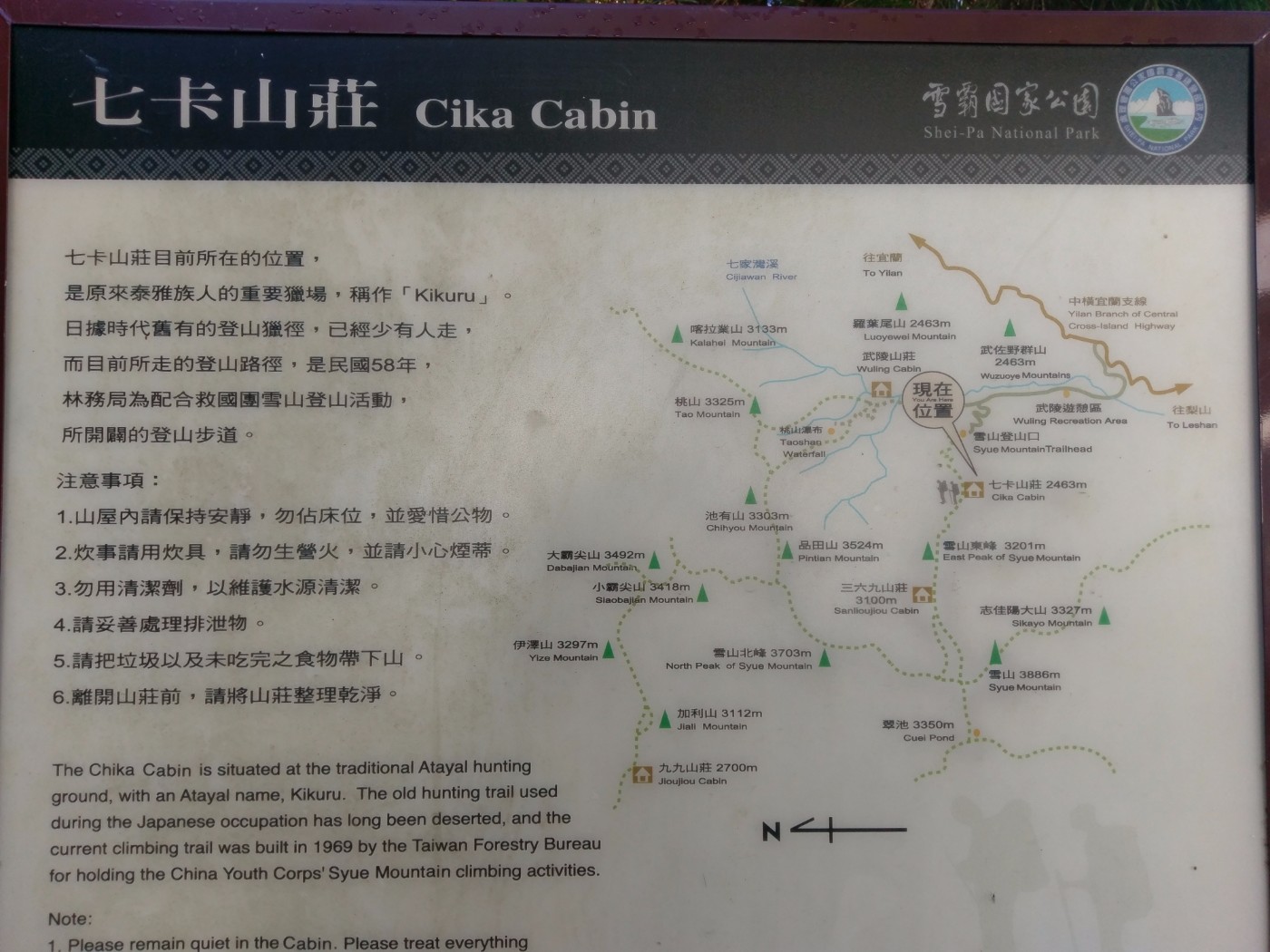 We were up at 7 AM the next morning for breakfast. The tour guide cooked a simple meal with the pots and pans that were there, and to be honest, I was quite amazed at how much food he produced out of (seemingly) nowhere.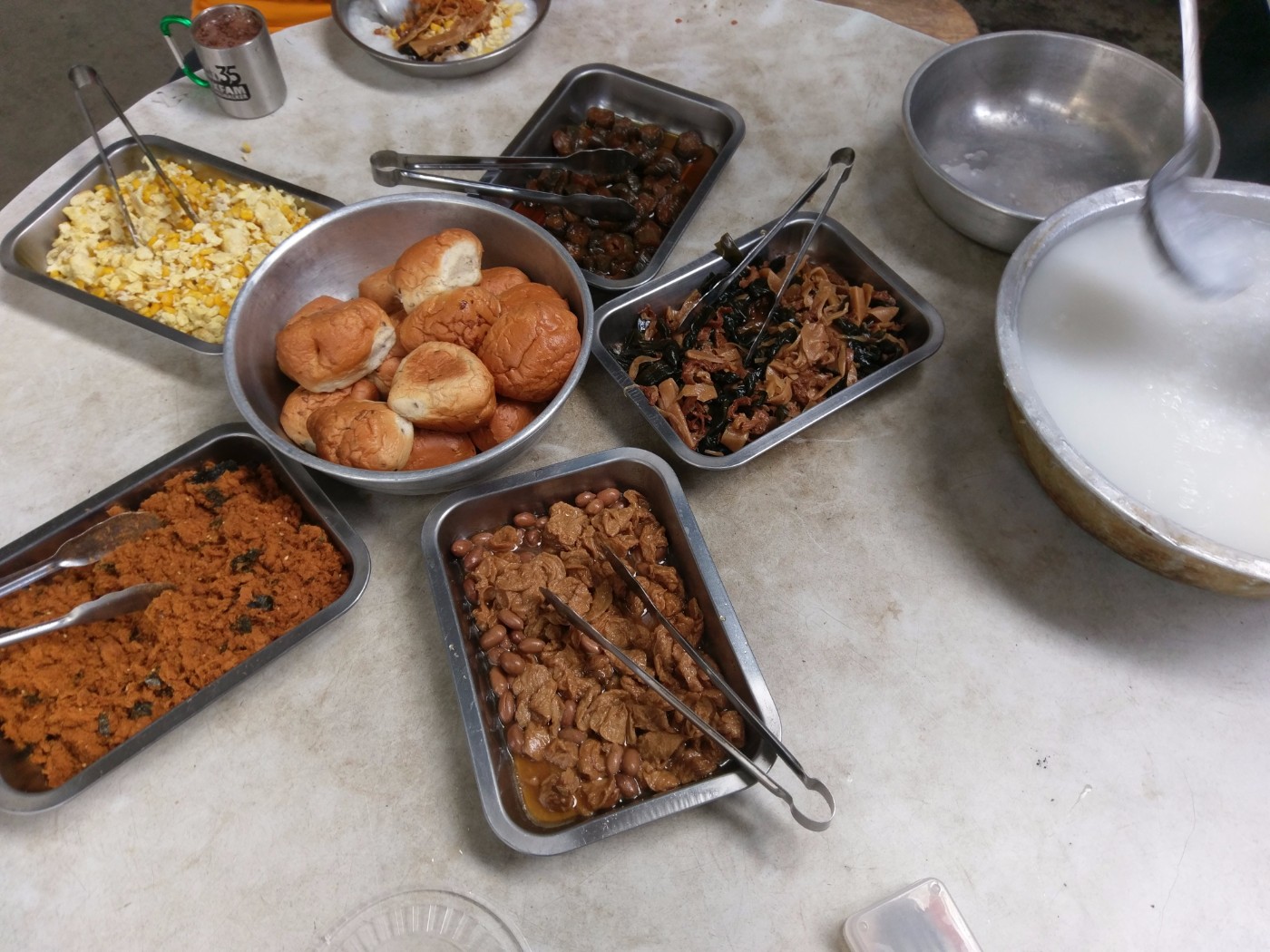 He even brought a bunch of instant powder drink mixes, so we had a good selection of coffee, ginger tea, milk tea, and hot chocolate. It's not a 5-star hotel, but it's much more than I expected up on a deserted mountain.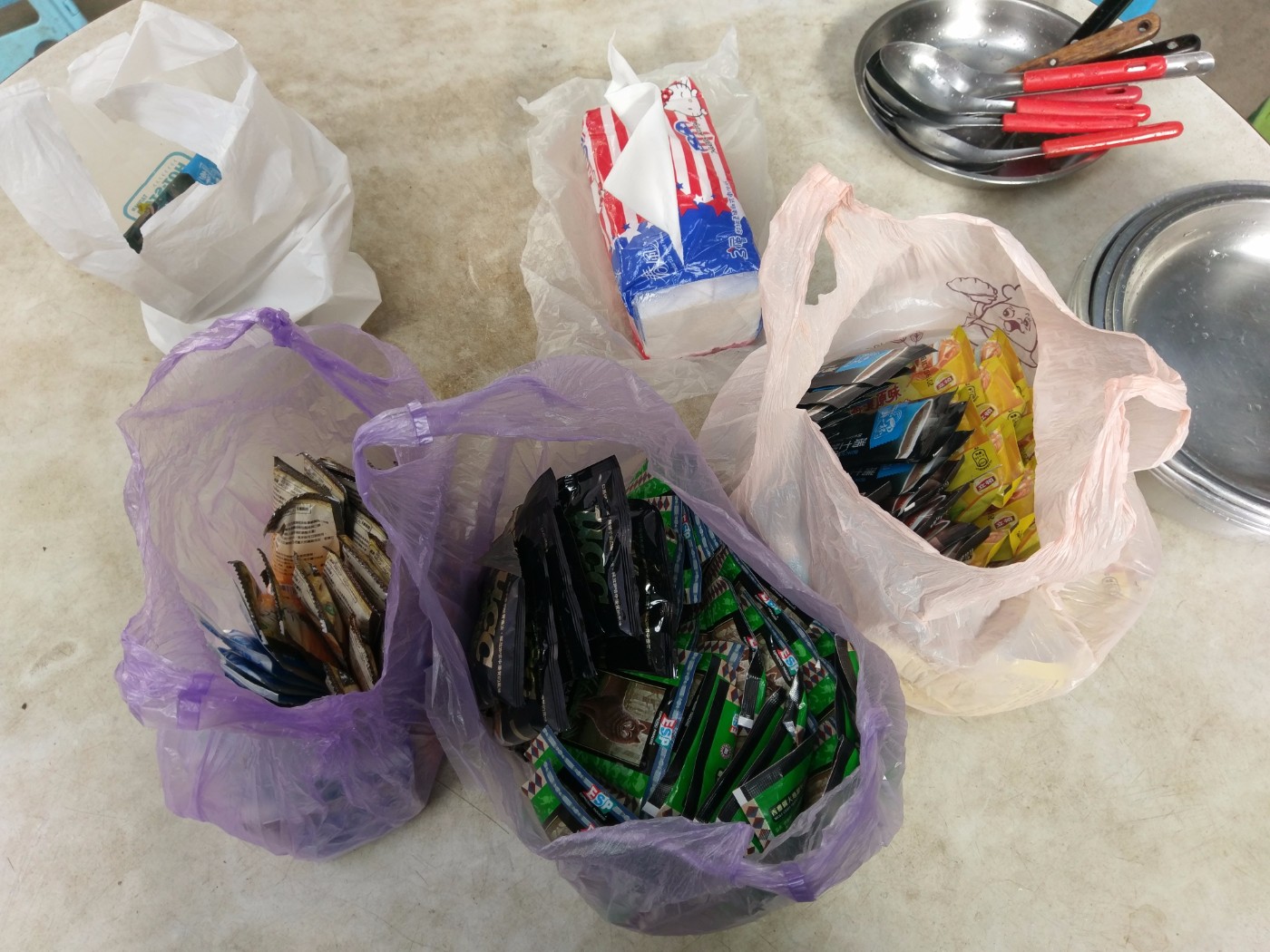 This is literally the most basic living experience I have ever encountered. You see and hear about it but you never actually witness this kind of living. Even when I went to camp when I was younger, we always brought gas stoves and a billion things to eat (because we had cars), or we would just drive out to a restaurant. There were washrooms and coin showers. Even on Mt. Fuji, I saw a lot of cars driving supplies up to the top of the mountain (it also shows how commercialized Mt Fuji has become!). Here on Xueshan, even fresh water is a scarce resource. It should come as no surprise that there were no flushable toilets, and food had to be cooked using these camping gas burners, but it was still eye-opening for me.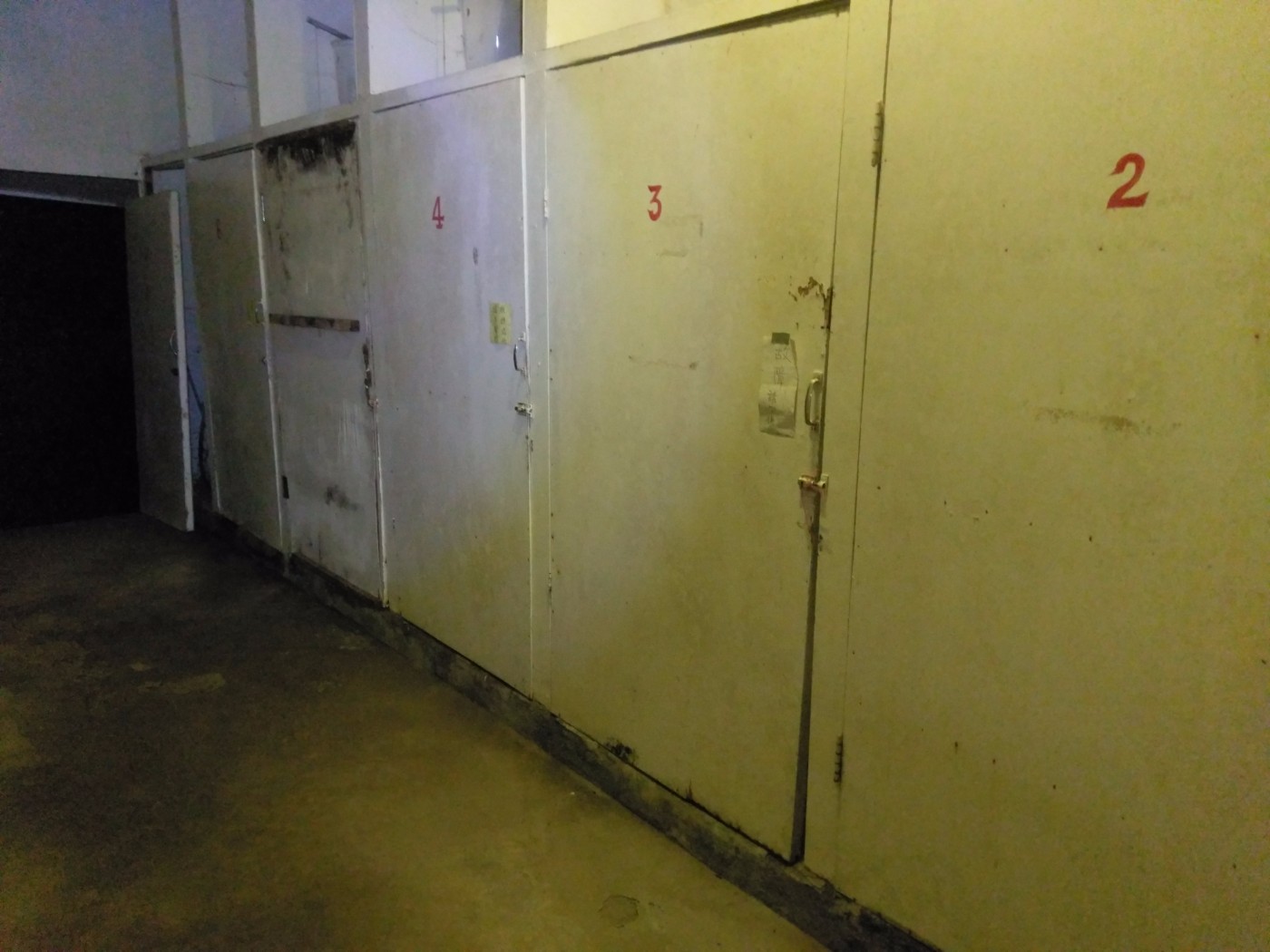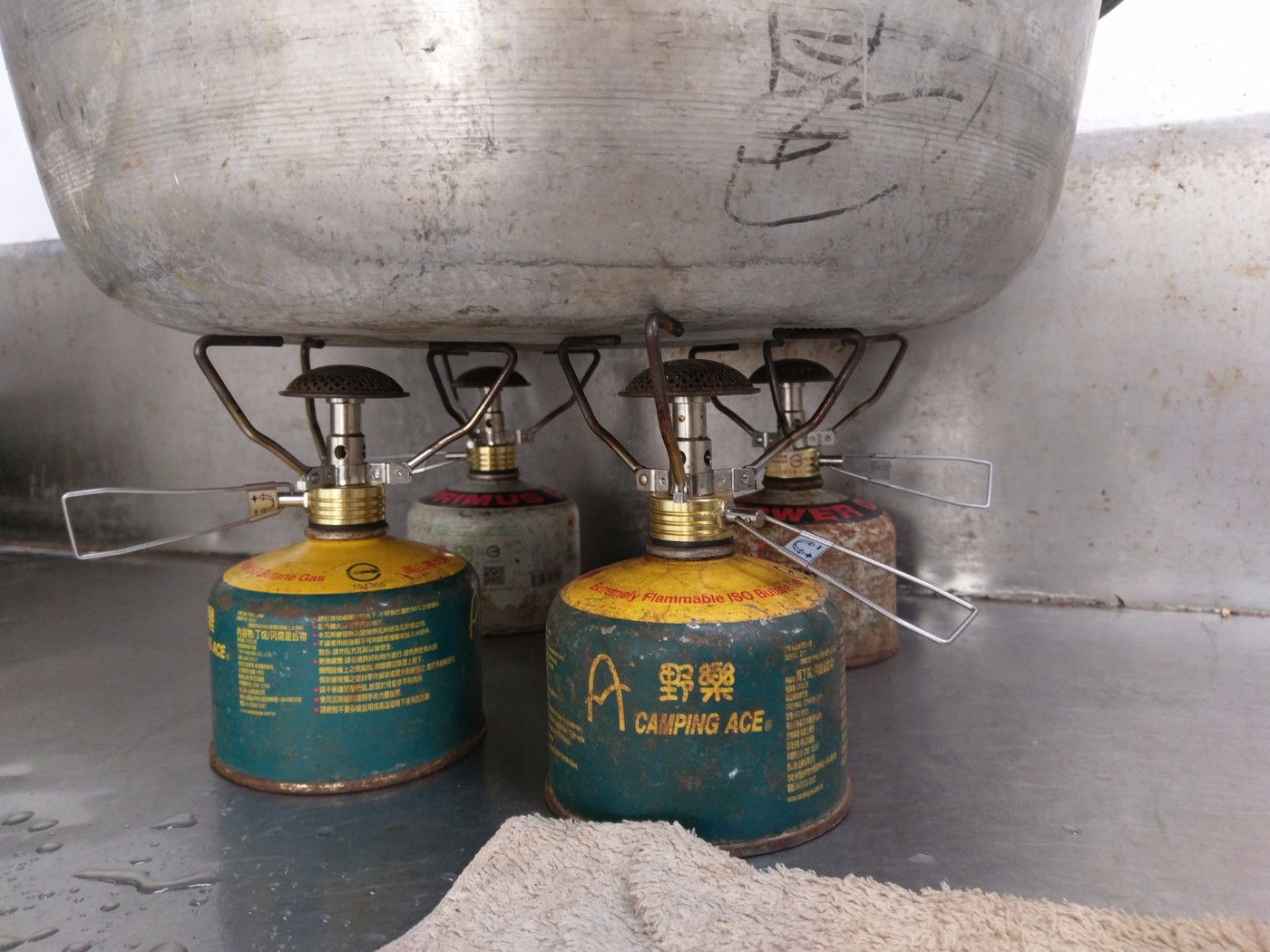 What should surprise you is the number of monkeys hanging around this area! They don't come too close when there are humans around, but you always see them lurking off in a distance. There are also notes at every door around the cabin, reminding you to close the doors behind you to prevent the monkeys from coming in and raiding your stuff.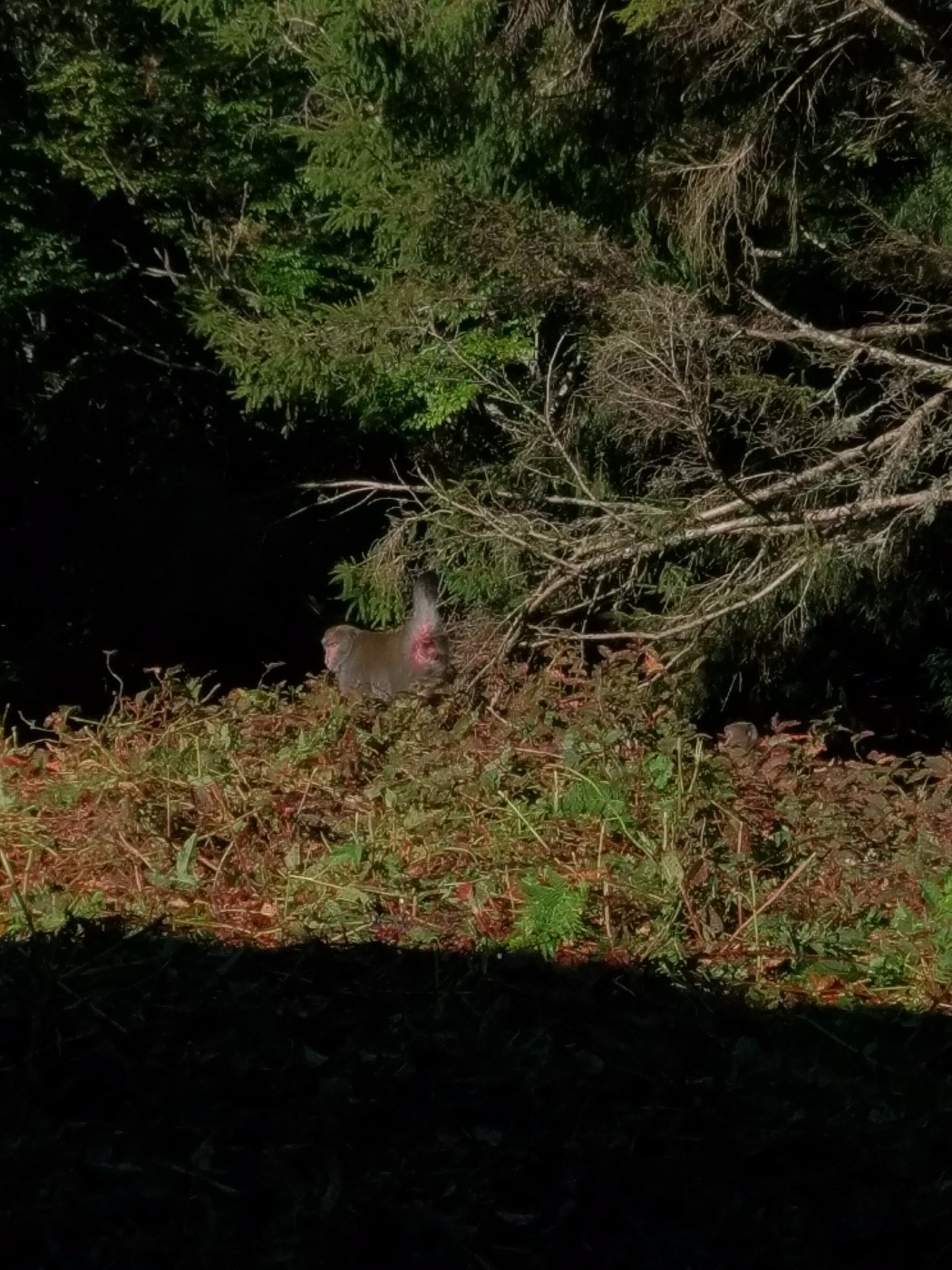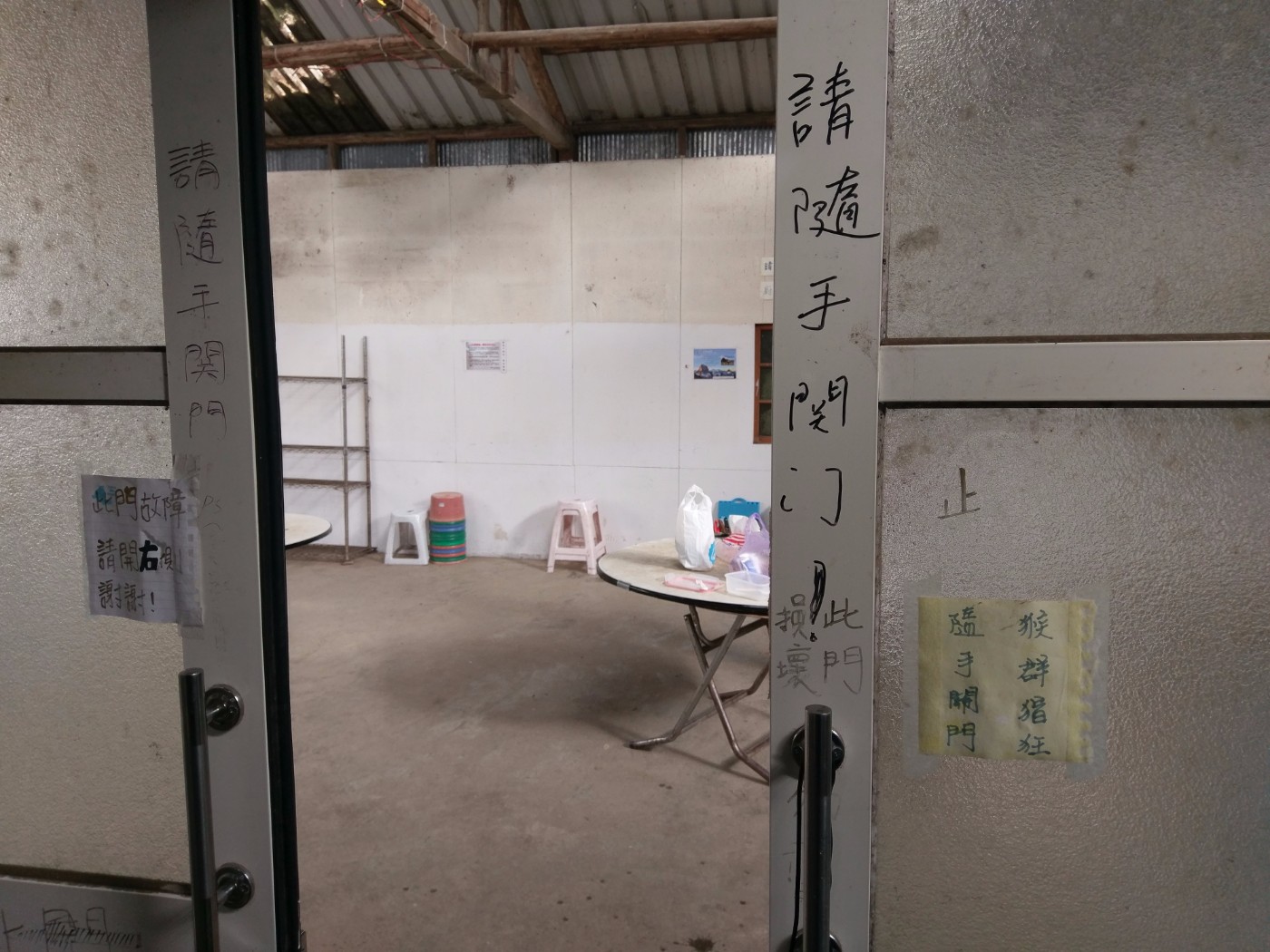 With the sun up and finally able to see the cabin, I took a few pictures here before leaving.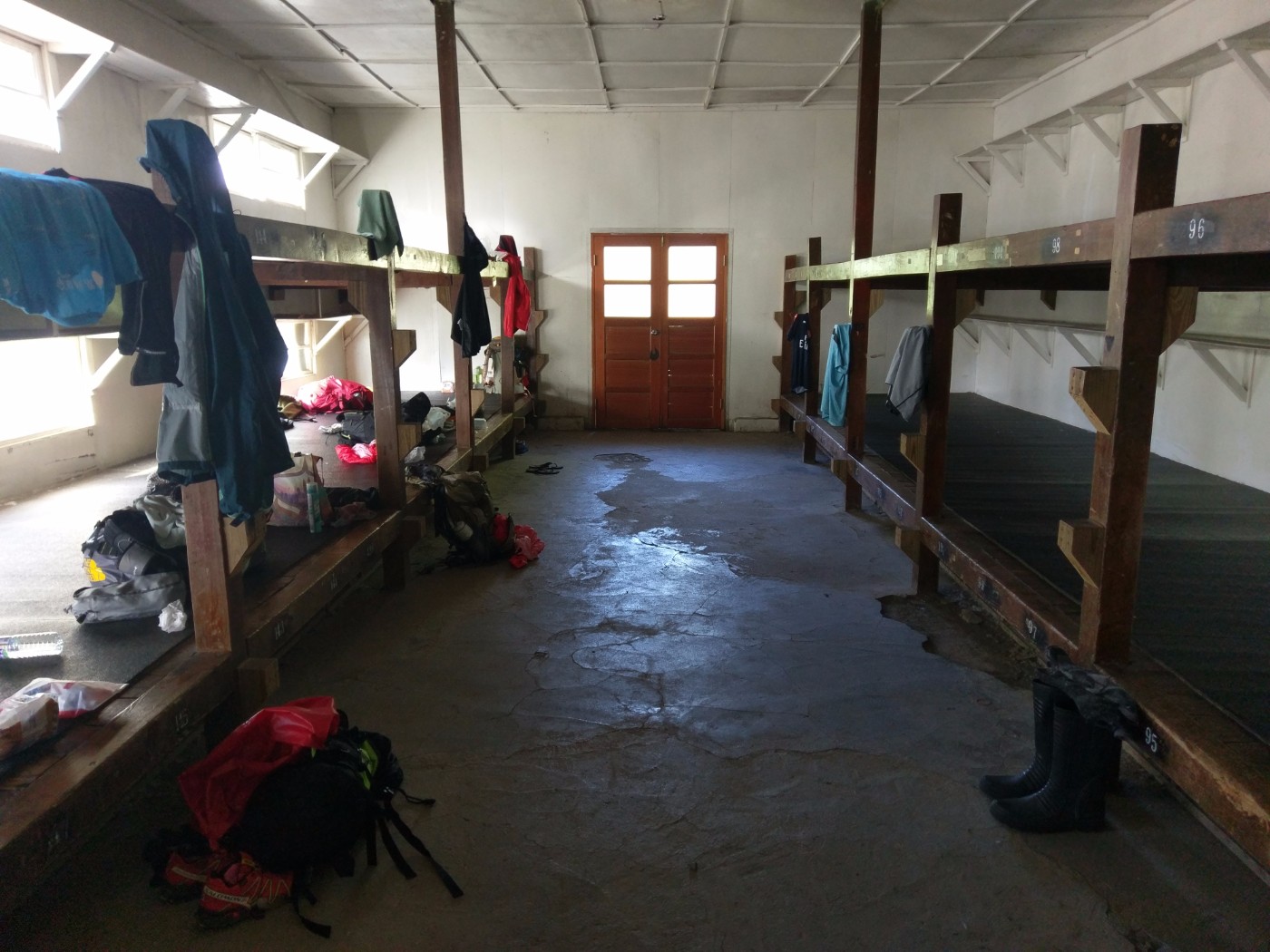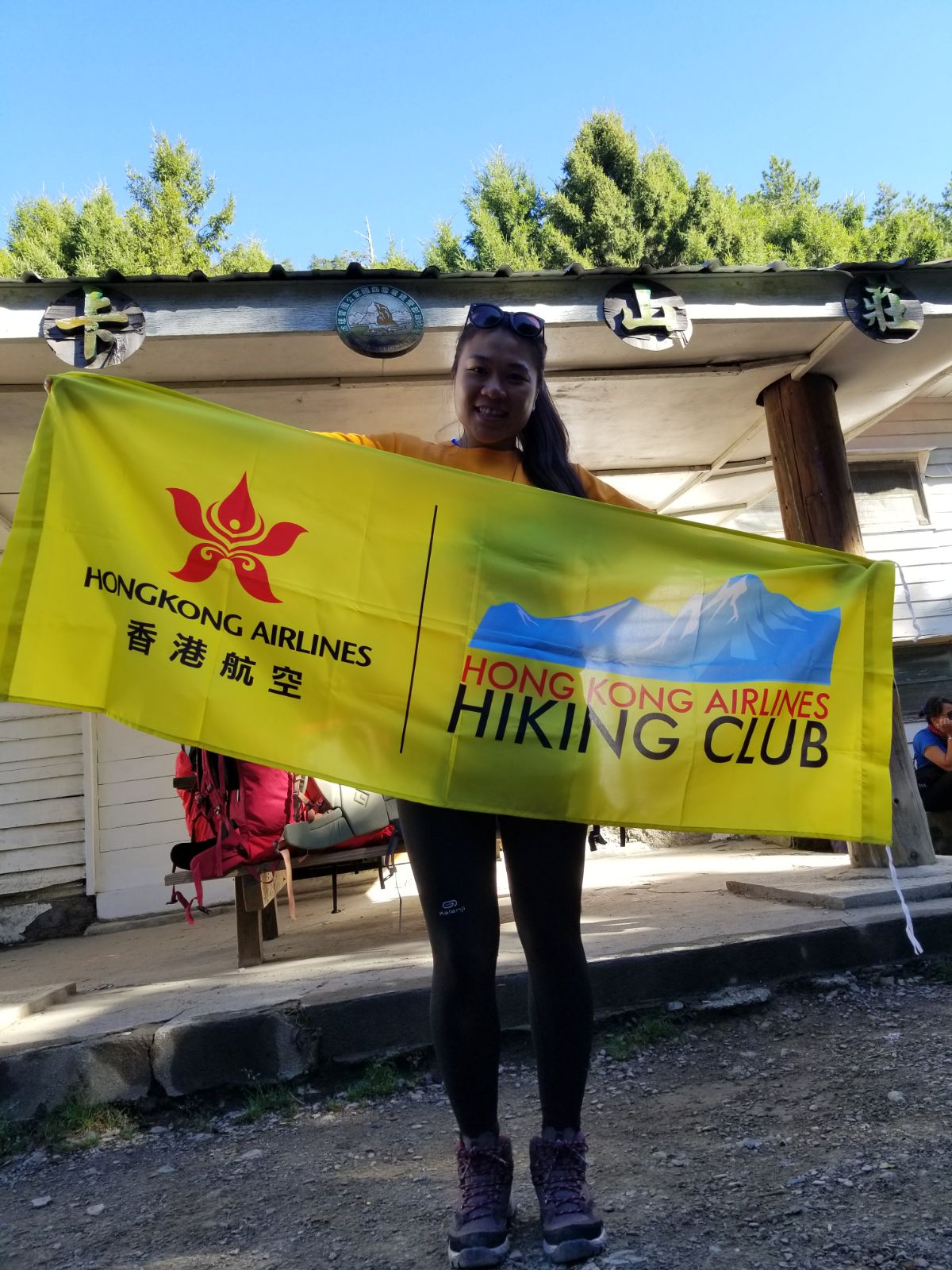 We were off hiking by 8 AM. From the Cika Cabin to the next cabin is a good 5 km hike. The path along the way is quite mixed. For the most part, it's a rocky trail. There are some sections that are into the forest, and you're under the shade of the trees. Other sections are completely uncovered, and the sun blazes down on you.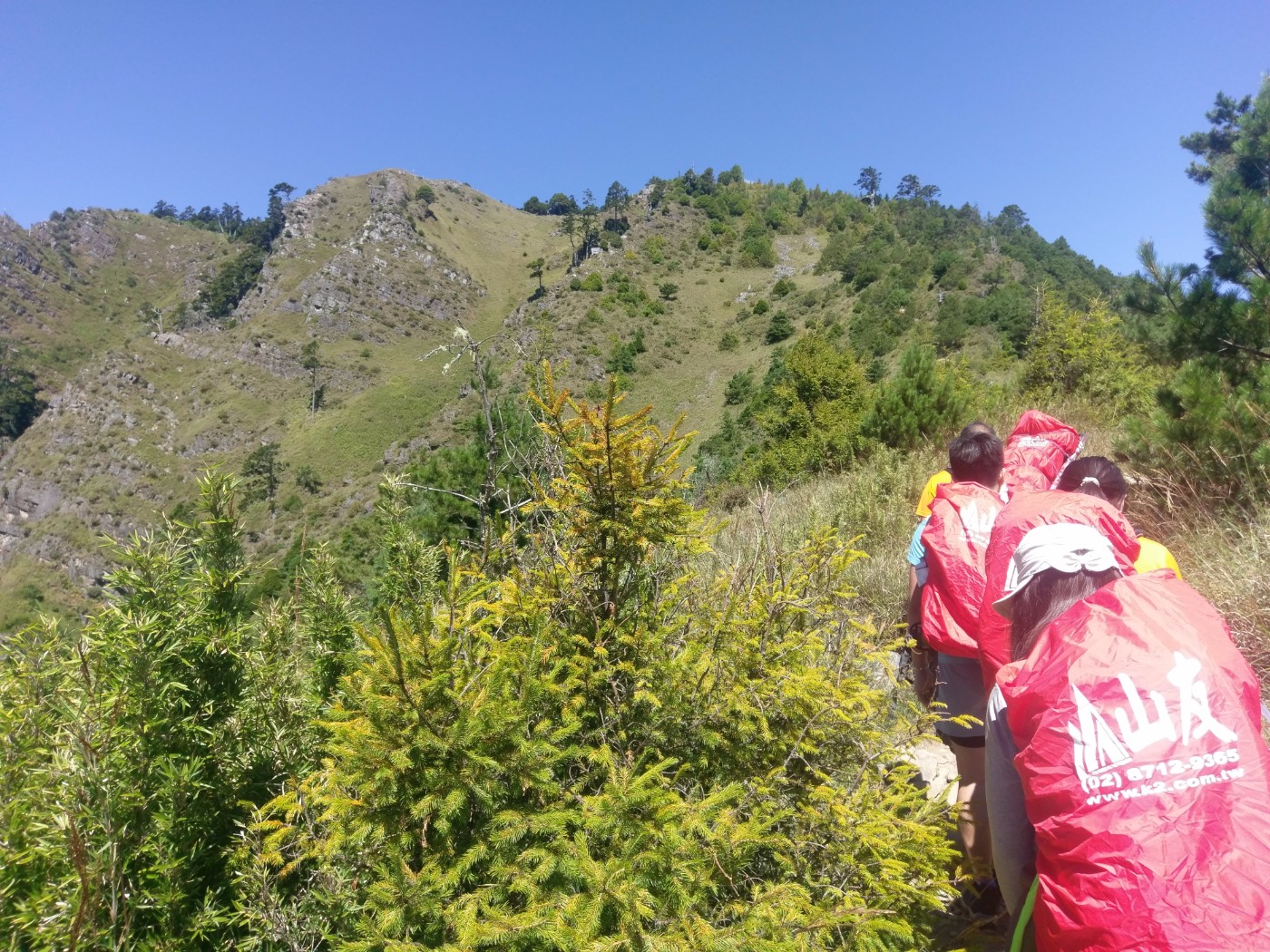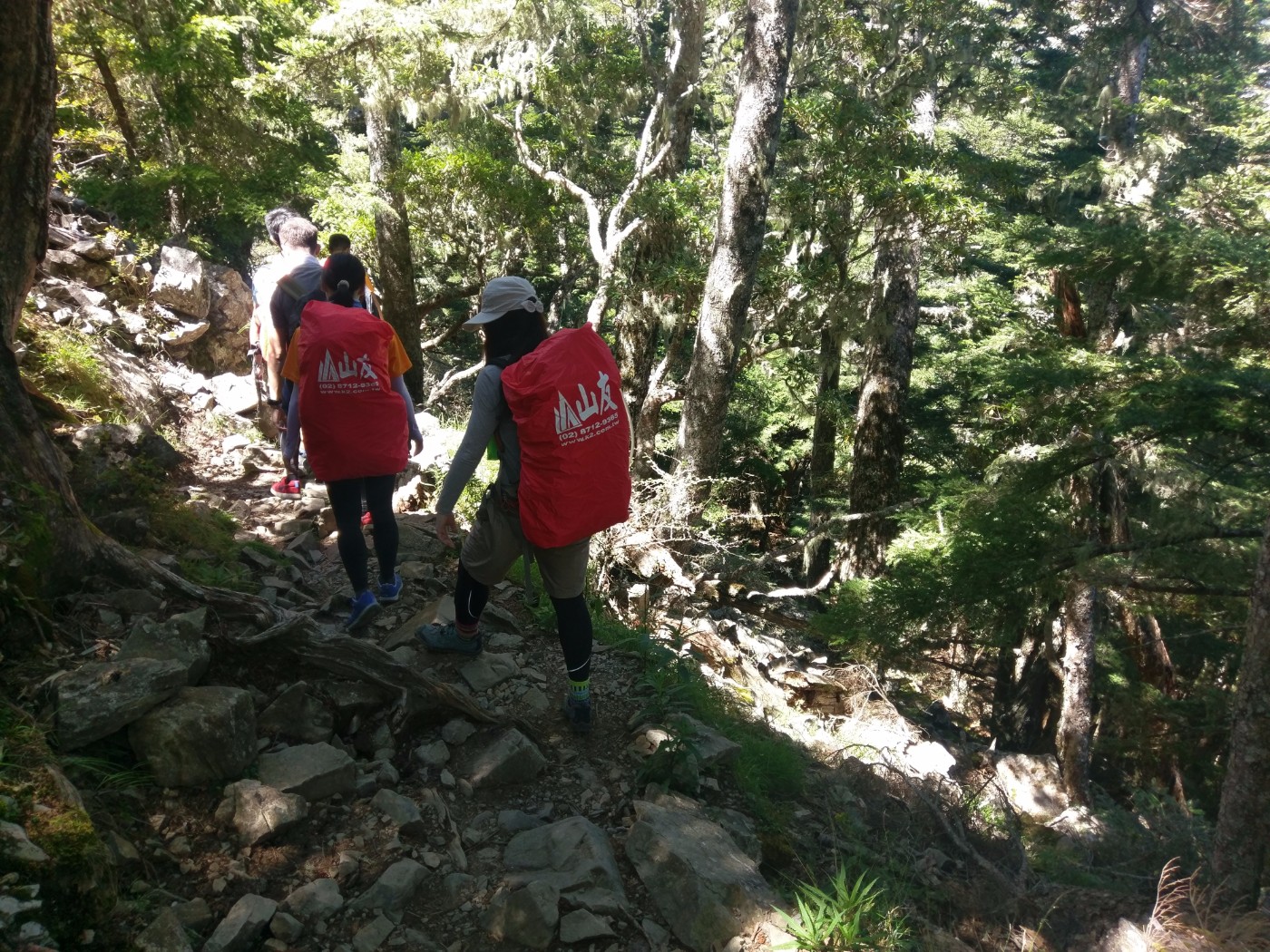 Along the way, there are also lots of markers telling you how far along the route you've gone (from the main trail head). The entire distance (one way) is 10.9 km, which is actually not that far. I hiked Garibaldi Lake in 2015, which is 9 km in one direction. Of course, the elevation gain of Xueshan is a lot more intense (from 2100m to 3800m) compared to Garibaldi Lake (around 800m total elevation gain).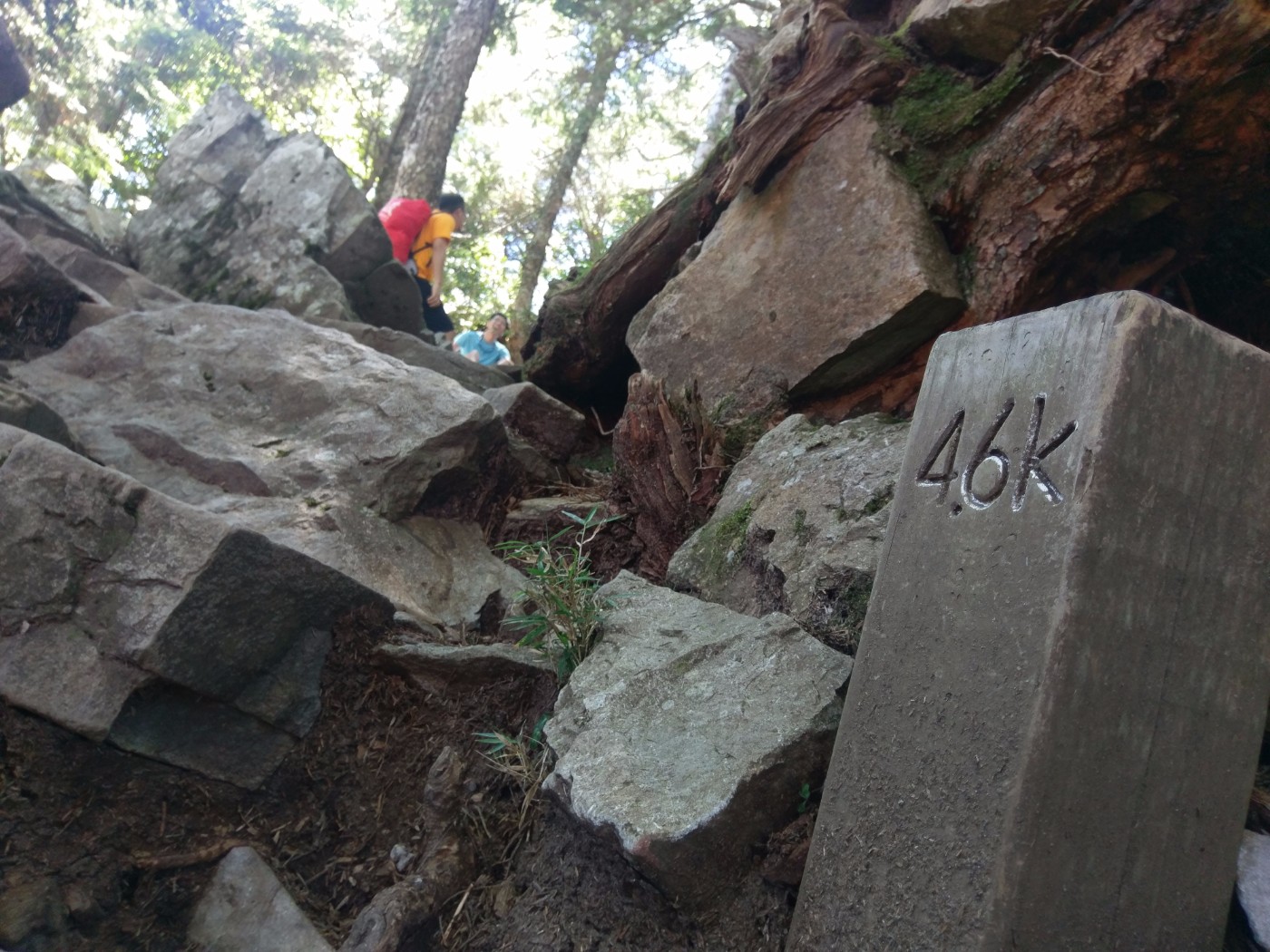 When you're down in the main cities of Taiwan, the air is a bit humid, and it feels a bit like Hong Kong. But up on the mountain, there is absolutely no humidity. The sun is scorching, but it is a raw kind of hot. The air feels fresh. It is a very comfortable walk. That being said, I would still recommend putting a towel on your back inside your shirt. It feels cool before you start walking, but once you're on your uphill climb, you start sweating quite a bit. Not to mention that you don't get to shower for a couple of days…
If you look at the map of Taiwan, you'll see that the large cities only occupy a small portion of the entire area and they're concentrated on the west side. The rest of the area is all mountain ranges. So during our hike, that is literally all you see – other mountains.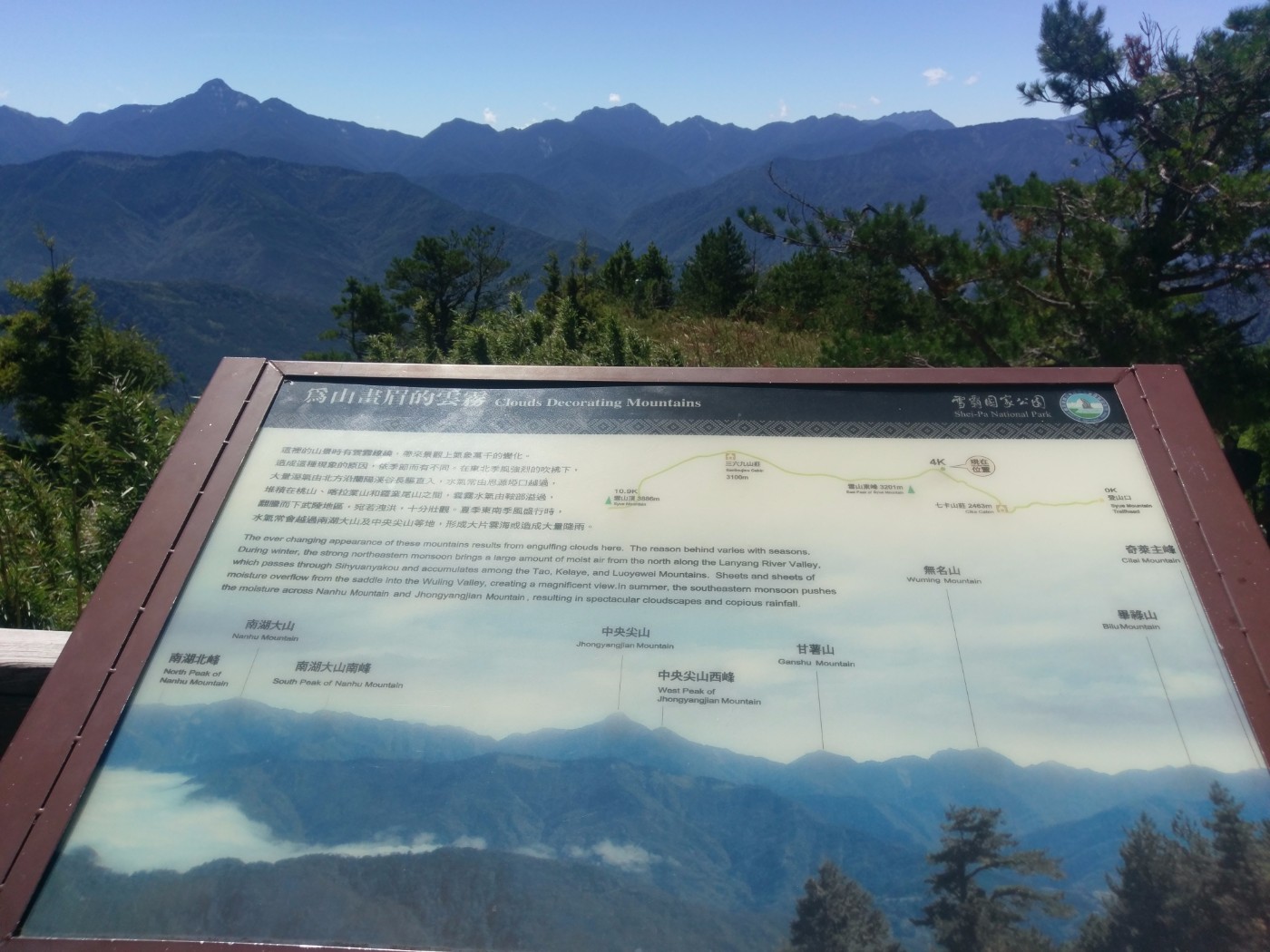 During this leg, you encounter the East Peak of Xueshan, which is at approximately the 5km mark and 3200m in elevation. After this point, you actually lose a bit of elevation to get to the next cabin before your last uphill climb to the peak. This East Peak is only a 2 minute deviation from the trail you have to take anyway, so most people would head over for a look.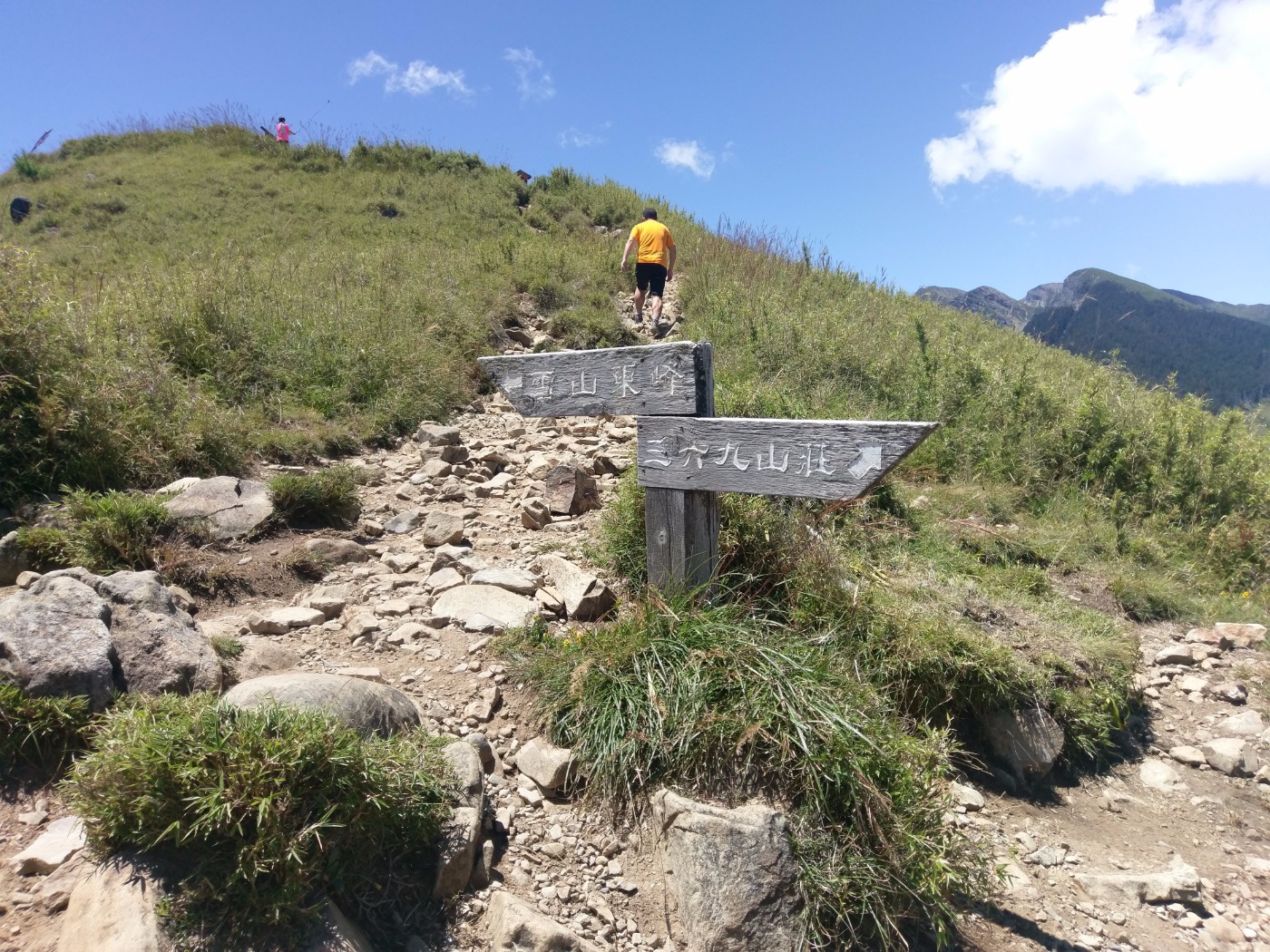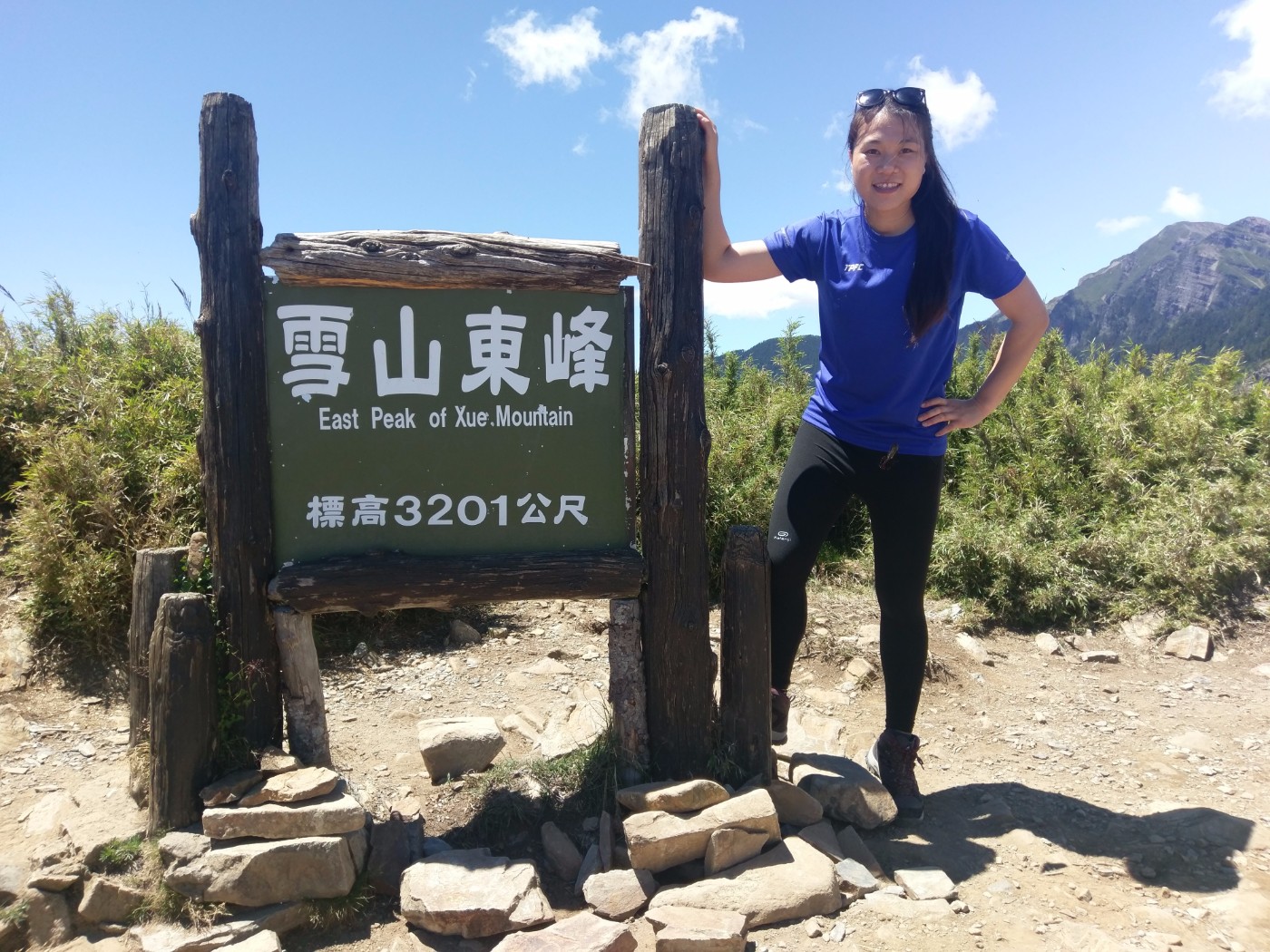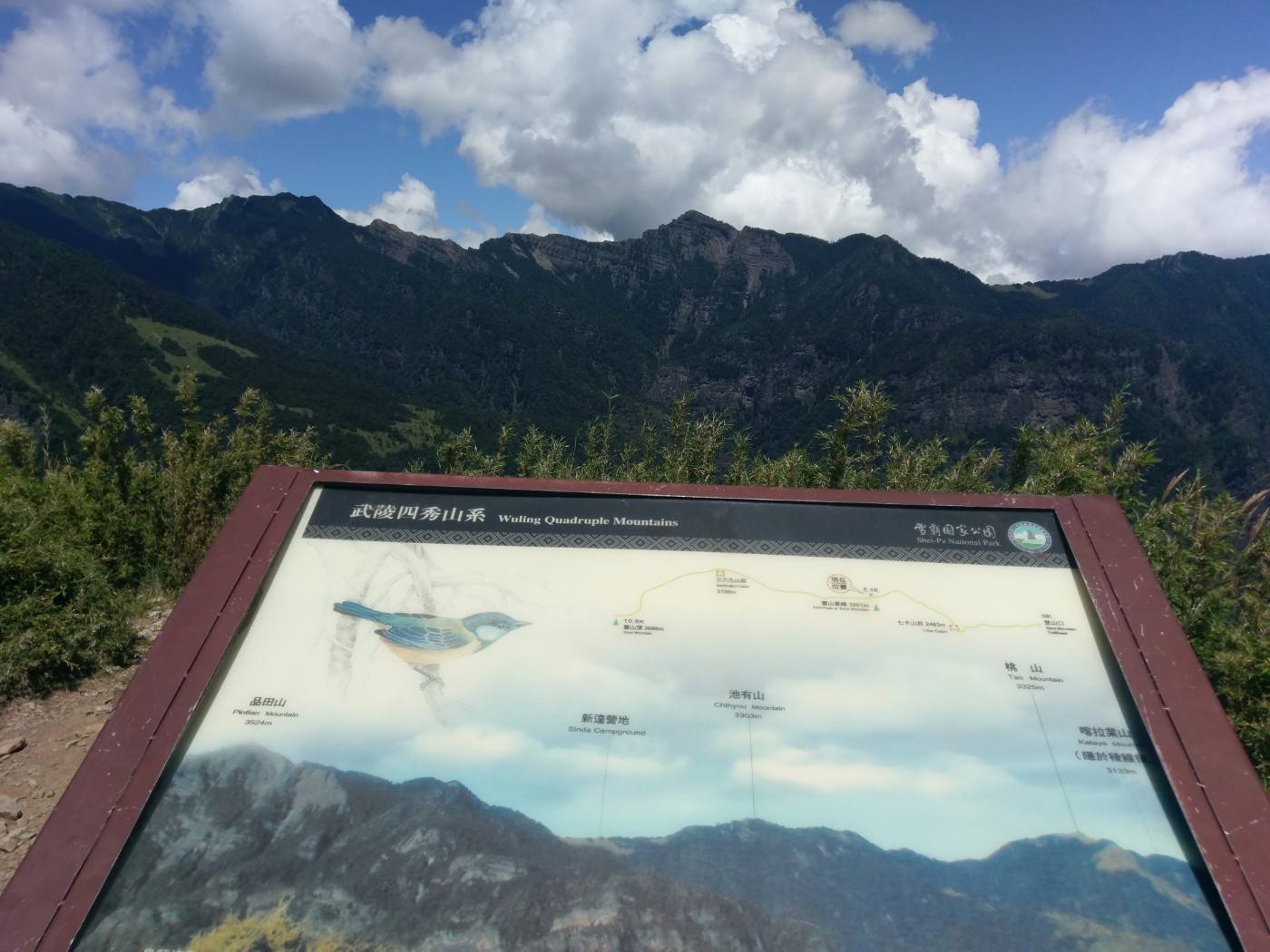 One of my colleagues told me that during the Japanese occupation, they put these unique stones at every mountain. Interesting stuff.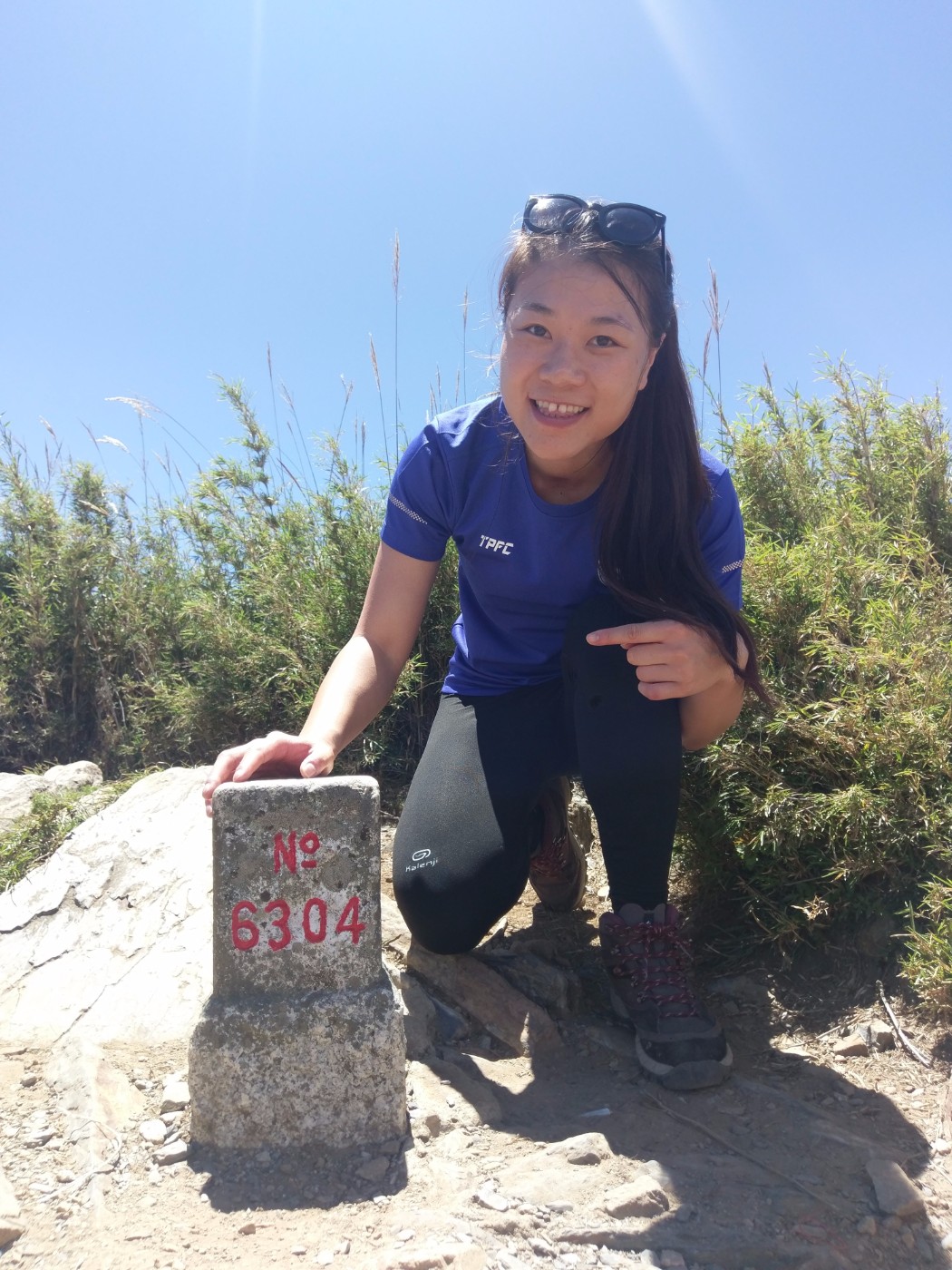 Funny aside story – we had to prepare our own snacks for during the hike, so I brought this bag of crackers. When I had gotten to the point where I wanted to open it, it had already inflated due to the difference in atmospheric pressure. Being the nerd that I naturally am, I decided to hold off eating my bag of crackers, and bring it all the way up to the top of the mountain to see how fat it can get.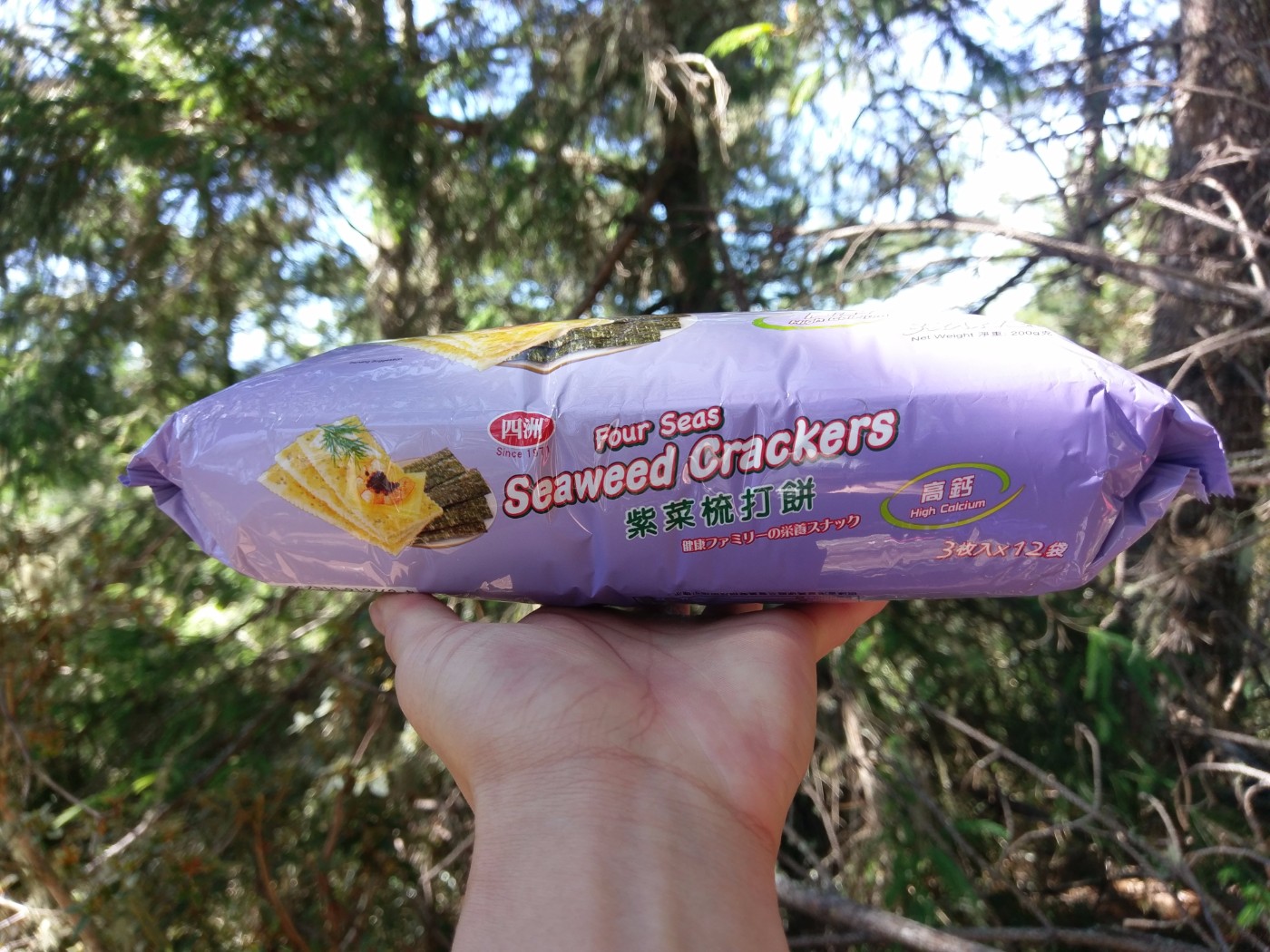 Before we got to the Sanlioujiou Cabin at the 7 km mark, our guide took us off on a short detour to take a picture with this tree. It's a tree that just decayed in an elegant sort of way.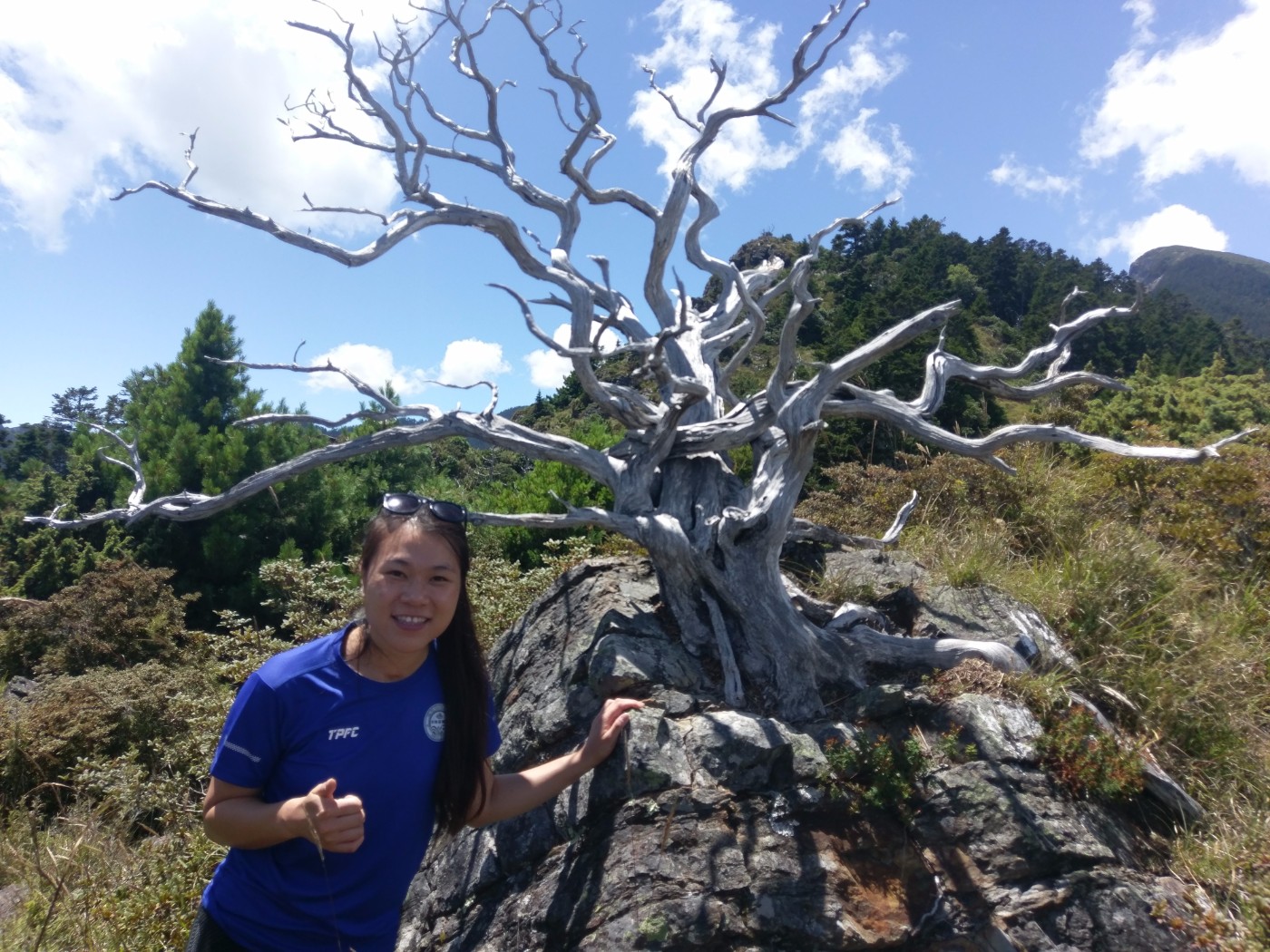 Our guide also told us to try these berries that were growing in the wild. I still don't know what they're called, but I haven't died yet, so they're probably safe. When fully bloomed, they're white and they have a bit of juice inside with a very strong aroma (but not a strong taste/flavour). The pink ones are fruits that are still not fully ripened, so don't eat those.
Somewhere along the way before we hit the Sanlioujiou Cabin, our guide told us to take a break while he went to dig out some supplies. I guess there are a lot of guides that take groups up the mountain, and they all do this to reduce the weight they have to carry. However, they can't just leave it at the cabin, because too many people go by, and their supplies will get stolen before they know it.
Finally, we're here! This cabin hosts a lot more travellers, because many of them don't bother to stop at the Cika Cabin. It really isn't necessary – you can definitely make it to Sanlioujiou from the trail head within a day, so hikers can save one night of lodging expenses. In fact, you can probably skip lodging completely and finish the hike in one go. However, if you're planning to watch the sunrise, most people would stay at the Sanlioujiou Cabin so they can get some rest in the afternoon, and start hiking again in the early hours.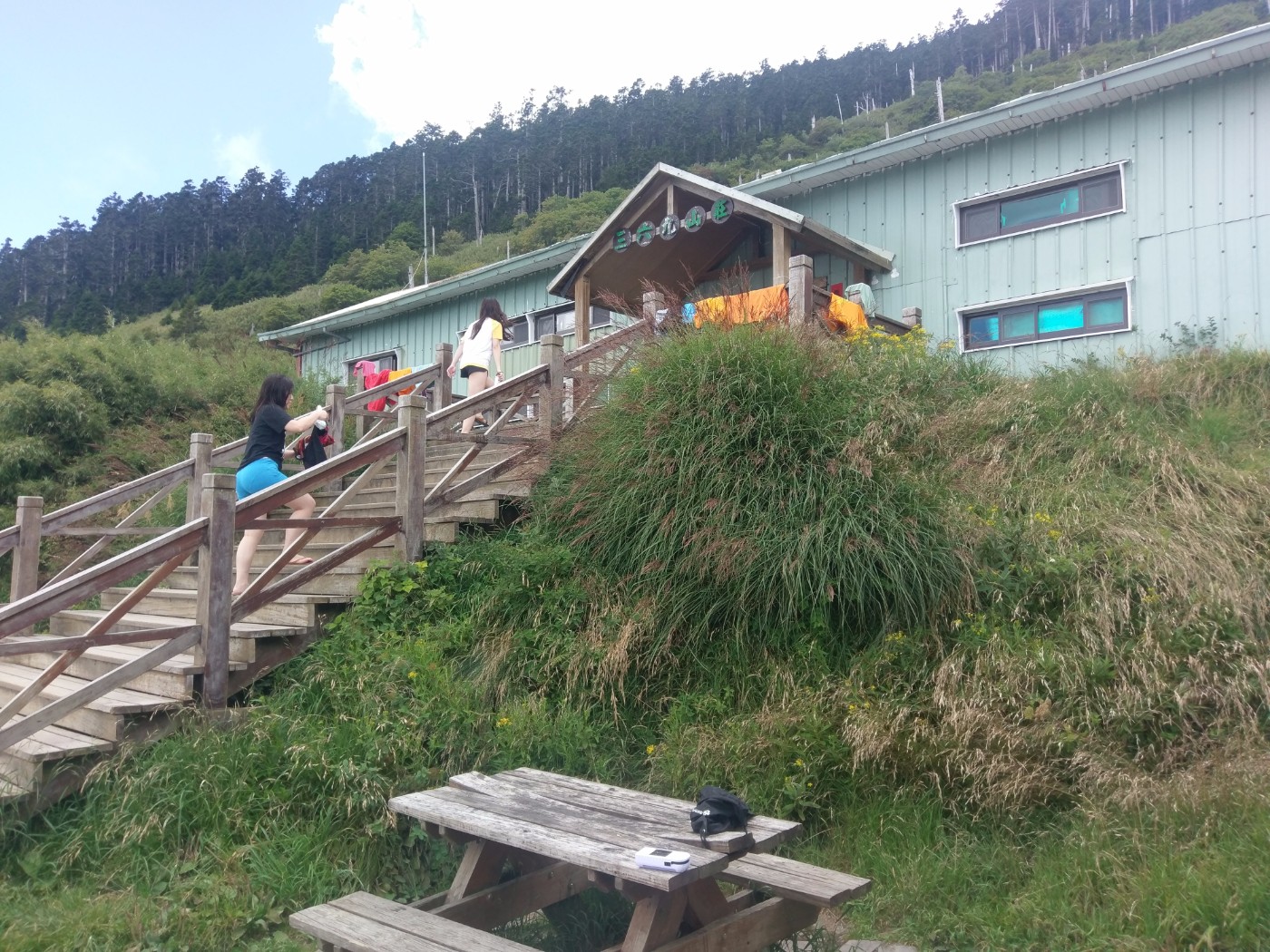 The cabin itself is very similar to the Cika Cabin – basic bunk beds for sleeping, a changing room, toilets, and a small cabin for cooking. Water is even more scarce here. It didn't seem to be an issue until we came down after seeing the sunrise on the second day, and we were told that there's no water available for use.
There is a man that permanently lives at this cabin and takes care of everything here. He is of aboriginal Taiwanese descent and finds no challenge in living in such a basic environment. I find that quite amazing.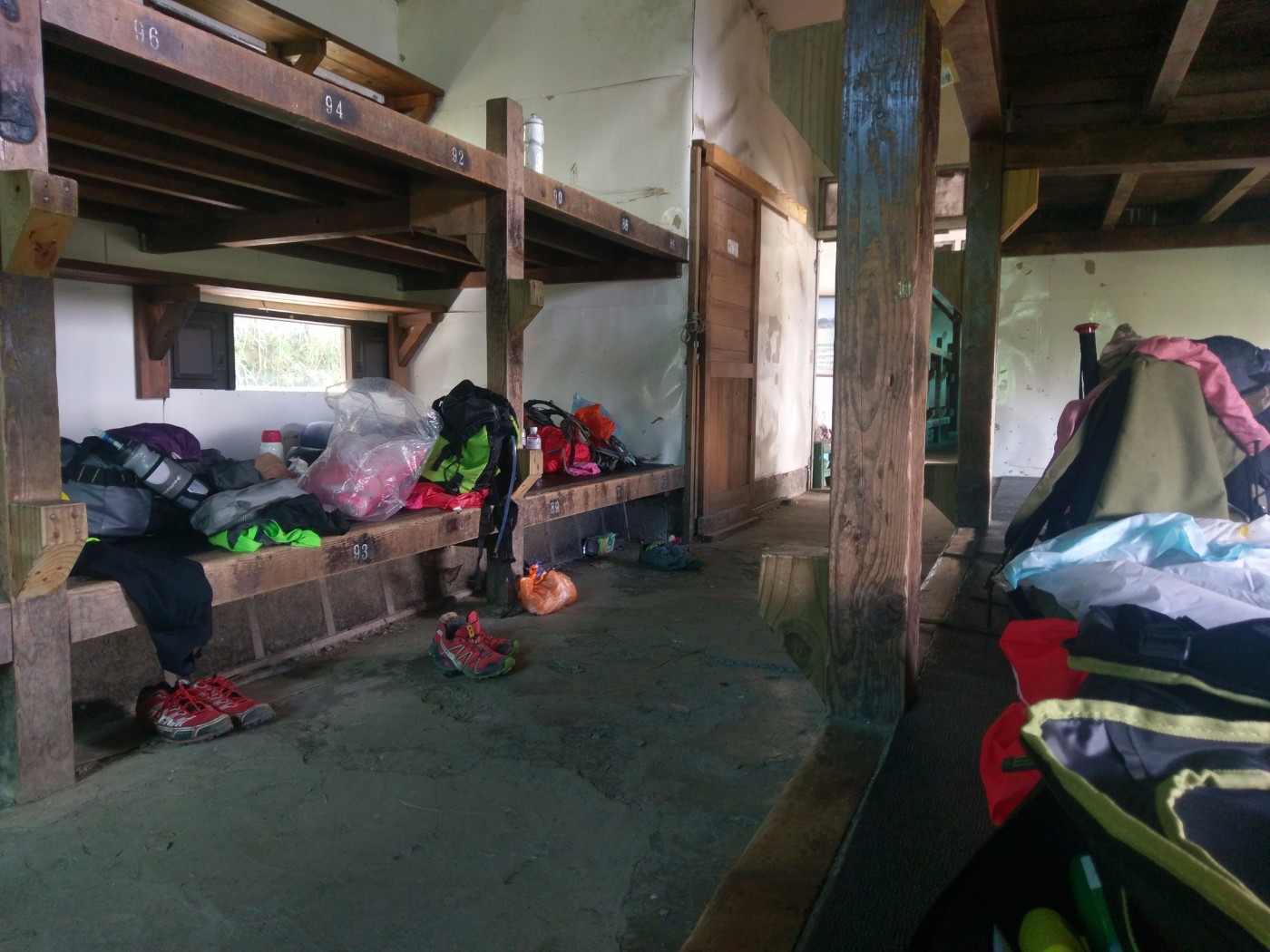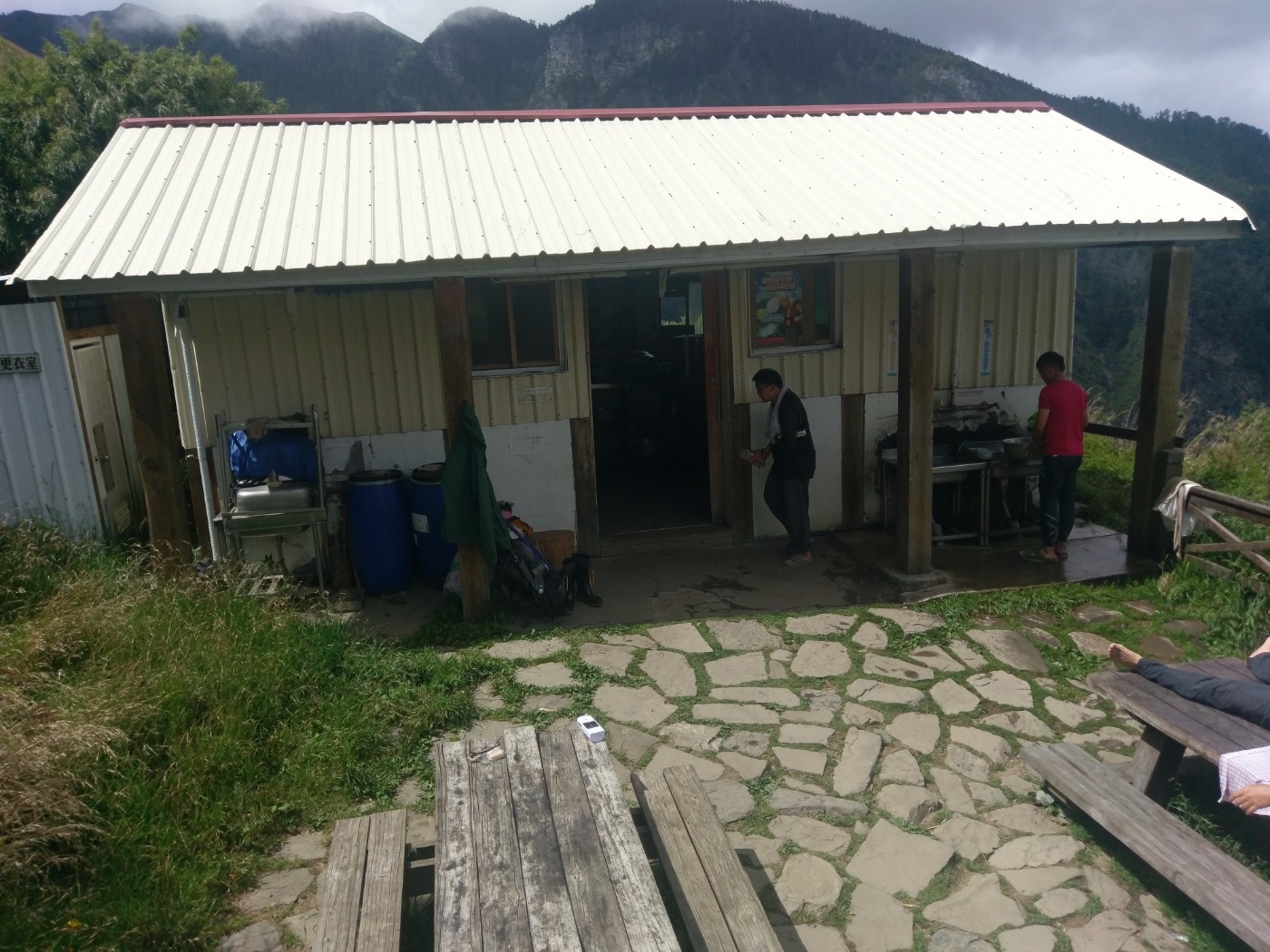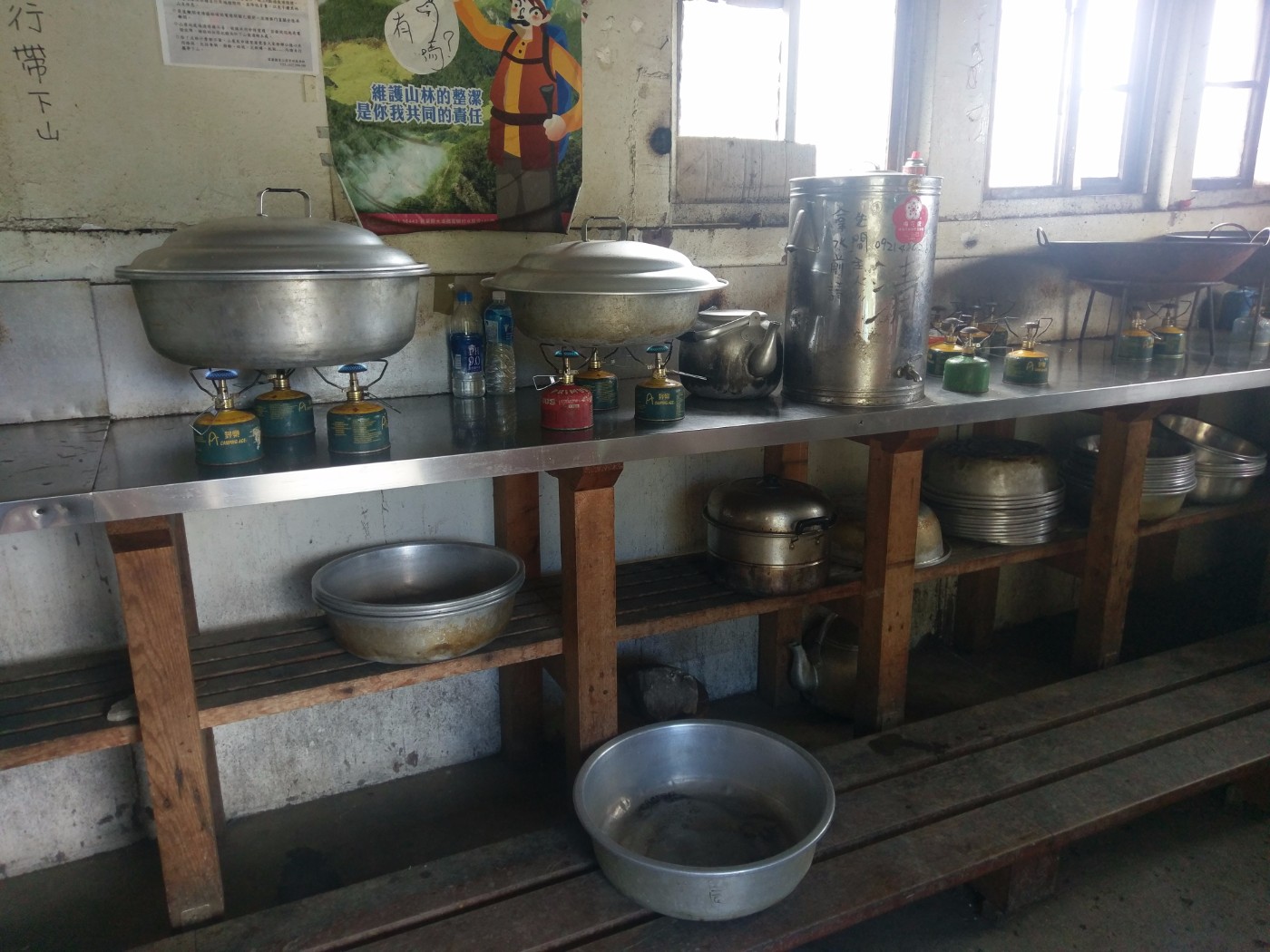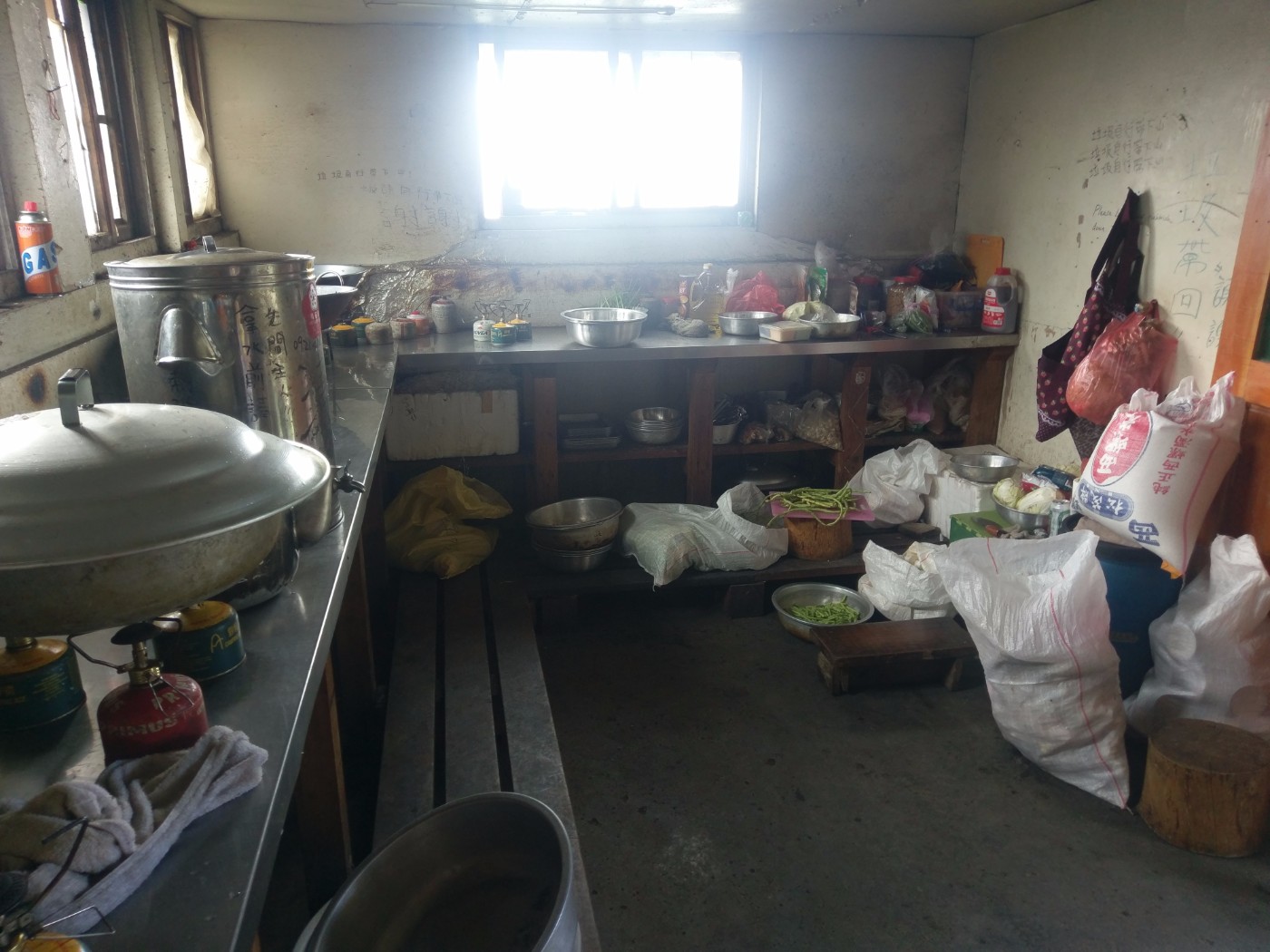 We arrived at around 1 PM, which is way ahead of our schedule. Dinner wasn't due until 6 PM, so I napped for a few hours. Our night at the Cika Cabin wasn't exactly great. The bed is basically a hard floor, and we're lucky enough to have sleeping bags offered at the cabin so we don't have to bring our own. It was warm, but the board that we slept on wasn't all that comfortable, and not to mention the orchestra of snoring in the background… so, we made the rule that "everyone who slept last night is not allowed to sleep now". And I had a pleasant nap.
When I woke up, I found that it had rained. It was the only time we had any rain during our entire trip, and I slept right through it. What a blessing!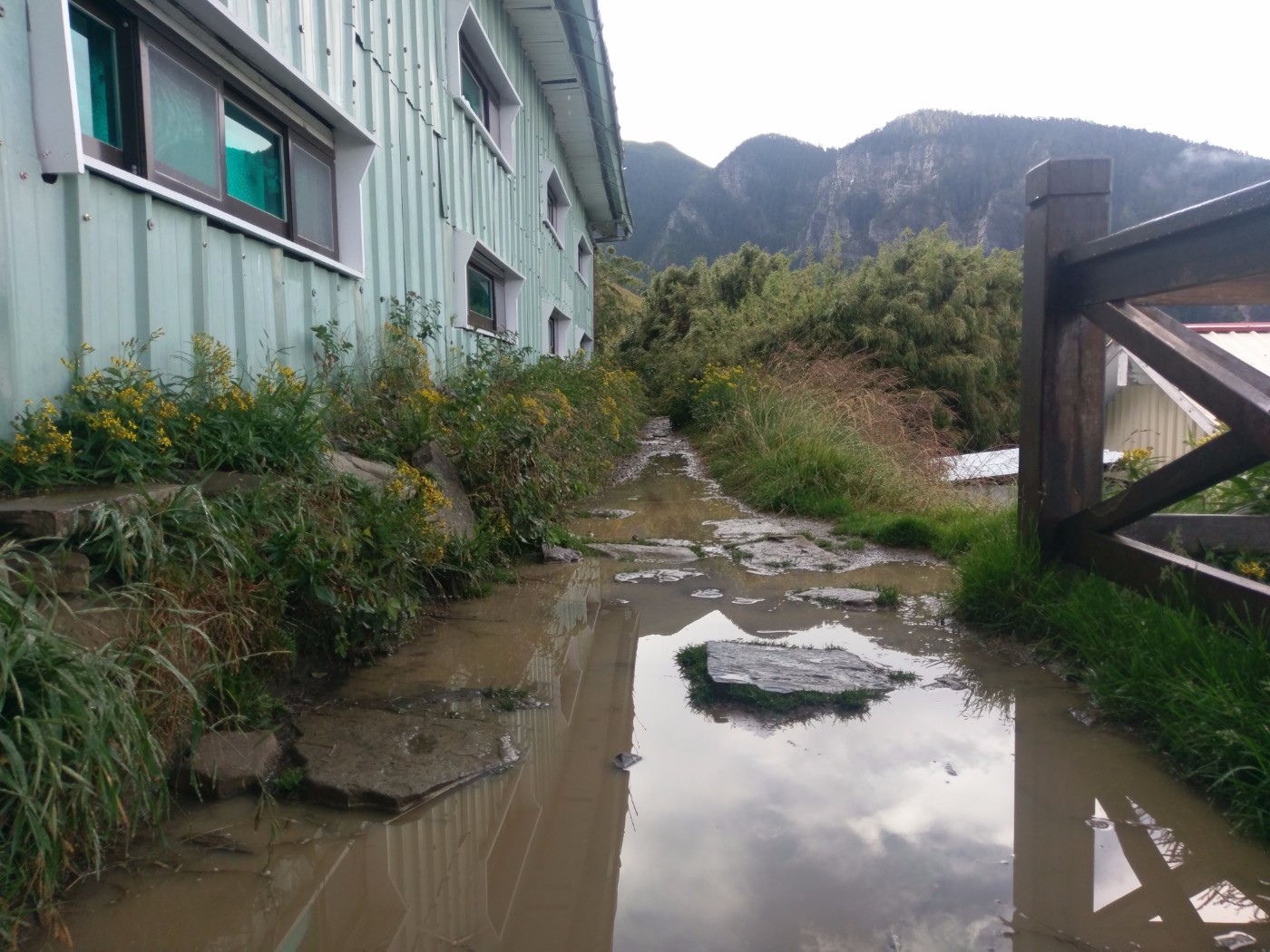 I woke up for dinner. It was at around sunset, so I watched as the sun slowly faded away into the clouds, and the sky turned into a starry scene.

The stars were by far the most amazing scene I have ever witnessed. When I go back to Vancouver, I'm always awed by how many stars I can see from my backyard compared to Hong Kong. Obviously it's very different; when you live in Hong Kong, you can never get away from the city. But in Delta, I'd imagine that it's already a fair distance from downtown. Wrong. You can still do so much better. Sanlioujiou Cabin is literally miles away from the nearest city, and stranded in the middle of the mountain range. At around 7 PM, the sky was already completely dark and the moon wasn't out yet. The sky was absolutely beautiful.
I didn't have my DSLR with me, but luckily my phone lets me set a bit of a longer exposure time, and I was able to take a token of the scene with me as a souvenir. This is still nothing compared to seeing it in real life. You see not only stars, but also the Milky Way, and many shooting stars. Seriously – shooting stars aren't as uncommon as you would think! We counted at least 3 in the the half an hour or so of stargazing that we enjoyed. I suppose meteor showers (an abundance of shooting stars in a short period of time) are more uncommon, but if you find a place that is dark enough, you'll be able to see random shooting stars every now and then.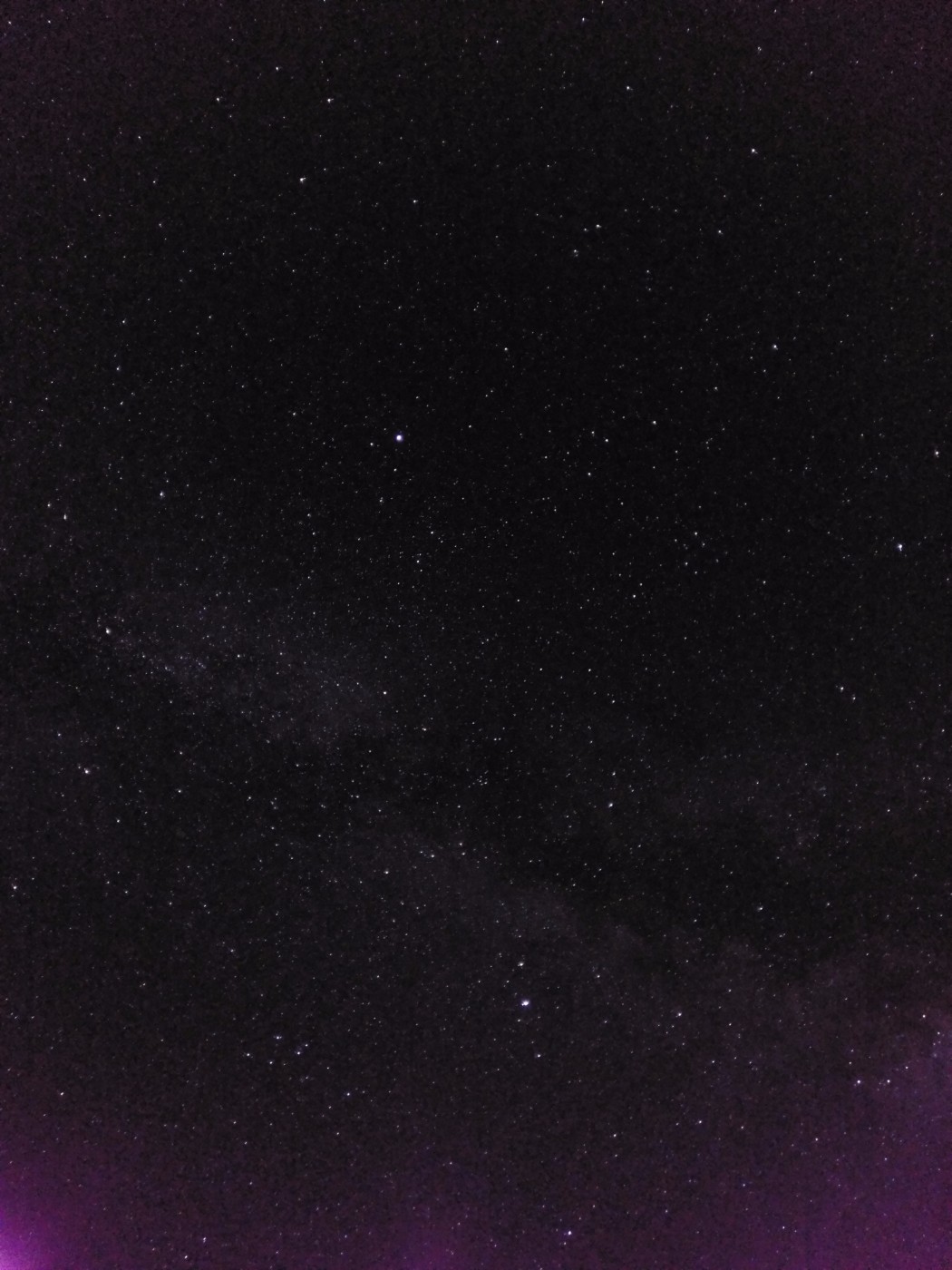 When I woke up a few hours later, the moon was out, and immediate you see a lot less twinkling dots up in the sky. You never notice the moon makes such a big difference, because when you're in the city, the biggest contributing factor of light pollution is never the moon.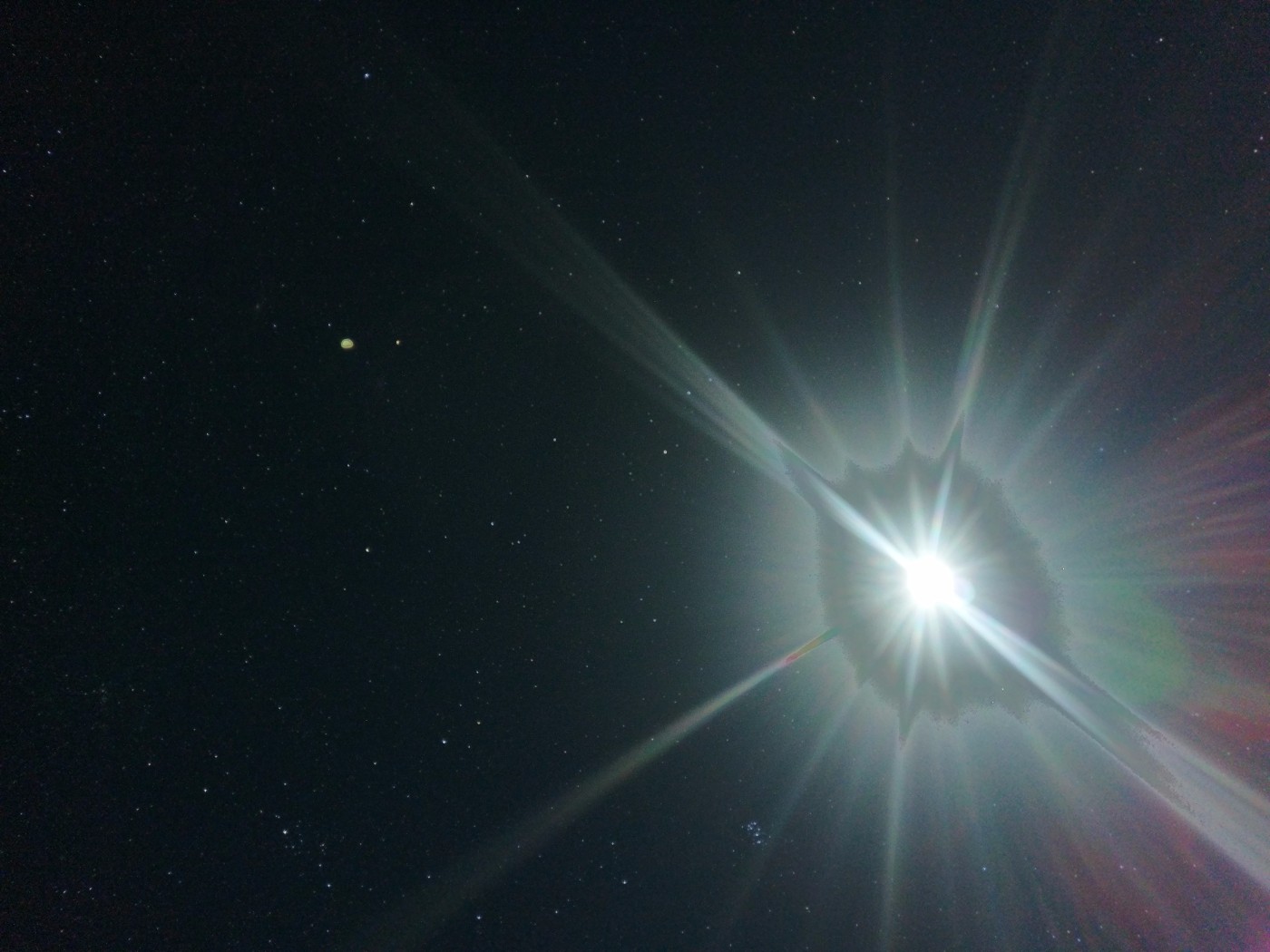 That is where I leave you for now. Next up – the sunrise.